Upper East Side is one of New York City's most affluent neighbourhoods. Located in the Manhattan borough, it's well-known for its brownstone buildings and upscale high-rises. If you're lucky, you might be able to spot a famous face during your visit – Mariah Carey, Martin Scorsese, Ricky Martin, Bill Murray, and Drew Barrymore all have homes in Upper East Side.
Shoppers can head to Madison Avenue for world-renowned designer flagships and department stores, while art fans can spend hours admiring priceless masterpieces on Museum Mile. Despite its glitzy reputation, the Upper East Side offers many affordable things to see and do. Carl Schurz Park and Central Park are excellent for those looking to take a break from New York City's constant hubbub of activity.
Upper East Side in New York - one of the highlights of 10 Most Popular Neighbourhoods in New York and 8 Best Places to Go Shopping in New York (Read all about New York here)
What are the highlights of the Upper East Side?
A major highlight of New York's Upper East Side is its shopping scene. The iconic Madison Avenue is home to high-end department stores and designer boutiques. You'll find familiar names such as Louis Vuitton, Tiffany and Co., Prada and Valentino, just to name a few. Note that the further uptown you walk, the pricier the stores get.
Barneys New York is one of the oldest department stores in New York City. Established in 1923, the flagship is a great place to stock up on upscale fashion, cosmetics and jewellery by the likes of Armani, Comme des Garçons, and Christian Louboutin. Even if you're not planning to buy anything, Madison Avenue offers a classic New York window-shopping experience. Lavish seasonal window displays at Barneys, Saks Fifth Avenue and Bergdorf Goodman make for excellent backdrops for your Instagram shots.
Families can enjoy several attractions in the Upper East Side, one of which is Central Park. This massive green space has more than 20 playgrounds, extensive walking paths, and kid-friendly attractions. The Central Park Zoo spans 6.5 acres of recreated natural habitats, housing over 1,450 animals from around 160 species.
Dylan's Candy Bar is a 3-storey emporium in the Upper East Side, just opposite Bloomingdale's. It offers more than 7,000 confectionaries, including chocolate bars, brittles, gummies, and hard candies. Another family favourite is Alice's Tea Cup, a fairy-tale-inspired teahouse that serves delicious pastries and sandwiches, as well as tea-infused cocktails for grownups.
What are the best museums in Upper East Side?
Museum Mile is on Upper East Side's 5th Avenue, between East 82nd and East 105th Streets. World-renowned museums and cultural institutions display some of the city's most valuable collections of art, culture, history and science.
The Metropolitan Museum of Art (The Met) presents over 2 million works – spanning 6,000 years – from across the world, including Roman sculptures, 19th-century European paintings, 14th-century Chinese murals, and an Egyptian tomb.
Located at 1071 Fifth Avenue, the Solomon R. Guggenheim Museum occupies a spaceship-like building designed by Frank Lloyd Wright. Impressionist, post-Impressionist and contemporary works of art are displayed along a spiral hallway inside the museum, offering a unique viewing experience.
Other notable buildings on Museum Mile include the Museum of the City of New York, El Museo del Barrio, the Jewish Museum, and the Frick Collection. The Museum Mile Festival, which takes place in early June, offers free admission to 8 participating institutions during evening hours.
Good to know about Upper East Side
Upper East Side is accessible from just about anywhere in New York, with numerous bus stops and subway stations along the neighbourhood's eastern avenues.
On the Second Avenue Subway line, you can ride the Q Train to the Upper East Side – it runs across Central Park and central Manhattan, with stops at 28th, 23rd, Canal, Prince and 86th Streets. You can also get to Coney Island and Brooklyn on this subway line. If you're planning to check out the Museum Mile, taking the 4 Train (Lexington Avenue Express) is the most convenient option.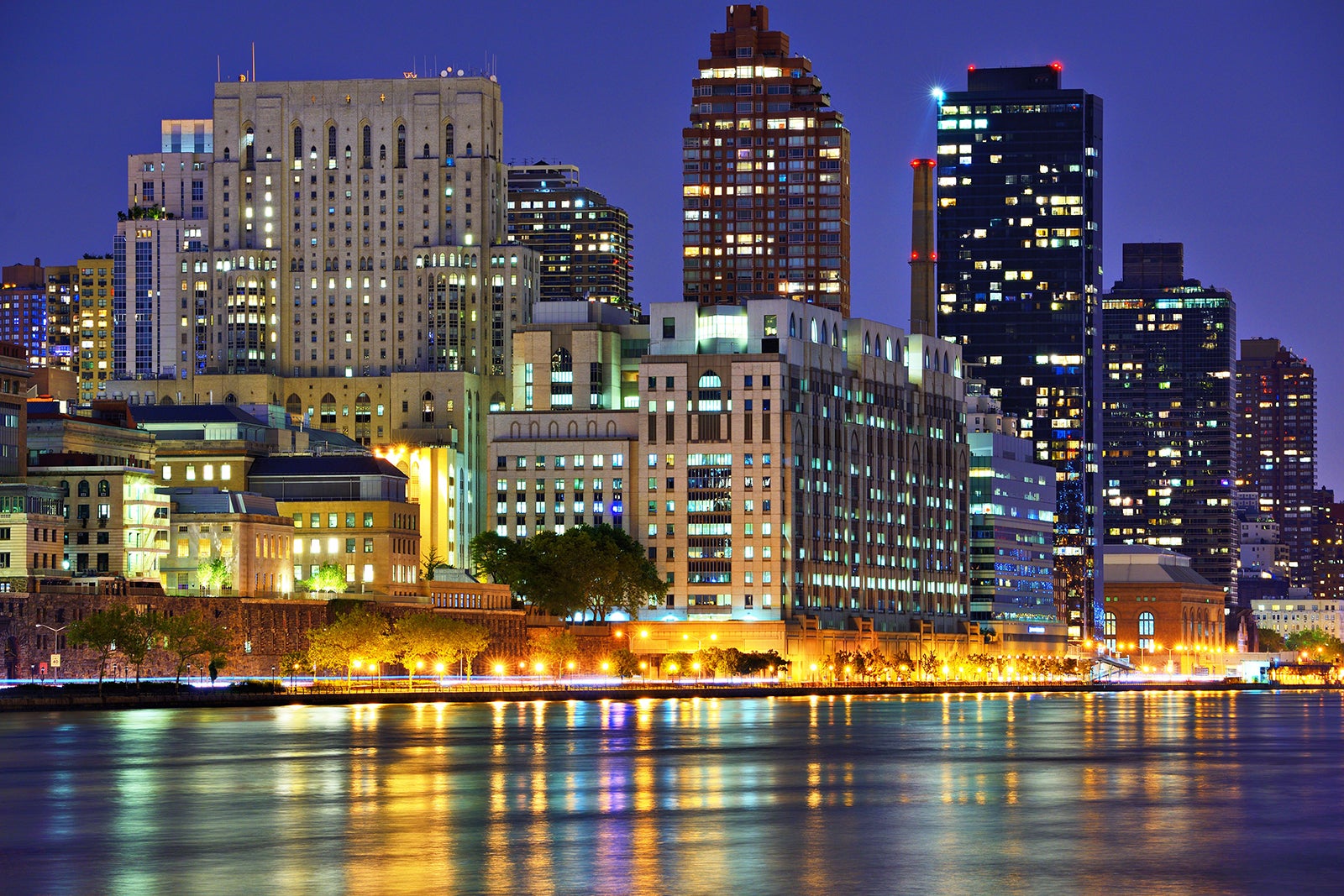 Upper East Side in New York
Location: Upper East Side, New York, NY, USA
Back to top