Virginia Beach Travel Essentials
Useful Information to Help You Start Your Trip to Virginia Beach
Our Virginia Beach Travel Essentials lays out the essential information you need to help you plan your trip to one of the most popular destinations in Virginia, USA. No matter how frequently you travel, some questions will always need answers: What's the weather like? How can I get from Norfolk International Airport (ORF) to my hotel? What currency and type of plug do I need?
We have all these answers plus other basic info about the best time to go, getting there, getting around, and a few useful travel tips. You'll also learn about the most popular landmarks in Virginia Beach such as the Boardwalk, Cape Henry Lighthouse, and the First Landing State Park. It's all compiled in this Virginia Beach Travel Essentials. After reading this short and easy-to-read guide, you will be a little more prepared to start your trip to Virginia Beach.
1
When is the best time to travel to Virginia Beach?
Virginia Beach has a humid subtropical climate. The winters are mild with average temperatures of 40°F and balmy summers with average temperatures of 79°F.
The number of rainy days is equally spread throughout the year. On average, you can expect up to 10 rainy days per month. It usually rains slightly less from September to November, and slightly more in July and August.
The warmest time of the year in Virginia Beach is from late-May to mid-September. The weather allows you to fully enjoy all kinds of seaside activities, although an umbrella will be handy in July and August. The peak season runs from June to August when you can expect thicker crowds and higher accommodation rates.
The best times to visit Virginia Beach is from May to mid-June and from mid-September to late-October. Hotels usually offer better rates around these times and the weather, although chillier, remains pleasant. The seas aren't best for swimming around this time of the year but you can enjoy hiking in the many natural parks around Virginia Beach.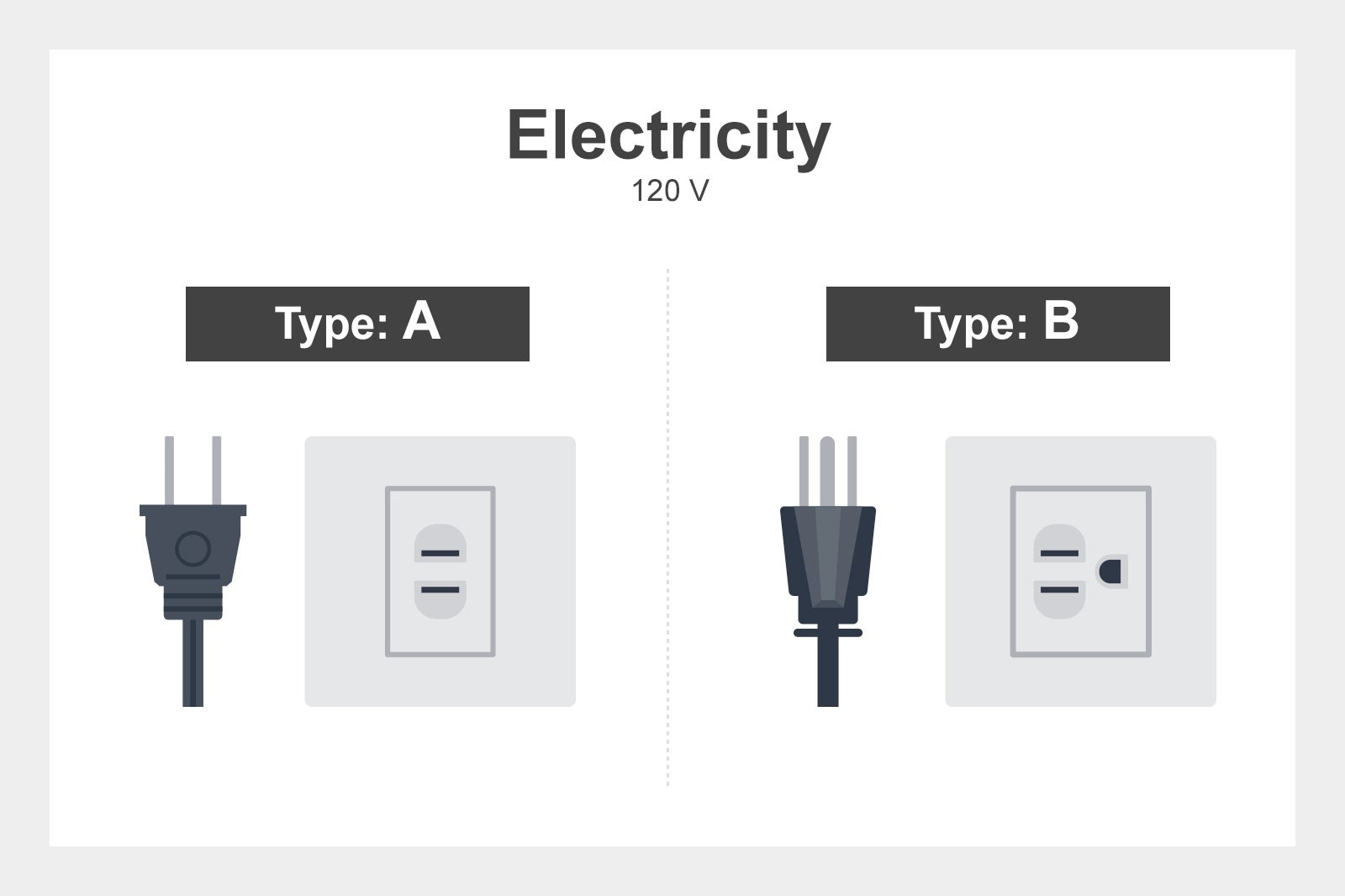 Plug type: A and B
Electricity: 120 V
Currency: United States Dollar (US$)
International dialling code: +1 757
Emergency telephone number: 911
3
How to get to my hotel in Virginia Beach?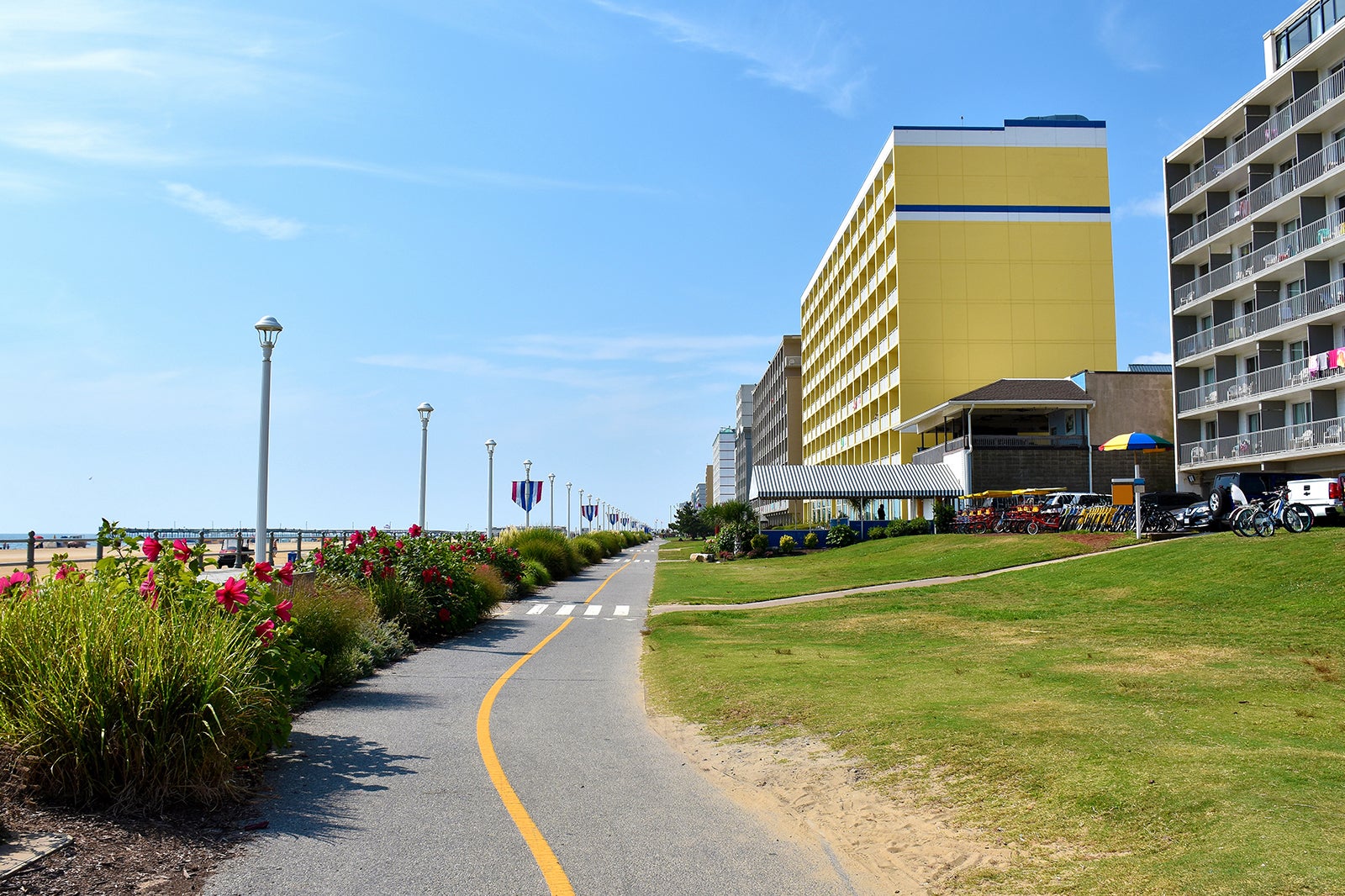 Norfolk International Airport (ORF) is the primary airport serving Virginia Beach. A secondary option is to fly to Newport News/Williamsburg International Airport (PHF), although this airport is mostly used to get to Williamsburg and Hampton.
You can also get to Virginia Beach by train or bus. Amtrak has a railway station in Newport News, and Greyhound has a bus station right in the centre of Virginia Beach.
Norfolk International Airport (ORF)
Norfolk International Airport (ORF) is the main airport serving Virginia Beach, located 12 miles from the city centre. The driving time from the airport to Virginia Beach takes about 30 minutes.
High-speed, secure Wi-Fi is available throughout the airport, and there's a good choice of ground transportation options available for you to get to your hotel from ORF according to your budget:
Taxicabs await outside the Arrivals Terminal, at the baggage claim area exit. You've got a choice between several companies.
Uber and Lyft can pick you up outside Door 5 of the Arrivals Terminal.
Rental car desks can be found on Level 1 in the Arrivals Terminal.
Getting to Virginia Beach by train
The closest railway station is in Newport News at 9304 Warwick Boulevard. A bus connection gets you to the Virginia Beach Amtrak Bus Stop in the Vibe Creation district. The 38-mile ride takes over an hour.
You also can reach Virginia Beach by taxi or Transportation Network Companies such as Uber and Lyft, though they're not the most economical option.
Getting to Virginia Beach by bus
Greyhound has a bus station in Virginia Beach. You can find it at 971 Virginia Beach Boulevard, a mile from the beach. From there, the most convenient way to get to your hotel is by taxi or real-time ridesharing.
If you're on a budget, you can catch a Hamptons Roads Transit (HRT) public bus. The closest stop is 400 ft west of the bus station.
4
How to get around Virginia Beach?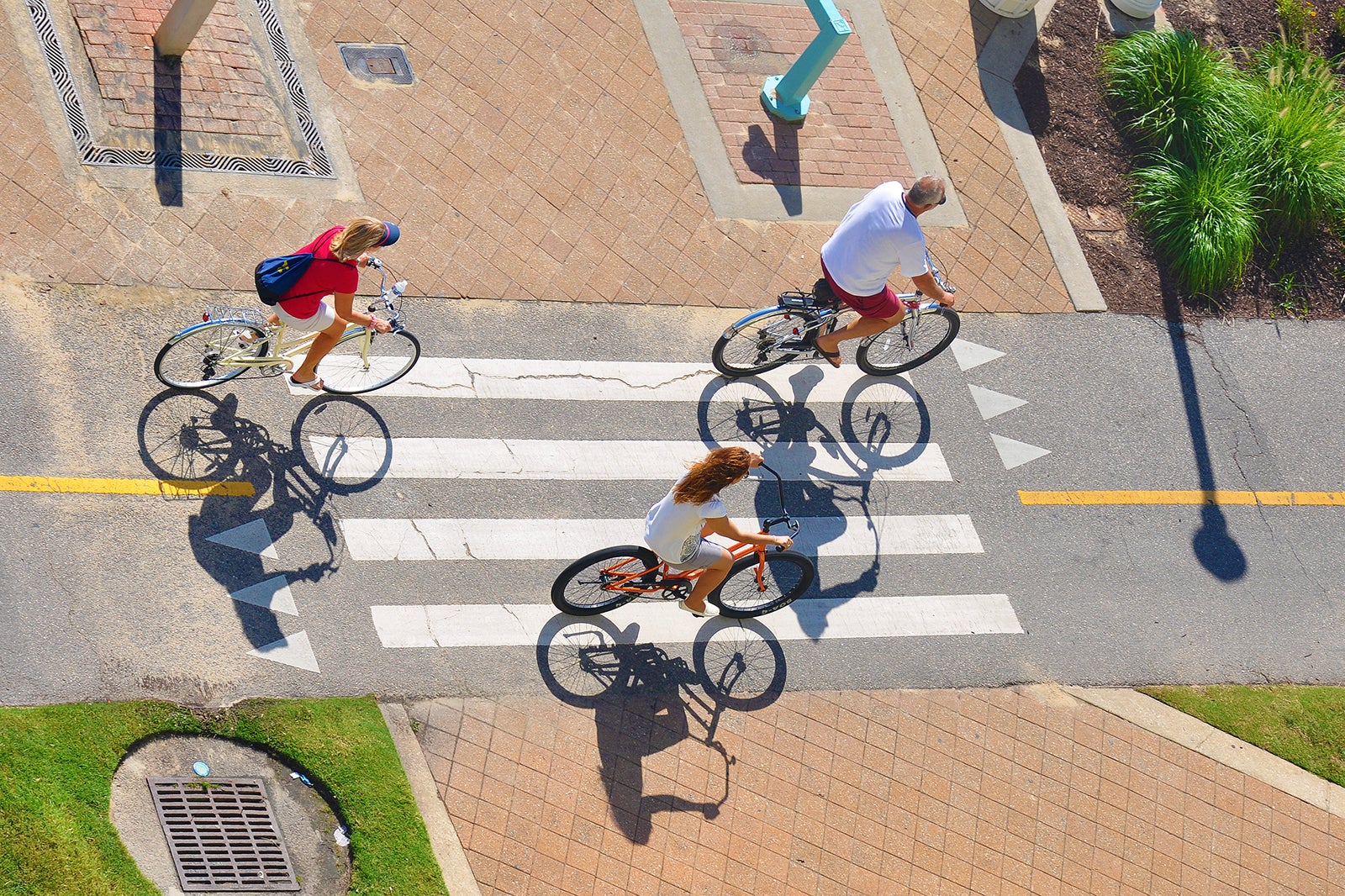 Travel tips
Covering an area of about 2 square miles, the centre and main beachfront of Virginia Beach is easily walkable. Home to landmarks and attractions such as the Boardwalk, Atlantic Fun Park, and the Virginia Museum of Contemporary Art, you'll also find here an excellent choice of dining, shopping, and nightlife entertainment options.
Cycling is also a great, healthy way of getting around Virginia Beach. For longer distances, the cheapest mode of transport is the HRT public bus and trolley network.
Taking a taxi in Virginia Beach
From Alba Taxi (+1 757-425-2522) and 51 Cab (+1 757-491-6882) to 1st Choice Taxee (+1 757-962-2555) and many more, Virginia Beach has no shortage of taxi services. Taxis can also be found lined in front of hotels and major tourist attractions.
Convenient yet rather expensive, getting around the resort town by taxicab is not your best option if you're on a budget. The usual tipping is around 15-20% of the taxi fare. Credit cards are accepted by most taxi drivers.
Uber and Lyft are the 2 main ridesharing apps used in Virginia Beach. Their rates are slightly cheaper than standard taxicabs. They accept payments by credit card.
Travelling by bus/trolley in Virginia Beach
Run by Hamptons Roads Transit (HRT), public buses, VB Wave Trolleys, and Bayfront Shuttles allow navigating throughout Virginia Beach and beyond – up to Norfolk – at affordable rates.
VB Wave Trolley routes 30 and 31 take you along the Virginia Beach beachfront and south down to Adventureworks Wetland Zipline Park, while Bayfront Shuttle route 35 takes you along the beachfront and northwest up to Bayside.
Many ticket options are available, ranging from 1-way tickets and 1-day to 3-day passes and others. Tickets and passes can be purchased at fareboxes on board all buses. Find further info on the Hampton Roads Transit website.
Hiring a car in Virginia Beach
Renting a car is a good option if you plan to explore Virginia Beach's surroundings. It's certainly more expensive than public transport, yet it gives you the freedom to go anywhere whenever you want. A good tip to avoid getting lost is by ensuring your mobile phone is connected to be able to use online maps or any other GPS app.
Foreigners are allowed to use their standard driver's license for up to 6 months in Virginia. Car rental companies can be found at the airport and on Laskin Road, the main thoroughfare to Norfolk.
Note that the traffic can be congested on Pacific and Atlantic avenues, the 2 main roads parallel to the sea. Parking lots are also expensive. If you plan to rent a car, it's best to choose a hotel offering free parking.
Cycling and other modes of transportation
Hiring a bicycle is a cool way of getting around the city centre and along the beach – there's even a biking trail on the Boardwalk. A true cyclists' paradise, Virginia Beach is home to over 100 miles of trails throughout various coastal environments.
Note that HRT buses have racks to carry bicycles. It can be useful in case you'd like to cycle in parks far from your hotel.
Check out companies such as Cherie's Bike Rental (+1 757-437-8888) and Ocean Rentals Ltd. (+1 757-721-6210) for further info.
5
What are the main annual events in Virginia Beach?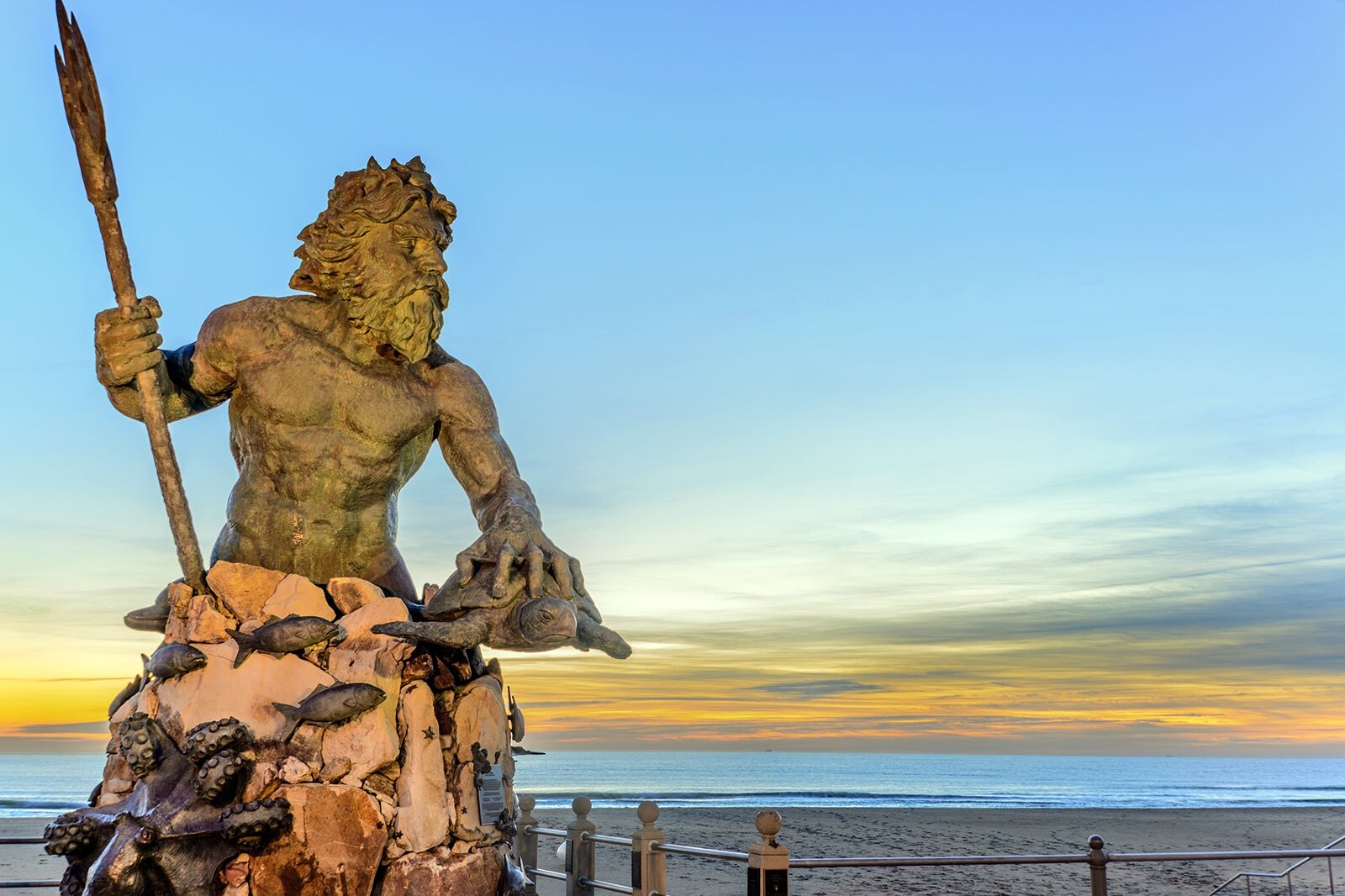 Virginia Beach Neptune Festival
September
One of the largest events in Virginia Beach held since 1974, featuring live music, arts and craft, local food, and, above all, the annual North American Sand Sculpting Championship.
Where: Virginia Beach Boardwalk
Boardwalk Art Show
June
An art contest held since 1955 showcasing hundreds of skilled American artists whose works range from digital art to jewellery, ceramics, and many more mediums.
Where: Virginia Beach Boardwalk
American Music Festival
Late-August–early-September
See American bands and singers playing all types of music including rock, reggae, hip hop, and more. Big names who've performed include ZZ Top, Ziggy Marley, and Molly Hatchet.
Where: Virginia Beach Boardwalk
6
What are the main landmarks in Virginia Beach?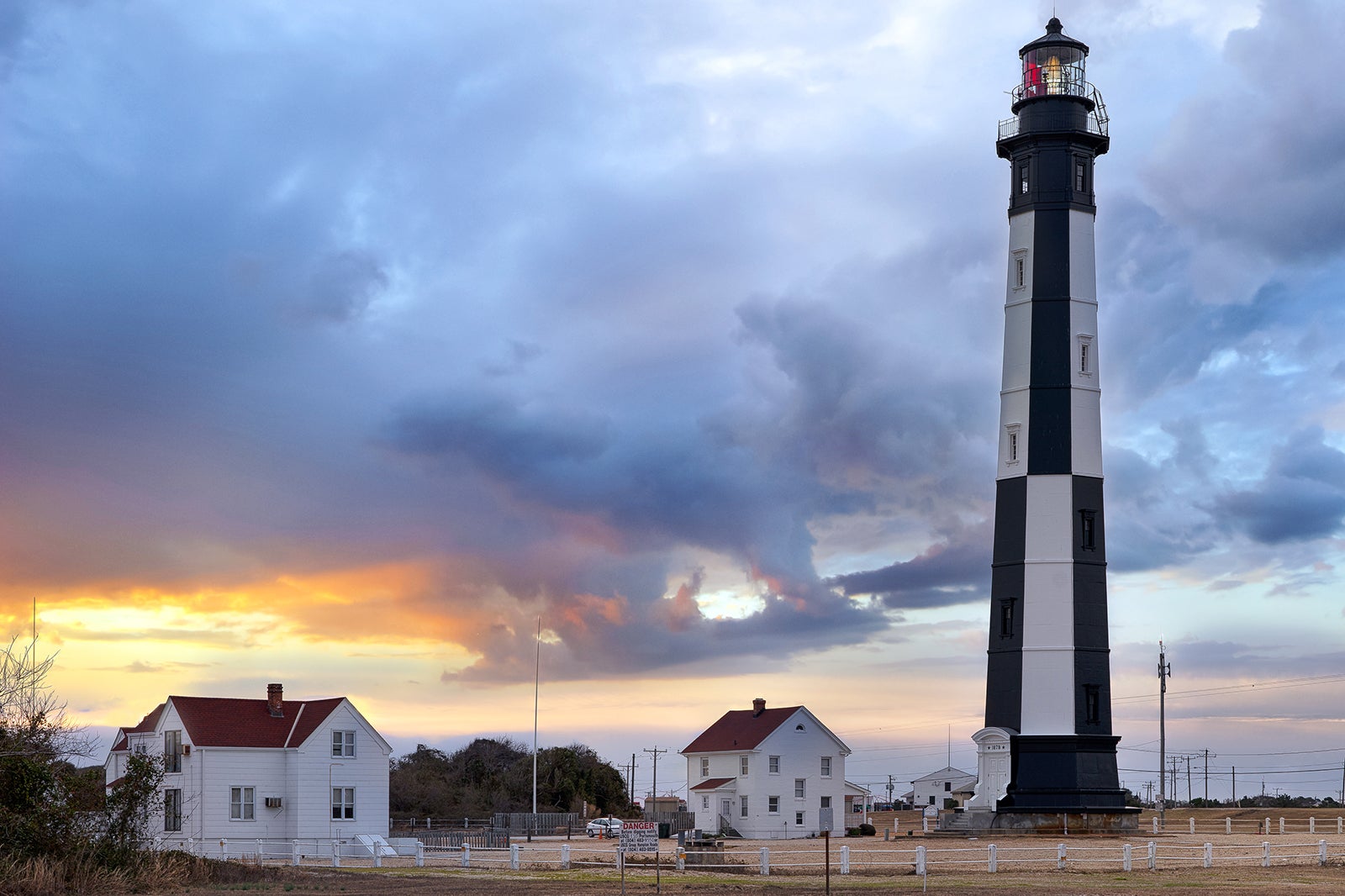 The Boardwalk
A 28-ft-wide, 3-mile-long promenade along Virginia Beach with a bike path, a host of maritime activities, as well as museums and an amusement park.
Cape Henry Lighthouse
A lighthouse erected near the site where English settlers first set foot on American soil. Climb the 191 steep steps to the top to enjoy stunning views of Chesapeake Bay.
Military Aviation Museum
Home to one of the world's largest collections of warbirds still in flying condition. Collections include aircraft from Germany, France, Russia, Italy, the United Kingdom, and the USA.
ViBe Creative District
Virginia Beach's own cultural arts enclave that's vibrant, eclectic, and is a hub for artists and creatives to share their passions. It's also dotted with quaint shops and coffeehouses.
Back to top