Williamsburg in New York
Brooklyn's Hip Neighbourhood with Great Art and Vintage Shopping
Williamsburg is a vibrant, artsy neighbourhood in New York City. This vibrant part of Brooklyn experienced dramatic changes since its industrial origins in the 19th-century. In more recent times, it has become known as a hotbed for the city's world-class creative community.
One of the city's most densely populated neighbourhoods, its residents are a mix of Americans, Italians, Poles, Jews, Hispanics, and Puerto Ricans. The old-world streets are regularly punctuated with modern restaurants, fashion boutiques and creative spaces. While the neighbourhood's working-class atmosphere has faded over time, it still represents one of the best areas to escape the endless buzz of Manhattan's city streets.
If you decide to spend the day wandering around this laidback neighbourhood, you won't have trouble finding things to fill in the hours. From wonderful department stores and coffee shops to towering works of street art, Williamsburg is the perfect neighbourhood to explore for those who love great food and culture.
Williamsburg in New York - one of the highlights of 10 Most Popular Neighbourhoods in New York and 8 Best Places to Go Shopping in New York (Read all about New York here)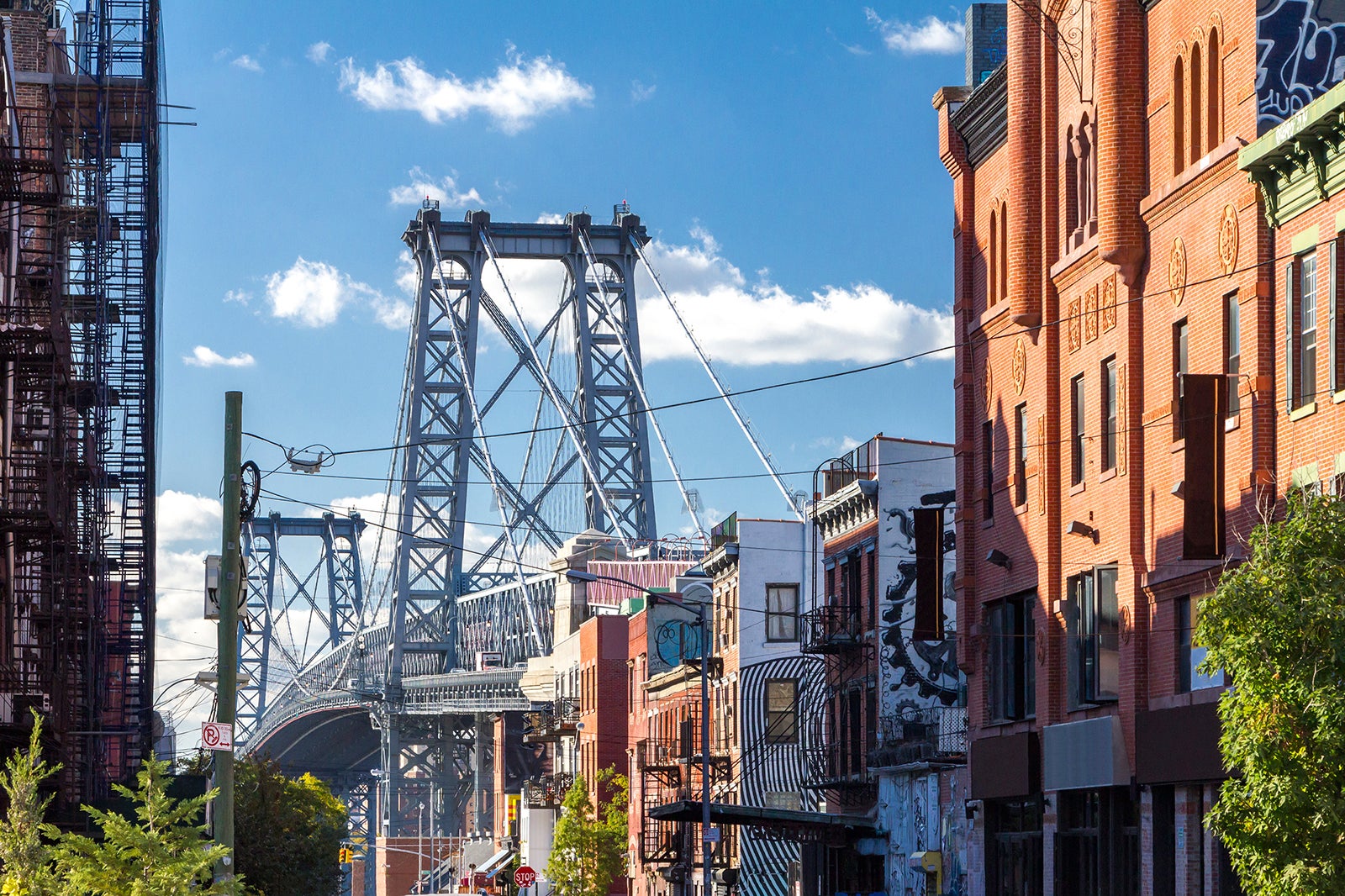 What are the highlights of Williamsburg?
One of the most exciting highlights of Williamsburg is Domino Park, a 6-acre public green space that runs along the East River. While the park was only opened in 2018, it has quickly become hugely popular with people looking to soak up the city's remarkable skyline. Set on the site of the former Domino Sugar Refinery, the park features numerous playgrounds, fountains and food trucks.
For one of the most eclectic spots in the neighbourhood, you can't look past the Brooklyn Bowl. Across 16 bowling lanes, a restaurant and a thriving band room, this weird and wonderful place has hosted performances by the likes of Elvis Costello, Guns N' Roses and The Roots.
Finally, the Brooklyn Art Library is where you can find a collection of over 50,000 sketchbooks donated by 30,000 artists. Known as the Sketchbook Project, this completely free space is an excellent spot to find some creative inspiration in Brooklyn.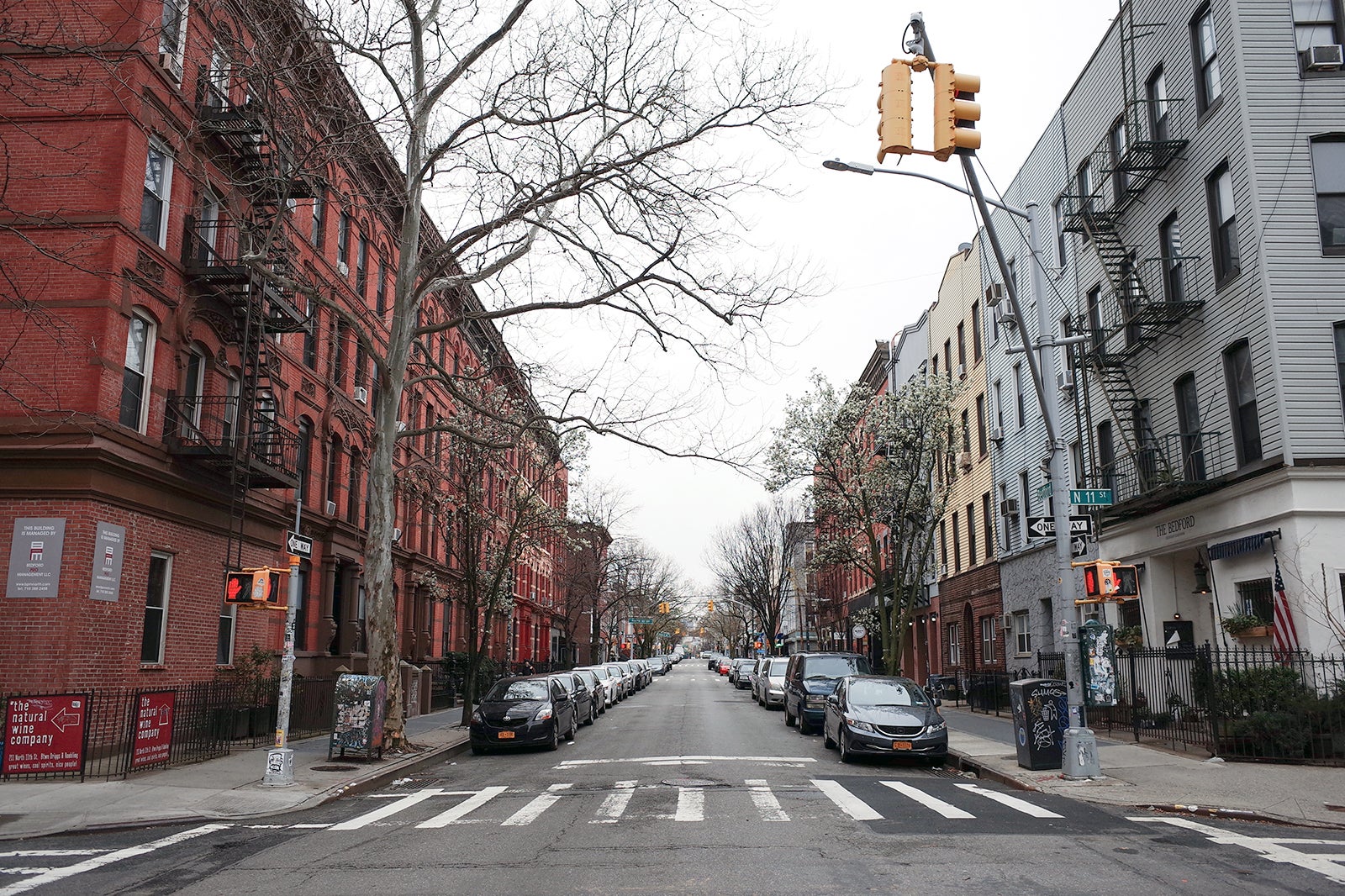 Where to shop, dine and drink in Williamsburg?
Wherever creatives live, coffee is always going to be a big deal. Williamsburg is no different, with dozens of cafes dotted along the neighbourhood's streets. For a high-end freshly roasted coffee, Devoción is widely regarded as the pick of the bunch. It occupies a rejuvenated warehouse, where you can watch the roasters hard at work in the back.
You'll be spoilt for choice when it comes to heading out for lunch. Okonomi is where you can find one of the best bowls of ramen in the city, while dinner at Lilia should be high on your to-do list. Led by award-winning chef Missy Robbins inside a former auto-shop, this stylish space is beloved for its authentic Italian cuisine with a contemporary twist.
Naturally, shopping is also a major draw for Williamsburg. Awoke Vintage showcases an incredible variety of both cheap and luxe thrift clothing, while Artists & Fleas is a must-visit weekend market featuring trendy handmade goods of all descriptions.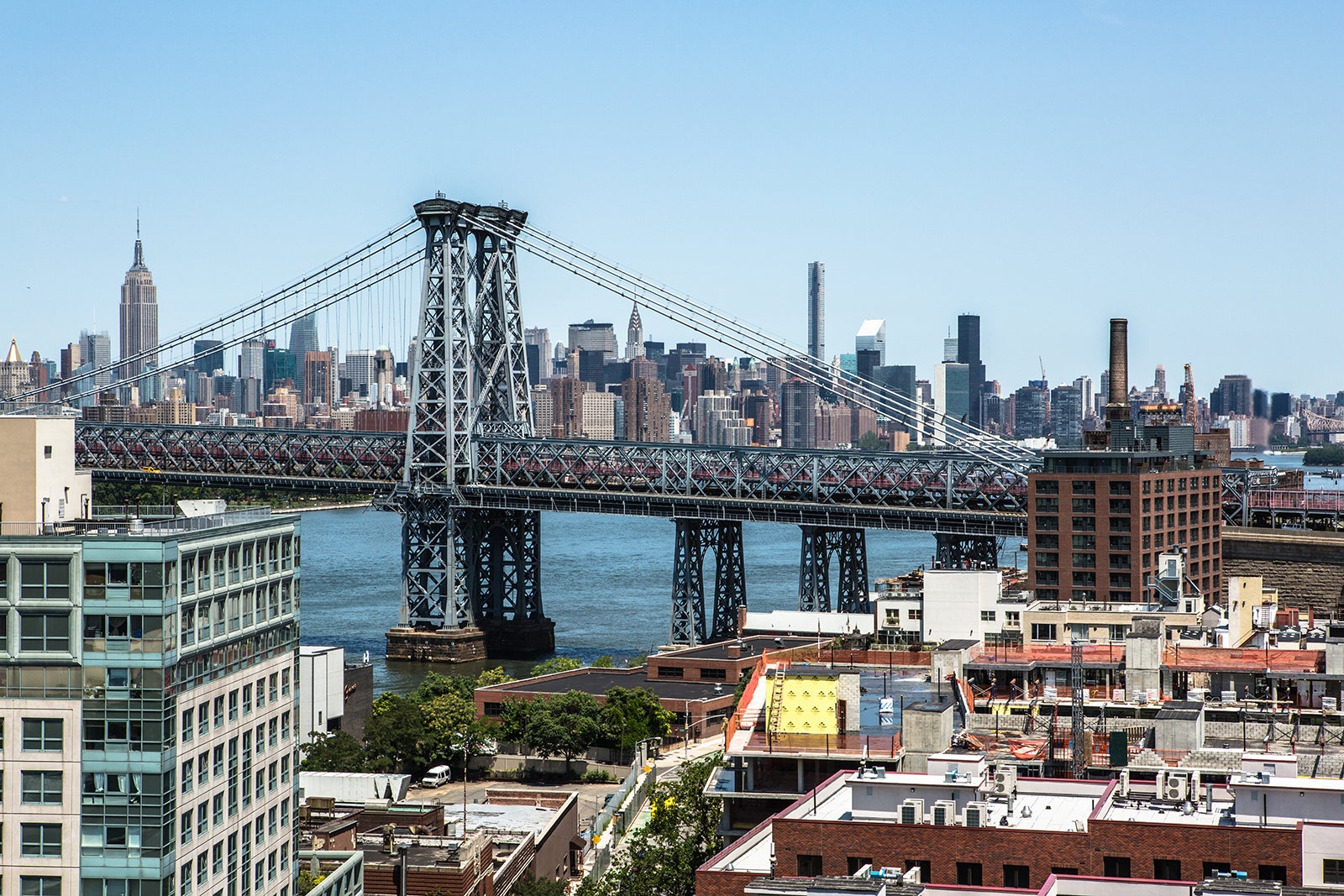 Good to know about Williamsburg
If you're staying outside Williamsburg, reaching the neighbourhood is pretty straightforward from almost anywhere in New York City. From Manhattan, you can get there by riding the L train to Bedford Avenue. Alternatively, you can board the G train from across Brooklyn to Metropolitan Avenue.
On sunny days, you can grab a Citi Bike and cycle along many safe paths to explore Williamsburg. The Brooklyn Waterfront Greenway seamlessly connects Domino Park with the equally impressive East River Park.
Nearby the famous Williamsburg Bridge, you'll find the terminals for the East River Ferry. From Williamsburg, this is the easiest way to reach hotspots like Manhattan, Greenpoint, Long Island City and Dumbo.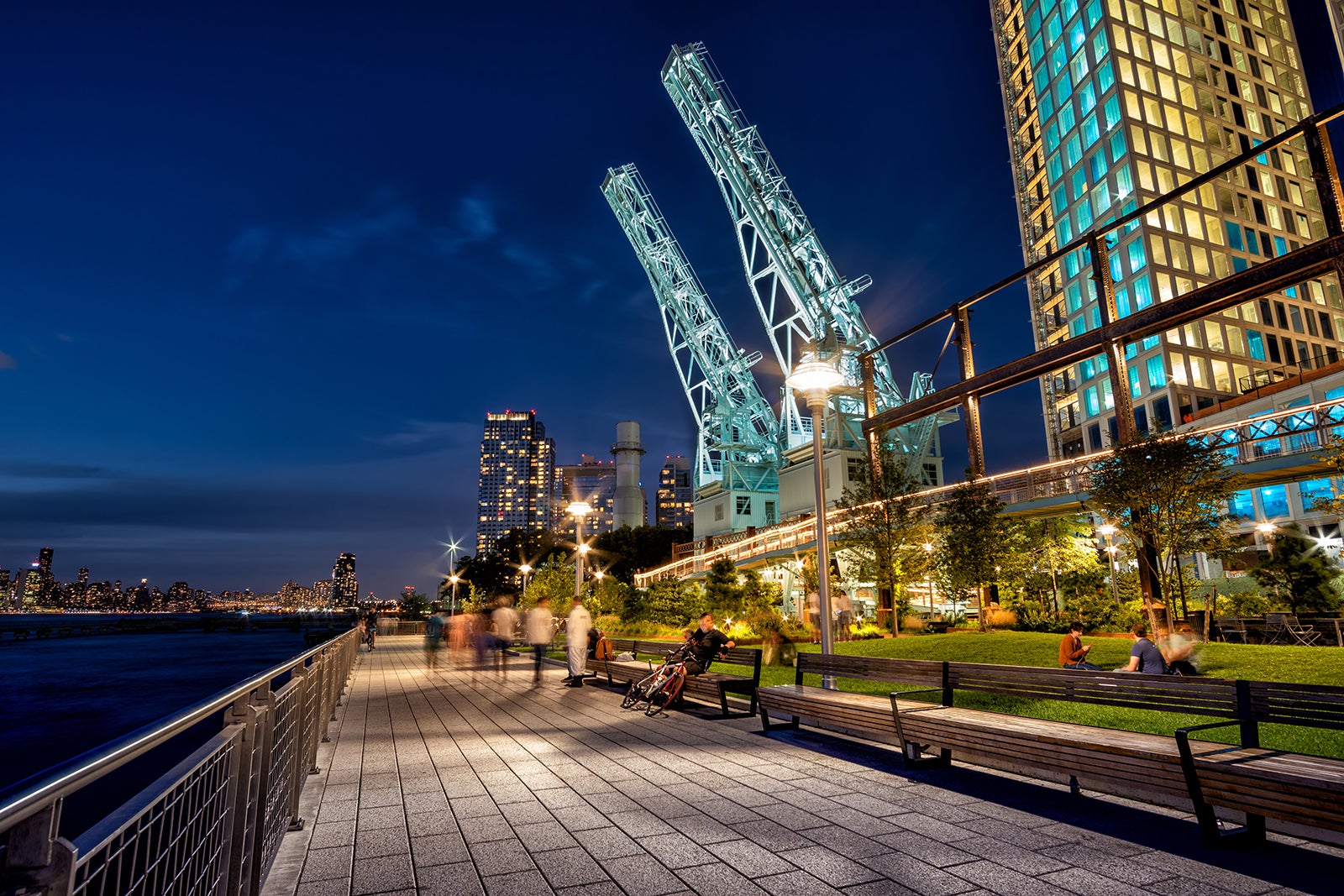 Williamsburg in New York
Location: Williamsburg, Brooklyn, NY, USA
Back to top