Wynwood Walls is an international outdoor street art museum and a focal landmark of the Wynwood Art District in Miami. It's where to go when you want a good sampling of the former ghetto and warehouse district that's become Florida's top urban art haven. Understandably, it's the star destination on art walks throughout the neighbourhood.
The cultural landmark covers a whole block, with a spacious garden surrounded by a series of massive colourful murals. What you see on display are the passionate works of muralists and sculptors from around the world. Parts of the lawn even features a series of installation art and sculptures, some of them extremely lifelike and seemingly half-buried under the turf.
Wynwood Walls in Miami - one of the highlights of 11 Free Things to Do in Miami and 12 Best Things to Do in Miami (Read all about Miami here)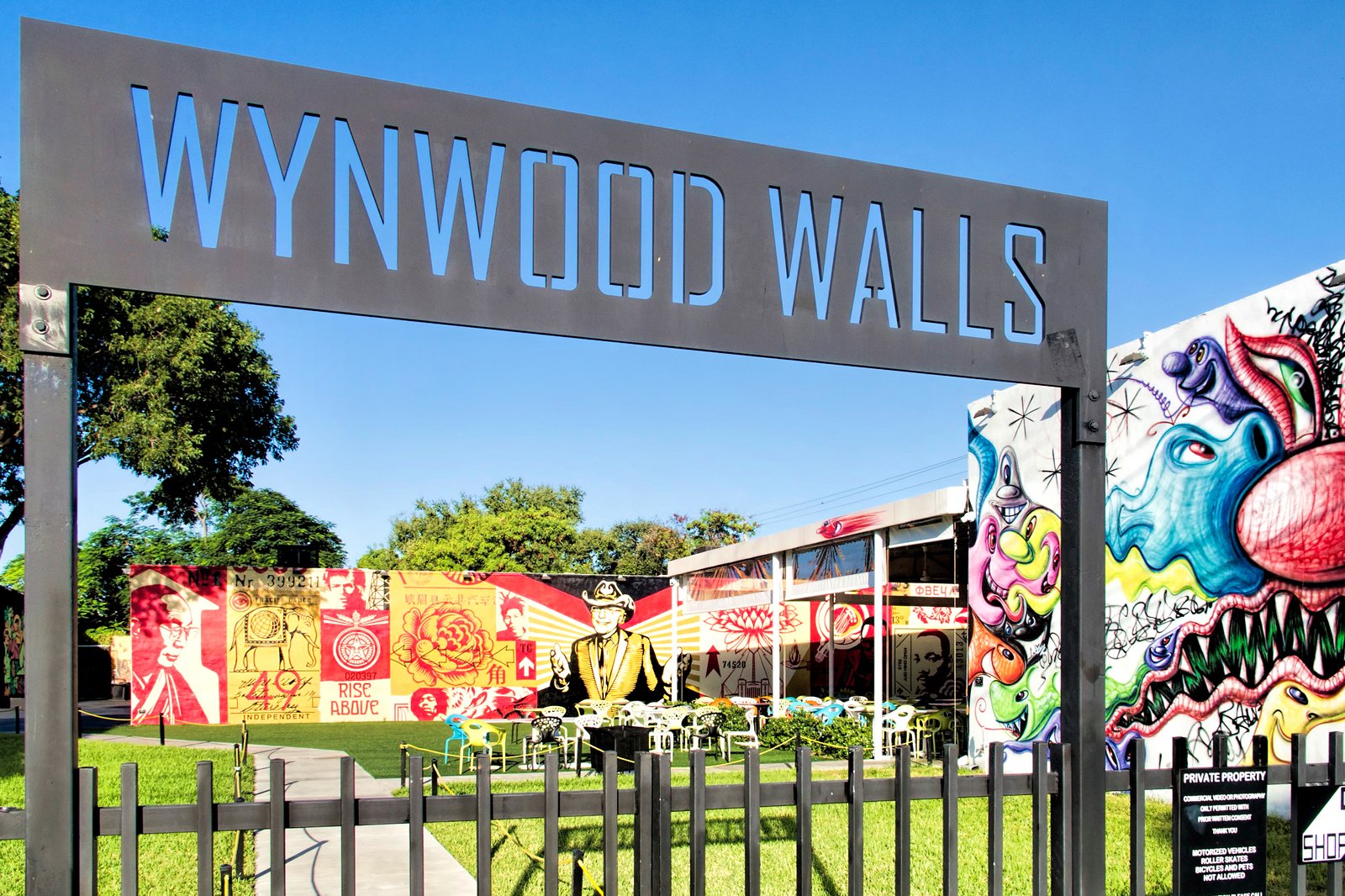 A brief history of Wynwood Walls
Wynwood's graffiti-covered streets stretch for miles north of downtown Miami – cruising along them is a feast for the eyes. The hip neighbourhood has attracted aspiring painters, graffiti artists, and creatives over the years, with Wynwood Walls becoming its eventual beacon.
It all started in 2009 with the late American real estate developer Tony Goldman. He had the passion and vision to revitalise the Wynwood warehouse district (which dates back to the Roaring Twenties) into an artistic hub. This was achieved by simply building upon the preexisting scenes of run-down streets and warehouse walls laden with sparse graffiti.
As a side note, Goldman was also responsible for reviving Miami's South Beach area, turning it into one of the country's most luxurious districts. His dream for Wynwood gradually became a reality, using a series of big, ageing, blank, and windowless warehouse building walls, particularly on the NW 25th and 26th Street complex, as giant canvases.
The spot later came to be known as Wynwood Walls. It opened with Art Basel Miami, one of the biggest contemporary art fairs in the United States, back in 2009. It successfully sparked the interest of the artistic community and the mural craze then spread throughout the whole neighbourhood, further turning Wynwood into an extremely colourful scene.
What are the highlights of the Wynwood Walls?
Among the notable murals at Wynwood Walls are those by renowned Japanese stencil artist Aiko. Also noteworthy is the vibrant and fragmented imagery and labyrinth installation by the artistic duo Eli Sudbrack and Christophe Hamaide-Pierson, as well as the bright and comic-like strokes by New York-based Crash.
A year after its opening, Wynwood Walls' collection expanded to include Wynwood Doors and Garden. This extended the splashes and colours of the former open-air gallery to a variety of roll-up storefront gates. There's the iconic, photorealistic spray-painted work depicting a series of 'walking' hands by German artist Case. The mandala-inspired works by Los Angeles-based Cryptik are also hard to miss.
Inside Wynwood Walls, you'll find the GGA Gallery, overseen by the Goldman Global Arts creative collective. There's also Joey's Italian Café, where you can dine alfresco against mosaic murals. The Wynwood Walls Shop is great for stocking up on curated gifts, prints, and souvenirs inspired by Wynwood Walls' artists.
Good to know about Wynwood Walls
There's a variety of tour options available, including an official guided tour by Wynwood Walls. General admission applies for entering and enjoying the wondrous outdoor art space and garden.
Wynwood Walls also offers a wide range of events, from family yoga sessions in the garden to movie screenings set against the cool backdrop of massive murals. Note that the doors to Wynwood Walls close 30 minutes before closing time.
Parts of the lawn feature fantastical animal sculptures by Puerto Rican artist Alexis Diaz, such as an unmissable black kelpie-like horse-fish creature. Note that you should walk along the pathways and avoid walking on any grassy areas. You're also not allowed to touch or lean on the walls. Other 'nos' include smoking and bringing strollers into the galleries.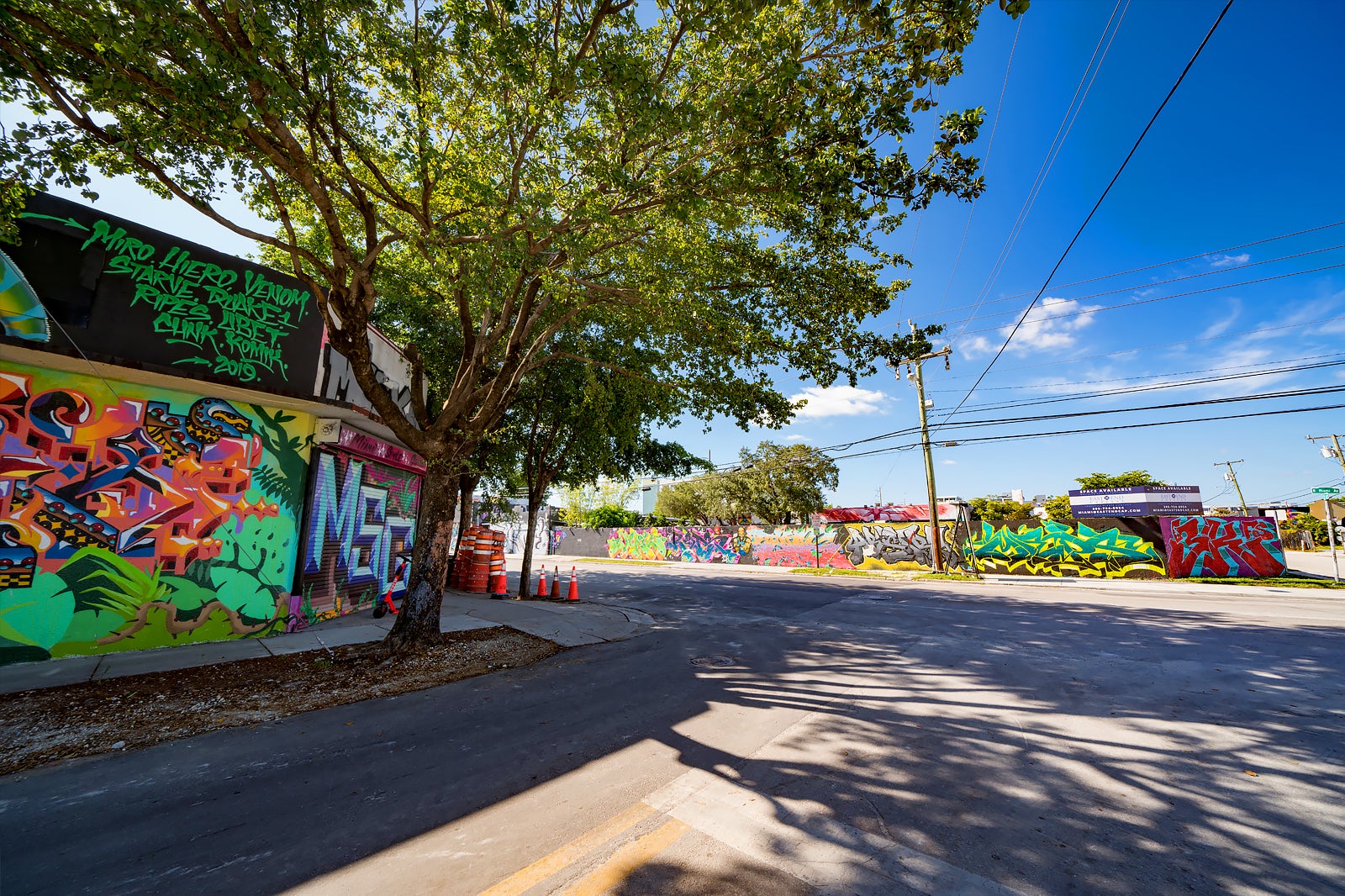 Wynwood Walls in Miami
Location: 2520 NW 2nd Ave, Miami, FL 33127, USA
Open: Monday–Thursday from 11 am to 7 pm, Friday–Saturday from 11 am to 10 pm, Sunday from 11 am to 9 pm
Phone: +1 305-531-4411
Back to top