2116 Kalorama Rd NW, Washington, DC, 20008, United States of America
What guests say
Hotel could use some updating
Rooms in need of an update
Furniture needs more attention
Hotel buildings could use some improvement
Narrow reviews:
307 verified guest reviews
Room A/C was not working properly. Asked staff to fix it but did not fix it.
Verified Expedia guest review
The room is too small. And the room is too old. Not very comfortable.
Verified Expedia guest review
Staff was understanding when I exposed my concerns. Location is good. Way over priced.
Verified Expedia guest review
My judgement on the quality of the hotel services must be mitigated by the price of the room. I had booked the room on the basis of price and location.
Verified Expedia guest review
so tiny and cramped; hard to move around
Verified Expedia guest review
A Dump in a Prime Location
This is the worst hotel I've ever stayed in outside the developing world. Booked here during a conference held nearby. While the location is excellent, the hotel is old, run down, and shabby. The cleaners do their best, but some of the dirt is ground in, including substantial marks on the walls, and can't be cleaned off. The ground floor/lobby smells of bug spray. Had I not booked online, I would have sought alternate accommodations after I saw the place. The worst shock occurred after I got home: reeling from the experience of staying there, I read reviews from several years ago about the place having had bed bugs. Wish I had read the reviews more carefully before I booked (I booked principally for location) and gone elsewhere.
Verified Expedia guest review
Response by manager
Most people enjoy our hotel. Sorry it didn't meet up to your standards. May I suggest a 4 star hotel next time you come to the city. Also some of you comments are very foolish. There is no smell in our lobby and we have never had bed bugs, even several years ago.
Clean but basic budget hotel.
This hotel met my needs for an affordable, safe and clean hotel within half a mile of the big, expensive conference hotel. The hotel has not had an update to beds, carpeting, furniture and lighting for many years and was missing some basic amenities in rooms, such as coffee maker, microwave, desks too small to hold a laptop and a lamp at the same time and there were not enough electrical outlets for charging laptop, cell phone, etc. Free breakfast was very basic - coffee, pastries, toast, cereal and juice. On the plus side, air conditioning worked well, bathroom was updated and very clean, bed was comfortable and clean, with reasonably functional wireless internet, and flatscreen TV with good cable selection. And the staff were professional and courteous.
Verified Expedia guest review
The following English reviews were posted by hotel guests from other countries
Very good customer service check in.
Verified Hotels.com guest review
Stay alone
Verified Hotels.com guest review
CUSTOMER SERVICE!!!
OVERALL THE ROOM AND HOTEL WAS DECENT I CANT COMPLAIN MY FAMILY HAD A GREAT TIME SO THAT ALL THAT MATTERS BUT I WILL CONTINUE TO SAY CUSTOMER SERVICE IS THE FIRST PRIORITY IN EVERYTHING!!! YOU ALL BE BLESSED AND HAVE A GREAT DAY!!!
Verified Hotels.com guest review
My Stay!!!
Some stuff was outdated but it was kool aint no need 2 get bent out of shape I njoyed my stay.
Verified Hotels.com guest review
The toilet had to be fixed and the heat was more like air from a fan.
Verified Hotels.com guest review
My stay
Its was a nice place but my room dtill had ttash under the beds an the tub would stop up whenever i showered,it was a bit nosey due to people arguing but i still enhoyef my stay it was close to stores an nice area.
Verified Hotels.com guest review
Suitable Place for a No Frills Stay
The hotel is older and a little worse for wear, location is great, price is great, WiFI was good and facilities were relatively clean. You get what you pay for and if you're looking for a no frills place to stay, this hotel is good for.
Verified Hotels.com guest review
Very nasty place
Verified Hotels.com guest review
AMAZING SOFA/BED
The living room sofa/bed is AMAZING 😉
Verified Hotels.com guest review
Small hotel, old but charming. Good location, helpful staff, good value for money as continental breakfast included
Verified Expedia guest review
Great location near a subway station, all embassies. Old building but outstanding service and cleaning. We loved our stay
Verified Expedia guest review
Clean hotel without frills and thrills
Its an old hotel, so everything is different. It was quite even with air on. Breakfast room is small, vending machines dont work. Mine had a tiny bed plus a queen bed. The sanyo tv looks ancient, so does the furniture. Carpet is clean but looks ripped at edges. Comfort covers are ok but dull in color. Room furniture comes from 18th century. Bathroom was clean though toilet and tub are perfect for kids room. The room was smaller than typical hotels. There isn't much to expect from a hotel built in 2013. However some updates could help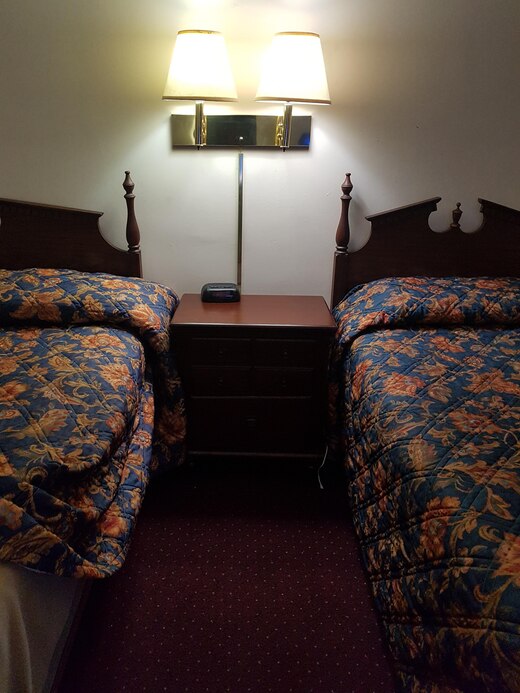 Verified Hotels.com guest review
Simple. Good enough for a place to rest. Although not a lot of choices on breakfast.
Verified Expedia guest review
Stay somewhere else
Stay anywhere else! Sketchy area & workers......place is so small, & smells weird. It looks like your grandmas bedroom from the 50s......small, everything is out dated. Bed is old & looked like it was going to fall apart if you sat on it. No key cards, regular keys to get in room. Super thin walls- you can here every conversation. It was kinda clean & no bugs. If it costs $50/night aid say you get your monies worth.
Verified Hotels.com guest review
When we arrived, the reception said we do not have a booking. But we had confirmation of booking and payment. We got a room which was so-so, only one table light. Overall, I was not sure about the cleanness of the room. Breakfast was muffins(several kinds), butter, Philadelphia sour creme, jam, tea, coffee. They gave a tea for free. They let us store our baggage for the whole afternoon. The staff was nice. The hotel is good but the price is very expensive this kind of place.
Verified Expedia guest review
Decent stay.
The Windsor Park is an old-style hotel. I ended up in a suite on the second floor which had two double(?) beds and a sitting room. It's in a nice neighborhood and you can walk down to restaurants down on Dupont Circle. I was carless since I was in walking distance to our client's location. The Windsor Park was quiet and adequately heated. The bathroom was a little cramped with the toilet rather close to the sink; however, it worked. The bathroom had a bathtub.
Verified Hotels.com guest review
Older hotel
The hotel has an unpleasant odor that greets you each time you enter. Walls have some cracking and carpet bags in some areas. Staff are pleasant. There is no sound proofing. One can clearly hear conversations in other areas from private room.
Verified Hotels.com guest review
Quaint, simple, clean, well-kept, economical, good area.
Verified Expedia guest review
Quiet, warm. I was given a room with two doubles instead of a queen like I reserved. Paint was peeling in multiple places. Things were falling apart in the bathroom (TP dispenser, for example, doesn't stay together if you tug on a sheet), and generally looked like it needed updating. The cleaning staff were great. They were happy to replace towels and toiletries even after single use. They were respectful and courteous. The front desk, though, was often missing or was aloof.
Verified Expedia guest review
Love Windsor hotel.
Quite good except for the noisy doors at night when somebody else is opening their doors it's like they're knocking on your door. Overall I love the place. Please include things like eggs, fruits in your breakfast menu.
Verified Hotels.com guest review
This property is dilapidated, unkempt, dusty, and outdated. Very scary place
Verified Expedia guest review
Spending machine don't work, shower head was filthy, air conditioning never worked, i had to open the windows.
Verified Hotels.com guest review
Hidden treasure
Hag everything I needed and loved how old/vintage the building was. Great location and price.
Verified Hotels.com guest review
Response by Management
Thank you so much, your kind words are greatly appreciated.
Hotel was in a terrible location. Had no parking-no lot, valet, etc. Hotel staff said that was the way it was in DC. (BS). Finally found a place to park on street, but had to have car moved by 7:00 a..m. or it would be towed. Got to room--it was like an oven-must have been over 85 degrees in it. Called desk, was told they had shut off a/c because it was fall and that only the heat was on. They said they could come up to open window. I told them that I did not feel safe with window open in that neighborhood. Finally left--still fighting with them about a refund. We stayed at Red Roof Inn and was very happy.
Verified Orbitz guest review
Response by Joseph (Management)
We all remember your ranting and raving, about the parking lot that we advertise we DO NOT HAVE. You were staying in the best neighborhood in Washington, with great people, just might not be your kind of people. Thank you for the funny story, and good luck with life with that attitude. We are aslo aware of how abusive you were to our evening desk clerk, and would love to speak with you about that.
Clean, convenient and efficient. Good coffee. I need to find out what kind it it.
Verified Expedia guest review
There comes a time in the decline of a hotel where people stop caring, the owner, the staff, even the people staying there. This has been the case here for some time. Our bathtub felt like we were standing on a waterbed as they had attempted to have it refinished but water had leaked under the new layer. This made it both uncomfortable and dangerous. The toilet refilled so slowly that we could only flush about once every half-hour. They claim to have central air and heat, but they say they only turn it on in certain seasons (we were not there in one of those seasons). We told the front desk we would be checking out very early (and it was early, 3am), but when we arrived to checkout, we found the attendant asleep behind the desk on a makeshift bed. All this to say that they are beyond the point of caring. The price and location are the only reason to even consider staying here.
Verified Orbitz guest review
Worst service ever, the beds are not clean and the rooms are very smelly, smells like sh*t. I DO NOT RECOMMEND IT TO ANYONE.
Verified Expedia guest review
Nice little place close to restaurants, etc., No much on amenities, but the price is excellent
Verified Expedia guest review
For Dc was probably economical No lobby or TV room, no pool or exercise minimal breakfast
Verified Expedia guest review
Nice location. Clean and well maintained. Quite and relaxing. Decent breakfast. Would stay here again.
Verified Expedia guest review
you'll get what you pay for
The location is far more remote than shown on the hotels.com map , about fifteen minutes walk to the next Metro Station, no Restaurants oder Bars in the neighborhood, the Hotel has most likely not seen any renovation in the past sixty years and no serious cleaning within reasonable time, but the staff is very friendly and accommodating.
Verified Hotels.com guest review
Decrepit hotel
That is unfortunate that the only reasonable price hotel in 2 miles around is in such a bad shape. They said "coffee available all day long" on their website. It is a false statement. The maids answered that coffee is just available for breakfast from 6.30 to 9 am when asked and I had to ask the reception for getting a cup of coffee supposed to be included in the price. The condition of the hotel is border line. I am not sure it will pass a health service inspection. The room I always had (it was not my first nor last time for location convenience) is a kinda old one bedroom apartment with a old kitchen, a living room, a bedroom and a bathroom. I would rather have a small room with a double bed, more cozy than this huge decrepit apartment. The bed quality and mattress is a disaster. The bathroom is weird, with a sink pasted to the wall behind the door... Well, far away of being great and deserving this rate. Worth a 3/10
Verified Hotels.com guest review
Cozy little place but crappy tv channels
It was nice and quiet they let us check in 2 hours early cause our bus was early. Over all it was a great place to stay a few nights just wish they had better T.V.
Verified Hotels.com guest review
Convenient location (quiet area, restaurants close by and a subway station). Clean rooms and all the basic ammenities. Would have given 5 stars but not air conditioning on in a very hot summer evening. Good value for money!
Verified Hotels.com guest review
Good location, clean. Friendly staff. Comfortable.
Verified Expedia guest review
Disappointed
To be honest, we were a little disappointed. A great location yet Parking was a challenge. Here are a couple of turn offs for us; 1) You couldn't adjust the coolness or lower fan of the air conditioner. They shall allow either thermostat control or lower air flow. 2) Bathroom wash basin had no space to put toiletries. A new one with more side space will be very helpful. Finally, I found some long hair in shower tub that was sinking in some spots. It was a plastic shower tub. I'd avoid this hotel in the future
Verified Hotels.com guest review
An excellent location, which includes awesome fittings, finishes, and furnishings!
Verified Hotels.com guest review
The place was really clean and spacious. The staff was friendly and the breakfast was surprisingly good for such a small location. The wall sockets were a little loose, so my chargers kept falling out. I also wish the toiletries came with conditioner and not just shampoo. Otherwise, it was a great stay!
Verified Orbitz guest review
The place is unsafe. There is noone at the desk at night, and the door is open. Random people can come and leave. I was awaken by people trying to enter my room or knocking violently on the two nights there. The second night a group of people were screaming the corridors at 4:00am, and banging on my door, waking me up. I thought they would enter and attack me. The light in the room wasn't working. the walls are paper thin and you hear everything your neighbors are doing. Avoid if you can.
Verified Orbitz guest review
Response by management
I assure you this hotel has a 24 hour staff, and the door is being watched. This hotel is completely safe, as stated by our review history. I'm sure there were some noisy guests over labor day weekend, but your review is an inaccurate opinion.
Check in and check out were very easy. The staff friendly and professional. The accommodations are OK, but are manageable given how affordable the establishment is compared to its neighbors. Perfect place for a business trip.
Verified Hotels.com guest review
Single mother traveling with a child so didn't want to be too far from Capitol. Hotel is in a lovely neighborhood close to public transportation. Hotel is a bit dated. Room was adequate. Clientele was a mix of tourists and locals. Employees were nice. Decent hotel.
Verified Expedia guest review
Not family friendly.
Family and I all agreed the hotel was "off". The elevators are maximum of 4. My husband and son are claustrophobic. The elevator ride to the 4th floor felt like eternity for those two. None of us (myself, husband, 10 year old and 4 year old) felt good about staying the night. Upon seeing our room, we returned the key. The manager offered us a suite however, we had no desire to see more of the place.
Verified Hotels.com guest review
Bathroom doors were not closing properly. phone was not working.
Verified Expedia guest review
Reviews and ratings contained within this site are the subjective opinions of customers and suppliers; they do not represent or reflect Hotels.com's position. Neither Hotels.com nor the parties involved in providing review content shall be held liable for any damages of any sort resulting from use of these reviews