225 Moo 7

,
Pa Klok

,
Phuket

,
83110

,
Thailand
Hotels.com reviews
TripAdvisor reviews
< Previous

Page 1 of 4

Next >
The following English reviews were posted by hotel guests from other countries:
"remote - perfect for short trip - or deep pockets"
I chose to stay here as I like the brand ( good experiences before ) and it had a good complimentary activities program - My goal was to spend my time at the resort. It would have been nice to have on hand other food/drink options within walking distance, but I was well aware of that at time of booking. As much as I was expecting it to be expensive, it did start to grate towards the end of the trip. There is definitely a premium for food/drink/spa because of remote location Breakfast nothing to rave about, but adequate The setting is lovely - the pool very very good and all staff I encountered from checkin to checkout were faultless Gym tiny but again adequate - new and modern The main Thai restaurant was wicked - the red curry with tiger prawns and pineapple and the lamb shank massaman with sweet potato was instragram perfect and tasted even better
Verified Hotels.com guest review
Hotel is very pretty. Service is excellent. Highly recommended
Verified Hotels.com guest review
BEST place we have ever stayed at!!! We will be back again in no time.
Verified Expedia guest review
Private location and beach, great facilities, best breakfast, friendly staff - couldn't ask for more!
Verified Expedia guest review
"A little bit of paradise with Como at Point Yamu"
An amazing hotel with stylish design and modern decor. The outdoor pool was fantastic. Our guest room was tastefully furnished and the big soaking tub was just a delight. Loved this property!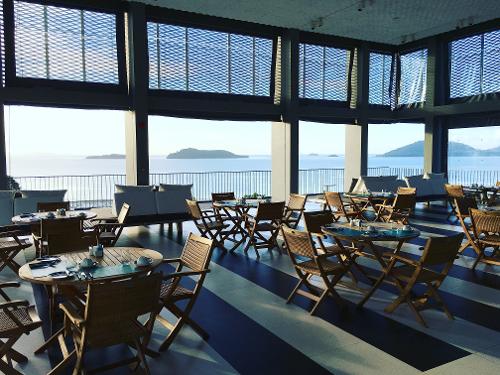 Verified Hotels.com guest review
"Lovely hotel near the beach"
Excellent service, awesome amenities . Great view, and lovely designs of spaces. Everything was great
Verified Expedia guest review
What really stood out for us was the impeccable service. Everyone (butlers, the restaurants' and spa staff, room service, front desk) was very friendly and helpful; we had made several requests throughout our stay there and they were all met with smiles and kindness. We also liked that the resort was quiet. clean and with many amenities. We will definitely recommend it to anyone who wants a quiet and relaxing holiday.
Verified Hotels.com guest review
A
Verified Hotels.com guest review
"Something out of a dream! (Honeymoon stay)"
We travelled to Phuket for the first time for our honeymoon, and although we were both anxious and excited, I can truly say we were blown away by our stay at Point Yamu. From the moment we arrived till the morning of our departure the staff were nothing short of marvellous and they made our stay at Point Yamu all the more special. We stayed in a Verandah Pool Suite (153) and would greatly recommend this to anyone. Before I mention anything else, the dream views and total serenity at Point Yamu are what made this a trip of a lifetime! The rooms are beautiful, the decor is stunning, and the facilities and cleanliness all well above par. Our Pool was everything we hoped for and more. The only thing I would mention is, although our pool was hidden from the neighbouring rooms to the side, it was somewhat visible to those in the rooms above which we were unhappy about. Housekeeping would visit us twice a day. Breakfast was a delight, the staff catered to all of our requests and were happy to do so. Both the Italian and Thai restaurants served delicious food, and in-room dining options were plentiful. Our favourite restaurant was La Sirena and we especially enjoyed taking our lunches with a view of the Andaman Sea. The only thing I would mention here is that dining is very expensive. The activities team at Point Yamu helped us organise everything and our experiences were perfect thanks to their help and expertise. We couldn't have imagined a more perfect honeymoon!
Verified Expedia guest review
Nice staff , good condition room , nice breakfirst , nice beach club ,
Verified Expedia guest review
"A little piece of Paradise.."
A truly excellent hotel with breathtaking views and excellent facilities. We especially liked the Como Beach Club on its own private island.. Service was excellent, food was fresh and healthy - we will definately stay again !!
Verified Hotels.com guest review
"Nice hotel. but too pricey "
Overall my experience is good. Staffs are very friendly. Just didn't like how it was est 1 hr from downtown and everything is just so expensive at the hotel. And we are from New York...
Verified Expedia guest review
Top notch hotel with breath taking views. Location is 30-45mins from Phuket town/ Patong Beach. Great if you want a serene Phuket experience.
Verified Expedia guest review
"Amazing hospitality, design and culture"
Constantly surprised by the thoughtfulness of the design, concept and service throughout my 3D 2N stay. Very exclusive and serene, with great food at all times of the day. The service staff are a gem to be treasured!
Verified Expedia guest review
It's a haunted hotel..! We stayed in Room 209 for 3 nights and couldn't sleep at all...! We complained to the hotel on second day, and they didn't tell us anything and even not changing our room. So the second night was the worst as the noise and interference started at around 2200 until 0800 the next morning. So we could sleep at all..! The hotel finally changed our room on the last night at 2330 after we asked their staff including security, front desk to come into our room to see what happened there. They could clearly hear the noise created by something from time to time. We came back until now for almost 3 weeks and we both are still very sick for no reason. We checked on the internet and talked to the people who stayed there, and they named out right the way room 209. The hotel should not put any guest there until they clean up the mess..!!!
Verified Hotels.com guest review
Hotel view is amazing. However the location is not very accessible and food is over priced.
Verified Hotels.com guest review
ที่พักสะอาด สวย เป็นส่วนตัว วิวสวยมากๆ พนักงานน่ารักดูแลเอาใจใส่ดีมาก แก้ปัญหาเฉพาะหน้าได้ดีมาก ขอชื่นชมโดยเฉพาะพนักงานต้อนรับที่lobby น่ารักมากๆค่ะ ขอตินิดเดียวเรื่องอาหารค่อนข้างรสชาติอ่อน อยากให้มีอาหารรสชาติสไตร์คนไทยเพิ่มขึ้นค่า
Verified Expedia guest review
Simply AMAZING!!
Verified Hotels.com guest review
"Absolutely the best place we have ever stayed "
The most beautiful location as well as extremely well appointed rooms and quality food and service. The pool is to die for and the private beach (on a private island no less) is heavenly. Id give it 10 stars if I could.
Verified Expedia guest review
Rooms are all neat and tidy. Views from room, main Swimming pools area are magnificent. Very peaceful surroundings. Customer service was excellent, staff always greeted you with a Wide smile on their faces. Food options are Ok, even though pricing may be on the steeper side. Did not want to venture out as was told by service staff that taxi trip to patong will cost approximately 800 baht. Overall a very good stay there for my honeymoon. Word of advice: at night, there can be mosquitoes around, strongly suggest Travellers to put on mosquito repellent.
Verified Hotels.com guest review
"Very relaxing retreat type of resort!"
Warmly greeted and speedy check in. Some staff were very informative and friendly while some seem kind of "lost." Yes, there's no direct beach access but we knew this prior to booking and the nice boat trip to the beach club makes up for it. The spa service was nice; massage was awesome but the facial was disappointing. It's overall a very nice cozy resort with bit of luxury touch.
Verified Expedia guest review
fantastic! I love everything about this resort. We stayed in the verandah suite with a private pool and you need to get room 419 or 501 for a better sea view. You also need to try their como massage.
Verified Expedia guest review
Service is excellent; the room/suite was spacious, clean and comfortable, with a massive bath tub! Pool area was great with beautiful ocean views. Had an amazing massage at the spa, restaurants were also great! Would definitely stay again!
Verified Hotels.com guest review
"Great hotel with really cool Architecture"
The beach club is a lovely addition &. Good. Value for money
Verified Expedia guest review
"Wonderful place for relaxing couple's get-away"
It was absolutely amazing! We stayed here for 3 nights and we had a wonderful and relaxing time. The stuff is very friendly, the pool and spa area as well as the restaurants more than great. The beach club, a private beach they take you to for free if you like by boat, is simply stunning. Will come again!
Verified Hotels.com guest review
Verified Expedia guest review
"Need a convenience store badly"
Excellent, super clean and tranquil. The staff very efficient. Breakfast variety can be better.
Verified Expedia guest review
Nice hotel, excellent services!!! Surely will visit Point Yamu again!!!
Verified Expedia guest review
"Awesome hotel! Will be back for sure!"
Excellent and peaceful environment.
Verified Hotels.com guest review
"Very good view and all facities are good"
Free beach club at Naka island is memorable. Nice breakfast and staff is helpful.
Verified Expedia guest review
"Great for family gateway"
We enjoyed our stay very much. The staff were very friendly. Out two year old toddler enjoyed the big playroom and kids club activity very much!
Verified Hotels.com guest review
"Incredible Phuket Location & Beautiful Resort"
Point Yumu by Como has an amazing location set in a very exclusive enclave of the island with well appointed rooms. I recommend getting a Villa, they are wonderfully private, beautifully spacious and away from the main building of the resort. The plus is that you have your own private pool with spectacular views of the bay. Two restaurants and one bar.....Some have issue with the lack of options, but if you like to vacation with out the crowds, Point Yumu by Como fits the bill. Service is gracious, but at times their is a disconnect in following through with the quality. I don't know if it is the region or their is not the demand for a higher level of service. That being said, I just came from The Peninsula Hotel, Bangkok, so I have to give them a pass. I can truly say, that I wanted for nothing and I was pleasantly surprised with the special amenities that were provided during my stay. Fresh exotic local fruits and special little surprises were a Bottom Line, an amazing location, ridiculous deal for the money and some of the most spectacular views. I will definitely will return in the future, and sooner than I expect. Thank You Point Yumu for an Amazing Holiday!!
Verified Expedia guest review
"Good place to take a rest"
Hotel staffs were all very kind and nice. Breakfasts were delicious! One thing that I hope the hotel can consider for guests convenience. It's a Shuttle Transportation to city : at least a one per return trip a day - To go to city we needs to use Grab taxi(this app is quite well organized in Thailand). The hotel offered 2 time expensive.
Verified Expedia guest review
Nice getaway a bit far from everywhere. But hotel makes up for it by having lots of organised activities. Get romantic getaway with very nice hotel design and pays attention to details. Staff are very well trained. Great view looking out from poolside.
Verified Expedia guest review
Gorgeous views, architecture, and interiors. Lovely chill vibe throughout. Beach club was nice and private. Food was fantastic mostly, good otherwise. Thai-style bacon and egg breakfast was excellent as was wagyu green curry, umchan noodle dessert and coconut wafer duck starter. Staff was helpful and unobtrusive, though wait staff can be a tad busy during meal times. Grab app recommendation was brilliant. TV ents could be better but best to get out in the sun anyways!
Verified Expedia guest review
"Good Hotel with organised activities"
Pros: Staff are helpful with many trip advises Hotel facilities are new and clean, swimming pool is with a perfect view Activities: Yoga , Bike Tour, Private Beach Tour, are free to join Cons: Far away from town center, Not too many choices in hotel restaurants menu
Verified Expedia guest review
The activities lined up and facilities available is enough to occupy you for a quiet getaway from the hustle and bustle. Staff were all very helpful and paitient with our requests and queries. Only down side is we have to travel by boat for about 30mins to the private beach. Other than that the room and spaciousness of the rooms is great! Definitely a great escapade.
Verified Expedia guest review
Was a great get away. If you are looking for Patong, this is not the place for you. It is far out. There are no shops nearby. It is quiet. It is a place you want to escape to from the city. My wife and I had the expectation of checking in and relaxing within the resort. And it met every expectation we had. Room service, breakfast spread, or the restaurants, they were all excellent.
Verified Hotels.com guest review
"Great place, brilliant staff, addictive cocktails"
You can tell from the photos that this place obviously has cracking views, but you can't tell from photos that is has cracking service: and that service spans from the senior management across all other members of staff (excepting perhaps the yoga instructor who was a bit of a plonker!) . They are chatty without being intrusive, fun without being improper, caring without being clingy, helpful withot being patronising, and hugely accommodating. Aside from the staff, the food was decent (though I wouldn't have minded a few cold cuts at breakfast) and the drinks were well made (though not the cheapest), and the bar had decent music. There isn't a great deal in the local area, but taxis are organised easily enough. The swimming pool area was wonderful, though if you tire of that then the trip to their Beach Club is well worth it even if the tides dictate that you can't stay too long. I've stayed in lots of nice places, but the staff really made this one stand out.
Verified Hotels.com guest review
I learnt an important lesson at this hotel. Don't leave. From check in to check out every experience was perfect. Amazing food, service, amenities & the hotel design and aesthetic is 10/10.
Verified Expedia guest review
"V special spa treatments"
Very unwelcoming on arrival but it was a Great stay, fabulous staff at spa. Yoga was v hard on some days, loved to steam room and spa facilitates. Amazing Thai food.
Verified Hotels.com guest review
"Great views, private and quiet"
Stayed in a Veranda Room with Pool (only 2 in the hotel) which is obviously better than not having your own pool. The hotel is modern and well designed without feeling cold. Only 2 restaurants - Thai restaurant was amazing. Italian restaurant had the Como Shambala wellness menu, which was not bad.
Verified Expedia guest review
I've stayed in five or even 'six stars' hotels across Asia and Point Yamu didn't fail to impress me!
Verified Expedia guest review
Great hotel, great staff.... not sure what people's expectations are re: food, as we had really good food throughout the entire stay. If you're not interested in the touristy stuff or direct beach access isn't a prime concern, this is a beautiful hotel to consider.
Verified Hotels.com guest review
My wife and I visited Point Yamu for our honeymoon and were blown away by the experience. The staff treat you like you're the only ones there (thereby putting many American resorts to shame). The food was excellent, the amenities spot on, and even though we went during rainy season, there was a certain peace and tranquility that permeated the facility. Highly recommended!
Verified Expedia guest review
"Really Nice stay but terrible food"
Rooms were awesome. We got the verandah room which has a balcony and overlooks the garden (not the pool) which was fine because we also got the ocean view also. View was absolutely amazing. Super spacious and we love the bath products and amenities. But food here was terrible. It was very far from everything. So you must rent a car otherwise a round trip to Phuket town will cost 1600 baht. and this hotel has 2 restaurants we stayed 4 days so we've got to try everything and food/room service was awful - very disappointed as its not up to the 5 star rating at all. Everything was very oily and soggy. Although breakfast spread was not bad. However, other redeeming perks are that they have happy hour, ice cream hours, free boxing and Pilates classes and other activities you can pay for also. And the Como Shambala spa treatments were outstanding. We got the signature massage and the sun soother and it was great. Also sunsets here are magical. Overall really good stay just need to upgrade the food!!! And rent a car!!
Verified Expedia guest review
"Perfect stay & getaway for couple!"
Great hotel at outskirts of Phuket city which provide various hotel facilities and services
Verified Expedia guest review
I absolutely loved Point Yamu by Como. The views are top notch, the design is modern but with great local accents, the pool is fantastic, and the breakfast is delicious (I especially love the baby coconuts). I was looking for a relaxing few days away from the hustle and bustle of Shanghai, and I got much more than that. It was the most perfect getaway-- I spent time at the beach club, pool, spa, and enjoying happy hour at sunset. It was easy enough to book a taxi to Phuket town for the afternoon, although I would have rather just stayed at the resort or on the beach. The only negative thing I have to say is that there is construction at the beach club, which is slightly annoying, but the service and attentiveness of the staff at the beach club helps to make up for it. I look forward to checking out some other Como properties in the future. I am most definitely a fan.
Verified Hotels.com guest review
"Quaint and luxurious hotel with magnificent views "
Located at the far end of the Cape Yamu, this hotel has a magnificent 270 degrees view towards both the east and west. The infinity pool provides a great 270 degrees view and pool lounges are very comfortable to stay on all afternoon. Lots of activities were provided complimentary, best make a reservation beforehand. We went to their beach club which is 30 minutes away from the hotel. The beach was not big, water is not too clear, but the day bed was good with good shower facilities. Some water activities are provided too. The rooms are very spacious and well designed like the hotel itself, I could watch the stars from the balcony. Bath robes is very comfy. The breakfast was in a semi buffet format, lots of drinks choice, food tasted okay and I would like to have smaller portion for each item so that I could have more choice instead. I did wanted some cheese and ham but not a full plate of it ... the next day I could only picked an omelet as breakfast because I do not want to waste food (I could not even finish that omelet alone) The staff are generally welcoming but sometimes I feel a bit distanced from them and wish if they are more flexible with the arrangements.
Verified Expedia guest review
"Didn't expect construction noise. Poor beach club"
Construction work going on right by the hotel of associated villas, therefore unexpected and unwelcome noise at the pool. Also the beach club doesn't live up to expectations; there's a building site right next door, so it looks nothing like the photo on the website, and certainly isn't the private swathe of sand as touted on their website! Lots of positives with the rooms and overall ambience of the hotel, but not sure it's worth the money for the bay pool villas taking everything into account.
Verified Hotels.com guest review
Reviews and ratings contained within this site are the subjective opinions of customers and suppliers; they do not represent or reflect Hotels.com's position. Neither Hotels.com nor the parties involved in providing review content shall be held liable for any damages of any sort resulting from use of these reviews
< Previous

Page 1 of 4

Next >