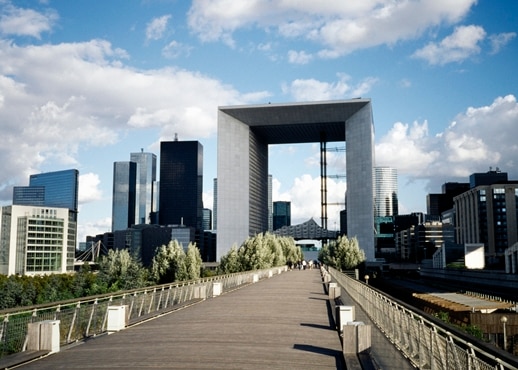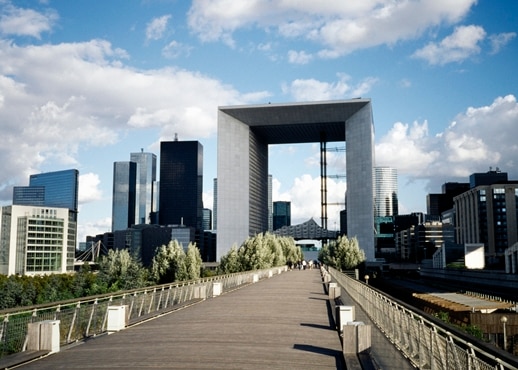 See on a map
Top cities in La Defense
All cities in La Defense
Hotels in La Defense
To the west of Paris city center lies Europe's largest purpose-built business district, La Défense, famous for its towering skyscrapers and fast-paced energy. Besides the everyday influxes of students and businesspeople, La Défense also welcomes a large number of tourists who come to marvel at contemporary Paris. Walk along the futuristic Esplanade and view the imposing Grande Arche which completes the Historical Axis, a line of Paris' most beautiful monuments beginning at the Louvre and extending over 6 miles.


Hotels in La Défense

La Défense dominates the Paris skyline with soaring structures and most of the area's hotels are located in stylish high-rise buildings. The 5-star hotels in La Défense are some of Paris' finest, like Pullman Paris La Défense, which boasts sleek décor and a lively cocktail bar. As one would expect, business hotels in La Défense such as Novotel Paris La Défense are among the best Paris has to offer. This stylish 4-star hotel features a 24-hour business center and a stunning location on the Esplanade. You can also find more affordable 3-star accommodation in La Défense, like Citadines La Défense Paris, which offers rooms in keeping with the neighborhood's modern character at great rates.


Things to see in La Défense

The bustling streets of Paris' commercial hub offer a myriad of interesting sights, the most striking of which is probably Grande Arche de la Défense, an iconic work of modern art resembling a hollowed-out cube. It marks the end of the Historical Axis and is well worth visiting at night for a stunning illuminated view of the Arc de Triomphe from afar. In the nearby Les 4 Temps mall, once the largest shopping center in Europe, you'll find big-name brands and an array of great eateries. Art enthusiasts will enjoy the 60 avant-garde outdoor sculptures and contemporary art pieces dotted around La Défense, while a stroll down the Esplanade takes you right to the River Seine. Afterwards, a visit to the famous Apogé is a must. This exclusive wine cellar is a favorite with locals and offers over 100 wines available by the glass; let yourself be guided by expert sommeliers and enjoy delicious vintages on the beautiful terrace.


Good for business travelers

La Défense was built for business, and the area is centered around work and unwinding once you've put in your shift, making it the ideal base for a business trip to Paris. Most business-friendly hotels in La Défense are located next to the convention centers and important commercial zones, and if you fancy a lunchtime walk, the Esplanade and the River Seine are also at your disposal. Afterwards, an abundance of restaurants, trendy bars, health centers, and gyms combine to make this neighborhood the perfect spot for some post-work relaxation.


How to get to La Défense

From Charles de Gaulle airport, take the RER B to Châtelet-Les Halles, where you can change to the RER A and travel onwards to La Défense. You can also reach Châtelet-Les Halles from Orly Airport by taking the Orlyval shuttle to Antony station and hopping on the RER B. Taxis are available from both airports and are worth considering for larger groups. The neighborhood itself is quite large, but is served by 2 metro stations, and getting from La Défense to downtown Paris via line 1 takes just 15 minutes.
Save more with Secret Prices
Get instant savings with Secret Prices