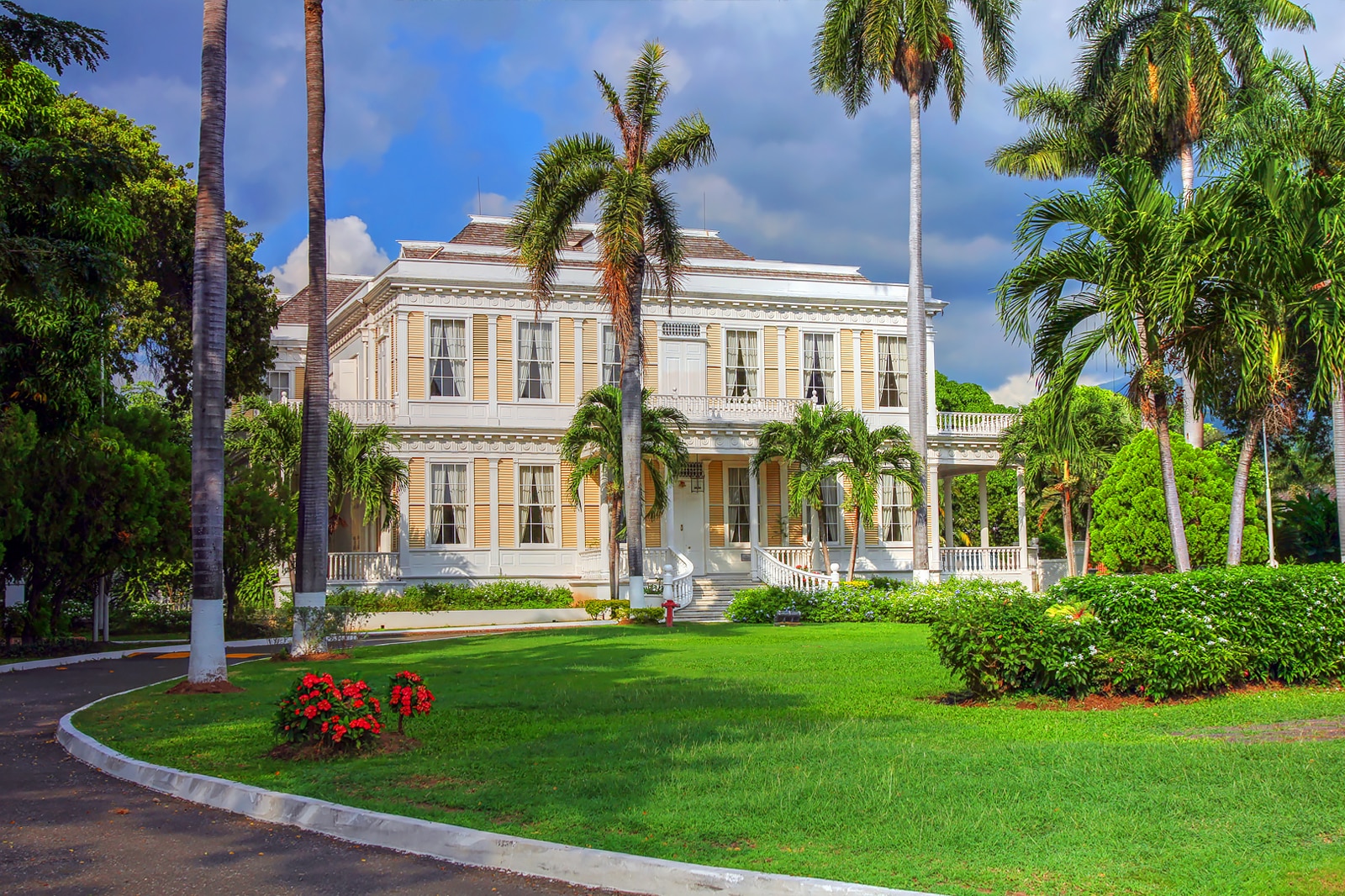 What to See and Do in Kingston, Jamaica
What is Kingston Most Famous For?
When searching for things to see and do in Kingston, it's impossible to ignore Jamaica's world-famous export, reggae music. From exploring the home of iconic troubadour Bob Marley to taking a tour of the Trench Town streets that helped birth the genre, the intoxicating reggae rhythms permeate almost every corner of the city.
As well as its far-reaching cultural influences, Jamaica punches well above its weight when it comes to internationally recognisable sites, especially considering its relatively modest size. Chief among these is the stunning Blue Mountain range, with its aromatic coffee plantations and relaxing bamboo rafting tours. And, with abundant heritage buildings, bustling markets, and a multitude of culinary delights, there's plenty to enjoy in colourful Kingston.
What are the best things to do in Kingston?
1
Bob Marley Museum
Tribute to one of contemporary music's most iconic figures
The Bob Marley Museum offers a fascinating glimpse into the life of Jamaica's most famous export. Set in the former home of the reggae music legend, the museum is filled with treasures and mementoes from his groundbreaking career, including his favourite outfits, his Grammy Lifetime Achievement Award, and a dizzying array of the gold and platinum records he scored.
All of the original rooms have been preserved as they were when the iconic artist lived there, including his bedroom and on-site recording studio. There's even a life-size hologram of the great man performing at the One Love Peace concert in 1978. Marley's inspirational music continues to endure, and the Bob Marley Museum is a fitting tribute to his extraordinary life.
Location: 6, 56 Hope Rd, Kingston, Jamaica
Open: Monday–Tuesday and Thursday–Friday from 9.30 am to 6.30 pm (closed on Wednesday, Saturday and Sunday)
Phone: +1 876-630-1588
photo by Dubdem • Música • Design • Sound System (CC BY 2.0) modified
2
Blue Mountains
Immerse yourself in nature on the island's highest peak
The Blue Mountains are a verdant paradise for nature lovers, hikers, and adventurers in Jamaica. Located on the eastern edge of the island, its summit is the highest point in the country, and in clear weather, it's possible to see as far as Cuba from high on the mountain.
The indigenous flora and fauna include over 800 dazzling species of endemic plants and approximately 200 magnificent bird species. The area is famed for producing Blue Mountain Coffee, and plantation tours can be arranged to learn more about the wonderfully aromatic beans. For those who prefer to get their kicks caffeine-free, thrill-seekers can enjoy a spot of whitewater rafting or off-road mountain biking to get the adrenalin well and truly pumping.
3
Coronation Market
Witness Kingston life in this buzzing hive of activity
Coronation Market is a vibrant market packed with charming stalls selling all manner of eclectic produce. Lovingly referred to as "the stomach of Jamaica", the vast, iron-covered market is famous for its array of farmers' market stalls, offering mouthwatering fruits and vegetables, fresh meats and fish, spices and prepared meals.
But it's not just delicious food on sale here as Coronation Market hosts charismatic vendors from all over the island selling textiles, car parts, electronics, music, clothing, and almost anything else you care to imagine. The bustling market is a wonderful spot to soak up local culture while browsing for bargains, and a unique opportunity to experience unfiltered Jamaican life just a few steps off the standard tourist trail.
Location: Pechon St, Kingston, Jamaica
Open: Monday–Saturday from 5 am to 10 pm (closed on Sundays)
4
Devon House
A lavish heritage building where you can kick back with the locals
Devon House is a lavish Georgian mansion that combines bygone elegance with tropical Caribbean charm. The decadent 19th-century building was once home to George Stiebel – the first black millionaire in the Caribbean. A certified National Heritage site, Devon House is now home to gourmet restaurants, boutique shops and park facilities, as well as the ever-popular I-Scream ice cream shop.
Tours can be arranged to admire the building's stunning interior, home to resplendent works of art, porcelain chandeliers, and even a secret gambling den. The grand white mansion stands proudly amid immaculately kept lawns, with the shade of swaying palm trees providing an escape from the heat of the day.
Location: 26 Hope Rd, Kingston, Jamaica
Open: Daily from 10 am to 10 pm
Phone: +1 876-926-0815
5
Rio Grande bamboo rafting
Take a lazy cruise along Kingston's picturesque "Big River"
Rio Grande bamboo rafting presents a scenic way to explore the abundant natural beauty and intriguing history of the parish of Portland's "Big River". This is suited to the more leisure-inclined than white-water adrenaline junkies, with the bamboo rafts gently traversing the river at a decidedly peaceful pace.
Guided tours of various lengths can be easily arranged, with the skilled raft captains happy to share their local knowledge while carefully navigating the winding waters. Along the way, you can stop for a bite, enjoy an ice-cold beverage, or take a swim in the refreshingly cool water, all the while soaking up the breathtaking scenery.
6
Emancipation Park
A peaceful green space to escape the bustle of the city
Emancipation Park is a lush, tree-lined urban oasis nestled within the hustle and bustle of New Kingston. Billed as a "tribute to freedom", the 2.4-hectare park was opened in 2002, commemorating the end of slavery in Jamaica. Its dominant feature is a poignant 3.4-metre-tall sculpture of a man and woman looking towards the sky, designed by celebrated Jamaican artist Laura Facey. Positioned around the carefully manicured lawns are numerous other art installations, as well as attractive fountains, and a colourful collection of native and imported plants.
The park is a popular spot for enjoying a picnic, go jogging around the purpose-built running track, and generally watch the world go by while taking refuge from the often scorching Kingston heat.
Location: Oxford Rd and Knutsford Blvd, Kingston, Jamaica
Open: Monday–Thursday from 5 am to 11 pm, Friday–Sunday from 5 am to 12 am
Phone: +1 876-926-6312
photo by Gwyneth Davidson (CC BY-SA 3.0) modified
7
Lime Cay
A picture-perfect islet where you can soak up some rays
Lime Cay is a stunning islet popular for its pristine beach, shady woods and crystal-clear waters. The small, uninhabited islet is accessible only by boat, with regular services running from nearby Port Royal, while those with good negotiating skills can also arrange private tours with local fishermen.
The island sees most of its action during weekends, when local Kingstonians flock here for a spot of R&R and weekend vendors pitch up to serve tasty food and drink to the amassed crowds. During the week, Lime Cay is usually very quiet, and you could even find you have the tropical paradise island all to yourself. Just make sure to bring food and refreshments if you visit off-peak.
photo by Gmanacsa (CC BY-SA 2.0) modified
8
Trench Town Birthplace of Reggae tour
Explore the spiritual home of reggae music
The Trench Town Birthplace of Reggae tour offers participants an intriguing insight into the history of Jamaica's effervescent music scene. The tour highlights many of the iconic artists who were raised and rose to stardom in the borough while shedding light on the role Trench Town itself played in the birth of the unmistakable reggae sound.
On the tour, you'll be guided through the vibrant streets, mingling with the neighbourhood's colourful characters while visiting key sites from reggae's indelible history. Here you'll learn about Bob Marley's formative years, visit his childhood home and even get to see his first-ever guitar. While certainly popular with music lovers, the tour is also a great way to immerse yourself in the grassroots of Jamaican culture.
Location: 85 West Road Kingston 12, Kingston, Jamaica
Open: Monday–Saturday from 8.30 am to 5.30 pm (closed on Sundays)
Phone: +1 876-619-8902
9
Kingston Craft Market
A friendly tourist market for all your Jamaican souvenirs
Kingston Craft Market presents a great selection of waterfront stalls selling an eclectic array of Jamaican craft items. Positioned on the coastline in downtown Kingston, the market offers fantastic ocean views to admire while you shop for souvenirs and curios.
Aimed at providing a welcoming shopping destination for tourists, the Kingston Craft Market's friendly stall owners sell locally produced and Jamaican-themed trinkets, clothing, paintings and memorabilia. You'll also find plenty of delicious food and drink to keep you fuelled as you hunt for the perfect gifts to take home. Feel-good reggae music rings out throughout this lively market, making it a hugely enjoyable way to spend a few carefree and sun-soaked hours.
Location: 174 Harbour St, Kingston, Jamaica
Open: Monday–Saturday from 7 am to 6 pm (closed on Sundays)
10
Kingston Dub Club
Roots reggae and dub as it's meant to be heard
Kingston Dub Club is a lively nightspot playing the best Jamaican music to crowds of animated dancers and reggae-loving Kingstonians. Perched high in the hills above the capital, the club boasts dramatic views of the city skyline, while its brightly painted speaker stacks blast out bass-heavy roots reggae and dub sounds.
Its lofty location means visitors have to take a short but winding uphill drive to reach the venue, but upon arrival, guests are immediately able to experience the island nation's world-renowned music exactly as its creators intended. Run by the Rocker's Soundsytem, the Dub Club proudly promotes Rastafarian culture while effortlessly entertaining crowds with their infectious rhythms and the supremely enjoyable atmosphere they create.
Location: 7b Skyline Dr, Kingston, Jamaica
Open: Sunday from 8 pm to 2 am
Phone: +1 876-815-1184
Back to top