10 Best Things to Do for Couples in Niagara Falls
Niagara Falls' Most Romantic Places
Planning a romantic break in Niagara Falls? You've come to the right place as we've selected the best things to do for couples around the world-famous natural wonder that marks the border between Ontario in Canada and New York State in the USA. Taking a break with your loved one in Niagara Falls is a great idea as the resplendent nature of the region makes it a lovely place indeed.
You'll obviously have to see the Niagara Falls, on foot or from a boat, but you can also enjoy a stroll in one of the largest aviaries in the world. Then you can share a horse-drawn carriage ride and a wine pairing gourmet dinner in one of the many wineries of the region. There's a lot of choice here, so follow us for a journey through Niagara Falls' most romantic places.
1
Get wet together on a Niagara cruise
Take a closer view of the mighty Niagara Falls
There's no more exciting way to experience the Niagara Falls than aboard one of the Hornblower Niagara boats. There are several types of cruise for you to choose from: full or light mist cruise by day, illumination cruise or fireworks cruise by night. Whichever you pick, get ready for a journey filled with thrilling emotions. Day cruises last 20 minutes, while illumination and fireworks cruises last 40 minutes. Mist ponchos are included in the price of the tour. The Hornblower Niagara boats get pretty close to Horseshoe Falls during a full mist tour, so you'll certainly enjoy the experience (and the soaking) of a lifetime.
Location: 5920 Niagara Parkway, Niagara Falls, ON L2E 6X8, Canada
Open: Cruise schedules vary depending on the time of year. They are available from May to November only
Phone: +1 855-264-2427
2
Take a stroll in Bird Kingdom
Visit one of the largest aviaries in the world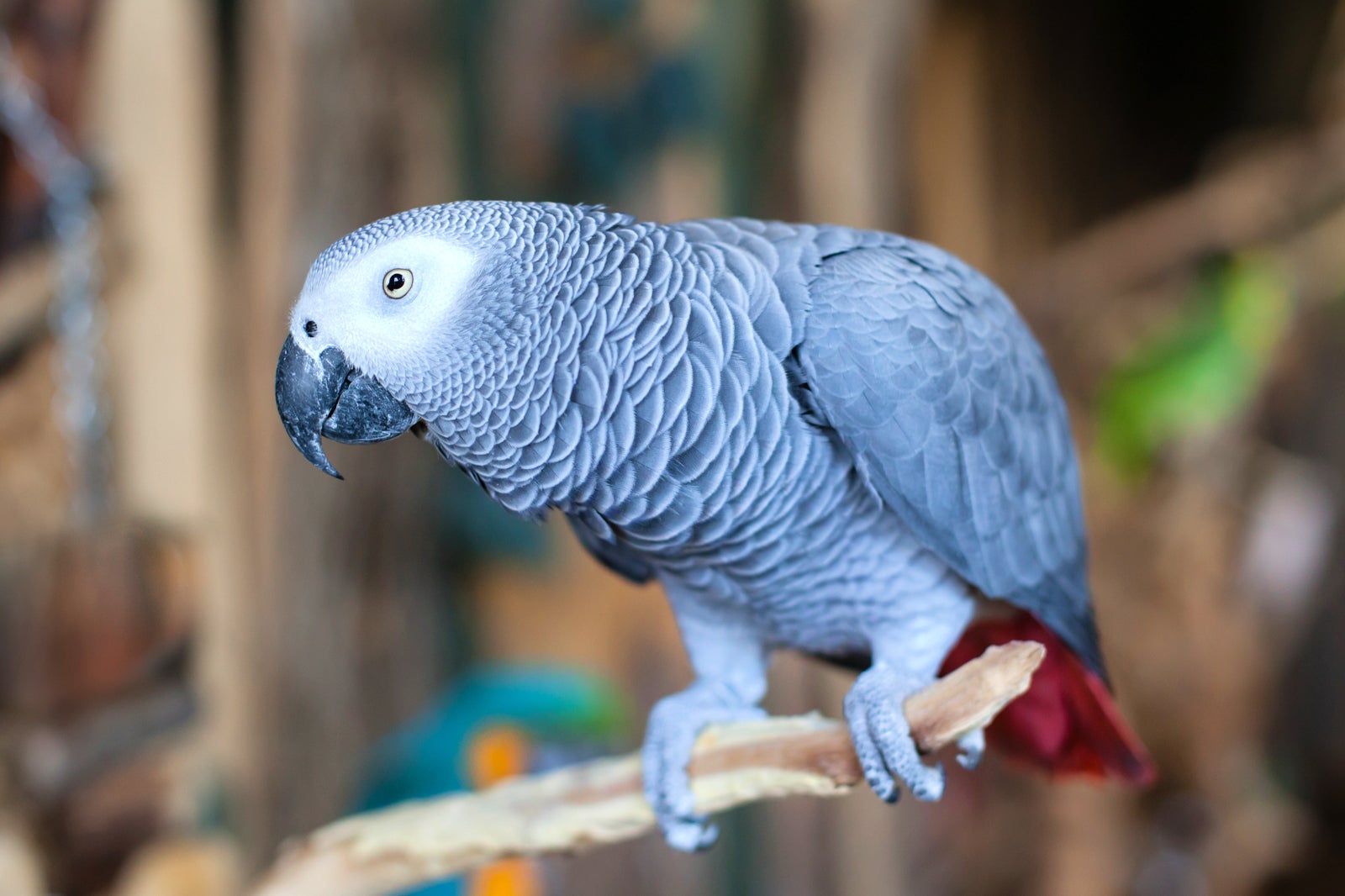 Bird Kingdom is one of the largest free-flying indoor aviaries in the world. You'll find it just north of the Rainbow International Bridge, which connects the Canadian and American banks of the Niagara River. Covering no less than 4,200 sq m, the aviary is home to over 400 birds, most of them from the southern hemisphere. During your stroll in the artificial warm, tropical climate, you'll have the chance to interact with the birds through feeding sessions. Snacks, refreshments and a gift shop named Macaw Market are available.
Location: 5651 River Rd, Niagara Falls, ON L2E 7M7, Canada
Open: Daily from 9.30 am to 5 pm
Phone: +1 905-356-8888
3
Make a Journey Behind the Falls
Experience the power of Horseshoe Falls at its foot
Journey Behind the Falls offers you for a unique view of Horseshoe Falls. You'll descend 45 metres in an elevator before passing through a 50-metre tunnel leading to 2 observation decks at the bottom of the falls. From here, you'll feel the power of the over 2,500 cubic metres of water falling every second. Your plastic raincoat protects you from the mist and you can enjoy the exclusive view of this wonder of nature. Make sure you bring a plastic bag to protect your camera while immortalising this one-off experience.
Location: 6650 Niagara Parkway, Niagara Falls, ON L2E 3E8, Canada
Open: Monday–Thursday from 9 am to 7 pm, Friday–Sunday from 9 am to 8 pm
Phone: +1 905-354-1551
4
Enjoy a couples' spa treatment
Relax in the hands of skilled massage practitioners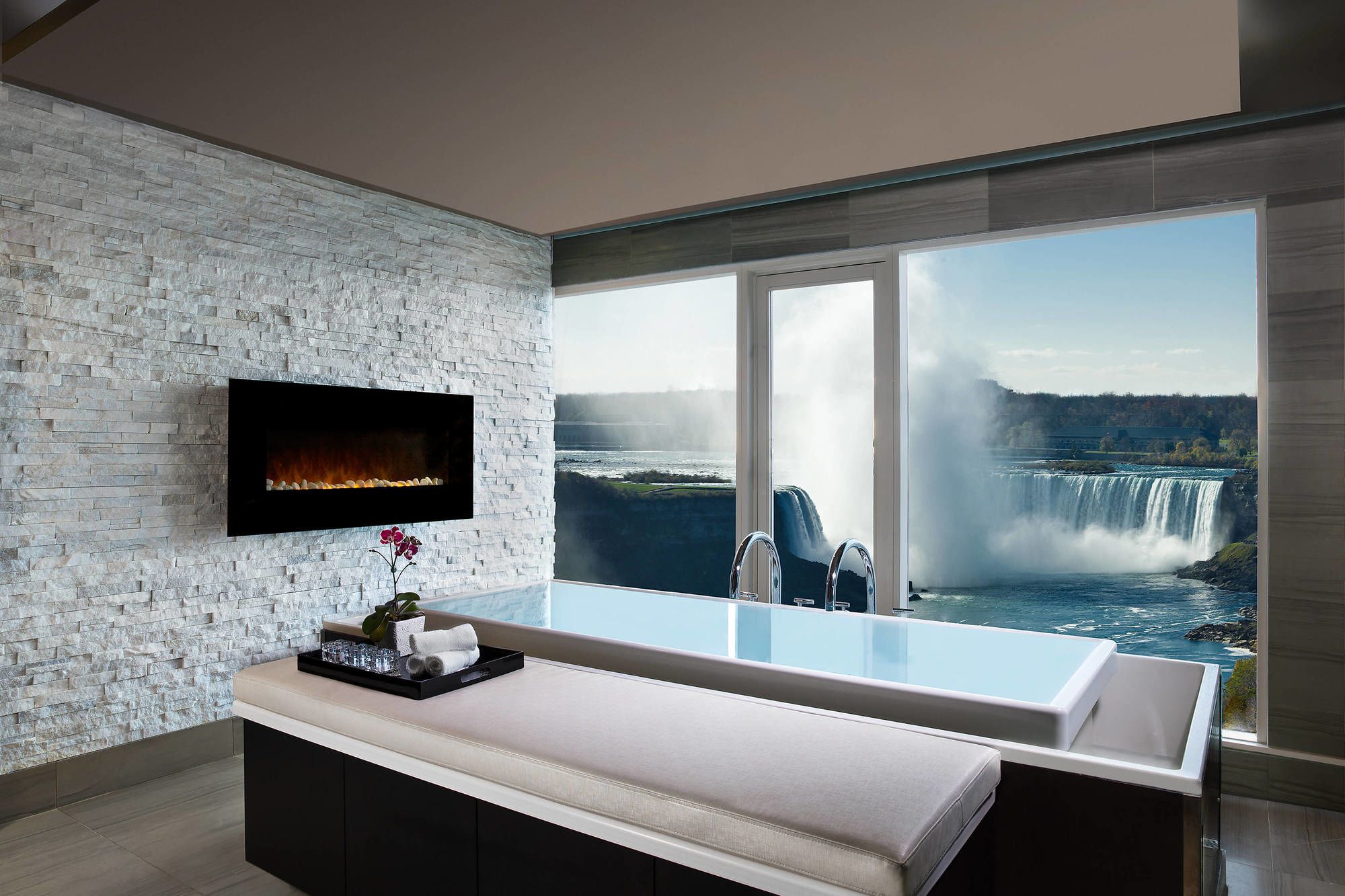 Indulge yourself with a relaxing massage and body treatment at one of the best spas in Niagara Falls, Ontario. Belonging to the stylish Sheraton on the Falls Hotel, Christienne Fallsview Spa has the exquisite 'just the 2 of us' package. You can also enjoy an 'Original Couples Massage' at the standalone Serenity Spa by the Falls, on Fallsview Boulevard. Another top-notch place at which you can take a relaxing break, is the Five Lakes Spa Aveda at DoubleTree Fallsview Resort & Spa by Hilton. Their 'Duet Massage' is pure bliss.
5
Wine and dine in a Niagara Falls winery
Discover the tasty wines of South Ontario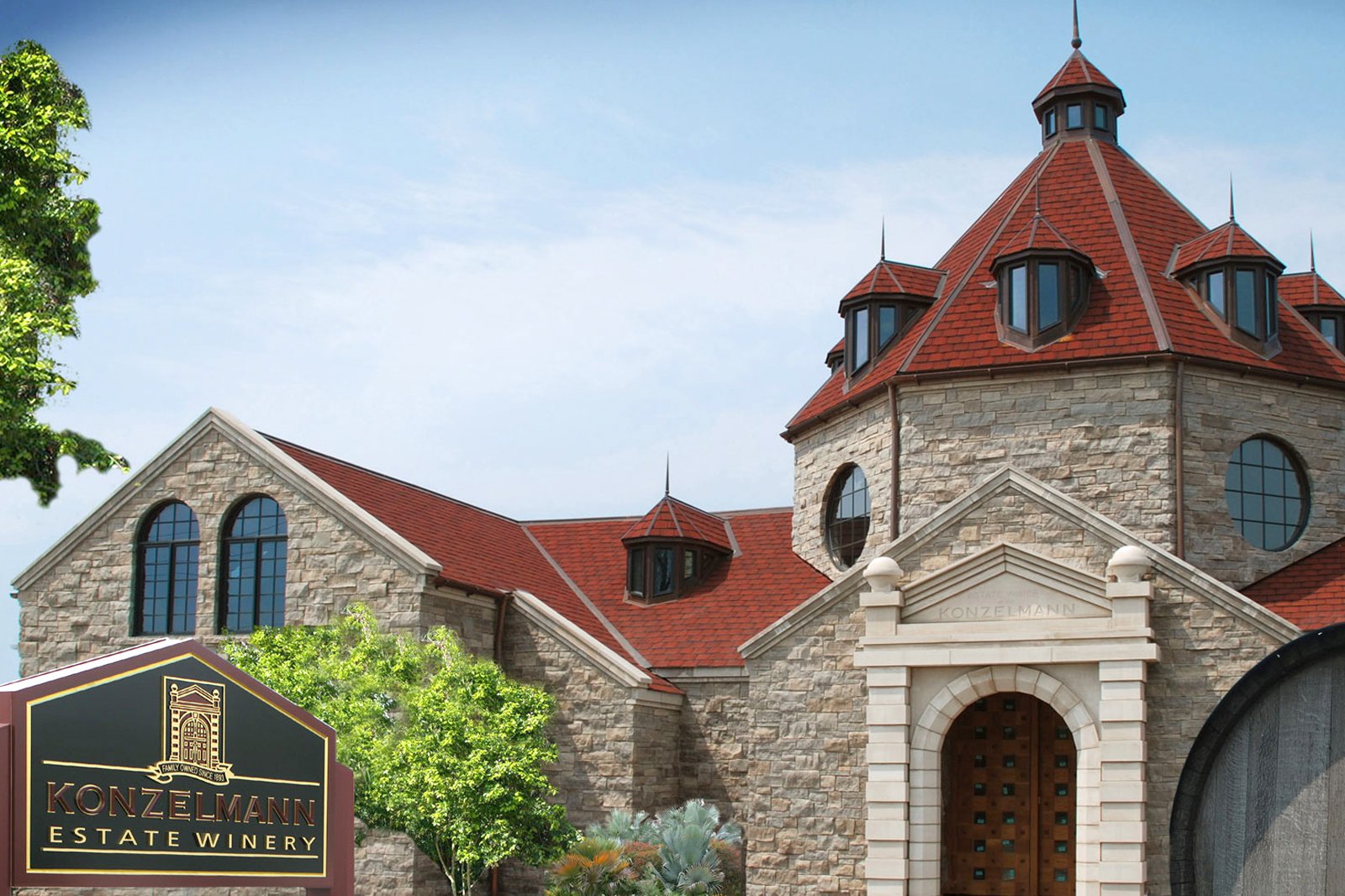 The region around Niagara Falls is reputed for its wines. Niagara-on-the-Falls, the town just north of Niagara Falls, is home to excellent wineries and vineyards, at which you can delight in romantic gourmet escapades. Among the best of them are Konzelmann Estate Winery on Lakeshore Road, Peller Estates Winery & Restaurant on John Street East and Trius Winery & Restaurant on Niagara Stone Road. Each of them offers first-class tasting and wine pairing tours.
photo by Larry Koester (CC BY 2.0) modified
6
Make memories on a helicopter tour
Get an aerial view of the Niagara Falls
Spice up your trip to the Niagara Falls with a unique, unforgettable tour of this world-class landmark in a helicopter. Established in 1961, Niagara Helicopter is still the most popular company to offer this "ride of a lifetime", as they justifiably describe it. The large windows of their helicopters give you spectacular views of the falls and give you the opportunity to take great photos. They can also provide you with an experienced aerial photographer, if you want to immortalise your flight above the Niagara Falls.
Location: 3731 Victoria Avenue, Niagara Falls, ON L2E 6V5, Canada
Open: Daily from 9 am to 7 pm
Phone: +1 905-357-5672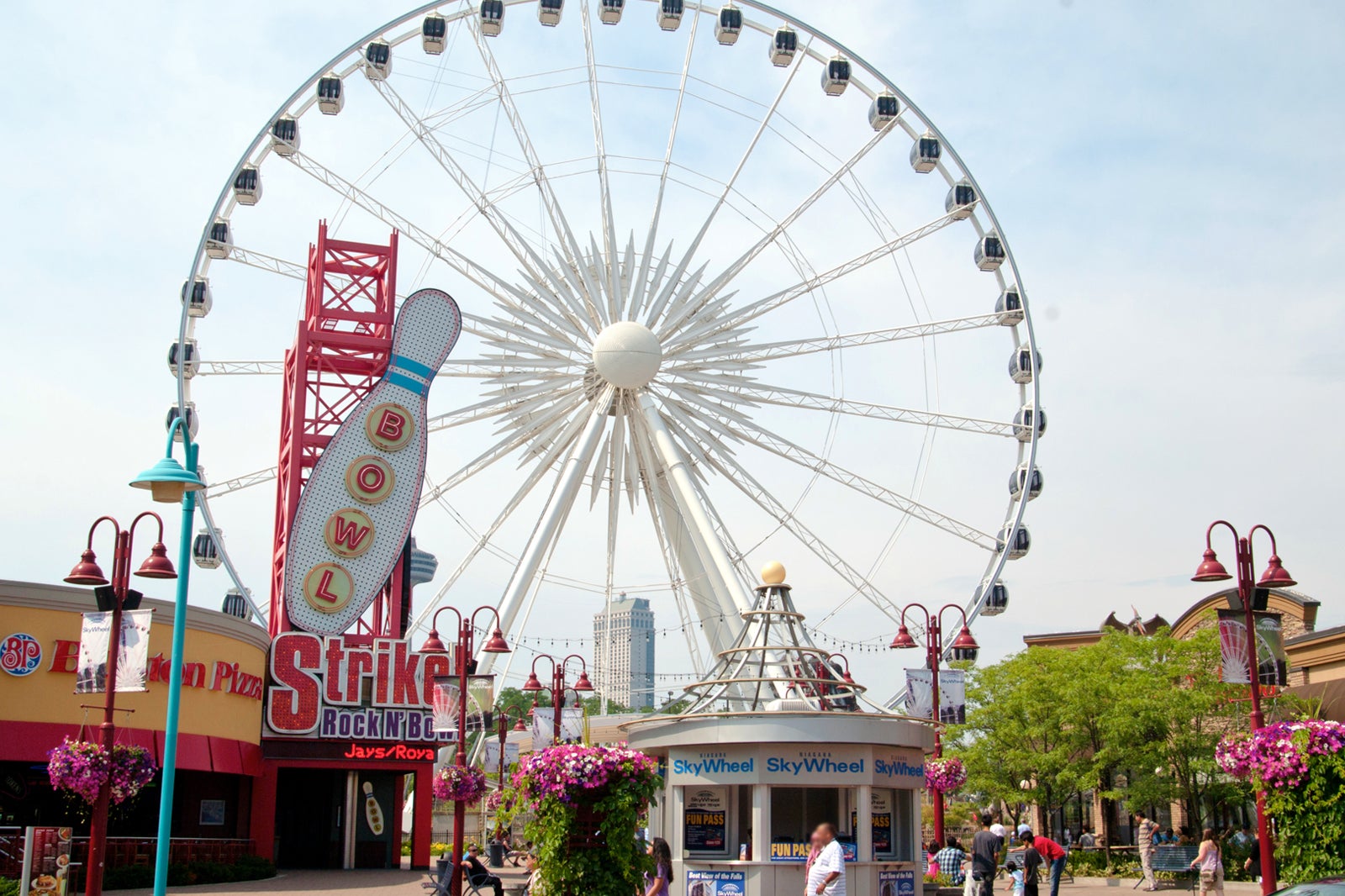 Sharing a kiss at the top of Niagara SkyWheel is as romantic as could be. Sat on Clifton Hill, a stroll away from the Niagara River, Niagara SkyWheel is a 53-metre-tall Ferris wheel which offers stunning views of the Niagara Falls. Open all year round thanks to its air-conditioned and heated cabins, the ride is especially beautiful after dark, when the Horseshoe and American Falls are colourfully illuminated.
Read more
Location: 4950 Clifton Hill, Niagara Falls, ON L2G 3N4, Canada
Open: Sunday–Thursday from 9 am to 2 am, Friday–Saturday from 9 am to 3 am
Phone: +1 905-358-4793
photo by Dirk Ingo Franke (CC BY-SA 3.0) modified
8
Browse the HandMade Market
Go local at this triannual event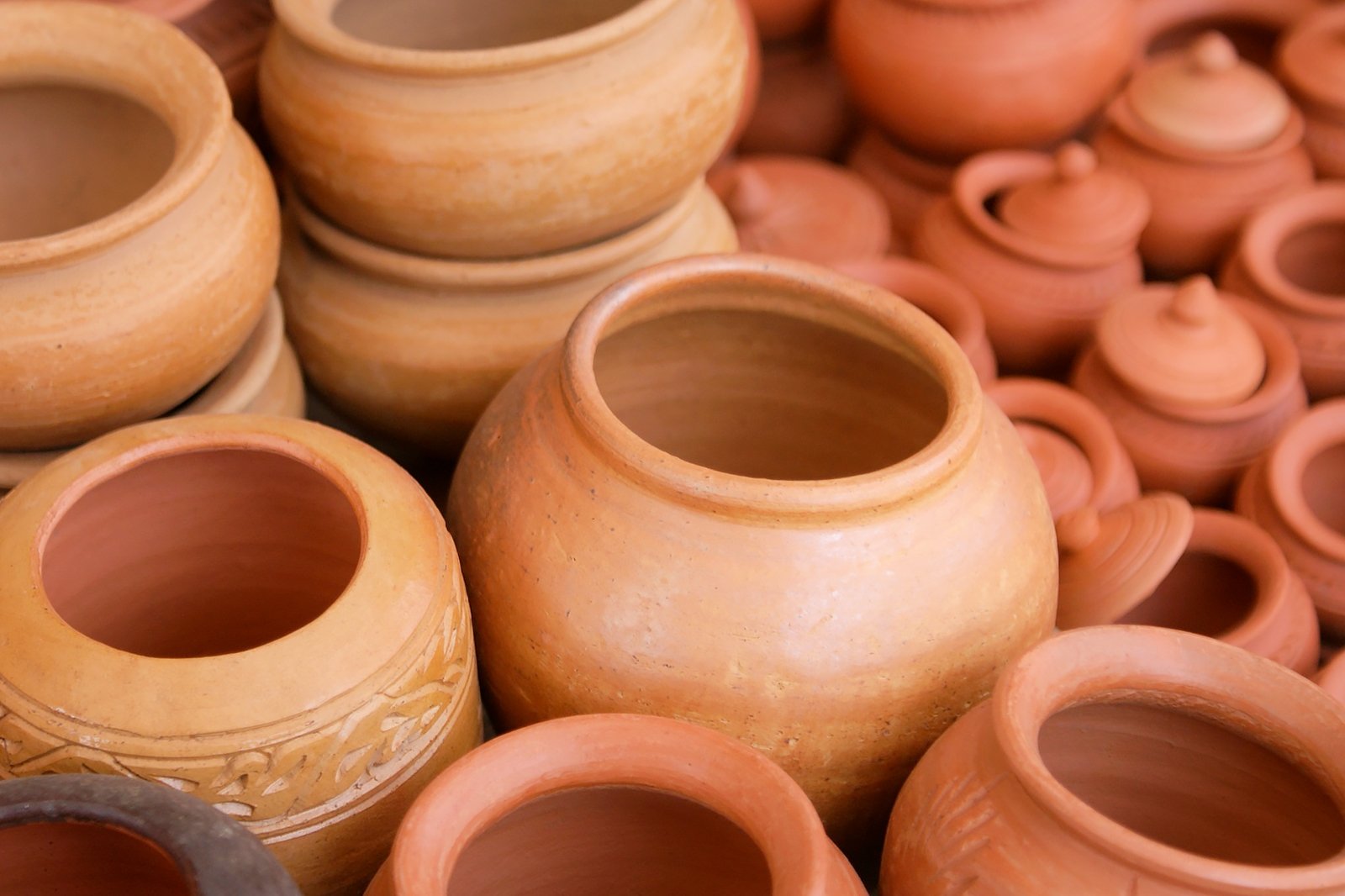 The HandMade Market is a festival of local artisanal products held 3 times a year, in spring, autumn and around Christmas. Organised in the area around Niagara Falls, it showcases over 150 stalls, as well as food, beer and wines vendors. Browsing the HandMade Market is a great opportunity to discover uniquely talented handicrafts, buy one-of-a-kind souvenirs and sample delicious local products. The venue varies from wineries to convention centres, so check online for the details of when and where the next one is.
9
Take a romantic tour in a horse-drawn carriage
Enjoy a lovely promenade, vintage-style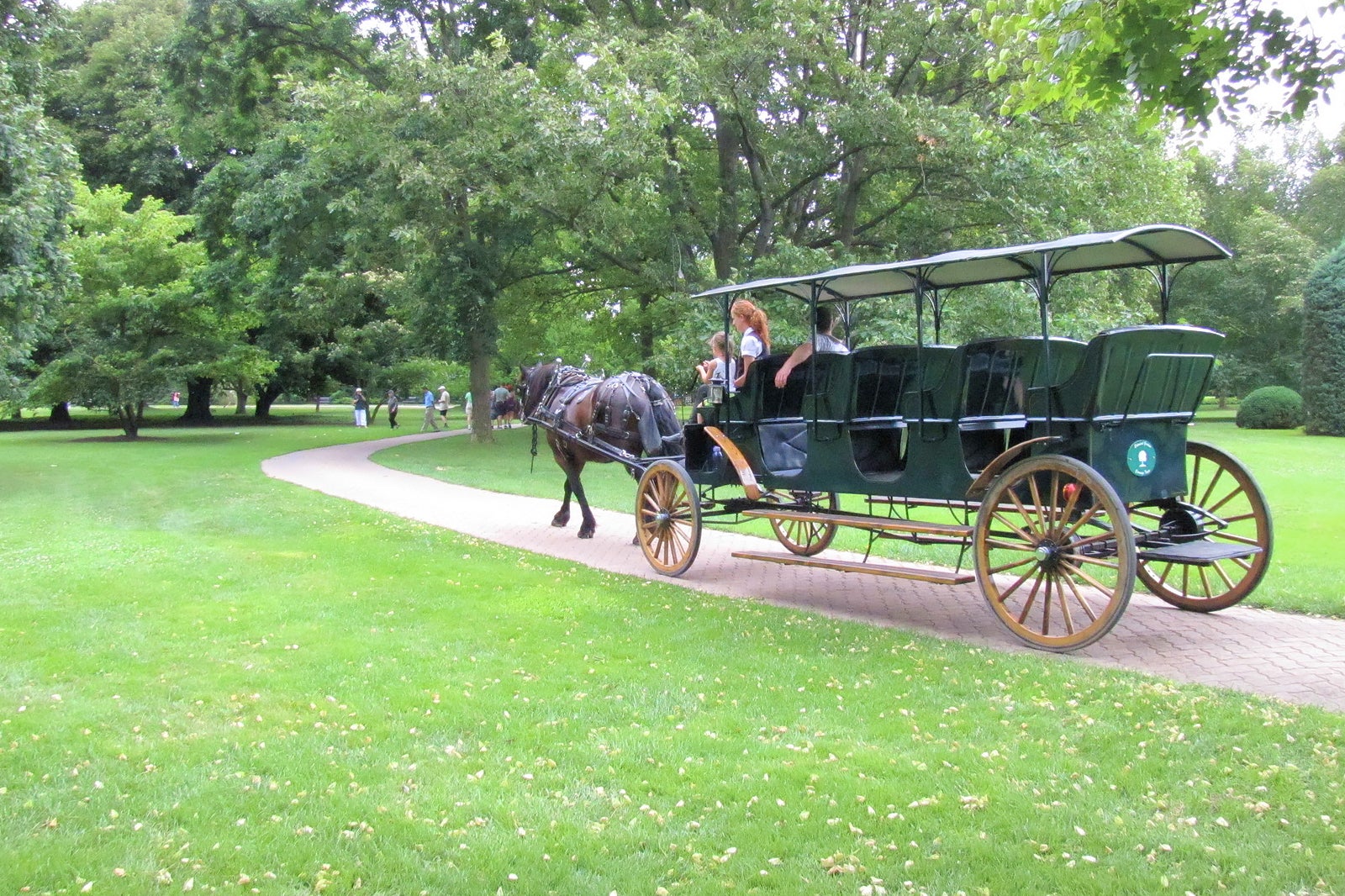 A tour for 2 in a horse-drawn carriage is highly romantic and gives you the feeling of travelling back into time. Established since 1989 in Niagara-on-the-Falls, a short ride north of Niagara Falls, Sentineal Carriages is one of the most popular companies offering horse-drawn carriage tours in the region. Tours of the Botanical Gardens or of the Floral Showhouse are especially romantic, with the sights and smells of the flowerbeds accompanied by the clip-clop of hooves. Both of these tours are available from May to October and prices start from C$85 for a 30-minute ride.
Location: 6 Picton Street, Niagara-on-the-Lake, ON L0S 1J0, Canada
Open: Daily from 10 am to 11.30 pm
Phone: +1 905-468-4943
photo by Bob Linsdell (CC BY 3.0) modified
10
Test your luck at Fallsview Casino Resort
Enjoy an exciting and entertaining night in Niagara Falls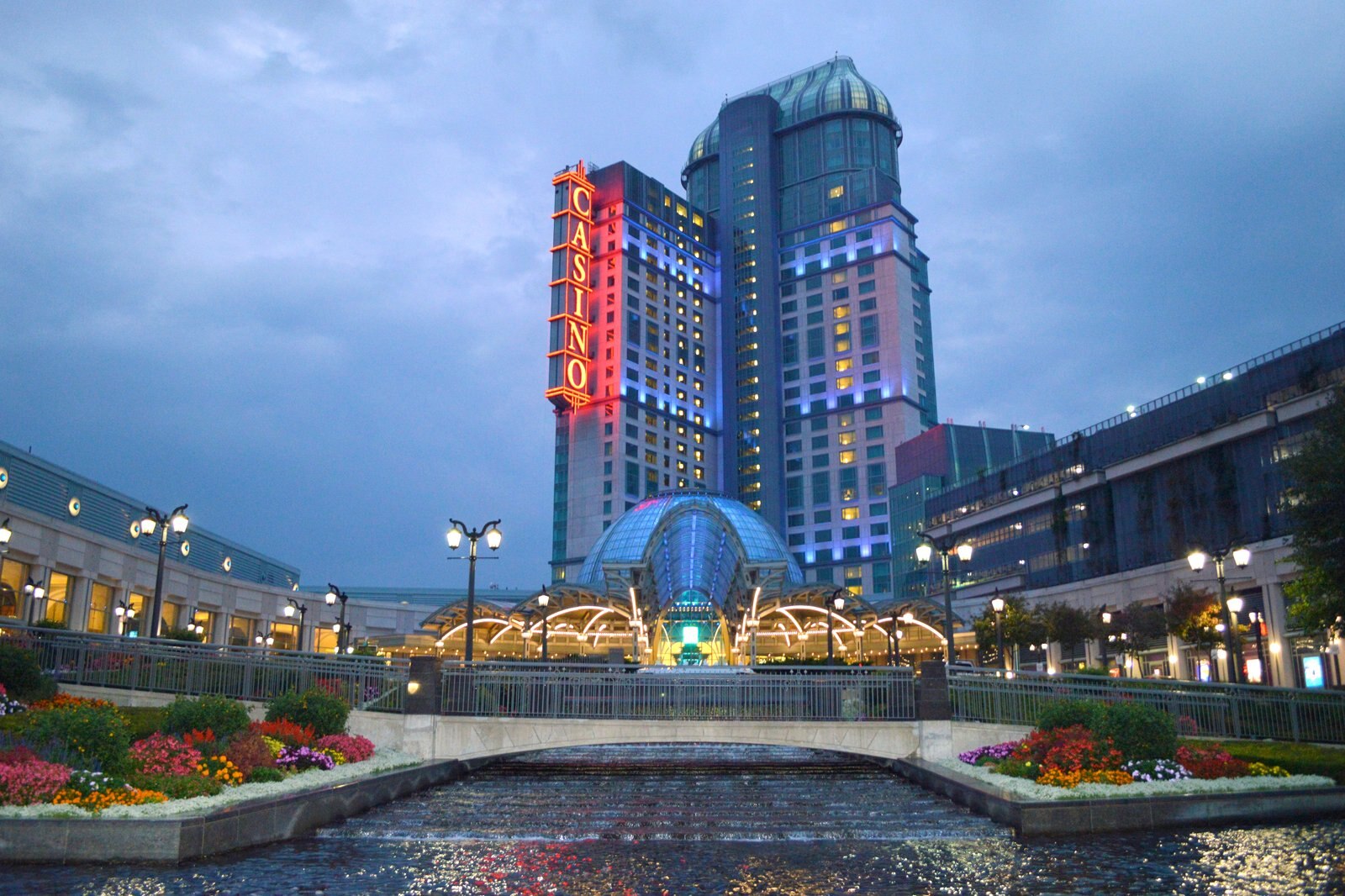 Fallsview Casino Resort sits in the centre of Niagara Falls Town, a few hundred metres from Horseshoe Falls. This stylish hotel and casino offer a wide range of entertaining options to help you enjoy a pleasant evening. Home to over 3,000 fruit machines and 130 game tables at which you can play baccarat, roulette, blackjack and more, you can gamble the night away at Fallsview Casino, or simply attend a show in the 1,500-seat theatre.
Location: 6380 Fallsview Boulevard, Niagara Falls, ON L2G 7X5, Canada
Phone: +1 888-325-5788
photo by Idawriter (CC BY-SA 3.0) modified
Back to top