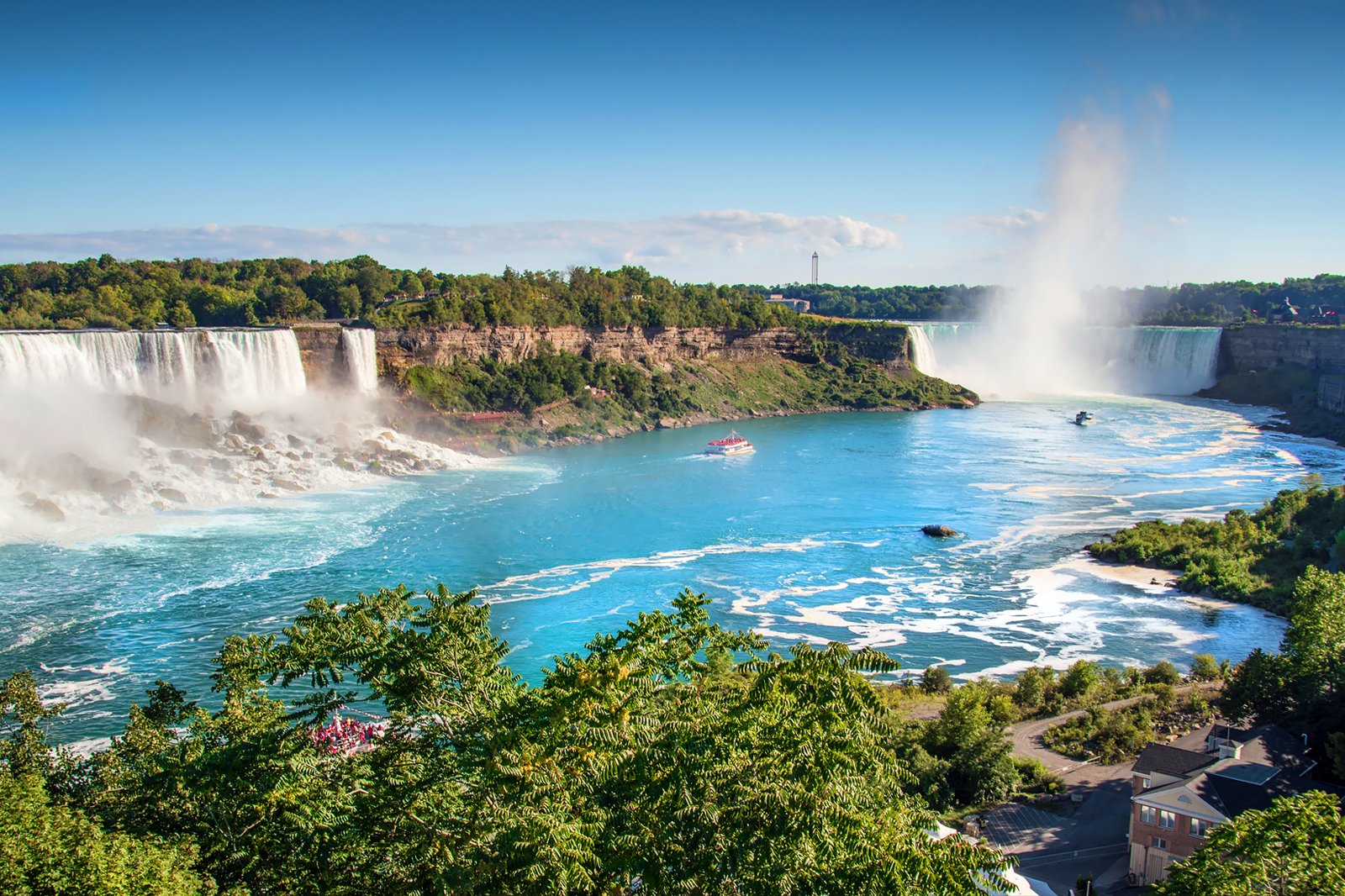 Niagara Falls
What you need to know before you go
Niagara Falls sits on the west bank of the winding Niagara River in southern Ontario. The main draw is, of course, the 3 legendary waterfalls that stretch across the border between Canada and the United States. To really appreciate this awesome natural spectacle, take a boat trip right to the foot of the ferociously thundering falls – just be prepared for a soaking.
The town's also home to an array of kid-friendly attractions. Here you can come face-to-face with majestic killer whales and graceful dolphins, or brave adrenalin-pumping thrill rides like the looping Dragon Mountain coaster.
Where & what to eat in Niagara Falls
10 Places Where Locals Love to Eat in Niagara Falls

Locals in Niagara Falls love to eat at hot spots ranging from trendy microbreweries to romantic date-night spots and boutique bakeries. From high-end farm-to-table creations to French cuisine and pub fare, whatever kind of food you're in the mood for, you'll find it in Niagara Falls. Local family-friendly restaurants can be found throughout the Niagara...
Where to shop & what to buy in Niagara Falls
10 Best Places to Go Shopping in Niagara Falls

Shopping in Niagara Falls ranges from quirky souvenir spots and Canadiana to unique gift shops, clothing and fashion retailers, and outlet and discount shops. Whether you're looking for some tasty treats to take home, a special gift for a loved one, or a new outfit for a day out, you'll find it in shopping destinations around Niagara Falls. There are...
Where to go & what to do at night in Niagara Falls
10 Best Things to Do After Dinner in Niagara Falls

Things to do after dinner in Niagara Falls range from singing karaoke on an outdoor patio to enjoying drinks at a family-owned tavern and playing games at an arcade. You can take in the evening illumination show across Niagara Falls from atop a Ferris wheel, or head to a local theatre for magic shows, stand-up comedy, or live...
Niagara Falls Travel Essentials

Our Niagara Falls Travel Essentials lays out the essential information you need to help planning your trip to one of the most popular destinations in the USA. No matter how frequently you travel, some questions will always need answers: What's the weather like? How can I get from the airport to my hotel? What currency and type of plug do...
Back to top