12 Best Golf Courses in Singapore
Where to Play Golf in Singapore
Singapore's a great place to play golf. It's sunny all year round, with lush greenery and world-class golfing facilities. Take your pick from large and well-equipped public courses or enjoy the more intimate atmosphere of golf courses at country clubs and hotels. You also have the option of making a quick weekend getaway to a neighbouring country where most courses are large and affordable.
Most golf courses in Singapore have a dress code – collared trousers with trousers or short pants and golf shoes are required. Caddies or golf carts are usually available, and the courses are usually equipped with locker rooms and showers, as well as entertainment outlets, cafes and restaurants. Golfing is highly popular in Singapore, so we advise you to make your bookings well in advance.
1
Champions Public Golf Course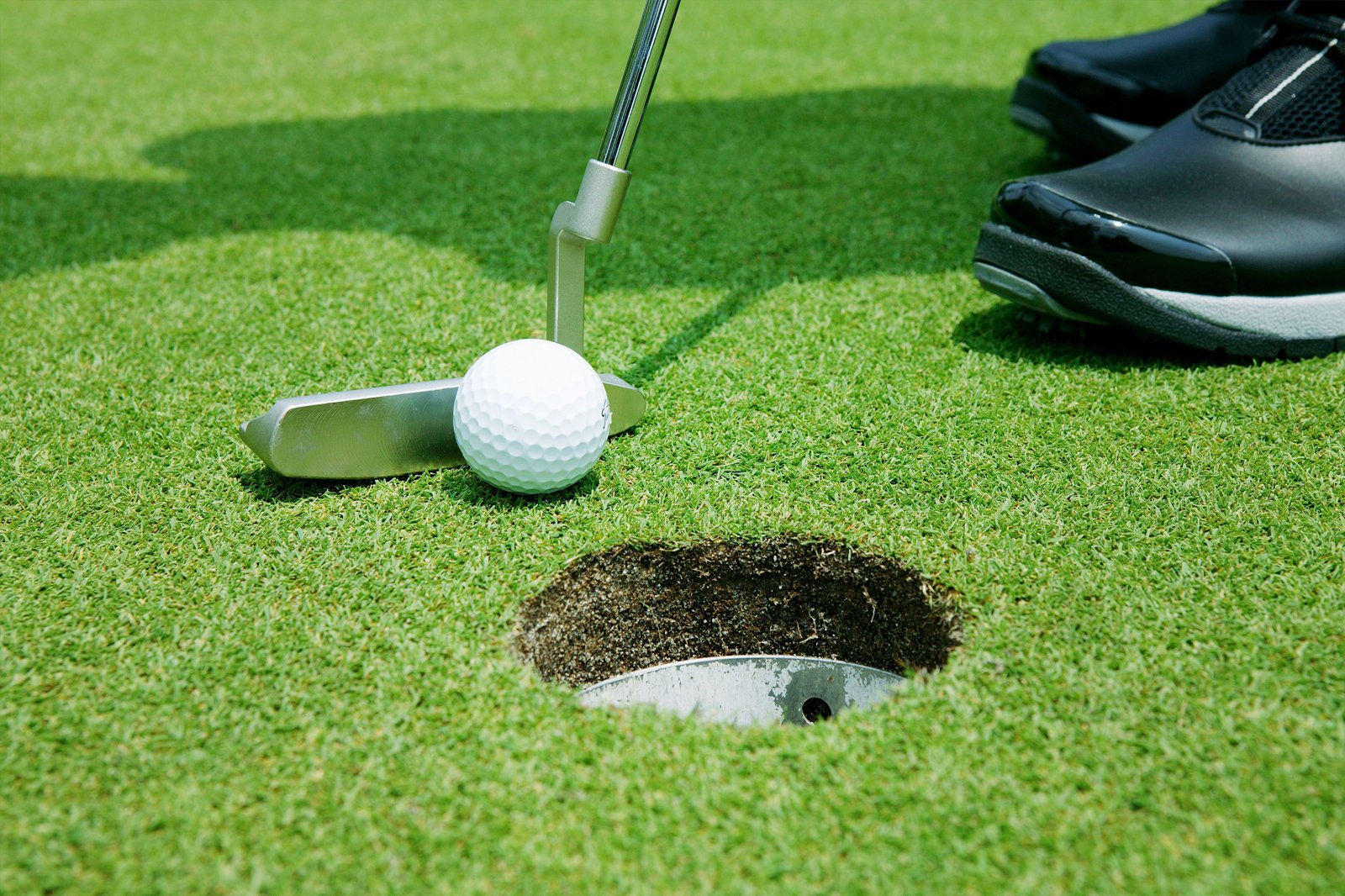 Champions Public Golf Course is a 9-hole public course located in the Bukit Timah area close to Holland Village, about ten minutes' drive from central Singapore. The practice facilities include a 60-bay covered range with a large grass landing area surrounded by lush jungle.
Course: 9 holes, 1887m, Par 32
Location: 60 Fairways Drive (off Eng Neo Avenue), Singapore 286966
Phone: +65 6468 7233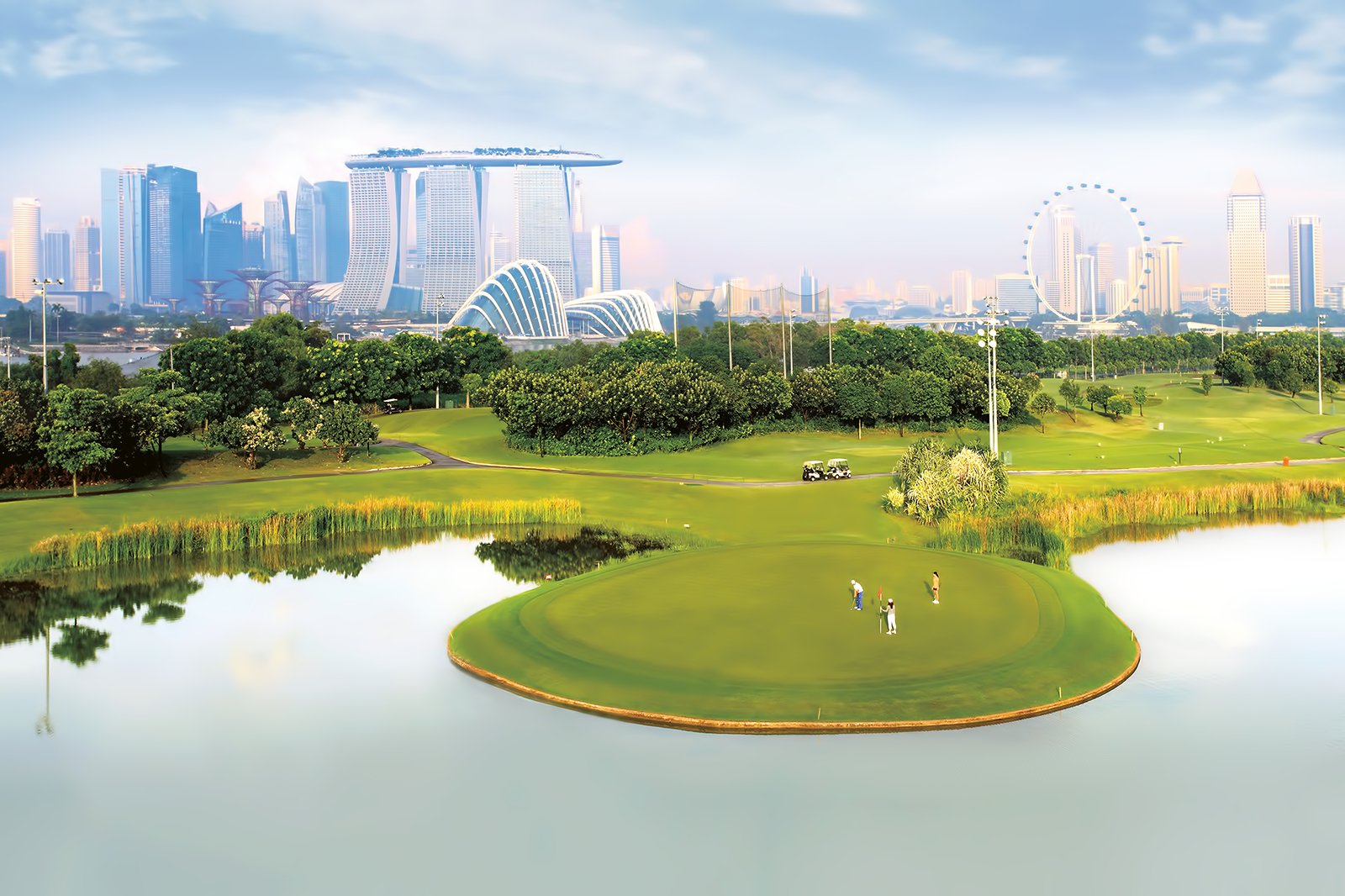 Marina Bay Golf Course is an 18-hole golf course which is open to the public. Located strategically in the heart of Singapore, the course offers golfers great accessibility and a picturesque view of the city skyline, be it day or night.
The design of the par 72 championship course attempts to connect to the history of golf – traditional links of Scotland and the beginning of golf - with its few water hazards and in particular, its 91 sand bunkers. The bunkers not only create a dramatic landscape, they also provide hours of challenges and excitement to golfers.
Course: 18 holes, Par 72
Read more
Location: 80 Rhu Cross #01-01, Marina Bay
Open: Daily from 7am to 10.45pm (late evening tee off is 4.30pm)
Phone: +65 6345 7788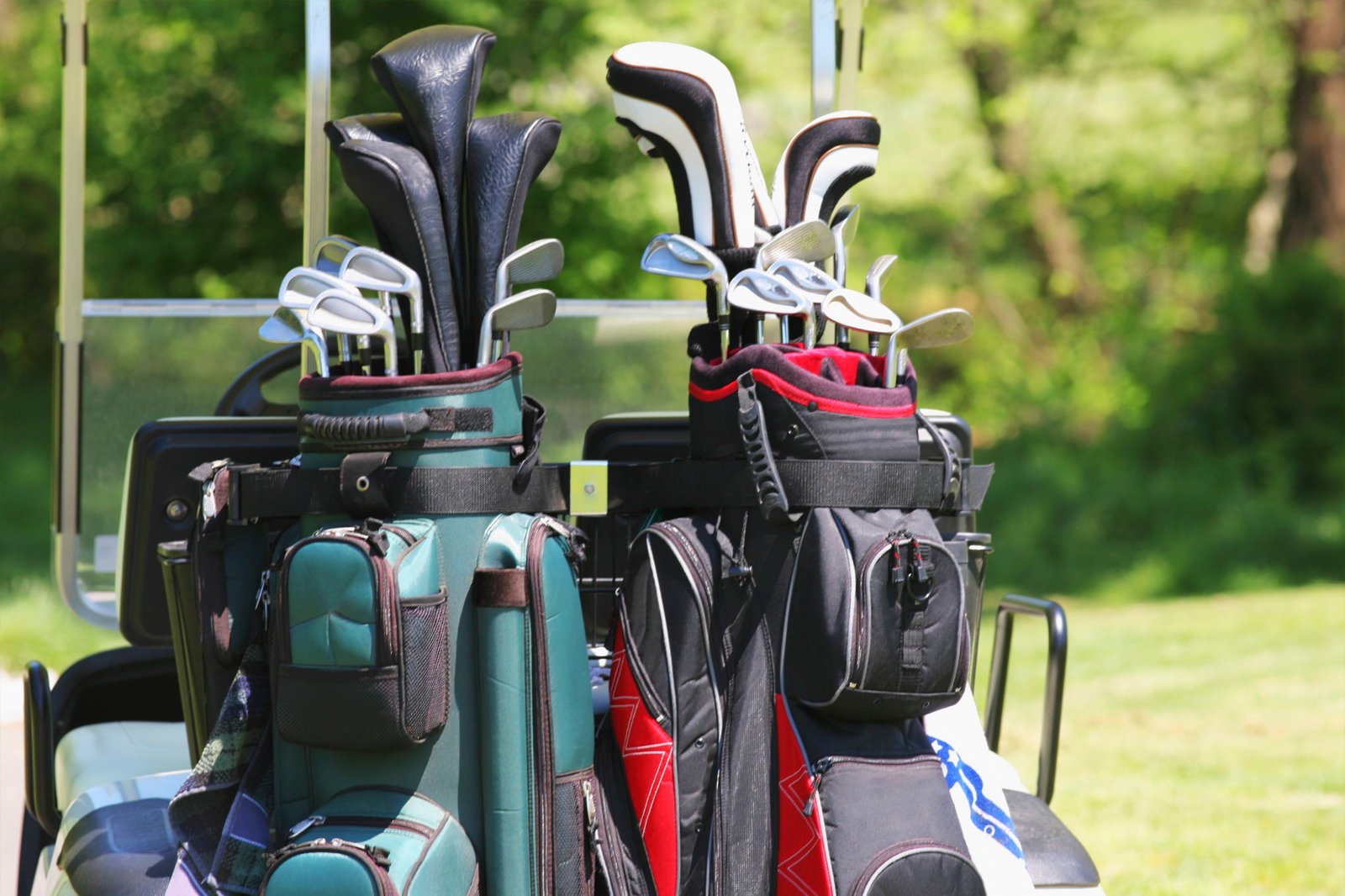 Golfers will relish the 5,790 metres of the 72-par undulating golf course at Keppel Club. Designed by Ronald Fream and modified by Chris Pitman, Keppel Club has bunkers that have been strategically placed to challenge the novice and seasoned golfers.
The Landscape Master Plan for the golf course won a Bronze Award for Design and Building Projects Commercial, Industrial, Recreational & Institutional by the Landscape Industry Association (Singapore).
Course: 18 holes, 5,790m, Par 72
Location: 10 Bukit Chermin Road, Singapore 109918
Open: Daily from 7am to 8pm (Course closes on Mondays for maintenance).
Phone: +65 6375 5569/70/71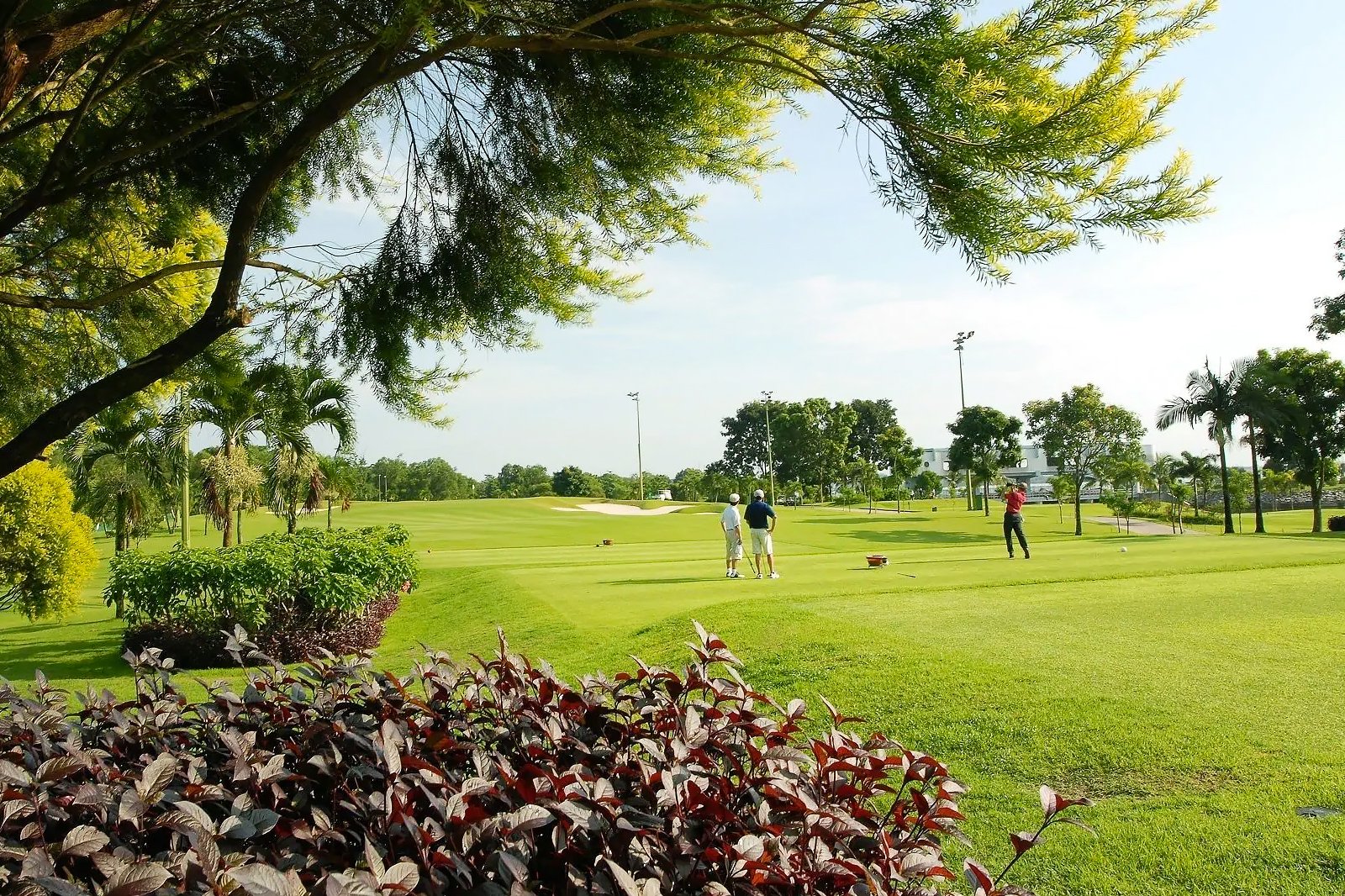 Orchid Country Club has three 9-hole courses. The 27-hole international championship course was designed with the late Mr Ong Teng Cheong's personal guidance to be uniquely different. Named after orchids, the Aranda, Vanda and Dendro, courses feature acres of immaculately manicured fairways and greens.
Tee-off on gentle rolling hills, conquer the strategically placed bunkers and drive a shot along the glassy waterways. Occasionally, be greeted by brilliantly-coloured flowers swaying in the cool breeze that sweeps through the reservoir.
Dendro Course: 9 holes, 3262m, Par 37
Aranda Course: 9 holes, 3051m, Par 36
Vanda Course: 9 holes, 3012m, Par 36
Location: 1 Orchid Club Road, Yishun, Singapore 769162
Phone: +65 6755 9811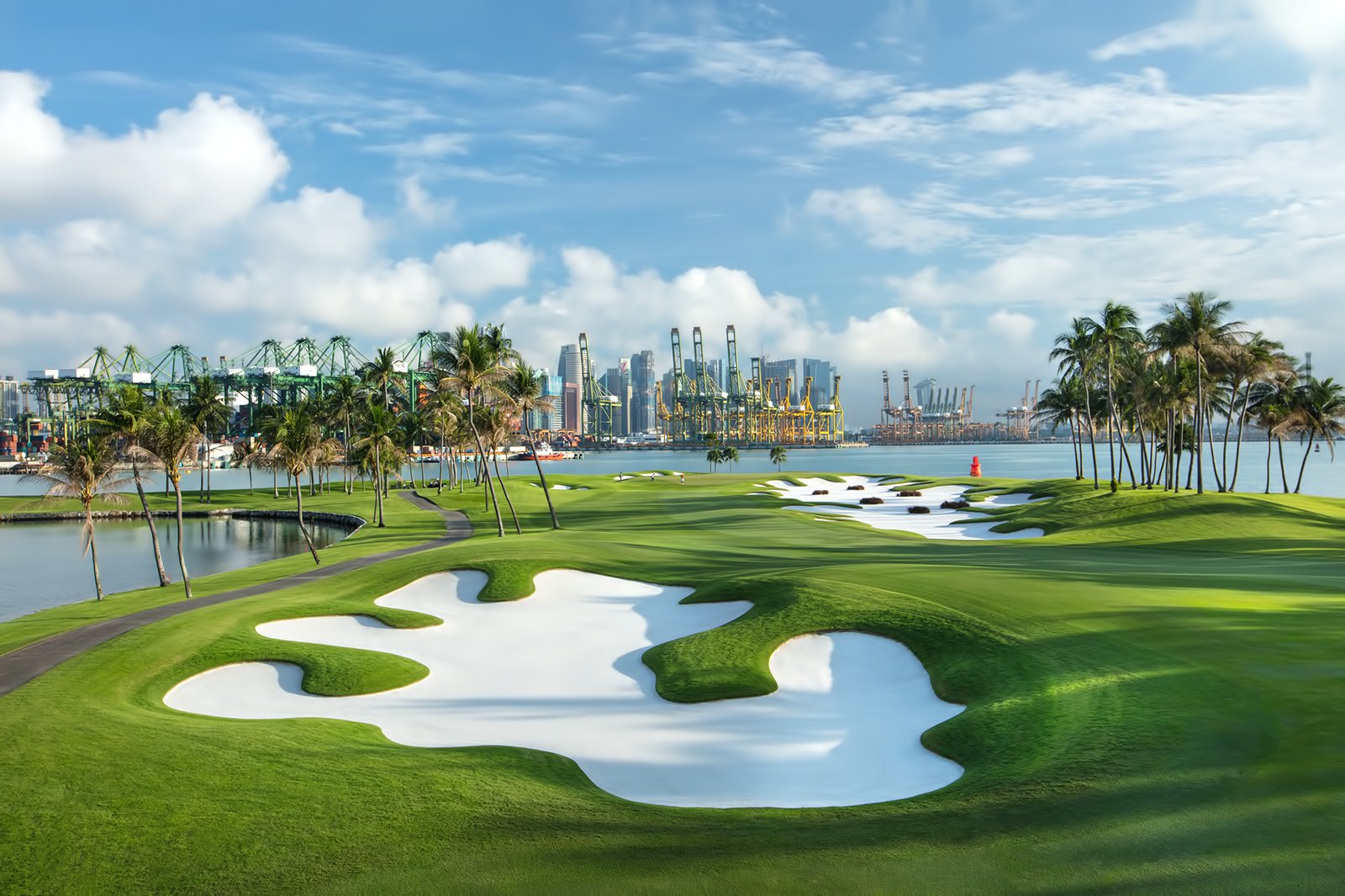 The Sentosa Golf Club, one of Asia's most prestigious courses, is a 2-minute walk from the resort with privileged access available for guests. Two 18-hole championship courses offer a challenging game amidst verdant greenery, while the beautiful sea views are what draw many golfers back.
Read more
Location: 27 Bukit Manis Road, Singapore 099892
Phone: +65 6275 0090
6
Tanah Merah Country Club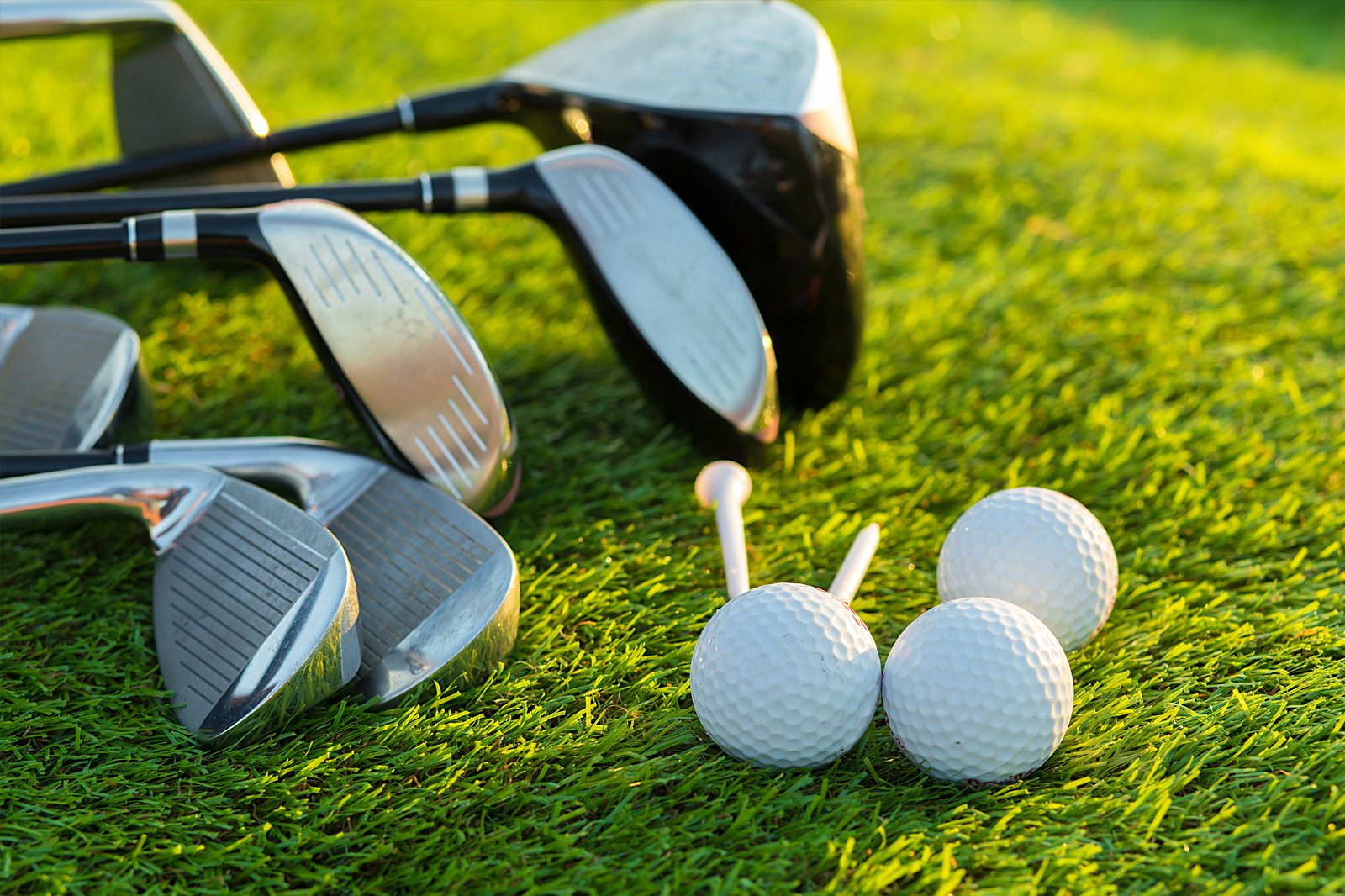 Tanah Merah Country Club has 2 courses, with pleasant touches like matured trees, multi-hued shrubs and a variety of tropical foliage and lakes. Today, golfers at all levels - from novices to professionals - enjoy the challenge of this premier golf course in singapore. You will find Tanah Merah Country Club out by Changi Airport in the east of the country.
Garden Course: 18 holes, 6402m, Par 72
Tampines Course: 18 holes, 6437m, Par 72
Location: 25 Changi Coast Road, Singapore 499803
Phone: +65 545 1731
7
Warren Golf & Country Club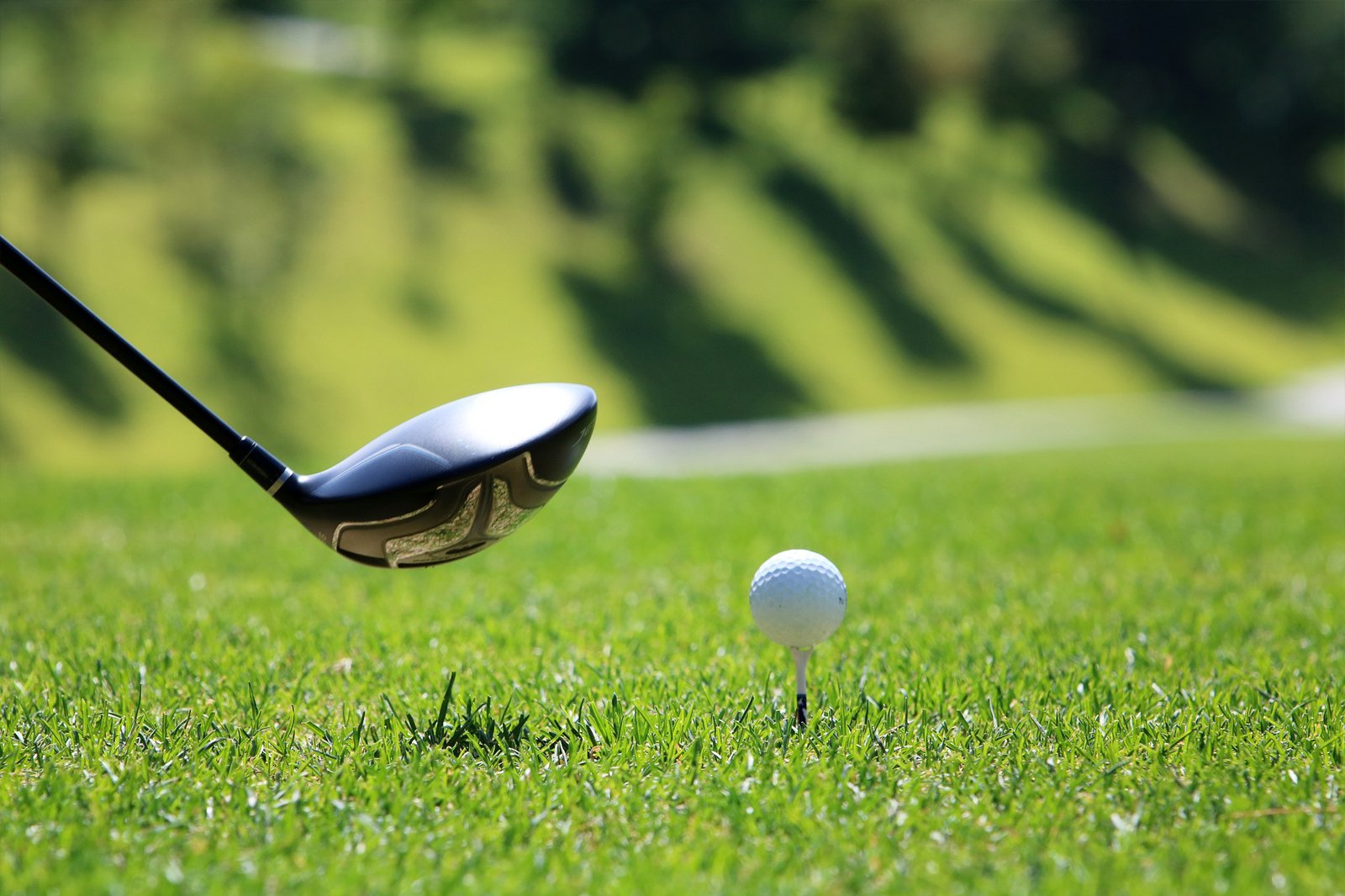 Warren Golf & Country Club (formerly known as Warren Golf Club) was founded by the late Brigadier Derek Warren of the British 18th Signal Regiment. The Club has both local and foreign members. Aside from an 18-hole championship golf course, it also has an extensive range of social and recreational facilities.
Location: 81 Choa Chu Kang Way, Singapore 688263
Phone: +65 6586 1245
8
Banyan Tree Bintan Golf Club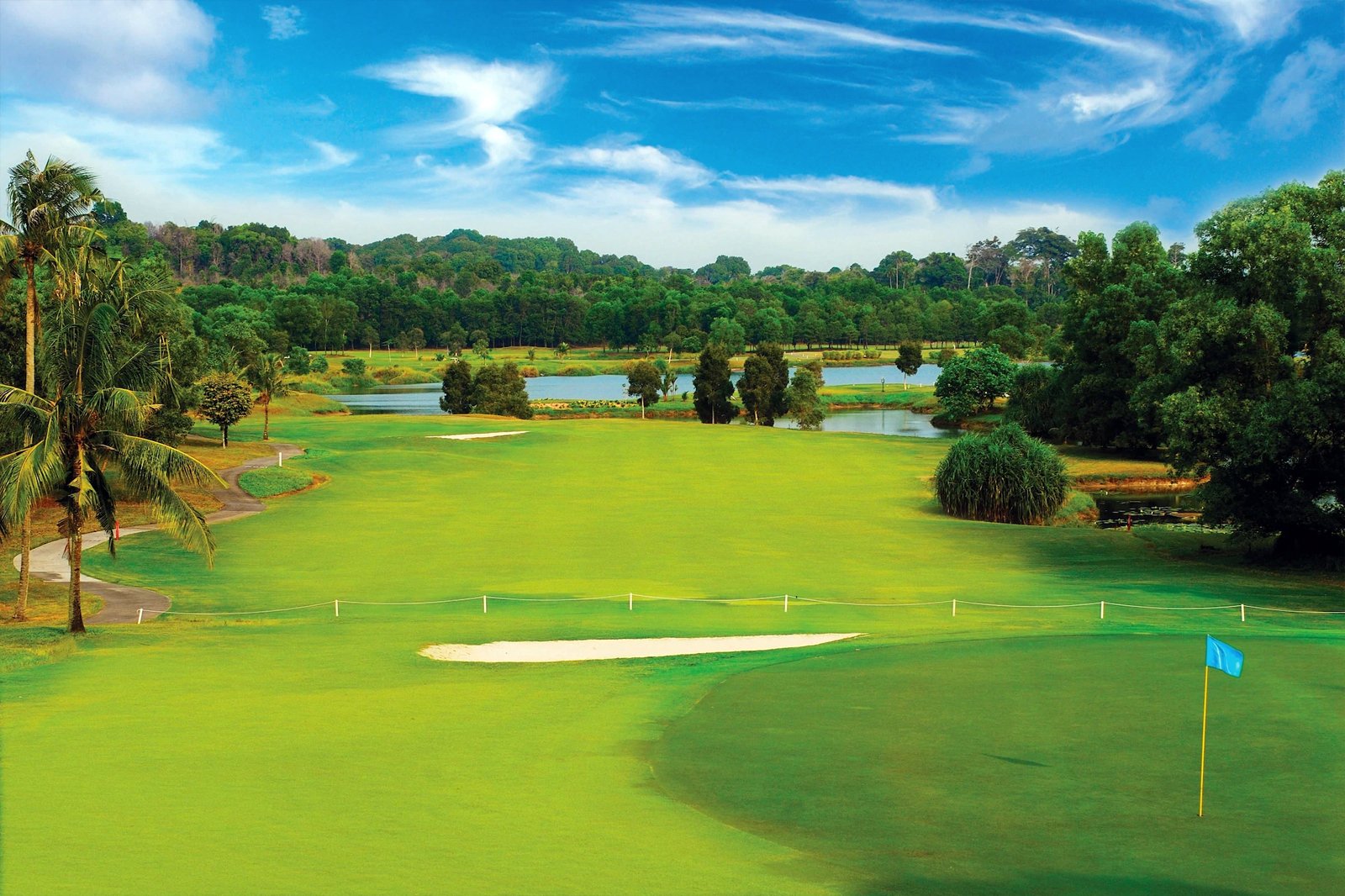 A short, boat ride from Singapore, Banyan Tree Hotels & Resorts in Bintan Island has challenging greens and memorable signature holes. Most of the course has sea breezes to contend with, amazing views of the ocean, and imposing rocks towards the eighth green. A golfing experience amidst breathtaking scenery, Banyan Tree Bintan Golf Club is the perfect place to unwind with a game of golf.
Course: 18 holes, 6300m, Par 72
Location: Site A 4 Lagoi, Bintan, Indonesia
Phone: +65 460 5888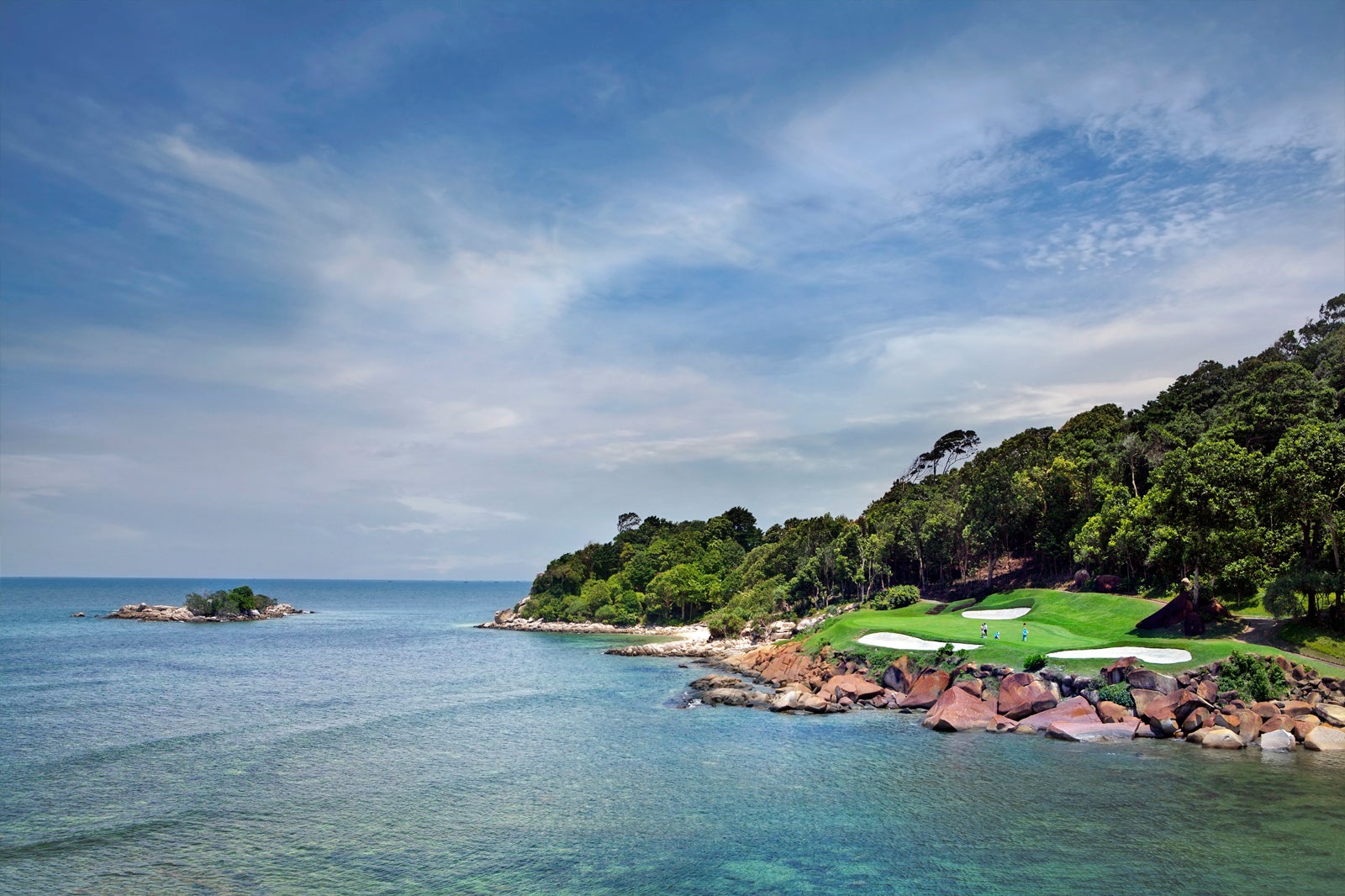 Ria Bintan Golf Club is a 27-hole championship course designed by world golfing legend, Gary Player. Set amidst lush landscapes and natural surroundings, golf enthusiasts will appreciate the award winning 18-hole Ocean Course and the 9-hole Forest course, both of which present hours of stunning views and challenges. One of Asia's best established and leading courses, Ria Bintan Golf Club has consistently been named the best golf course in Asia and Indonesia over the years.
Ocean Course
No. of Holes: 18
Total Distance: 6,470 metres (from Black Tee)
Par: 72
Forest Course
No. of Holes: 9
Total Distance: 2,987 metres (from Black Tee)
Par: 36
Location: Jalan Perigi Raja, Lagoi Bintan Resorts Bintan Utara, Kepulauan Riau 29155 Indonesia
Open: Daily from 6am to 11pm
Phone: +62 770 692 842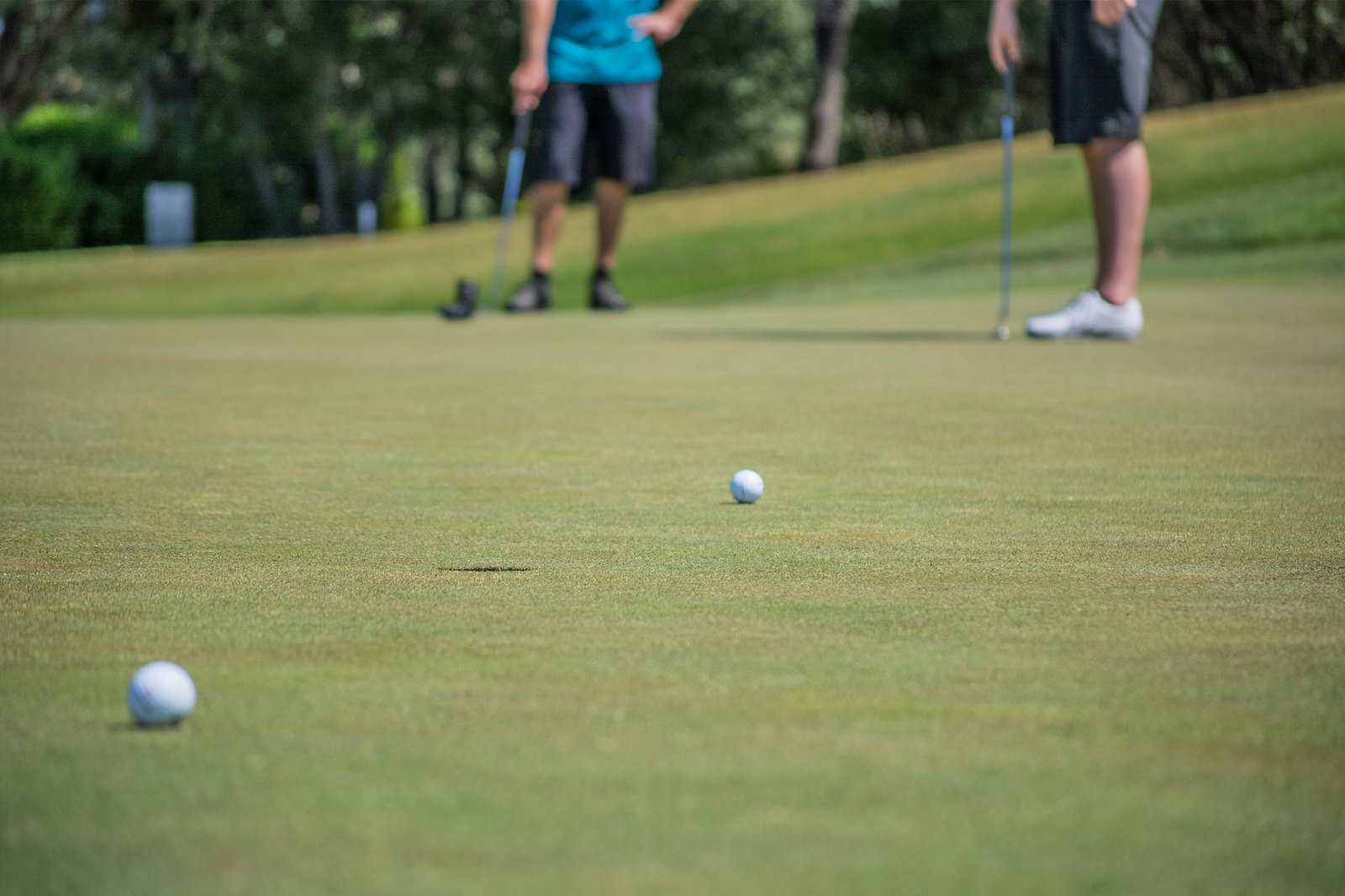 Nestled amid luscious greenery and ringed by azure blue waters, the setting of Indah Puri Golf Course is picture-perfect. The course is designed by world-renowned golf architect Ronald Fream to the most exacting international standards.
Each of the 18 holes of the Championship Course is distinctive and individual with its own special character for added challenge. It has 18 superb greens and fairways that hug one of the most beautiful terrains on Batam Island. Running parallel with the beach one moment, dog-legging scenic lakes and bunkers the next, spreading over 80 hectares of manicured landscape.
Location: Jln. Ir Sutami, Patam Lestari, Sekupang, Batam, Indonesia 24922
Phone: +62 812 7738 1972
11
Palm Springs Golf Course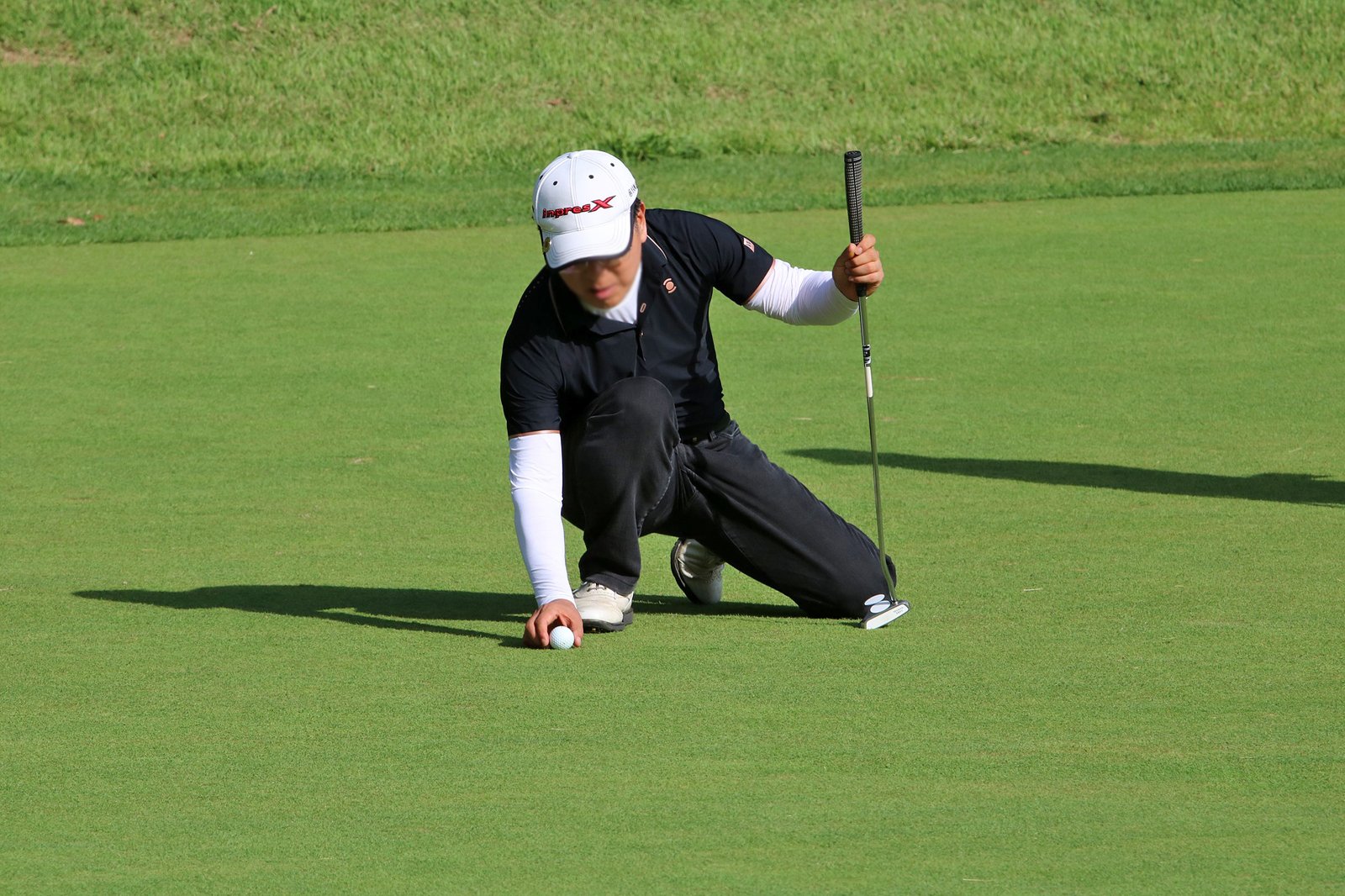 The Palm Springs Golf & Beach Resort integrates tricky slopes and breathtaking views of the beachfront, which have become the hallmarks of this 274 hectares resort course. A premium 5-star venue for visitors from around the region, Palm Spring Golf is a semi-private golfing venue with club facilities providing warm hospitality and first-class services.
Location: Jl.Hang Lekiu - Nongsa, Indonesia 29465
Phone: +62 778 761222
12
Tering Bay Golf & Country Club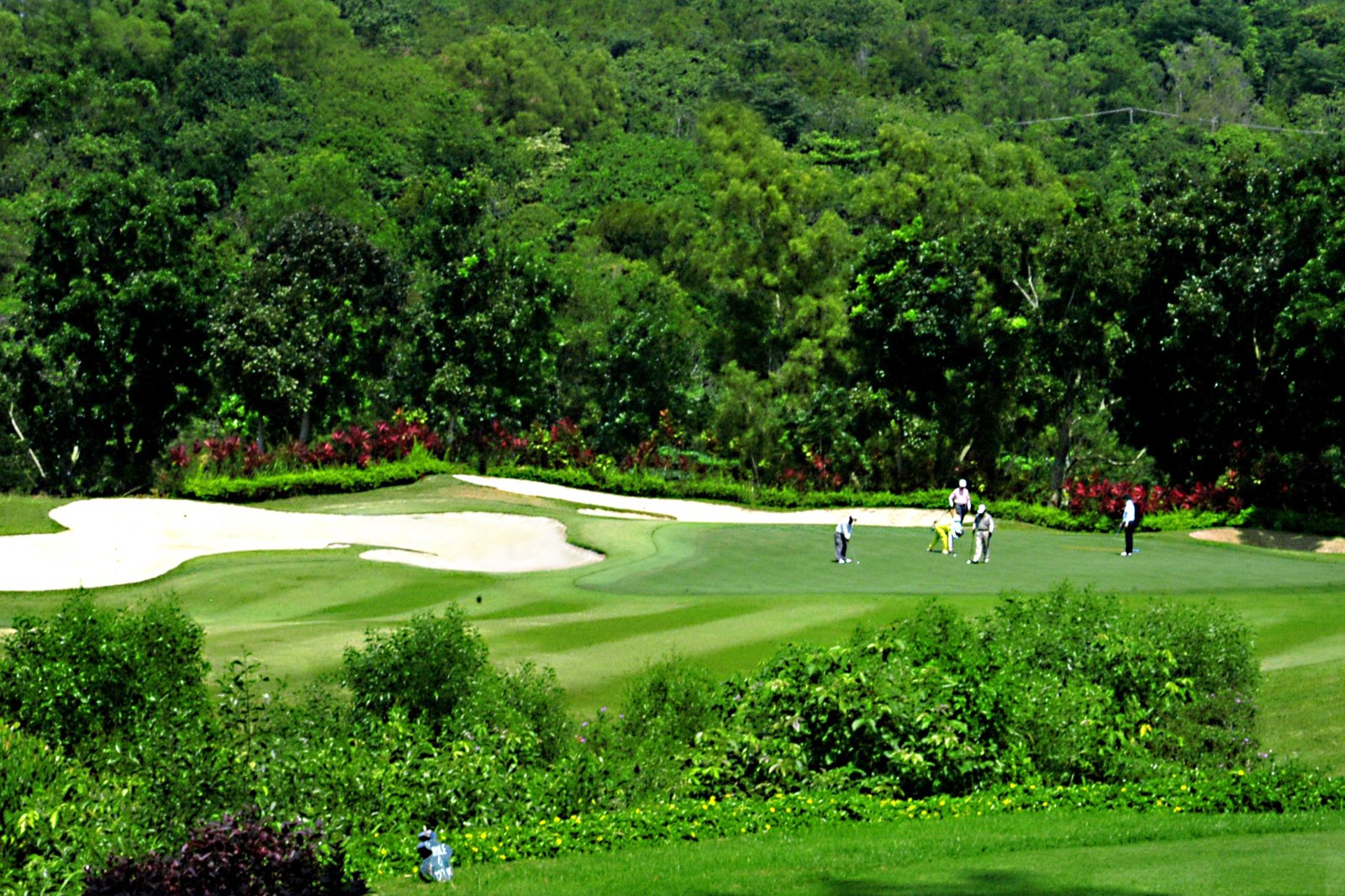 Designed to be a breath taking and playable 18-hole par 72 course by one of world's leading golf professionals, Greg Norman, Tering Bay is laid out amidst rolling hills, lush tropical greenery and pristine lakes. The clubhouse covers a-130-hectare area that overlooks the picturesque bay north of Batam. But as water is a functional centerpiece for many of the holes, do not be surprised to find many holes where you would be tempted to take a risk and 'go for it'. It would not be easy to clear these water hazards however, but should you be game enough and skillful enough - you would be rewarded.
Location: Jalan Hang Lekiu KM 4, Nongsa Batam, Indonesia 42435
Phone: +62 778 761818
Back to top