10 Best Things to Do in Nuremberg
What is Nuremberg Most Famous For?
Nuremberg is famous for its historical landmarks like the imperial castle and the walled Old Town. The location of the city made it an important commercial hub from the Middle Ages onwards, and this rich heritage can still be seen and felt today. You can also visit a museum focused on the Nazi-era, which is a sobering but powerful experience.
The second largest city in Bavaria, after Munich, Nuremberg is a warm and pleasant place to spend a holiday. Besides the historical wonders that dot the Old Town, you'll enjoy a rich culinary tradition in here. Bratwurst (sausages) and gingerbread are 2 delicacies born in the city. Purchase a Nuremberg Fürth Card, which gives you free admission to over 50 museums and attractions for 2 days, and go explore the unofficial capital of Franconia.
What are the best things to do in Nuremberg?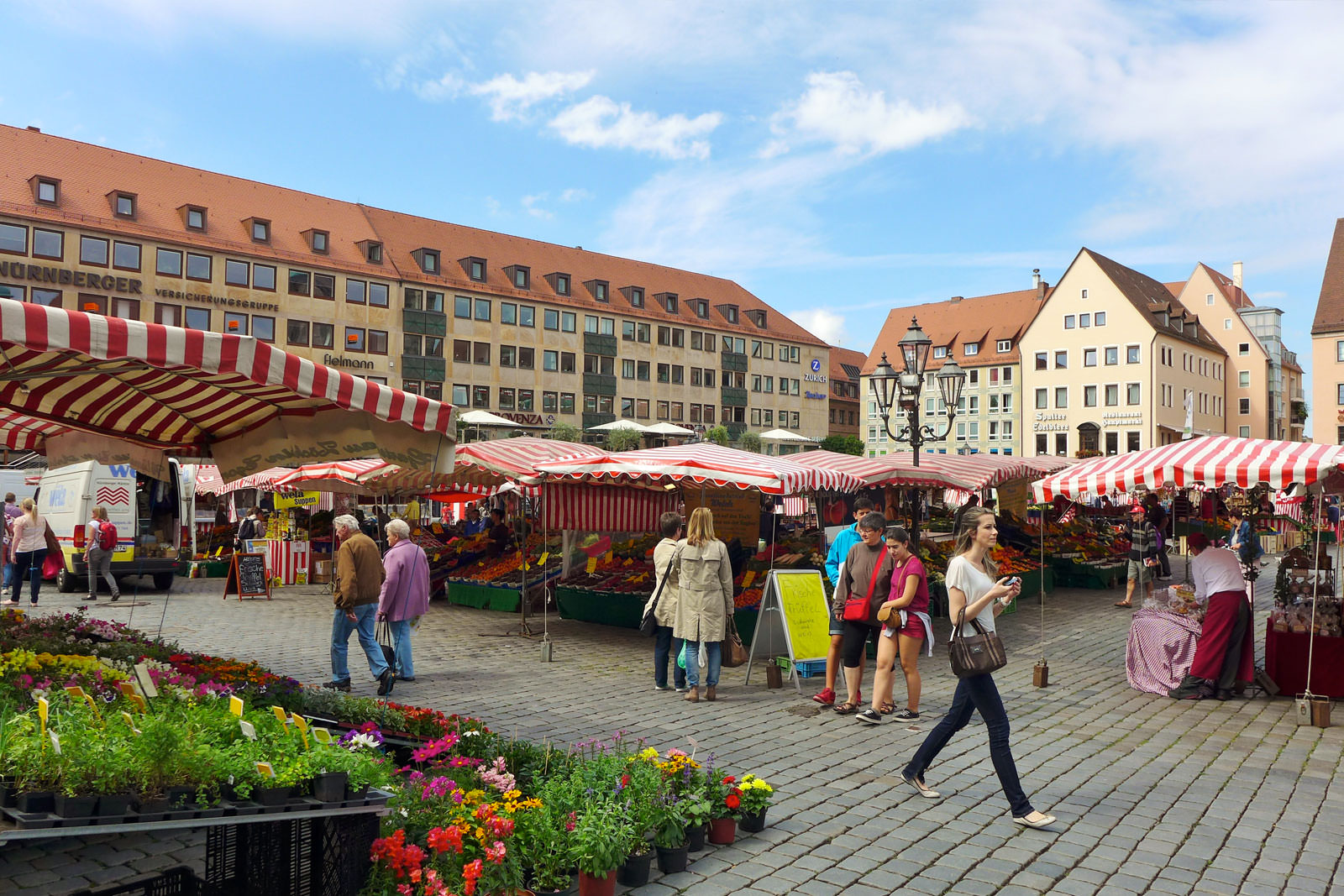 Start the day on the Hauptmarkt marketplace
Do like locals do at Nuremberg Fresh Market
Known as the Hauptmarkt in German, the Main Marketplace is a lively square located right in the centre of Nuremberg, just north of the Pegnitz River. Take a stroll around the market, watch locals doing their shopping, see the fresh products at hand, and sample some genuine German street food such as currywurst (German sausage seasoned with ketchup blended with curry and paprika). Do not miss the Schöner Brunnen (Beautiful Fountain), one of the city's prettiest landmarks, in the northwest corner of the marketplace.
Location: Hauptmarkt 90403, Nürnberg, Germany
Open: Monday – Saturday from 7am to 8pm
photo by Bahnfrend (CC BY-SA 4.0) modified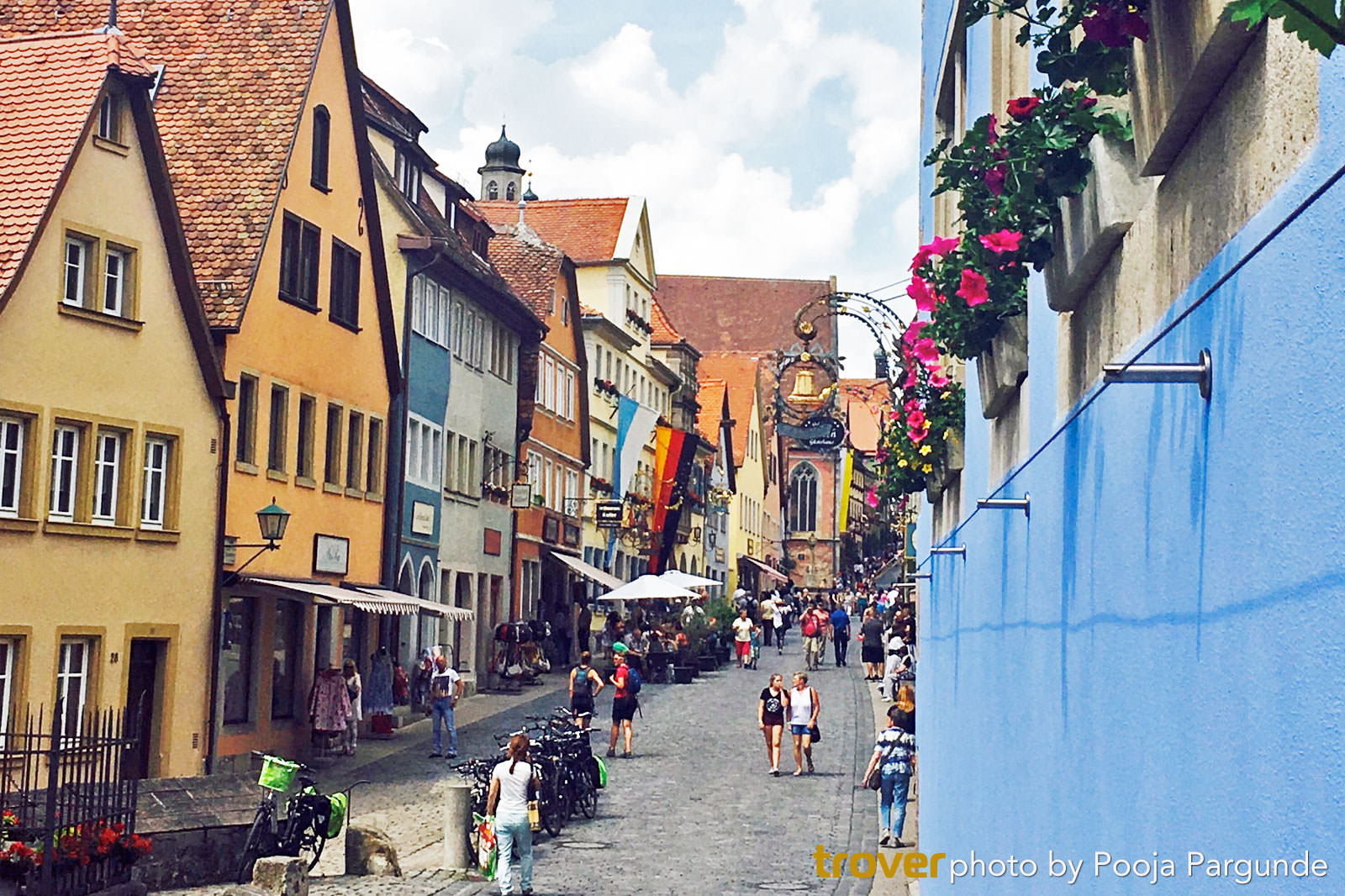 Take a stroll in the Old Town
Explore the heart of Nuremberg
Nuremberg Old Town was entirely restored to its original state after WWII. Called Altstadt in German, it's a walled city that features one of the largest pedestrian zones in Europe. It's home to an impressive number of historical buildings and museums. The Nuremberg Castle, Saint-Sebald Church, Albrecht Dürer's House and the Toy Museum are just a few of the stunning sites that can be visited in this quaint maze of cobblestoned streets. Don't miss the outstanding row of colourful half-timbered houses on Weißgerbergasse.
Location: Hauptmarkt 90403, Nürnberg, Germany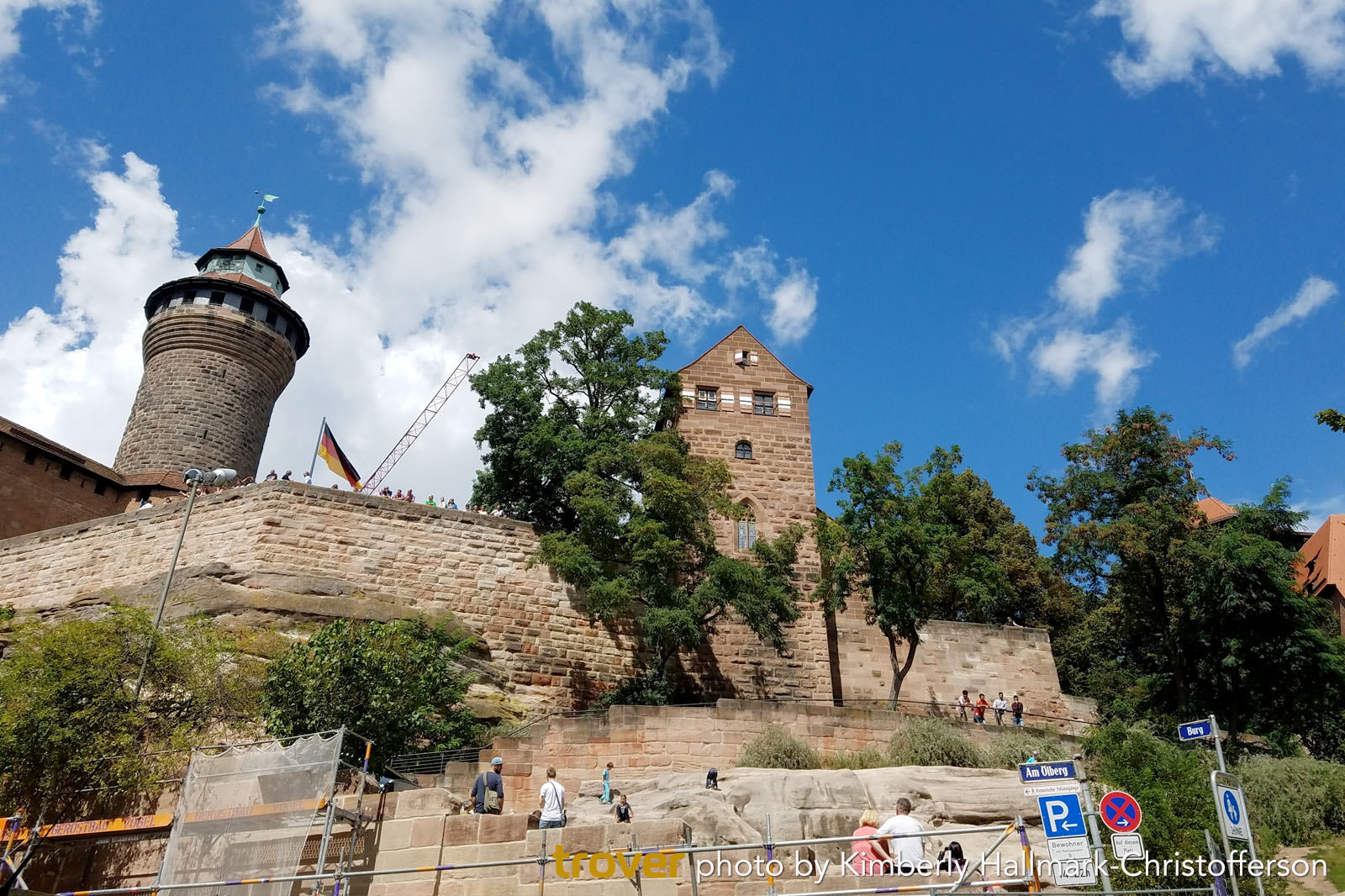 Must-See: Kaiserburg Castle
Visit the iconic symbol of the Holy Roman Empire in Nuremberg
Kaiserburg Castle is an impressive complex made of sandstone, from the 11th century onwards. The castle hosts a museum and splendid places, such as the imperial apartments, that you can visit. Filled with historical wonders, Kaiserburg Castle is a witness of the importance of Nuremberg during the Holy Roman Empire. You shouldn't miss the stunning view of the Old Town from the top of the Sinwell Tower. You can pick up an English audio-guide at the ticket desk.
Location: Burg 13, 90403 Nürnberg, Germany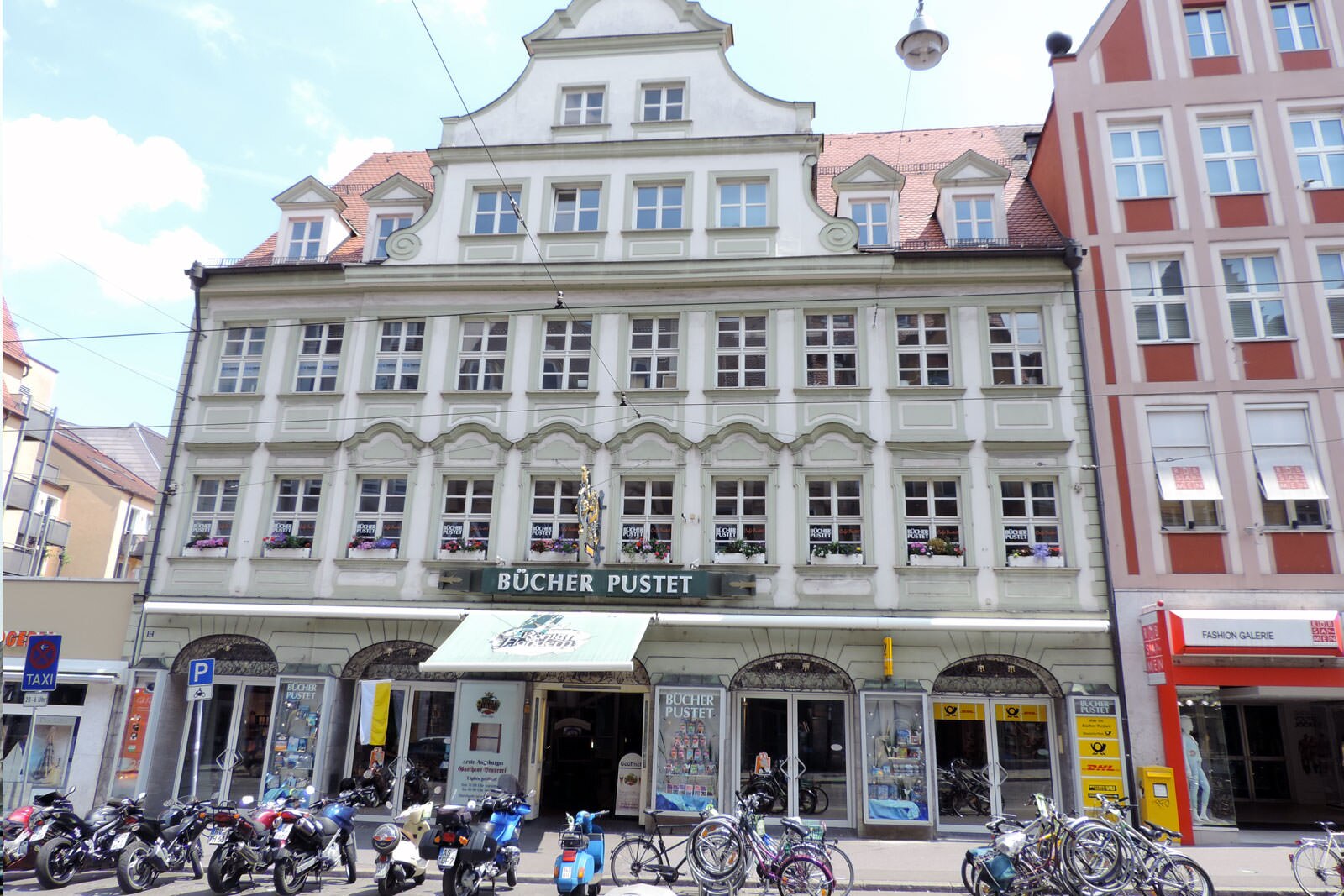 Shop on Karolinenstraße
Wander in the liveliest shopping street in Nuremberg
Karolinenstraße (Caroline Road) is a 300-metre-long pedestrian street located right opposite Saint-Lorenz Church in Nuremberg Old Town. It's one of the main shopping hubs in the city. Here, you'll find fashion designers, sport shops and department stores, as well as a cool choice of dining opportunities. International brands include H&M, Benneton, and Zara.
Location: In the Old Town, 200 metres south of the River Pegnitz, the street is facing Saint-Lorenz Church
photo by Jkü (CC BY-SA 3.0) modified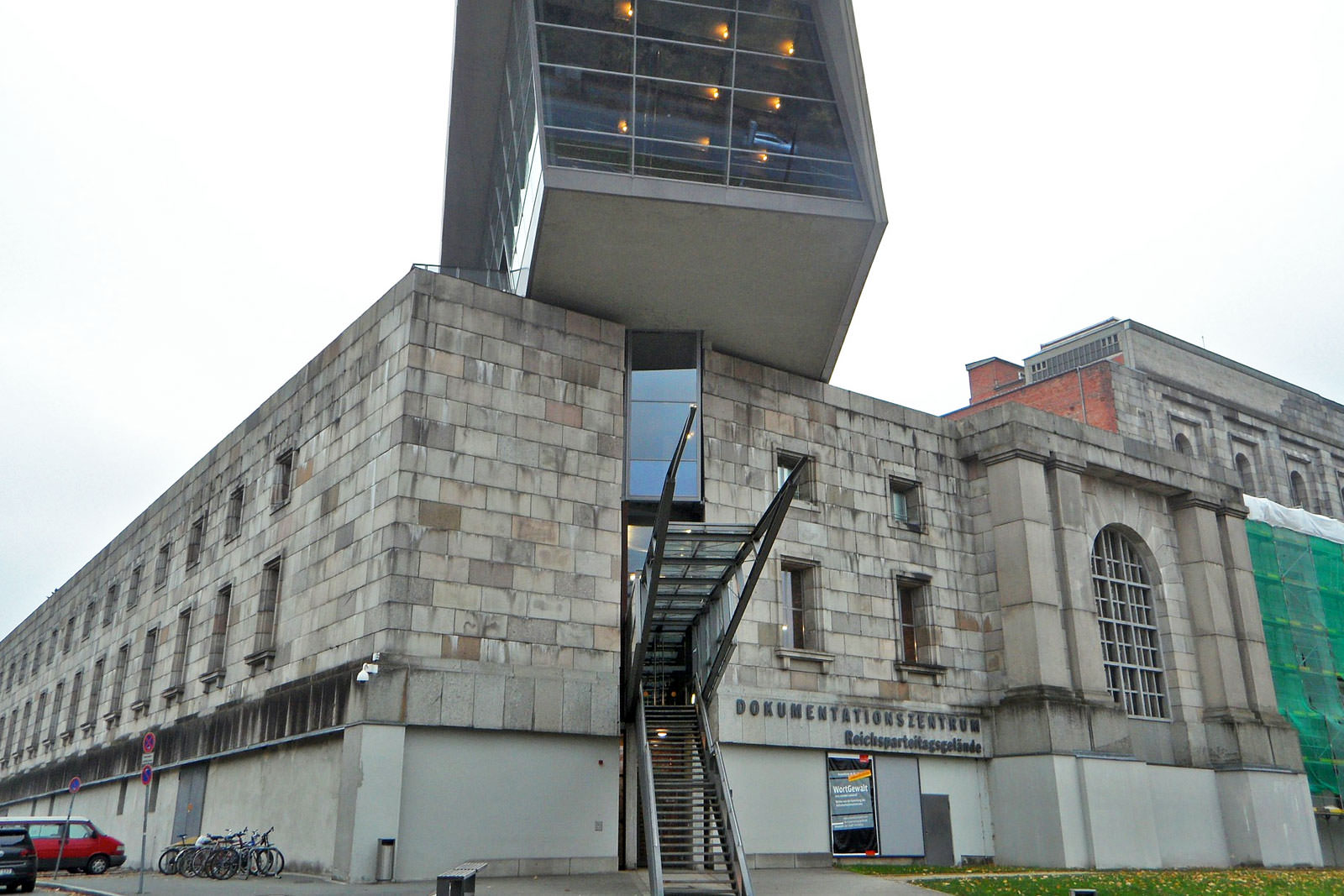 Visit the Documentation Center Nazi Party Rallying Grounds
Learn how the Nazi Party took over Germany
The Documentation Center Nazi Party Rallying Grounds is located 3 km southeast of the city. This huge complex occupies 11 sq km right next to a large lake named Grosser Dutzendteich. Hosting a Zeppelin field, a stadium, a marching field, and a congress hall, the complex is impressive to say the least. It features a permanent exhibition named "Fascination and Terror", which explains how the Nazi Party influenced the political landscape.
Location: Bayernstraße 110, 90478 Nürnberg, Germany
Open: Monday – Friday from 9am to 6pm, Saturday – Sunday from 10am to 6pm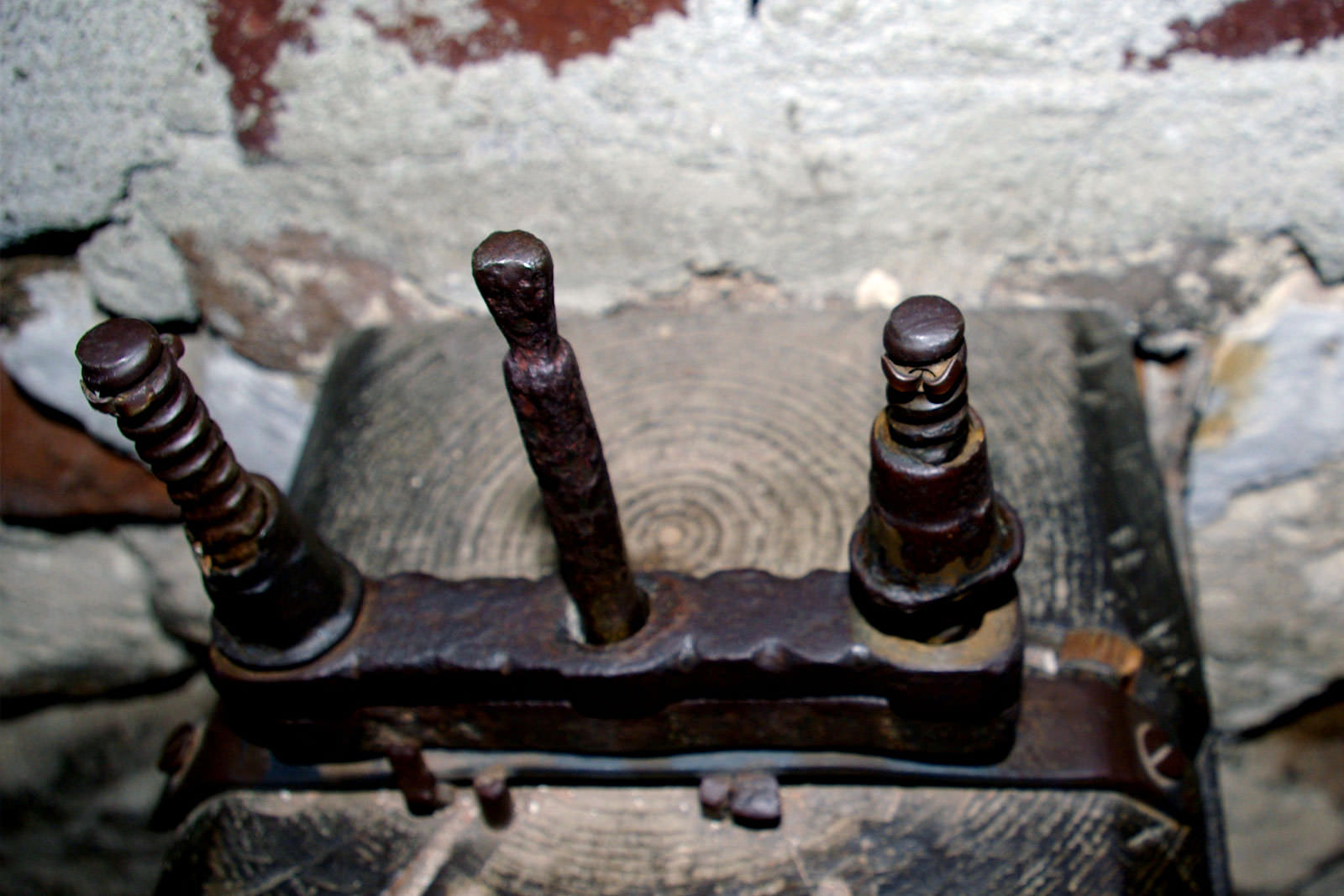 Explore Lochgefängnis Prison
Take a tour in a subterranean medieval dungeon
Also known as the Medieval Dungeons, Lochgefangnis Prison is located under the Town Hall, 100 metres north of the Main Marketplace. Not recommended if you're claustrophobic, this medieval prison features 12 cells and a torture chamber. Take the leaflet in English before to follow the guide into this eerie place which shows you how justice was rendered during the 14th century. After the visit, try Bratwursthausle Restaurant on the opposite side of the street. Sampling delicious, genuine Bavarian cuisine will certainly cheer you up.
Location: Rathauspl. 2, 90403 Nürnberg, Germany
Open: Daily from 10am to 4.30pm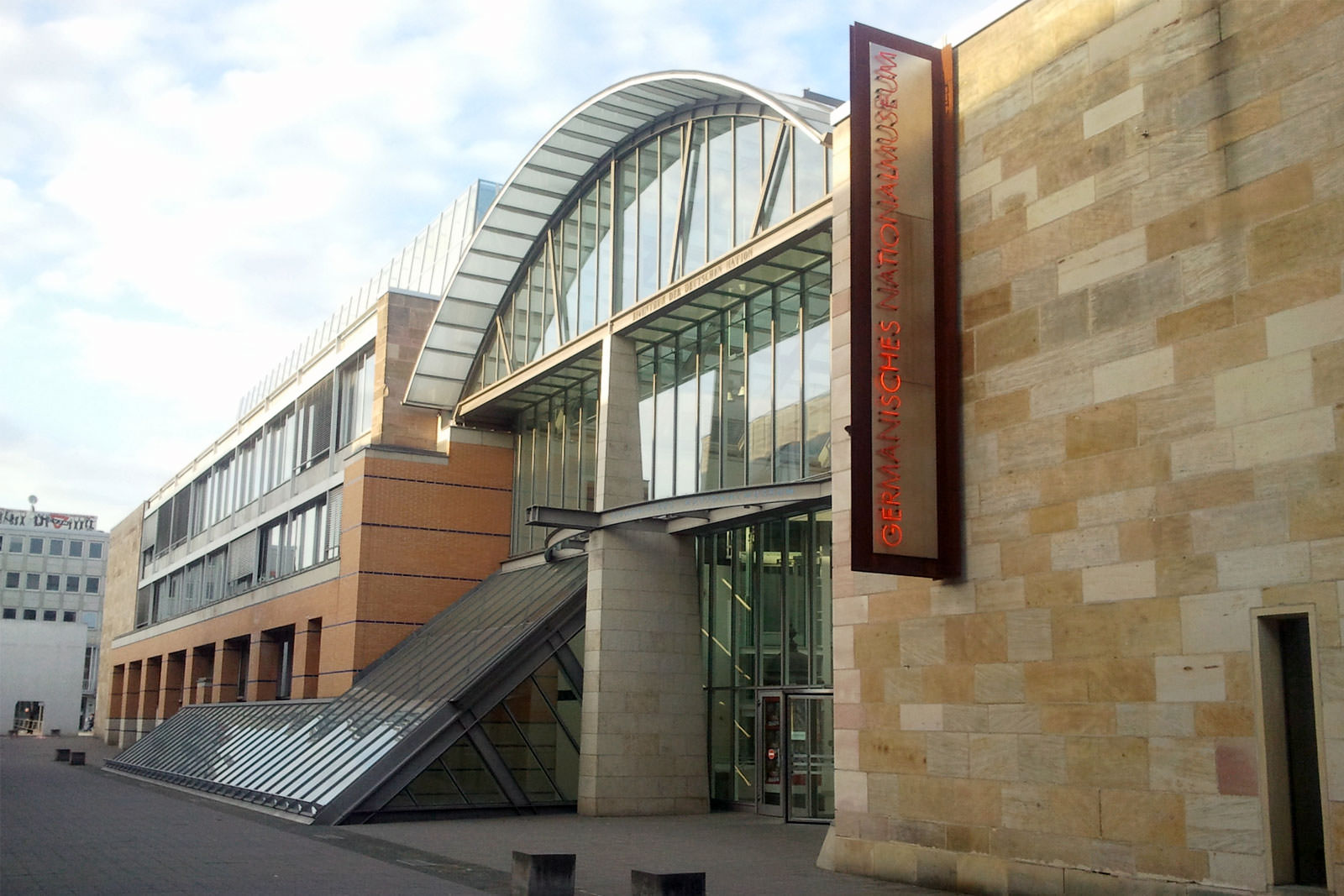 Educate yourself at the Germanic National Museum
Grasp the history of Germany in a huge and modern temple of knowledge
Established mid-19th century, the Germanisches Nationalmuseum (Germanic National Museum) is one of the largest museums of cultural history in Germany. Housing objects of all sorts – from religious statues to weapons to scientific instruments – the museum covers the whole history of Germany from the prehistoric era up to the present day. Modern and easy to navigate, the museum hosts a recommended Austrian-inspired restaurant named Café Arte.
Location: Kartäusergasse 1, 90402 Nürnberg, Germany
Open: Monday – Friday from 9am to 6pm, Saturday – Sunday from 10am to 6pm
photo by KaterBegemot (CC BY 3.0) modified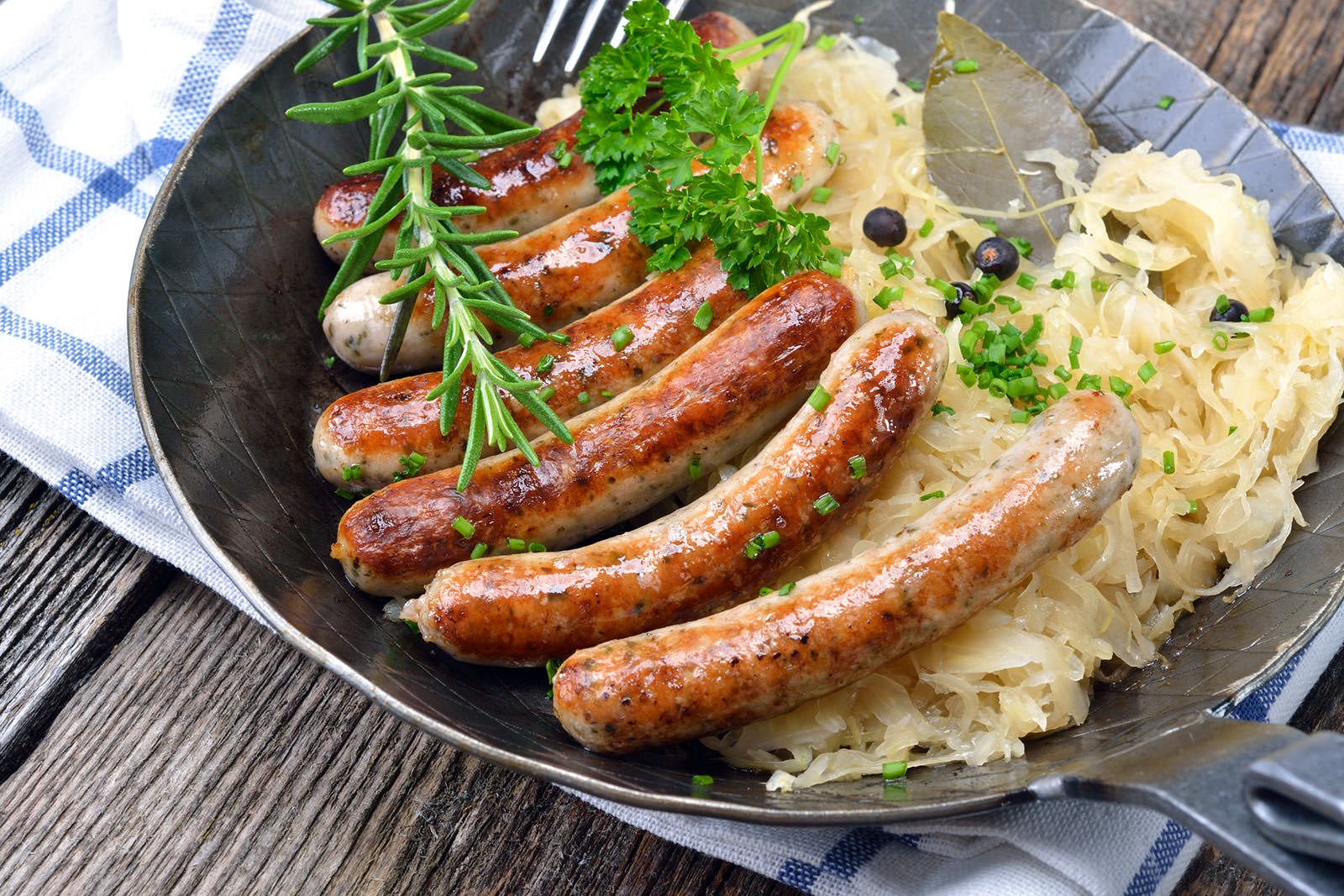 Sample Nuremberg Sausage at Zum Guldenen Stern
Feast on genuine German sausages in a historical restaur
Bratwurst means minced-meat sausage in German. This traditional dish's first ever recipe dates back to 1313 and was found in Nuremberg. You should head to Zum Guldenen Stern, a restaurant established since 1419 at its actual address, to sample this delicious German sausage usually accompanied with sauerkraut or potato salad. Fairly priced, dining at this restaurant is recommended for the quality of its dishes and its historical value.
Location: Zirkelschmiedsgasse 26, 90402 Nürnberg, Germany
Open: Daily from 11am to 10pm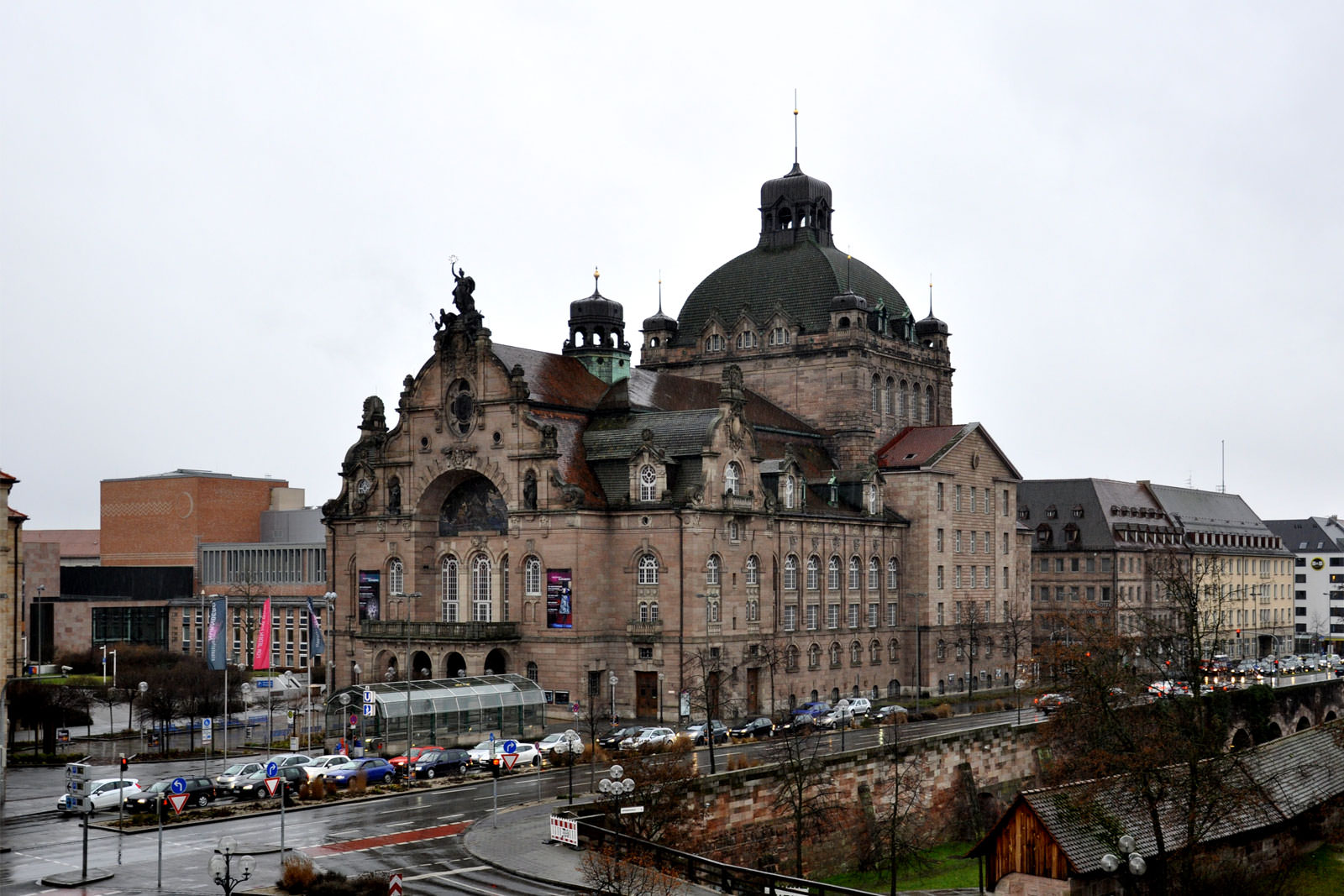 End the day attending a show at Nuremberg State Theatre
Go to see a great show in a historical venue
Built in 1905, Nuremberg State Theatre hosts one of the largest opera houses in Germany. Here, you can attend a great range of shows, from operas to ballets and from plays to concerts in splendid Art Nouveau settings. It's the venue at which performs the Nuremberg Symphony Orchestra. Check out the program before to arrive in Nuremberg so you can attend The Magic Flute by W. A. Mozart or La Bohème by G. Puccini for a reasonable entrance fee.
Location: Richard-Wagner-Platz 2-10, 90443 Nürnberg, Germany
Open: Monday – Friday from 9am to 8pm, Saturday from 9am to 6pm
photo by Andreas Praefcke (CC BY 3.0) modified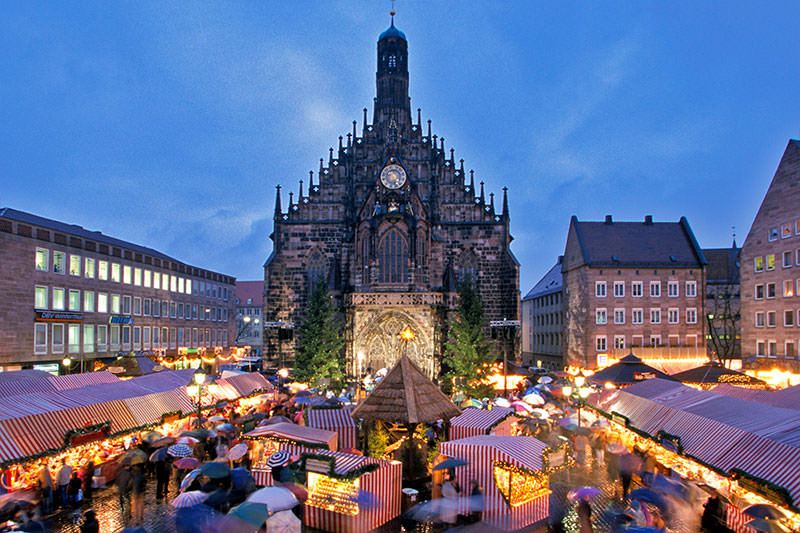 Don't miss the Christmas Market
Get into the Christmas spirit in style
The Christkindlesmarkt (Christmas Market) is one of the largest events annually held in Nuremberg. Throughout December, the Main Marketplace hosts this colourful festive event. The square is packed with red and white booths bearing Christmas ornaments, and the pleasant smells of roasted sausages, mulled wine and gingerbread – one of Nuremberg's specialities, entice the entire Old Town.
Location: Hauptmarkt 90403, Nürnberg, Germany
Open: December from 10am to 9pm
Couples
Families
History
Photo