12 Best Things to Do in Fira
What is Fira Most Famous For?
Fira, sometimes spelt 'Thira,' is the capital of the Greek island of Santorini. If you've seen photos of Santorini in the past, with its whitewashed rectangular buildings overlooking the contrasting, rich blue hues of the Mediterranean – well, then, this is where you can find that same enchanting scenery.
Fira is not only beautiful and filled with cultural landmarks, as it's also a hub of activity on the island. Fira is where you'll find most of Santorini's best shopping, dining, nightlife and art. Picking the best things to do among all the available options can seem overwhelming. However, if you're looking for a quick hit of the top spots to see and things to do in Fira, you've come to the right place.
What are the best things to do in Fira?
1
Theotokopoulou Square
Grab a coffee and hang out with the locals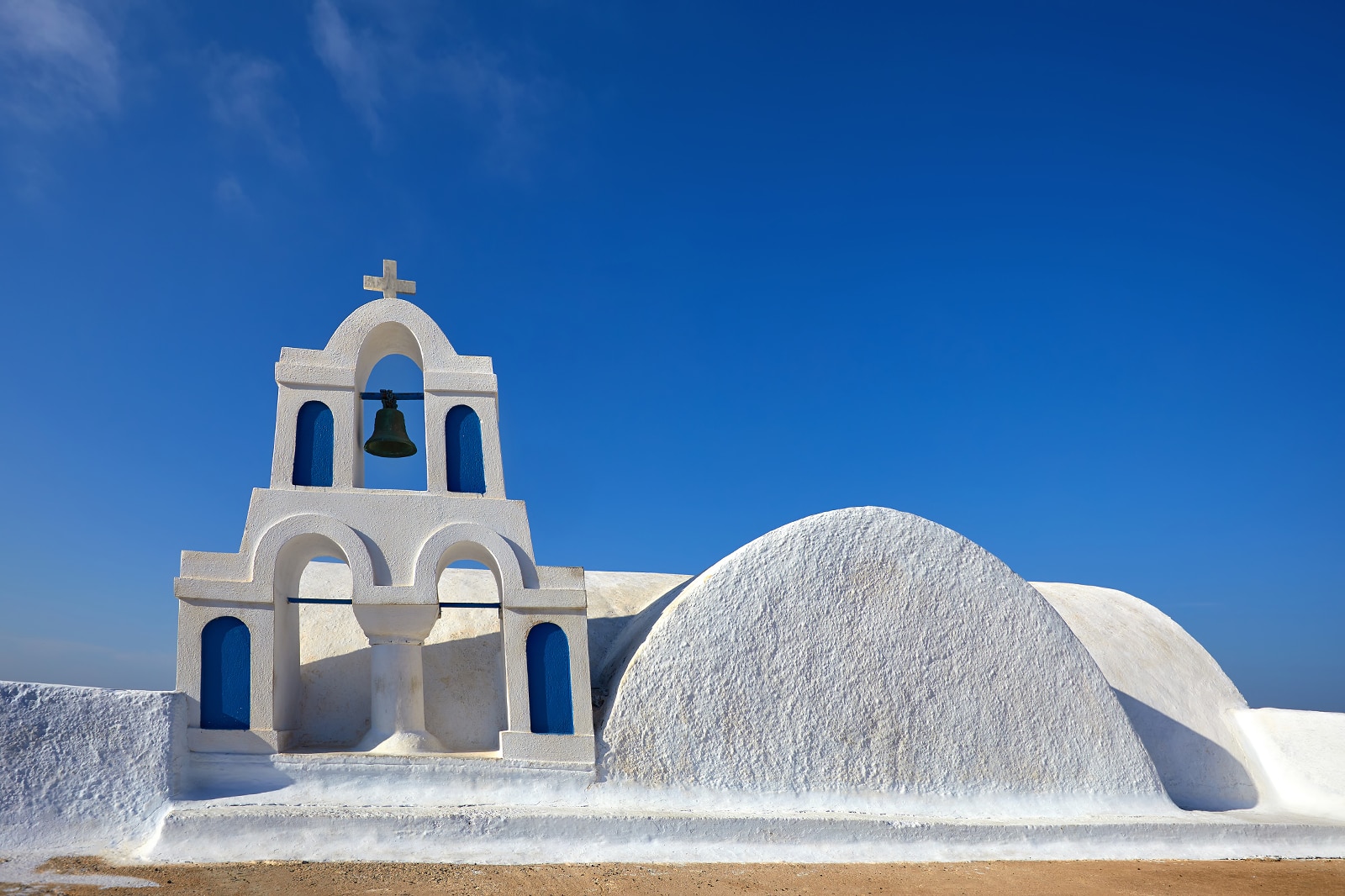 Plateia Theotokopoulou is the main square in Fira, the largest town on Santorini. It's the place where locals come to meet up and chat, sometimes grabbing a bit of fresh produce from the small street market, or just sitting on one of the benches and enjoying the fantastic view across the caldera. At the back of the square (which is really more like a long rectangle) is the imposing Orthodox Metropolitan Cathedral, as well as several banks, pharmacies, shops, galleries, cafés and restaurants. It's a lively spot, particularly during the peak season, with many narrow alleys and staircases leading off to other parts of town.
Location: Ipapantis 307, Fira 847 00, Greece
2
Fira Old Port
Take the 587 steps down to the Old Port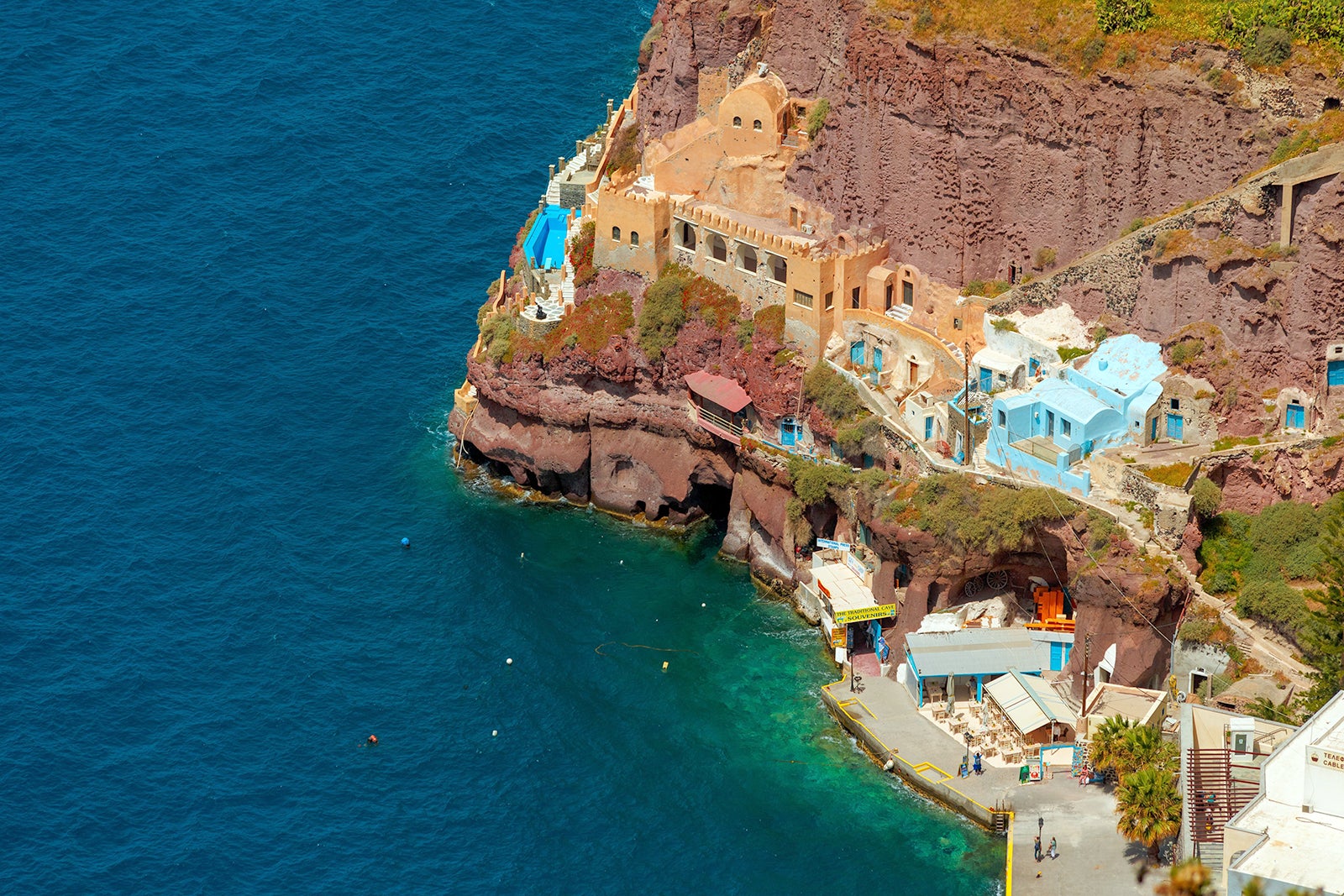 Fira Old Port sits more than 200 metres below the city, but you can easily reach the small neighbourhood, filled with restaurants, tavernas and great views. You just have to take nearly 600 steps from Fira to the Old Port, passing quite a few cruise ship passengers along the way, as well as donkeys.
While the walk down is definitely a workout for your calves, you'll be rewarded with amazing cliffside views of the water and shoreline, and with a frosty drink at one of the charming tavernas at the bottom of the hill. Don't worry if you can't take the stairs – there's a cable car that can ferry you to and from Old Port.
Location: Santorini, 847 00, Greece
3
Three Bells of Fira
See one of the most photographed spots in Santorini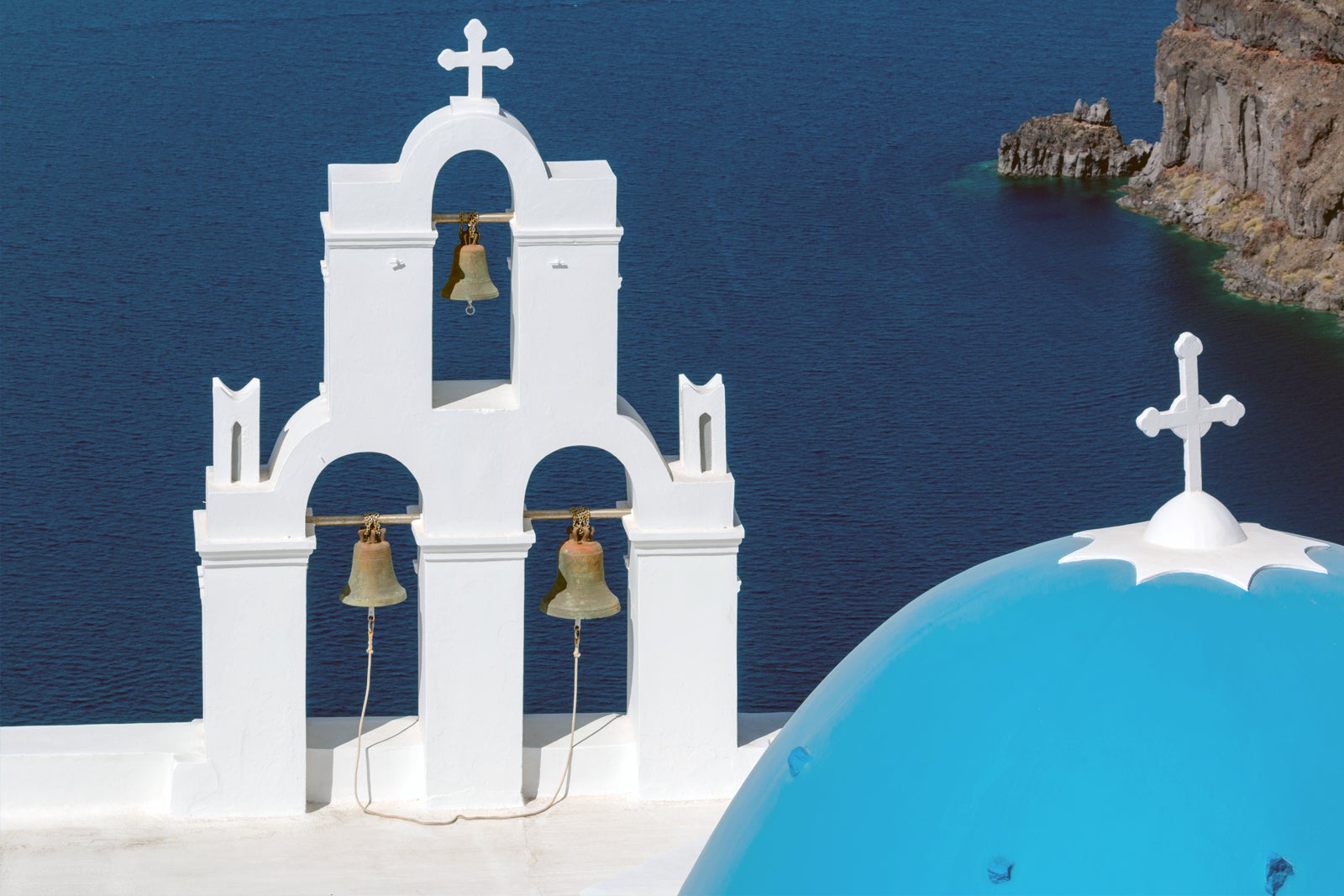 The Catholic Church of Koimisi Tis Theotokou is where the 3 Bells of Fira are housed. When you think of Fira, you'll likely think of striking blue domes atop the stark white walls of a Greek Catholic church, set against a picturesque Mediterranean backdrop. Specifically, this church. It's an image that appears on many a magazine cover and Instagram feed.
The current church was built in 1757, though several other religious structures found their homes on the same cliff over the centuries. It's easy to see why – the views are absolutely awe-inspiring. The structure holding the iconic bells provides a natural frame for looking out across the Santorini Caldera.
Location: Oia 847 00, Greece
photo by Dietmar Rabich (CC BY-SA 4.0) modified
4
St. John the Baptist Cathedral
Santorini's first Catholic cathedral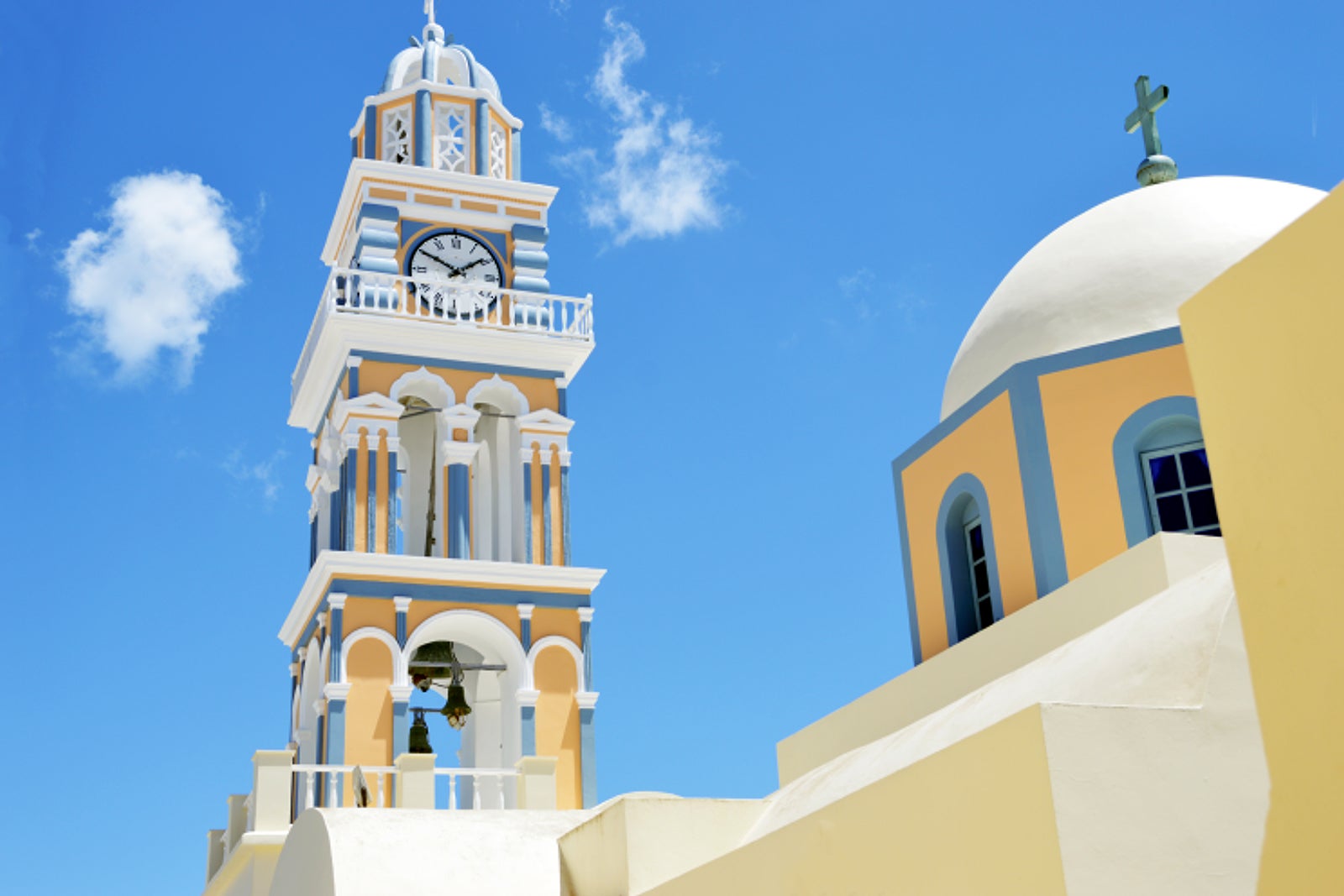 St. John the Baptist Cathedral was built in the early 1800s, but its history stretches back much further than that. It represents Santorini's diocese, which was originally founded in 1204. The baroque architecture incorporates the classic Santorini style you'll see throughout the island. Tiny, charming and altogether peaceful, the cathedral is a nice respite from the heat, as well as the crowds, offering a calm spot to reflect and contemplate while enjoying the views of the harbour.
While entry is free, the cathedral does take donations and, while travellers are more than welcomed, remember to be respectful and remove any head coverings upon entrance.
Location: Agiou Ioannou, Thira 847 00, Greece
Open: Daily from 9 am to 9 pm
Phone: +30 2286 025360
5
Folklore Museum of Santorini
Learn about Santorini's history and handicrafts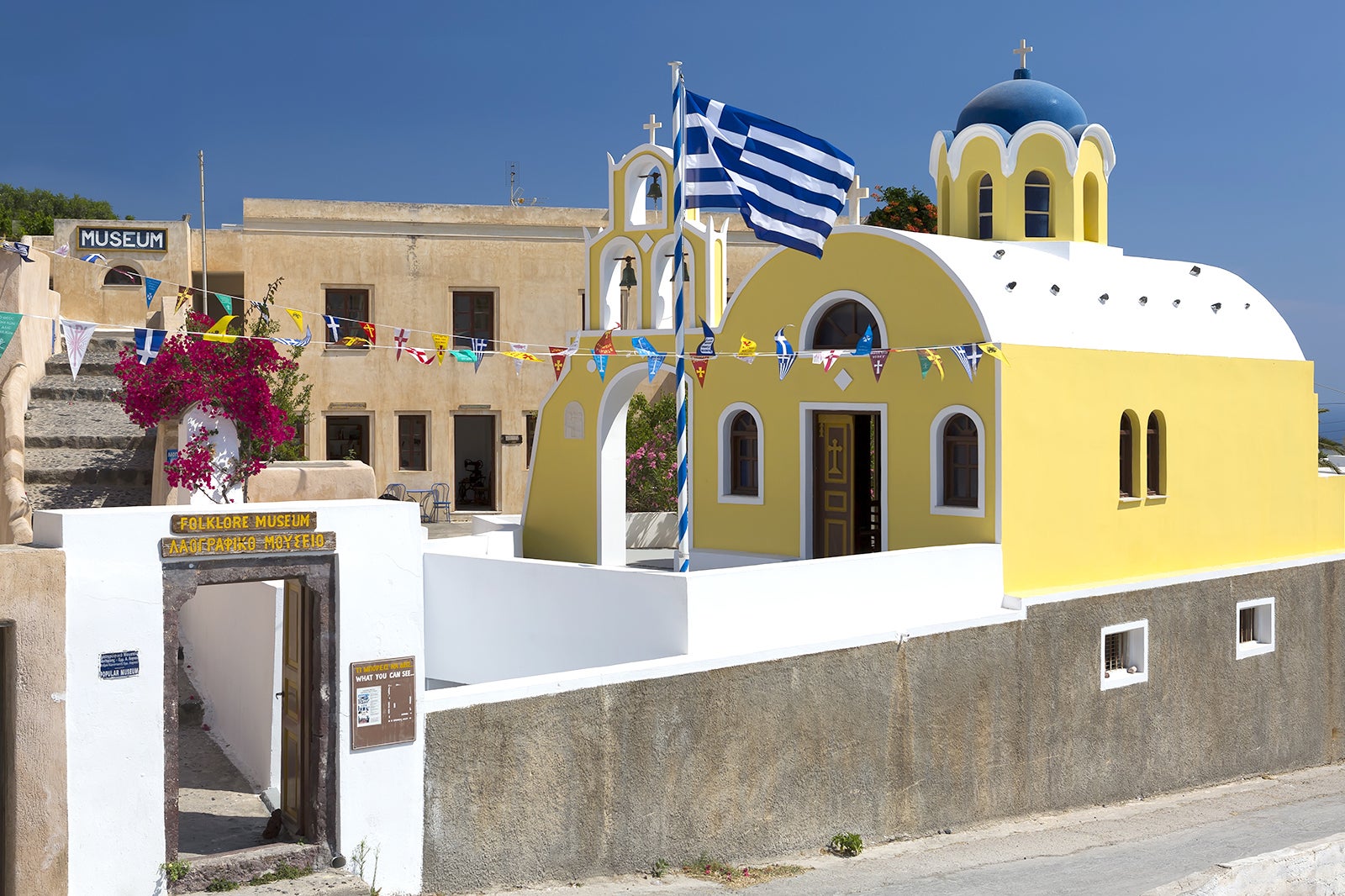 The Folklore Museum of Santorini isn't dedicated to folklore in the traditional sense. The focus isn't necessarily on stories or fables. Instead, the museum focuses on the very real lives of historic populations on the island and their means of making a living.
The museum, which is situated in a cave house, features displays on carpentry, barrel-making, wine, art and more. Learn about famous artists who depicted Santorini in their work, the traditional handcrafts of the Santorini people and even the geological processes which occurred to put Santorini on the map in the first place. A garden and courtyard offer a pleasant outdoor space and there's also a chapel and belfry to explore.
Location: Kontochori, Kontochori-Fira, Fira 847 00, Greece
Open: Daily from 10 am to 5 pm
Phone: +30 698 704 8274
6
Archaeological Museum of Thira
Brush up on your knowledge of Greek history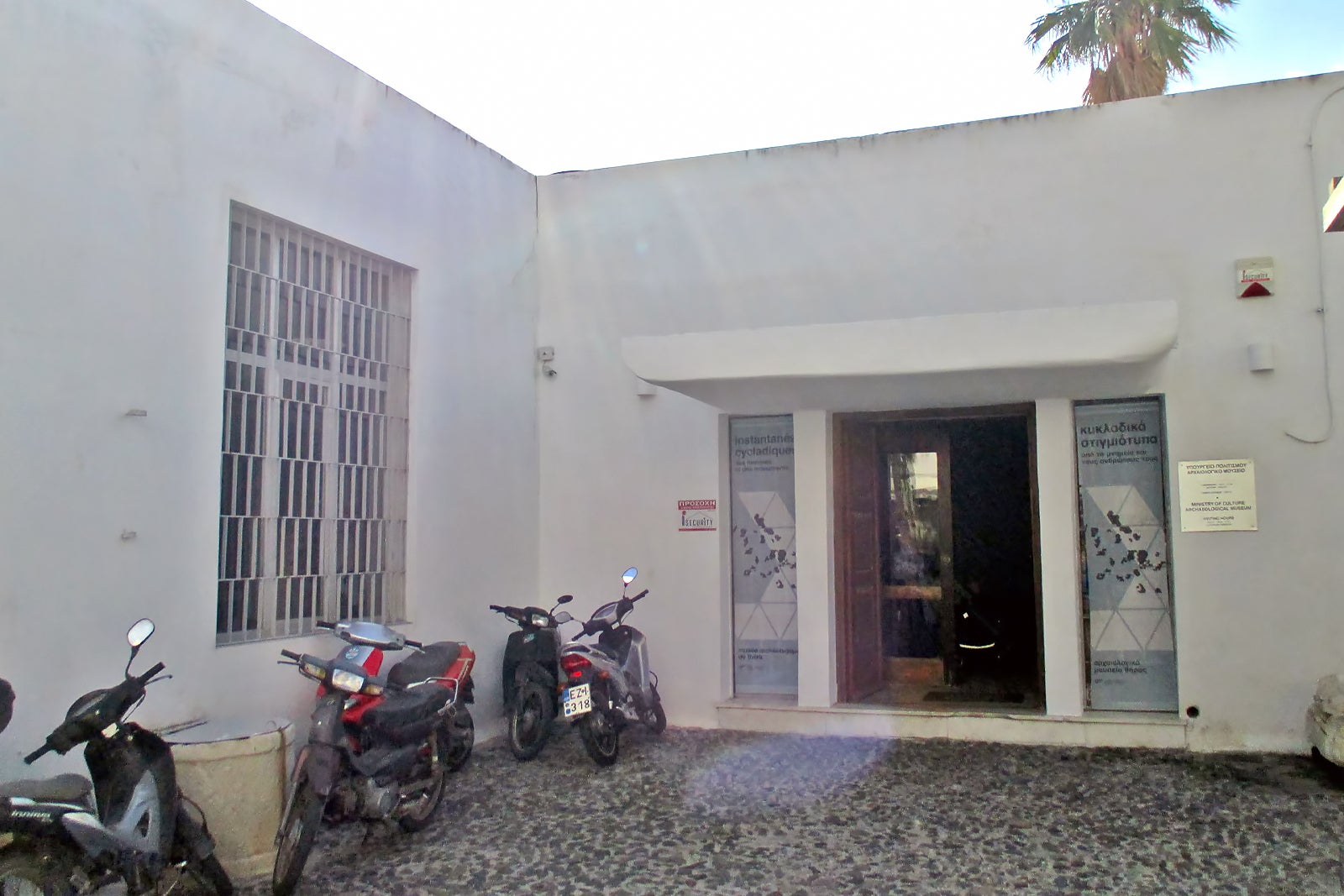 The Archaeological Museum of Thira sits in the city centre of Fira, making it very easy to reach during your explorations. The small museum is split into 3 sections: sculpture, inscriptions, and vases and clay work. The collection includes items from the Archaic, Roman, Geometric and Hellenistic periods, with most items removed from archaeological excavations on Mesa Vouno Mountain and in the ancient cemetery of Fira.
The museum is a convenient place for travellers to learn a little more about Fira's and Santorini's histories while observing actual artefacts from those histories. Since the museum is on the smaller side, it doesn't take long to get through and is an easy cultural addition to most itineraries.
Location: Erithrou Stavrou, Thira 847 00, Greece
Open: Wednesday–Monday from 8.30 am to 4 pm (closed on Tuesdays)
Phone: +30 2286 022217
photo by Tomisti (CC BY-SA 4.0) modified
7
Museum of Prehistoric Thira
Learn about early human life in the Greek Isles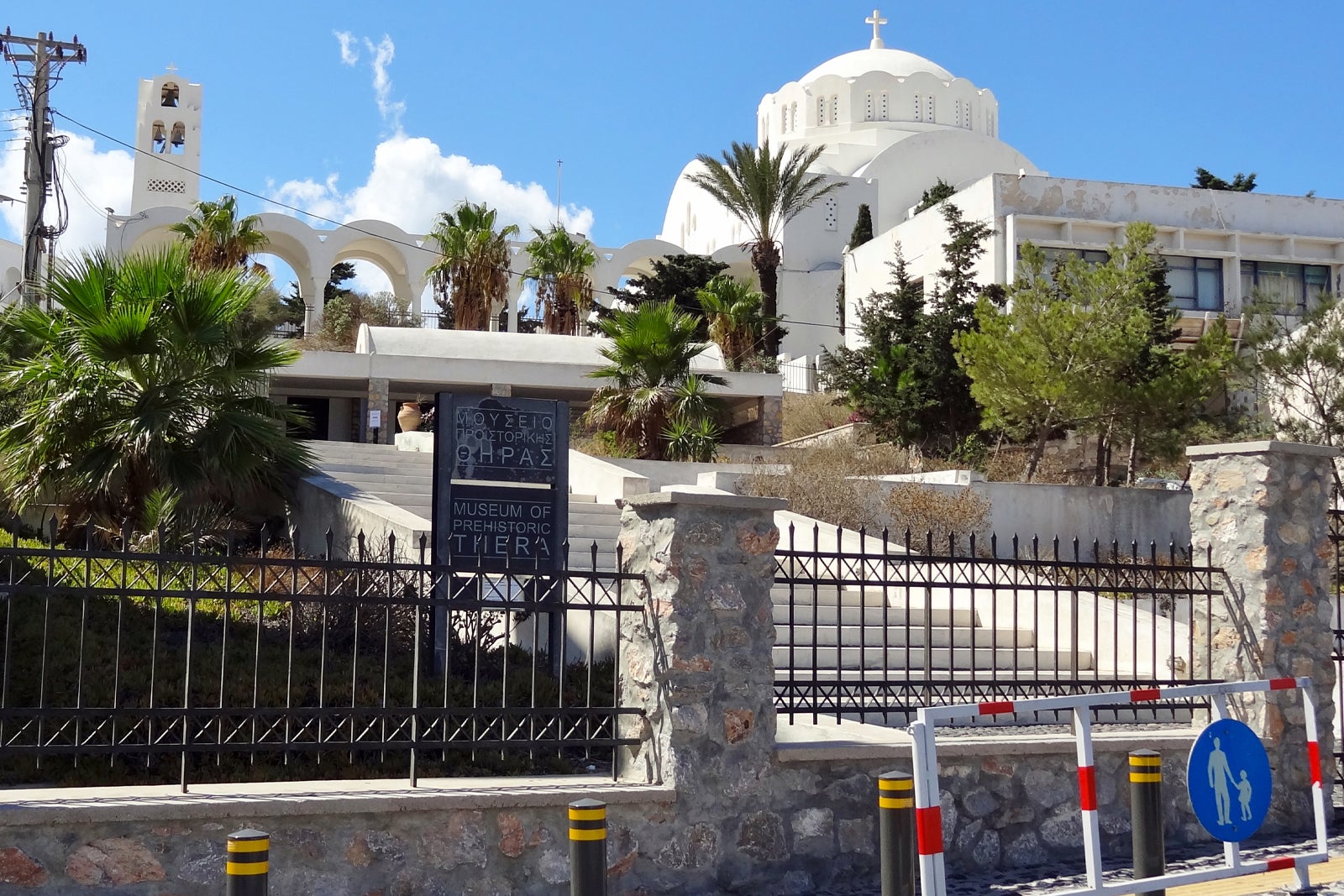 The Museum of Prehistoric Thira is located in the middle of Fira and is dedicated to educating visitors on the history of Santorini before it was Santorini. The island was heavily shaped by an ancient volcanic eruption, but before this eruption occurred, the island was home to a population living in what is now known as Ancient Akrotiri.
See artwork and everyday items from these individuals' lives, with some artefacts dating back as much as 5,000 years or more. Travellers interested in Santorini's history, archaeology, culture or art will all find this small museum a worthwhile stop.
Location: Thera 847 00, Greece
Open: Wednesday–Monday from 8.30 am to 3.30 pm (closed on Tuesdays)
Phone: +30 2286 023217
photo by Olaf Tausch (CC BY 3.0) modified
8
Orthodox Metropolitan Cathedral
Admire one of the most eye-catching buildings on Santorini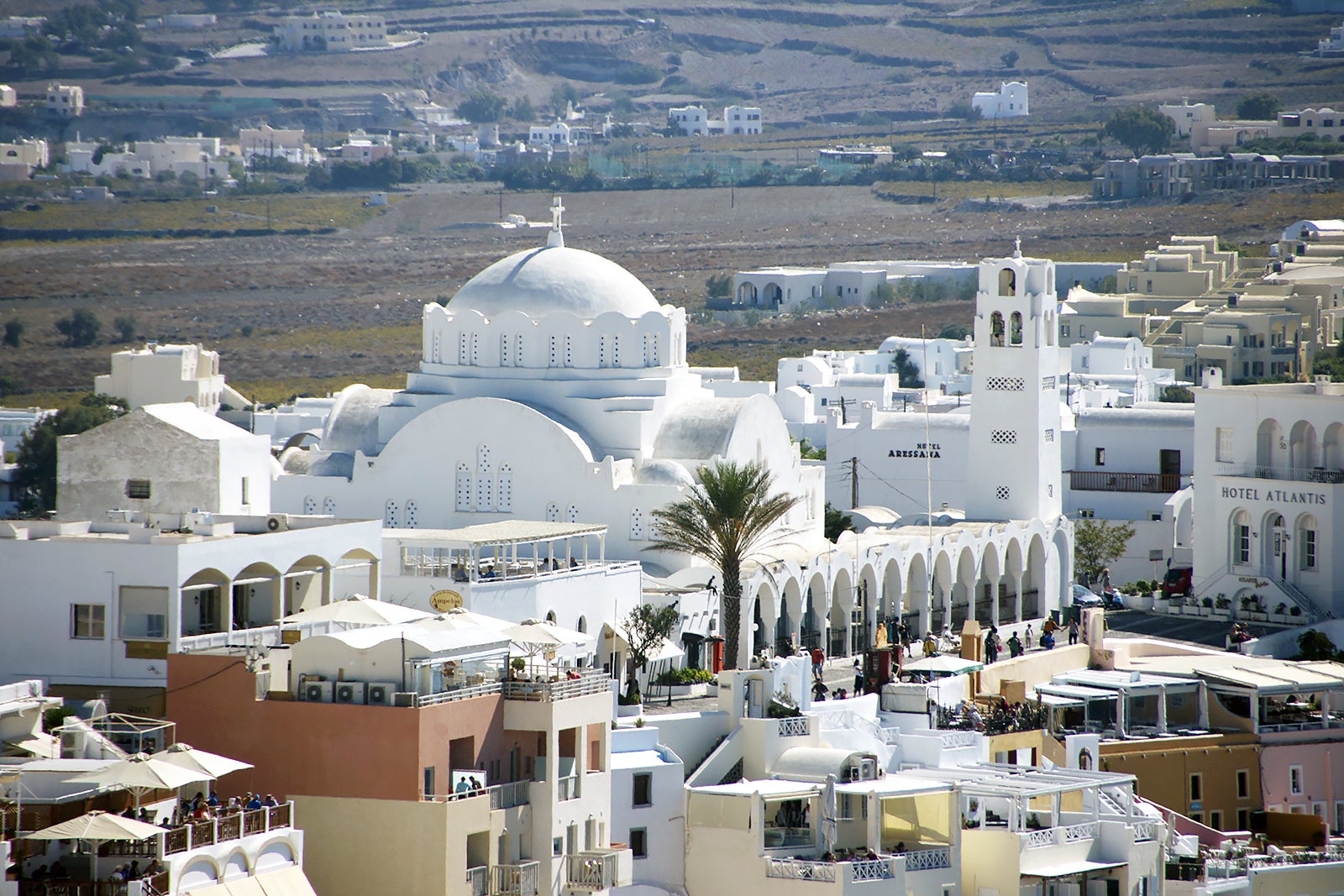 The Orthodox Metropolitan Cathedral isn't difficult to spot. The large church, built in 1827, can be seen not only nearly everywhere in Fira, but across many places in Santorini. The lovely white church offers views of Santorini's caldera, but the church itself is just as breathtaking to look at. It features mosaics and a bell tower for those just admiring the exterior.
For those who venture inside, you'll find amazing frescoes created by a local artist, as part of an overall ornate decor. When touring the interior, don't forget to look up – some of the most impressive work is on the ceiling.
Location: Ipapantis, Thira 847 00, Greece
photo by Gerry Labrijn (CC BY-SA 2.0) modified
9
Fira art galleries
See why Fira is Santorini's art capital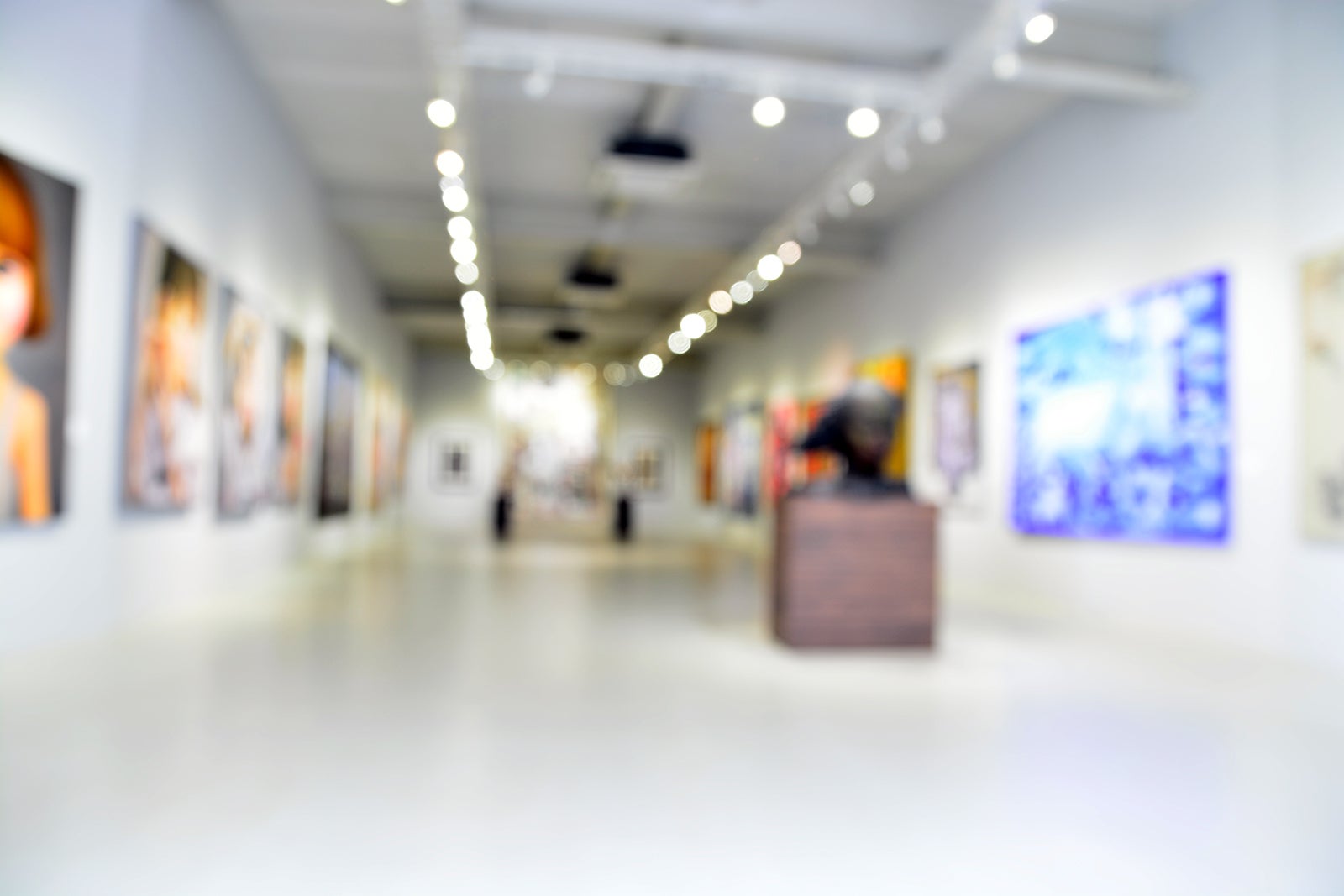 Fira is not only Santorini's capital of government and tourism, but it's also Santorini's art and culture capital. Walk the streets of Santorini and you'll come across tons of eye-catching art galleries and shops.
One of the best known is Mati Art Gallery, which is difficult to miss thanks to the art installations that literally spill out onto the street. The artwork by internationally acclaimed Yorgos Kypris includes a lot of glass and metal, with nautical inspirations. Ceramic Art Studio more than your average pottery; the ceramic artwork is the handicraft of Andreas Alefragkis, who has been fine-tuning his methods for decades. For woodwork, stop by Eduart Gjopalaj Gallery for lovingly created pieces you'll have a hard time believing are actually made from wood.
10
Fine dining in Fira
Feast on acclaimed Aegean cuisine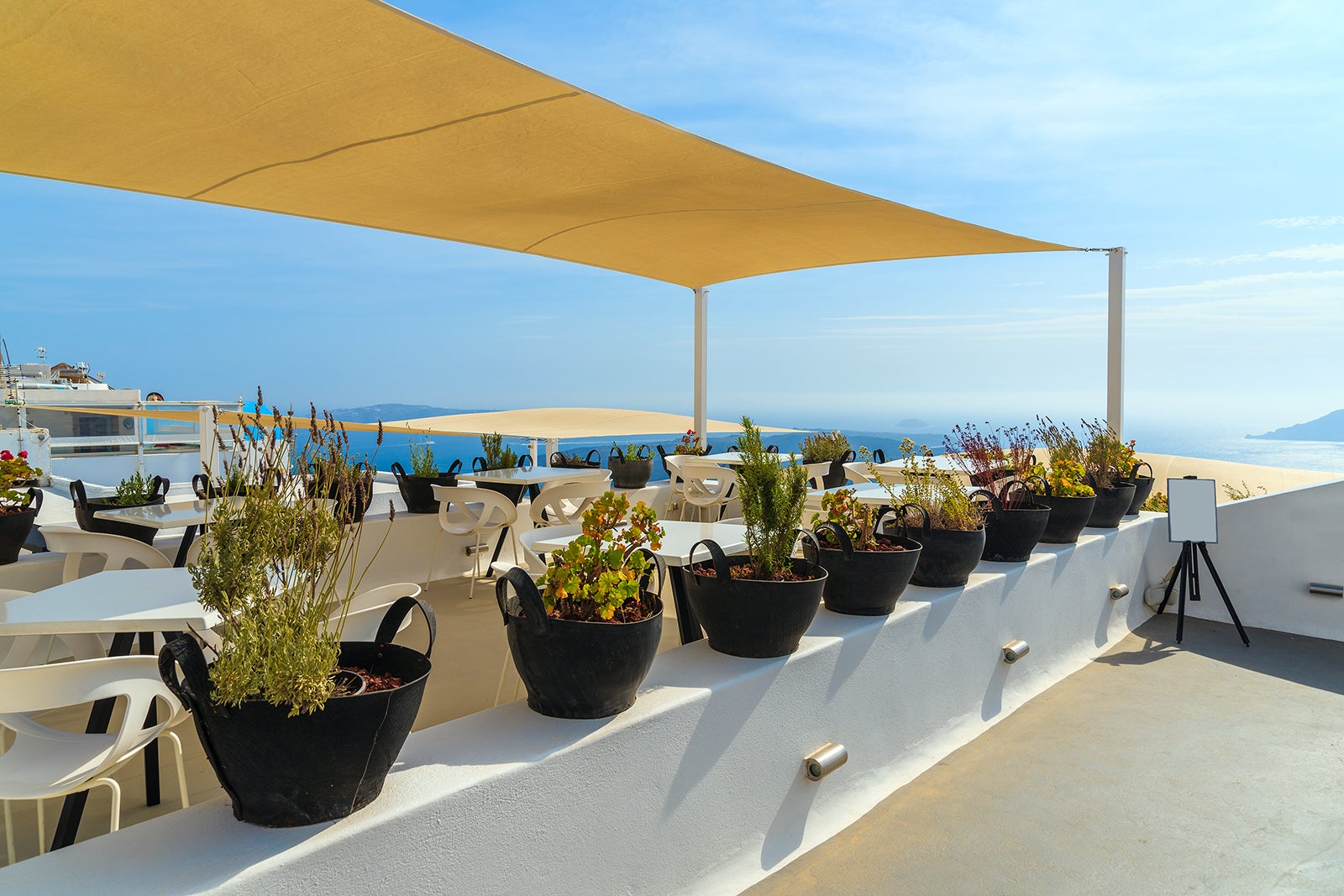 Greek and Aegean cuisine reign supreme in Fira, but that doesn't mean you'll be dining on the 'same old, same old' wherever you go. You'll find a range of cuisines and dining experiences across the city, with quite a few well-suited to a romantic date or otherwise impressive dinner.
Idol Restaurant Bar serves Greek flavours updated for a modern palate; the menu includes such delights as oxtail with white eggplant cream, potato confit and goat cheese pearls, as well as pork belly braised for 15 hours and then served with sweet potato puree, passion fruit and a ginger sauce. Mylos gives diners a unique, luxurious venue within an old windmill; you won't know which is prettier – the presentation on your plate or the dining room.
11
White Door Theatro
Catch a show for a night of festive fun
The White Door Theatre (or White Door Theatro) hosts a regular Greek Wedding Show, immersing travellers of all ages in Greek wedding festivities in a performance that includes plenty of dancing, singing, music and audience interaction. You'll be learning about Greek culture, but won't even notice thanks to the great time you'll be having (even if that great time can be a little cheesy).
Your show ticket comes along with wine and traditional Greek finger foods. Put on your acting hat, get ready to interact with the characters and maybe even get the chance to try out some Greek wedding dances or participate in a favourite Greek wedding tradition: breaking a few plates.
Location: Erithrou Stavrou, Santorini 847 00, Greece
Phone: +30 2286 021770
12
Fira
Go bar-hopping in the island's capital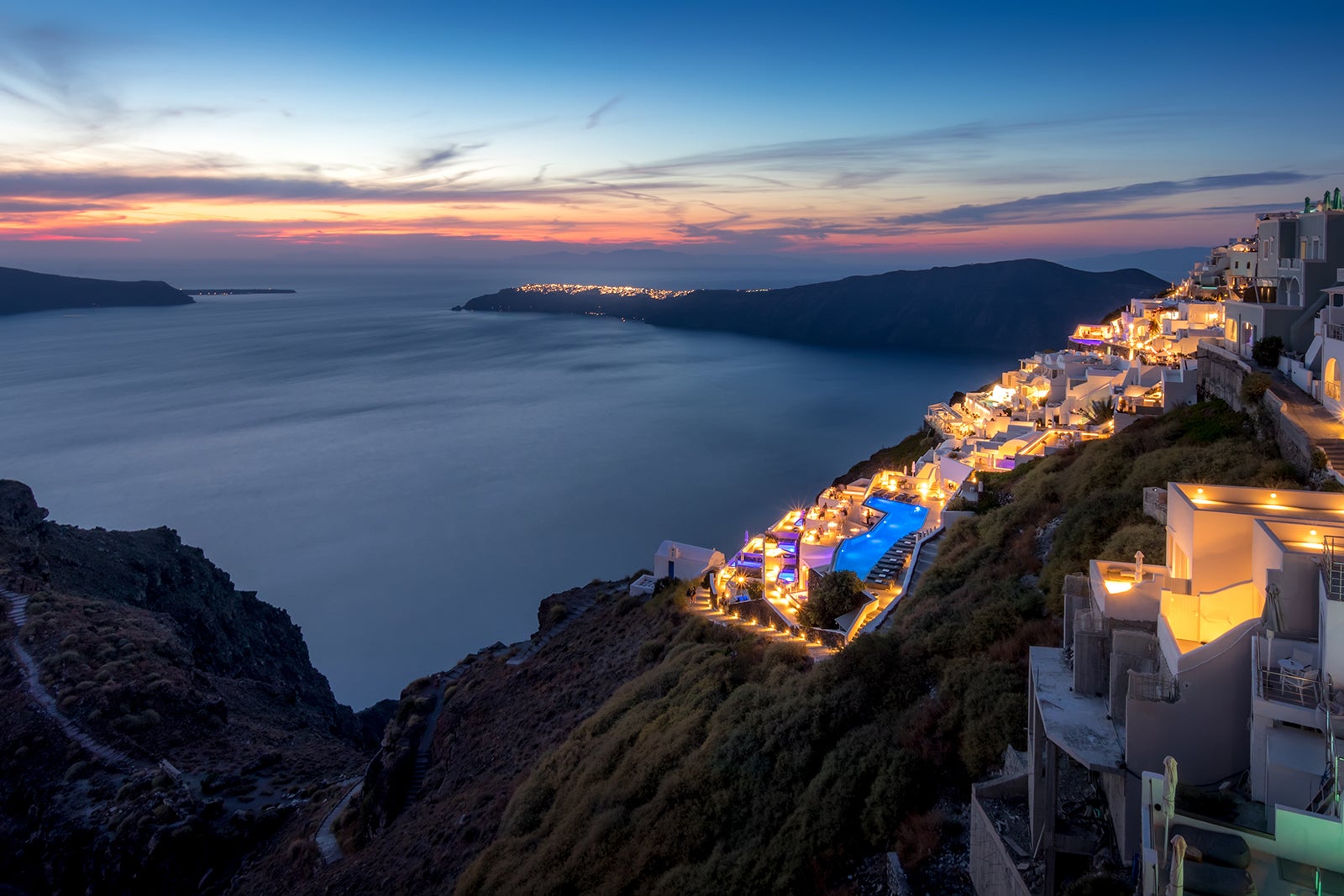 As a popular destination with young travellers, you'd think that Santorini would be packed with lively nightspots, particularly in the island's capital, Fira. While there is some variety of venues to be found, mostly packed into a small area just north of Theotokopoulou Square, the choice is a little limited. However, for the hardcore party animals, there are nightclubs like Enigma Club. If you want something more sophisticated, head to MoMix for amazing mixology. For those looking for a quiet, romantic spot, the view and classical music of Franco's Bar make it a sure-fire hit. A word of wisdom, though: Leave the high heels at home. With cobbled streets and steep steps throughout Fira, your ankles will thank you.
Back to top