10 Things to Do in Dublin on a Small Budget
Cheap and Fun Attractions in Dublin
Dublin isn't the cheapest city for travellers, but its compact size makes it easy to explore just by walking around. It also happens to be a place where people make great efforts to preserve and protect their beloved city's parks and cultural sights. Many such places allow free entry, and oftentimes there'll be free guided tours, too. If there's a story to be told about a place, chances are there'll be someone there to happily tell you all about it.
If you're keen to explore but don't have much to spend, here are a few ideas for things to see and do in Dublin on the cheap.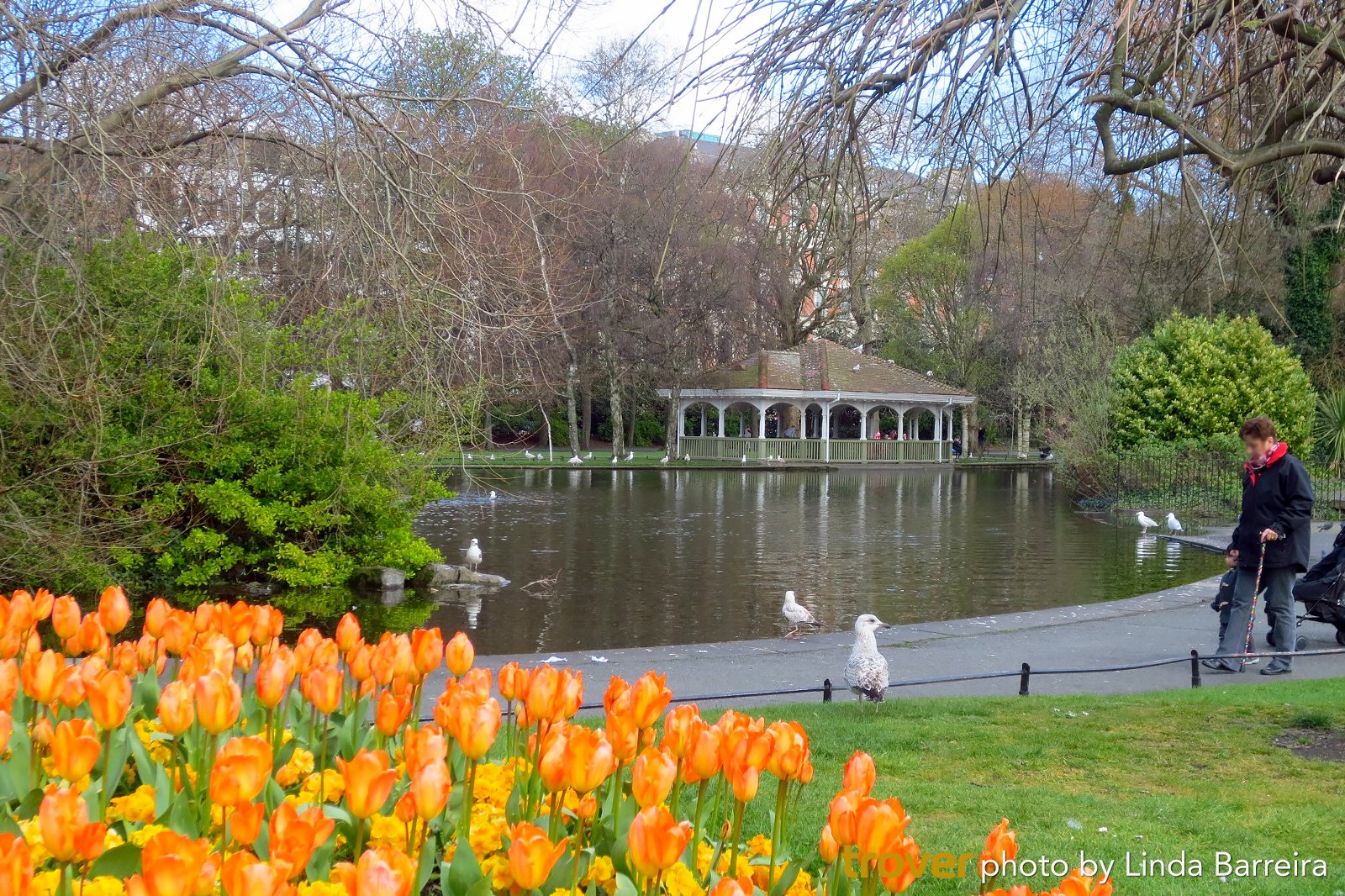 Couples
Families
History
Budget
Found near busy Grafton Street, St. Stephen's is a Victorian public park spread over 9 hectares. Over 4 centuries, St. Stephen's has been many things: a private park for the wealthy, even a battleground for an uprising. These days it's simply a peaceful refuge from hectic city life.
Sprinkled along the park's 3.5 km of pathways are statues and exhibitions honouring important Irish historical figures and events. There's a children's playground and even a garden for the visually impaired, with scented plants labelled in Braille. In the summer, be sure to come around midday to enjoy a free lunchtime concert.
Location: St. Stephen's Green, Dublin 2, Ireland
Open: Monday–Saturday from 7.30 am to dusk, Sundays from 9.30 am to dusk
Phone: +353 (0)1 475 7816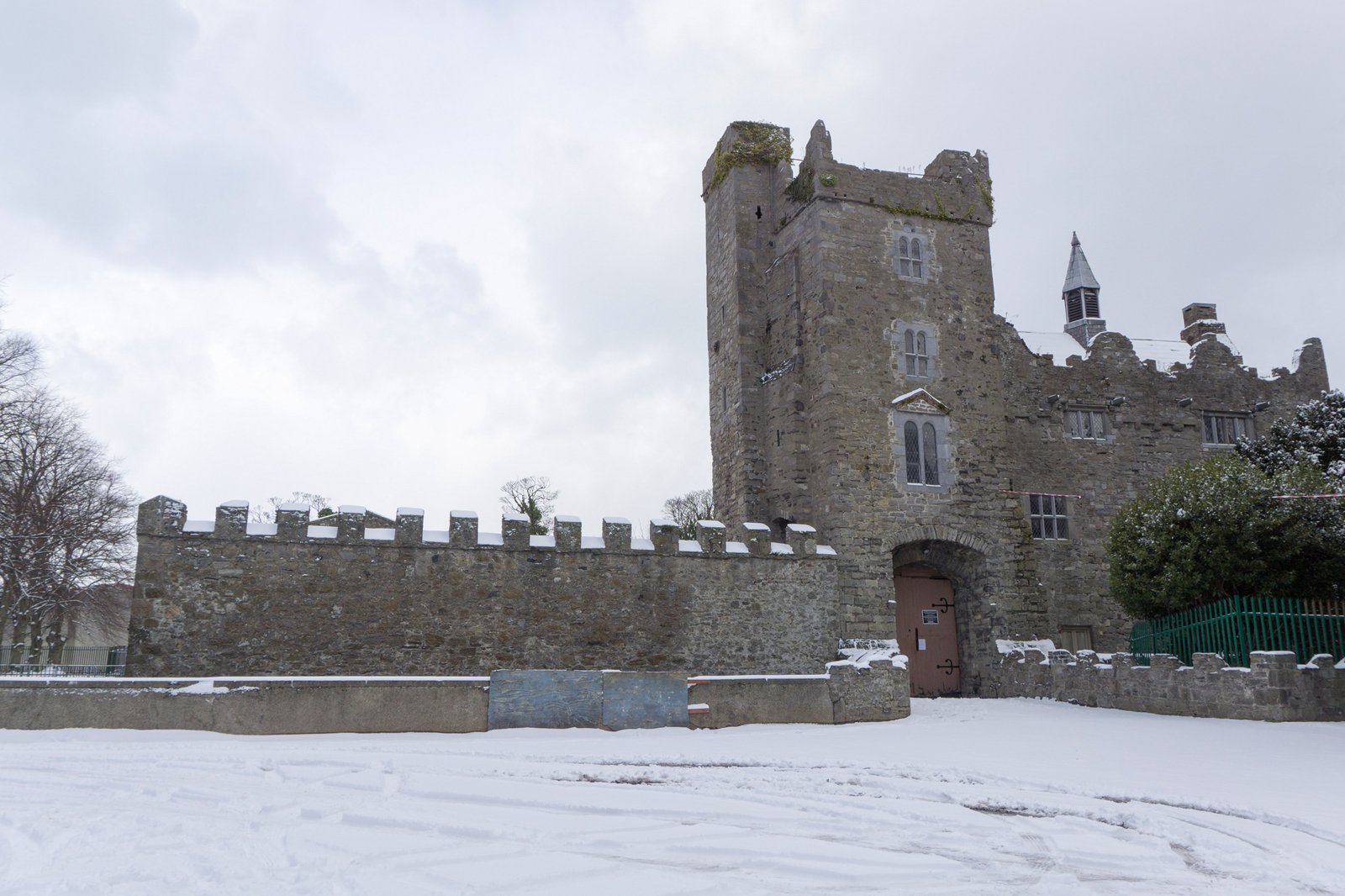 Families
History
Photo
Budget
If the walls of the Great Hall of Drimnagh Castle in Dublin South-West could talk, they'd tell the stories of several generations of families dating back to the 13th century. This fortress castle with a moat was continually inhabited until the resident Hatch family gave it to the Christian Brothers in the 1950s.
Beautifully restored, the castle's now open for visitors with an entry fee of around €5, including a guided tour given with verve and rich detail. Wander through the 17th-century gardens, climb to the lookout post in the battlement tower, and imagine the gilded life of a Norman aristocrat.
Location: Long Mile Rd, Drimnagh, Dublin 12, Ireland
Open: Monday–Thursday from 9 am to 4 pm, Fridays from 9 am to 12.30 pm (closed on Saturdays and Sundays)
Phone: +353 (0)1 450 2530
photo by Brendan Keenan (CC BY 2.0) modified
3
Free movies in Meeting House Square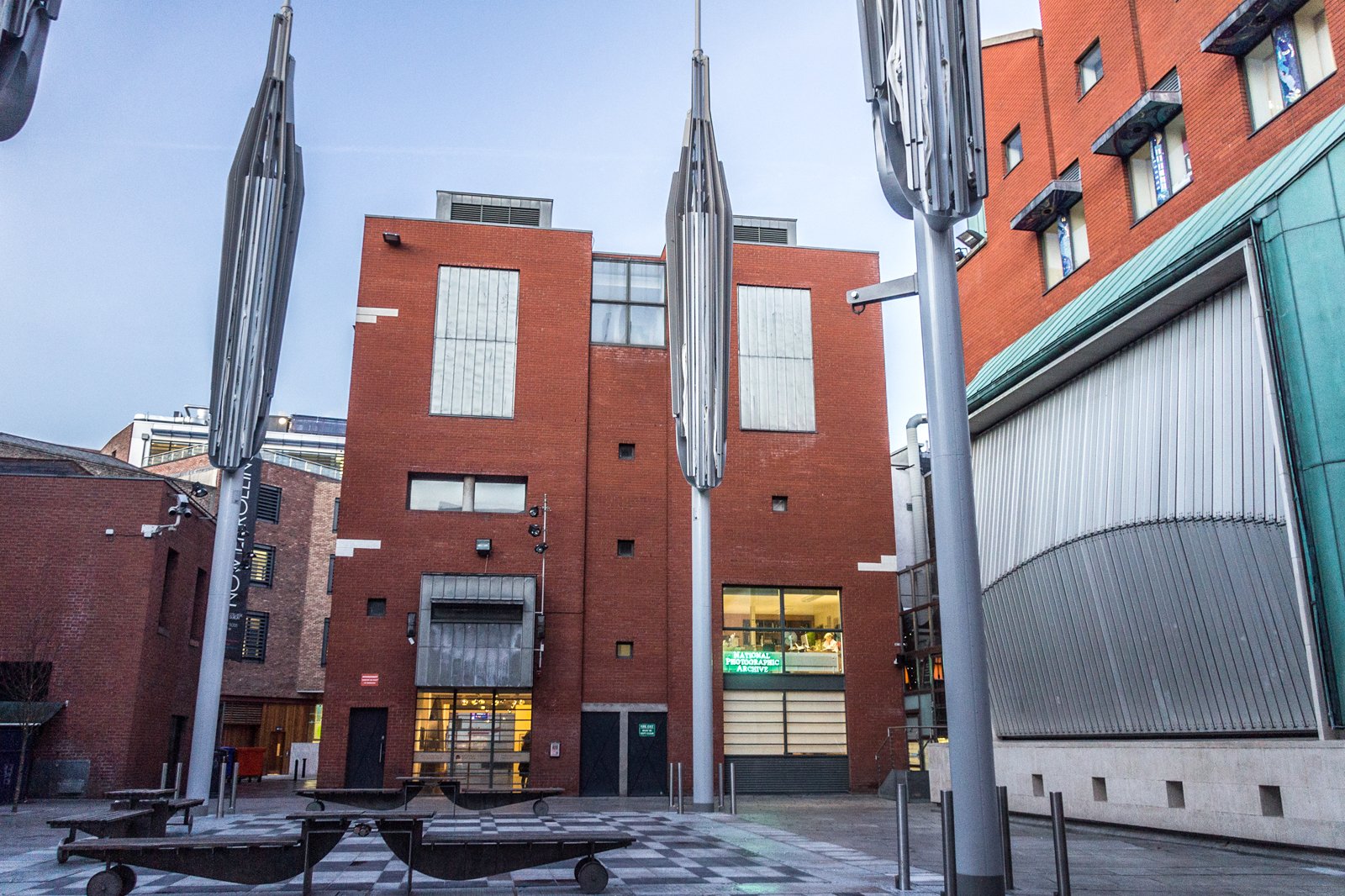 Couples
Families
Nightlife
Budget
Bordered by the Irish Film Institute, Gallery of Photography and the National Photographic Archive, there's no shortage of creative visual arts to enjoy in and around Meeting House Square. Check the latest schedule of events to find out what movie screening, theatre production or festival is happening, most of which have free entry. Dublin's climate isn't ideal for outdoor cinema, but there's no need to worry about rain at Meeting House Square. Set in the cultural quarter of Temple Bar, the square is fully rain-proof thanks to its groovy giant umbrellas with canopies that form a full roof cover when opened.
Location: Temple Bar, 12 East Essex St, 2 Dublin, Ireland
Phone: +353 (0)1 677 2255
photo by William Murphy (CC BY-SA 2.0) modified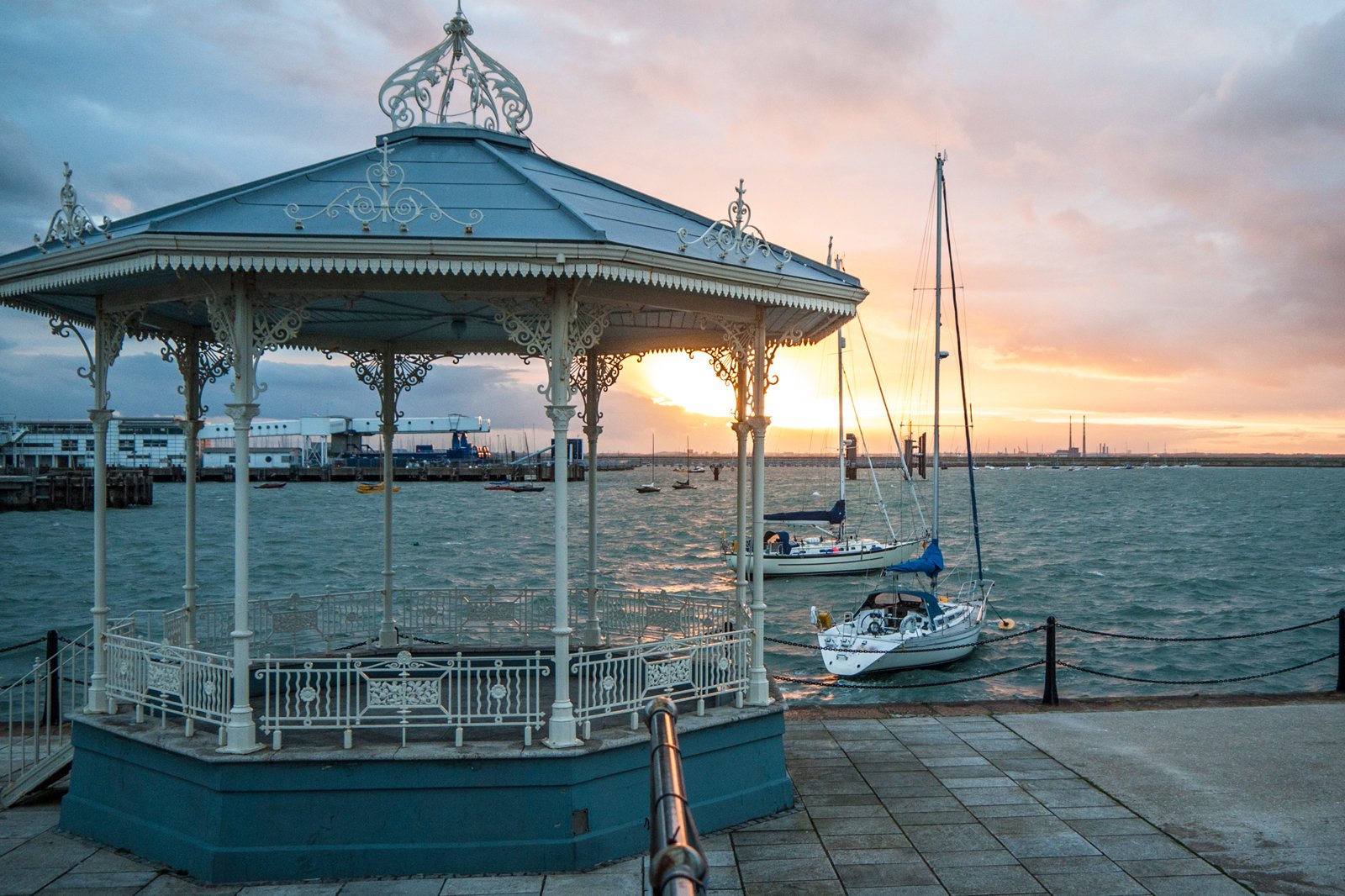 Found 10km – or 25 minutes on the DART train – from Dublin's centre, Dun Laoghaire Pier is a refreshing sea-breezy escape from the city. Gaze at the yachts gliding across Dublin Bay on a stroll along the 1.3-km East Pier walkway. When you reach the lighthouse at the end of the pier, reward yourself with an ice cream from Teddy's. Hurl yourself off the rocks for a bracing dip in the Atlantic at the Forty Foot swimming area. If you're visiting on a Sunday, be sure to stop by the lively farmer's market at People's Park.
Location: Dun Laoghaire, Co. Dublin, Ireland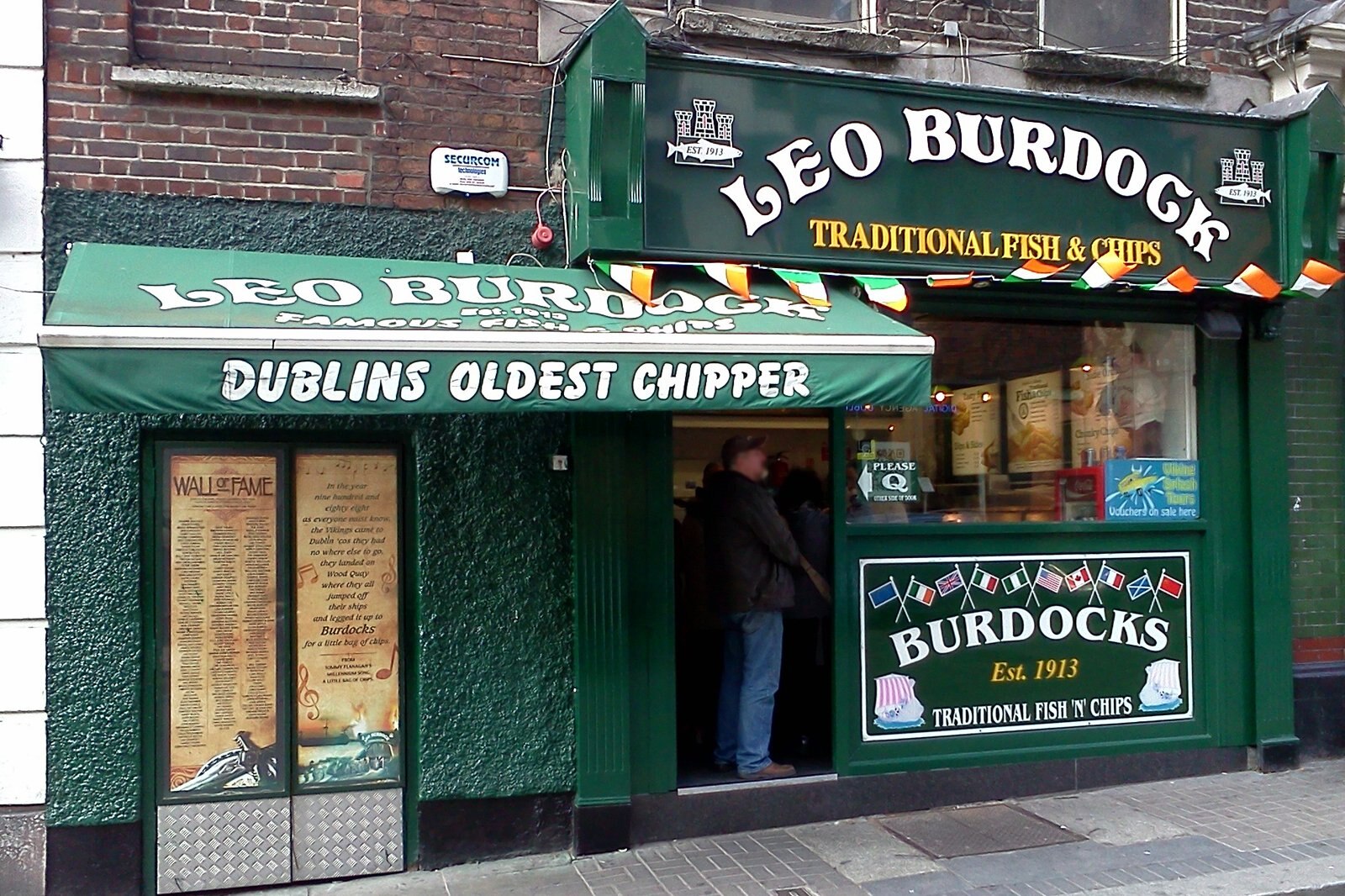 Wandering the street while nibbling away at your paper-wrapped takeaway bundle of Burdocks fish 'n' chips might just be the highlight of your Dublin trip. Certainly, this greasy, tasty grub served by the Leo Burdock chipper has impressed many a visitor since it opened in Christchurch more than a century ago, and they've added 5 more locations since.
Everyone, it seems, has enjoyed a Burdocks bite, from underfed Dubliners waiting for their crispy bits during 1930s food shortages to illustrious chip-loving celebrity patrons including Enya, U2, Patrick Stewart and Charlize Theron. For a true taste of 'Dubliner's caviar', go for the fresh cod.
Location: 2 Werburgh Street, Christchurch, D8, Ireland
Open: Daily from 11.30 am to midnight (Fridays and Saturdays until 1 am)
Phone: +353 (0)1 454 0306
6
The Irish Museum of Modern Art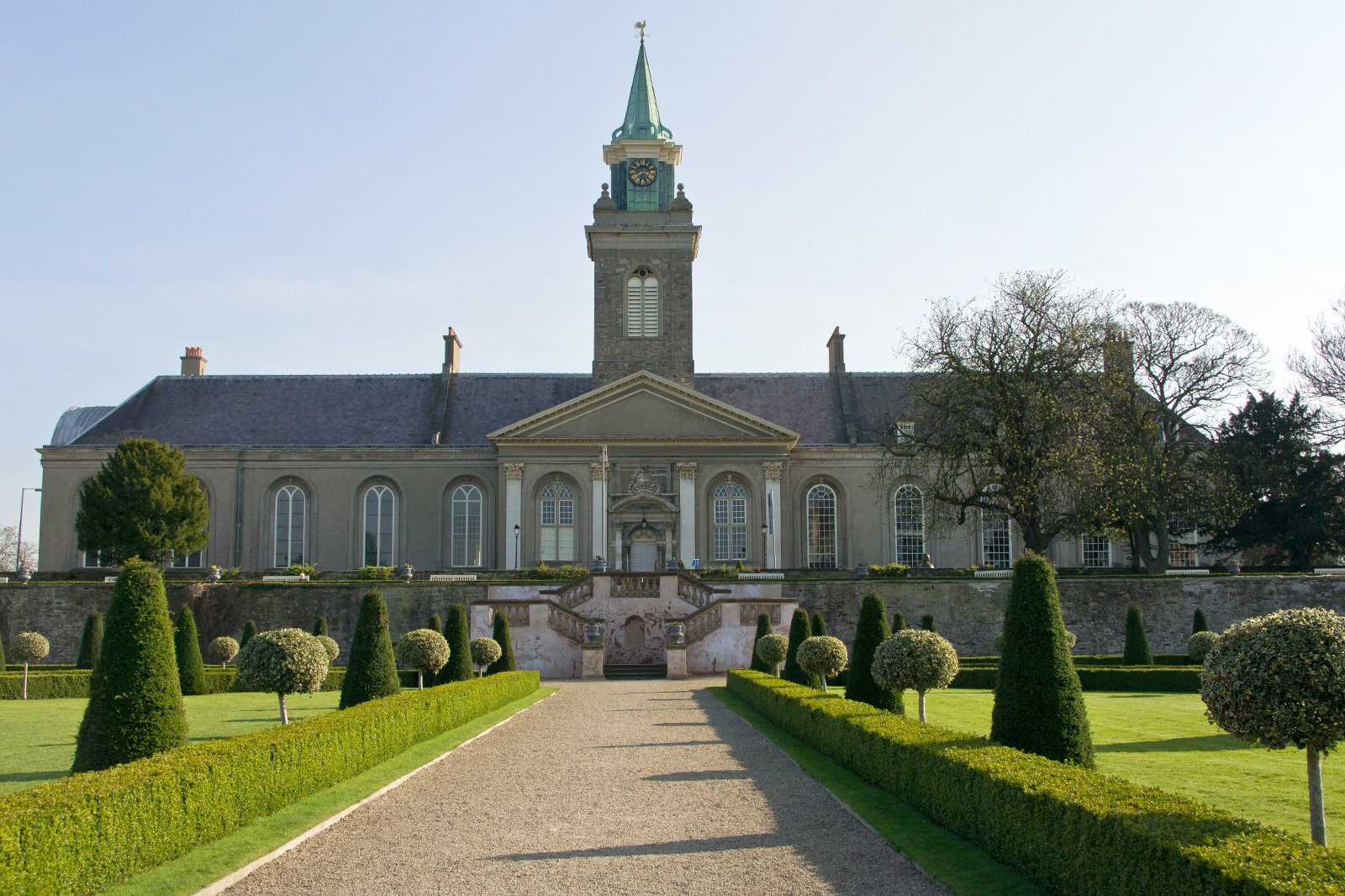 Couples
History
Photo
Budget
Looking at the imposing, grey, 17th-century hospital building that now houses the Irish Museum of Modern of Modern Art (IMMA), there's no hint of the bold and daring, sometimes explicit things to see within.
Step inside to find an engaging collection of more than 3,000 modern works of art from around the world and by local artists including painter Jack Butler Yeats and conceptual artist Les Levine. Entry is free, but you'll need to pay to enter any special exhibitions. Or go on a Tuesday when the exhibitions are free as well. Allow time to stroll around the lovely formal gardens at the adjacent Royal Hospital.
Location: Royal Hospital Kilmainham, Military Rd, Kilmainham, Dublin 8, Ireland
Open: Tuesday–Friday from 11.30 am to 5.30 pm, Saturdays from 10 am to 5.30 pm, Sundays from noon to 5.30 pm
Phone: +353 (0)1 612 9900
photo by William Murphy (CC BY-SA 2.0) modified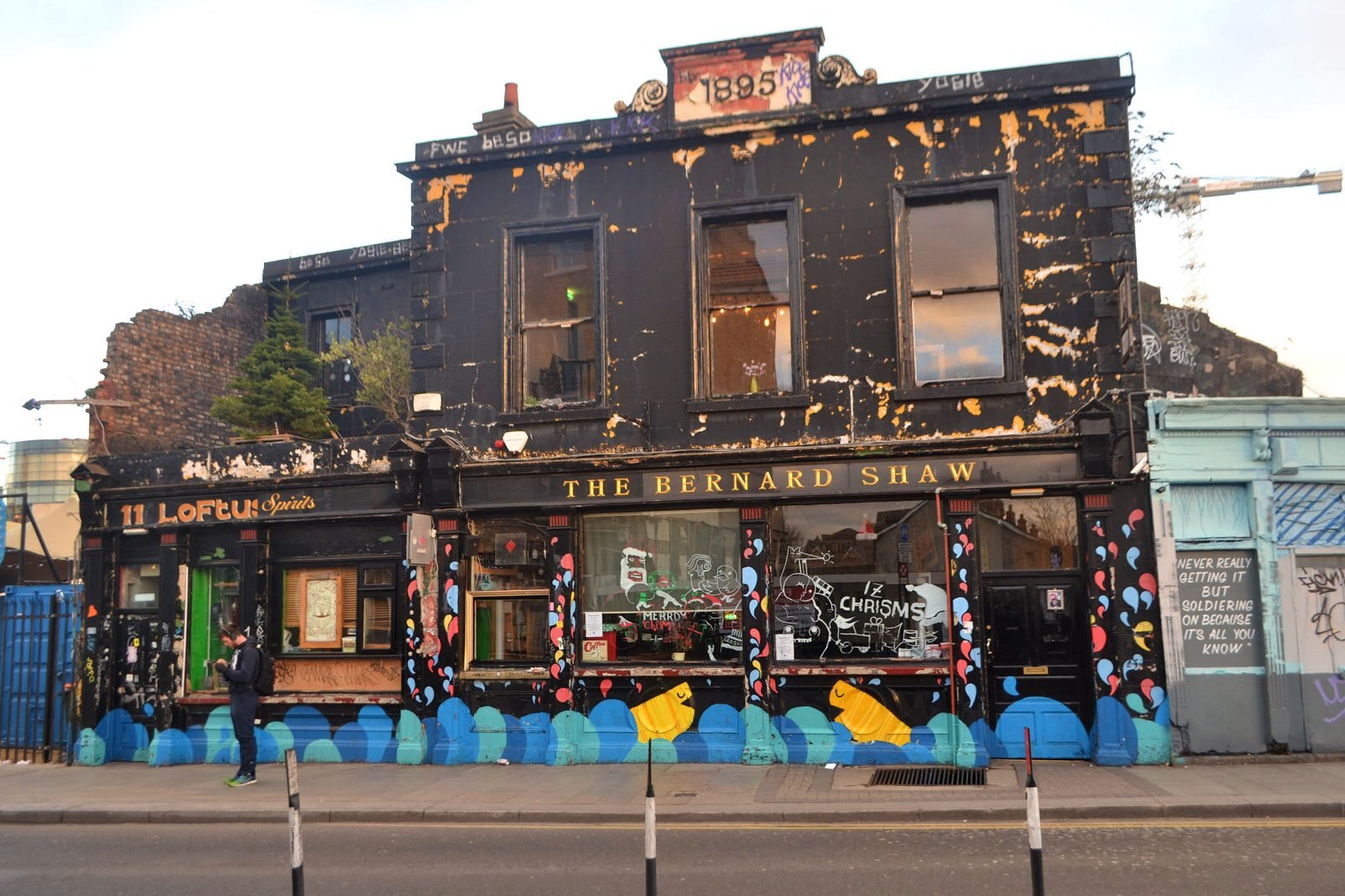 Dublin's not a cheap place to party but its nightlife scene is too much fun to miss. Find your way to the bars and pubs frequented by students to enjoy a bingey, boozy night out at more frugal prices. The bars along Harcourt Street, including Dicey's Garden offer drink specials, while Cassidy's Bar on Westmoreland Street is another student favourite, with a big choice of craft beers.
You'll find the ultimate cheap pint at The Bernard Shaw, an edgy, artsy graffiti-walled bar on South Richmond Street. In their "bin it to win it" campaign, you'll earn a free beer by first collecting a bagful of trash at the Grand Canal.
photo by Janko Hoener (CC BY-SA 2.0) modified
History
Photo
Budget
Adventure
Just 15 km northeast of Dublin, Howth Head is a peninsula with spectacular views of the Irish coastline. Experienced cyclists could huff and puff their way around the headland and up to the summit. It's best done early, before the narrow path gets busy with walkers. Or take a more leisurely bike ride by pedalling around the historical Howth fishing village, with rest stops at Abbey Tavern or the harbourfront market.
For a longer approach to Howth, start at Malahide Castle, cycle the Coast Road to Portmarnock, then to Sutton Cross and onto Howth, a scenic journey of about 13 km. Find rental bikes at Howth Village and Malahide Castle.
Location: Howth Village, Howth, Co Dublin, Ireland
9
National Botanic Gardens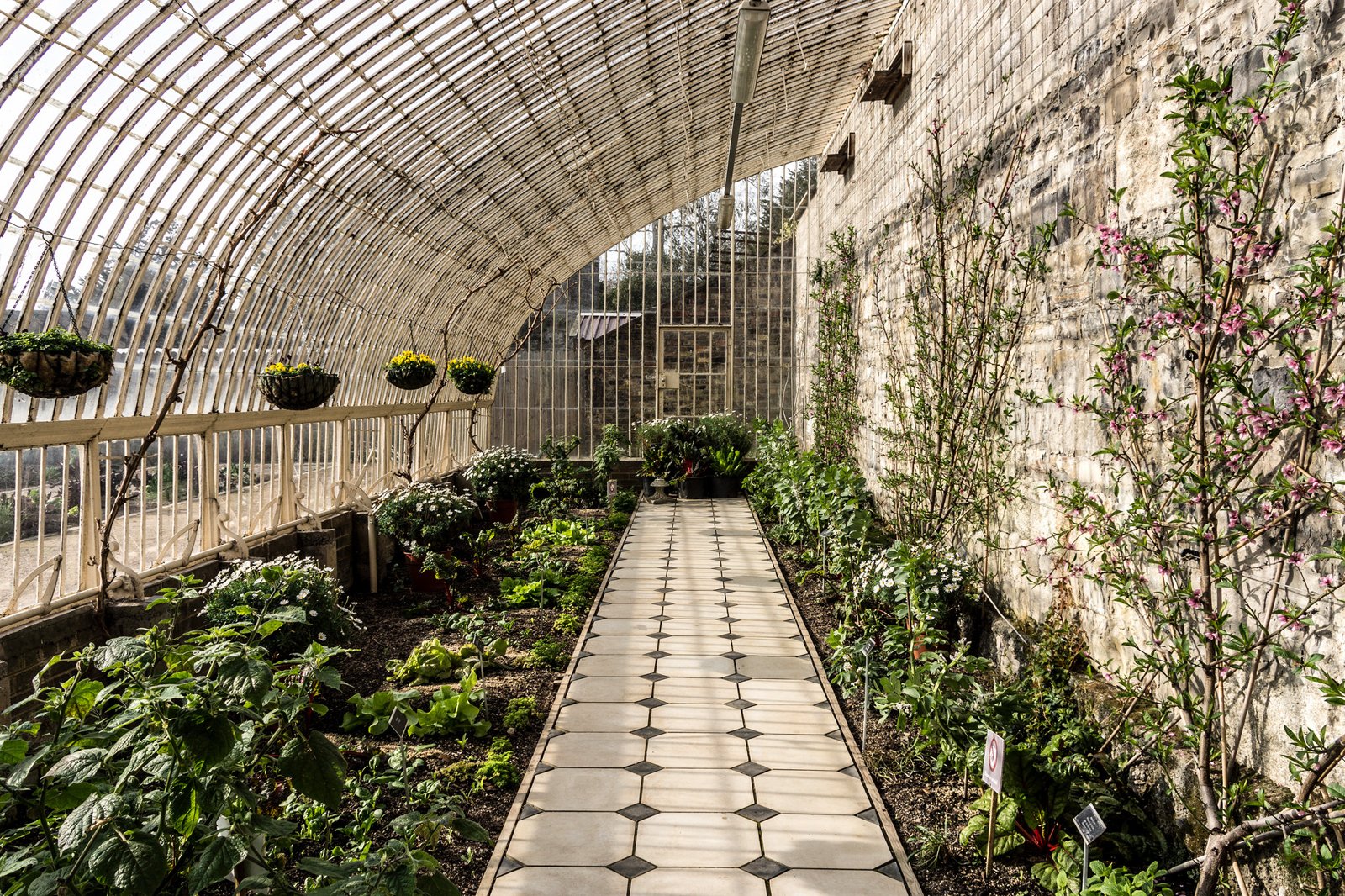 Couples
History
Photo
Budget
Take a break from the hustle and bustle of the city at the National Botanic Gardens, a green oasis overflowing with thousands of flowers and plants. You could easily spend a few hours meandering through the gardens, with ponds, rock gardens, fountains and a colourful rose garden to explore.
Peek into some of the gorgeous curved-roof glasshouses to see tropical palms, orchids and cacti among the thriving indoor plants and tree collections. Entry is free, and there's a visitor's centre with more information on the garden's 200-year history of botanic research and conservation.
Location: Glasnevin, Dublin 9, Ireland
Open: Daily from 9 am to 6 pm. November–mid-February: Monday–Friday from 9 am to 4.30 pm, Saturday–Sunday from 10 am to 4.30 pm
Phone: +353 (0)1 804 0300
photo by William Murphy (CC BY 2.0) modified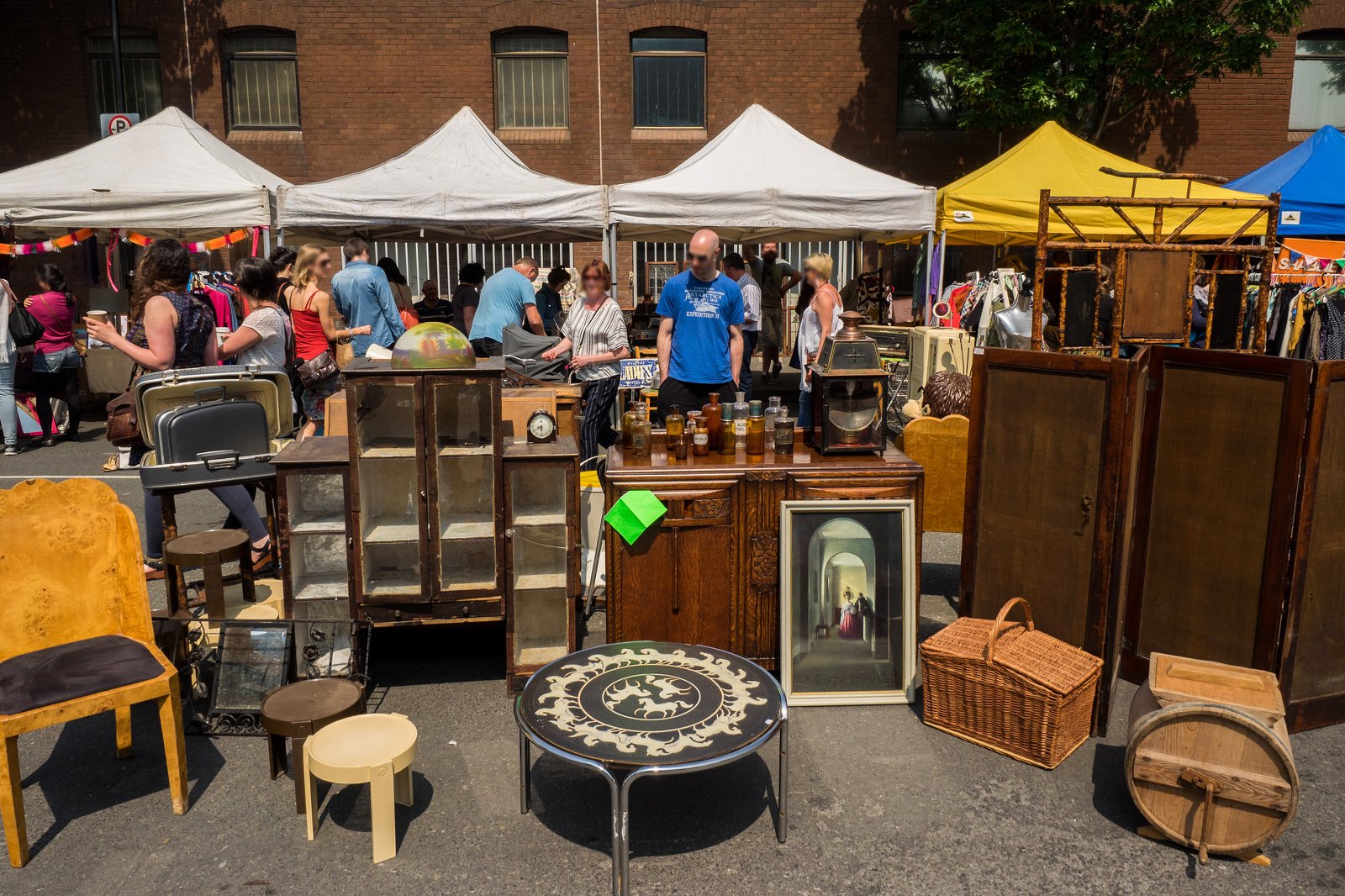 If you're on the hunt for some bargain vintage clothes or quirky bric-à-brac, this Sunday bazaar is worth a stop. Haggle for that antique vase you never knew you needed, browse through piles of pre-loved books or stop for a coffee at the co-op organic food store. Joining the curios and antiques vendors are artists and craftsmen selling their own works.
Keeping things lively and light-hearted, market organisers promise to have entertainment on site as well with live music or, as they say, "whatever we can throw together". Best of all, the market is roof-covered so there's no need to pack your umbrella. Sadly, with their usual home being redeveloped, the market currently has no home site and jumps around a bit. Check their website for information on where the next one will be.
Open: Sundays from 11 am to 5 pm