10 Places Locals Love to Go in Chiba
Cool Places in Chiba You Might Not Know
Wondering which places locals love to go in Chiba? Chiba is full of rich nature and has some great sightseeing spots you can enjoy with family and friends. There are scenic wide-open farmlands, comprehensive places where you can learn about sea life, and the second-longest beach in Japan. Minamibozo is a must-see which becomes full of flowers in January and February when it's still cold in other regions. Or how about going on a drive to enjoy the spring, which arrives early in these parts?
For day-trips from Tokyo, there's the beautiful riverside town of Sawara, known as the Little Edo of Hokuso. Also, you can find one of the most popular theme parks in Japan as well as the Tokyo Bay Ferry that takes you to Kanaya Port from the Miura Peninsula in only 40 minutes.
1
Naritasan Shinshoji Temple
A place of spiritual energy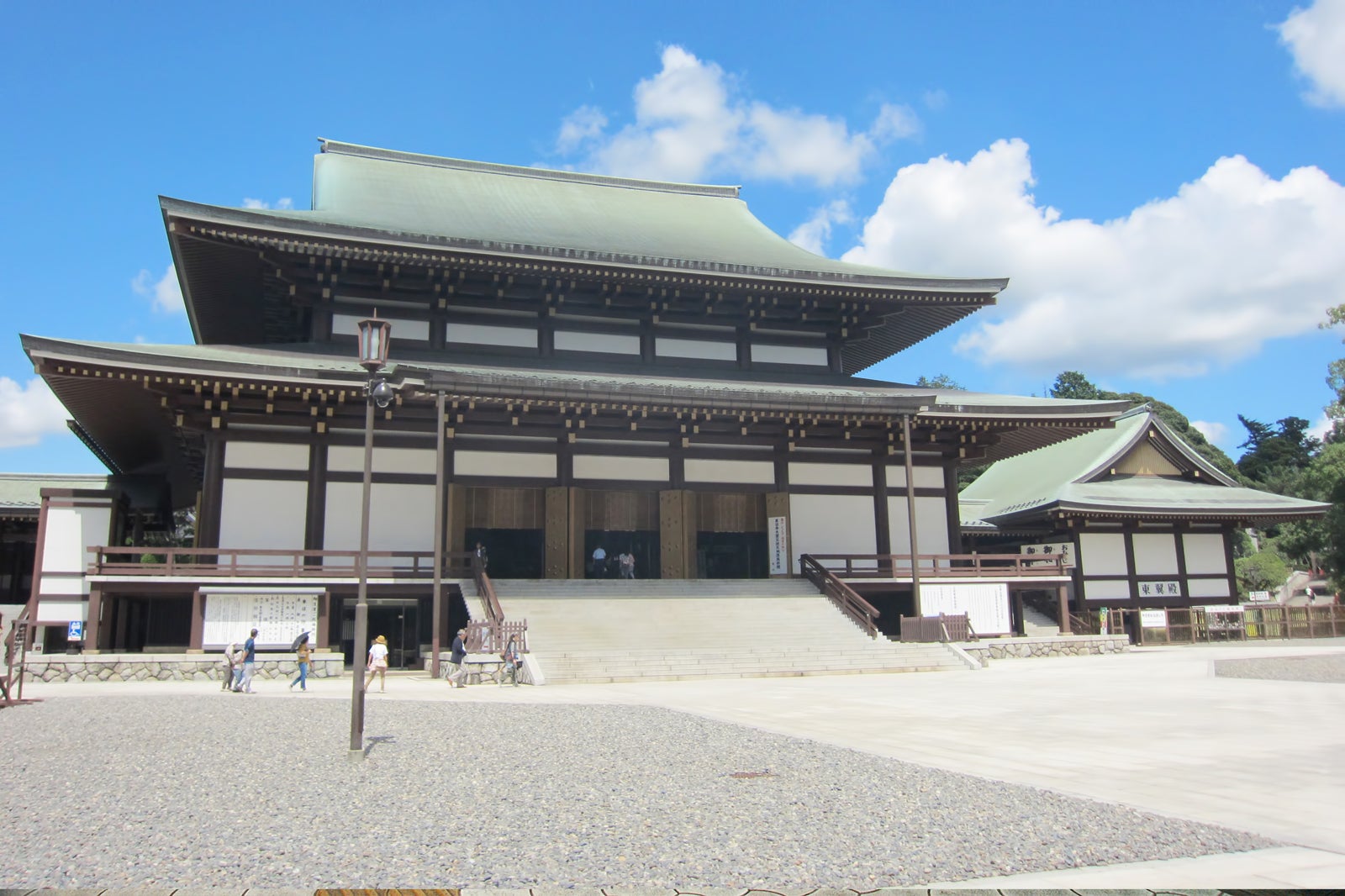 Naritasan Shinshoji Temple is one of the head temples of the Chisan branch of Shingon Buddhism and is dedicated to the deity Acala. The temple, which has been continuing its traditions without extinguishing the fire of rituals for over 1,000 years, is warmly regarded as a place of spiritual energy under the name 'Narita no Ofudosan'.
The Bean Throwing Festival (Setsubun) held every year prays for national peace and a good harvest. It's a major event, and celebrities such as sumo wrestlers and historical drama actors take part. In Japan, everyone tunes in. The vast precinct also has various beneficial cultural properties including the Great Main Hall (for all benefits), Shakado Hall (good luck and protection), and Komyodo Hall (success in love). Shinshoji Temple became very popular among the common people in the Edo period because the Ichikawa Family of Kabuki actors worshipped here. You can still feel that prosperity now. Naritasan Shinshoji Temple is a 10-minute walk from JR Narita Station or Keisei-Narita Station.
Location: 1-1 Narita, Chiba 286-0023, Japan
Open: Daily from 8 am to 4 pm
photo by アルトクール (CC BY-SA 4.0) modified
2
Kujukuri Beach
Among Japan's largest sand beaches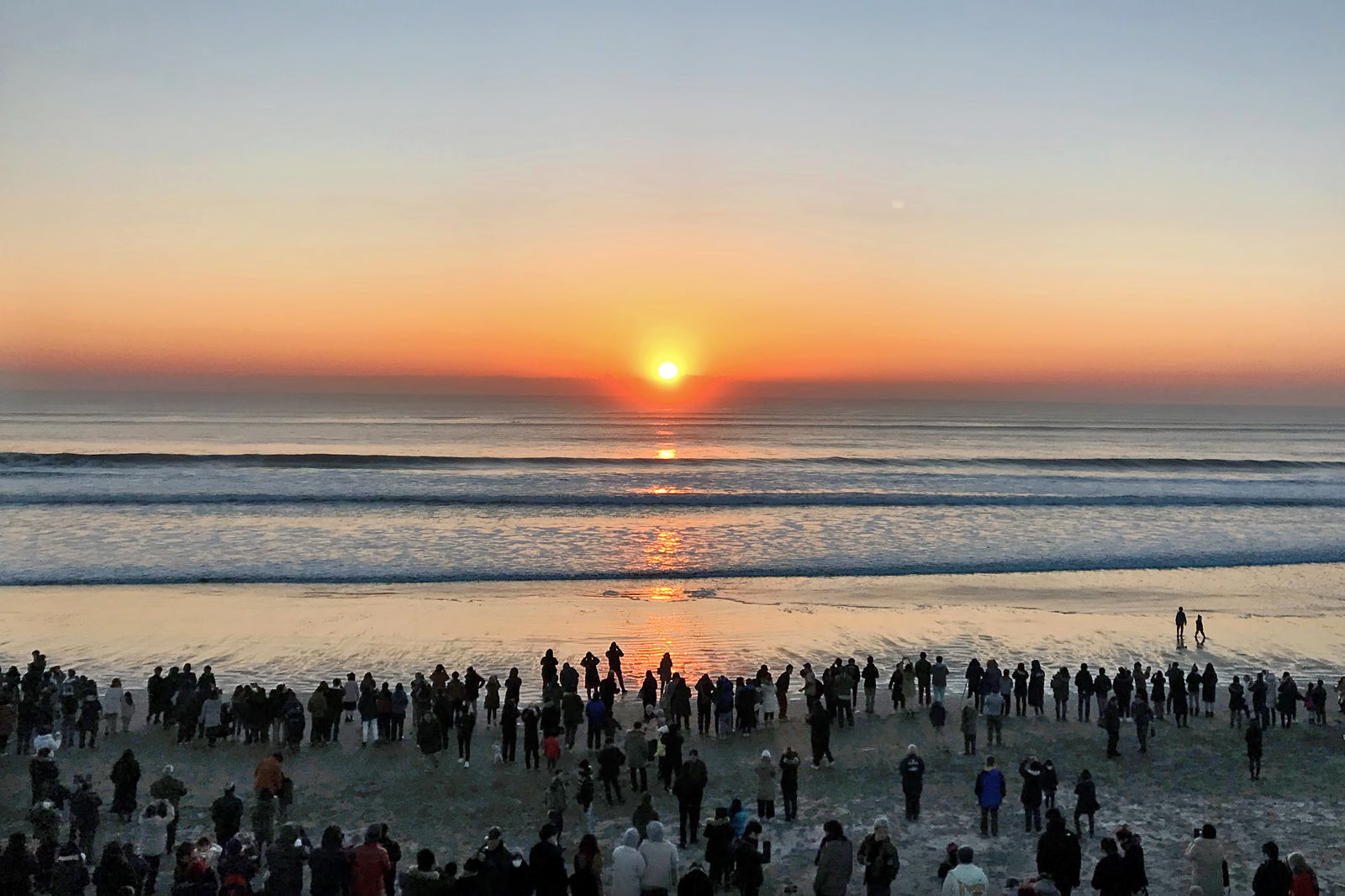 Kujukuri Beach in the east of Chiba has a sandbar facing the Pacific Ocean. It's one of the largest sand beaches in Japan with a total length of about 66 km. This is a popular spot for swimming and surfing in the Kanto area because it's easily accessible from Tokyo (about 90 minutes by car). Along the stretch, there are plenty of swimming beaches like Katagai, Sakuta, Fudo-do, and Magame.
The coast is also famous as a place to see the 1st sunrise of the year, and many people come to see the morning sun rising from the vast Pacific Ocean. Kujukuri Beach is particularly famous for its beautiful sunrise and sunset. Iioka Gyobu Cape Prospects Hall Light and Wind in Cape Gyubu located at the northern end of Kujukuri Beach is also really popular. The night view from here is spectacular. Kujukuri Beach is full of activities including marine sports, horseback riding, hot springs and spas. It's the perfect spot to enjoy with family and friends.
Location: Kujukuri, Sanbu District, Chiba 283-0104, Japan
photo by Xser21 (CC BY-SA 4.0) modified
3
Sapporo Beer Chiba Marine House
Learn all about local beer manufacturing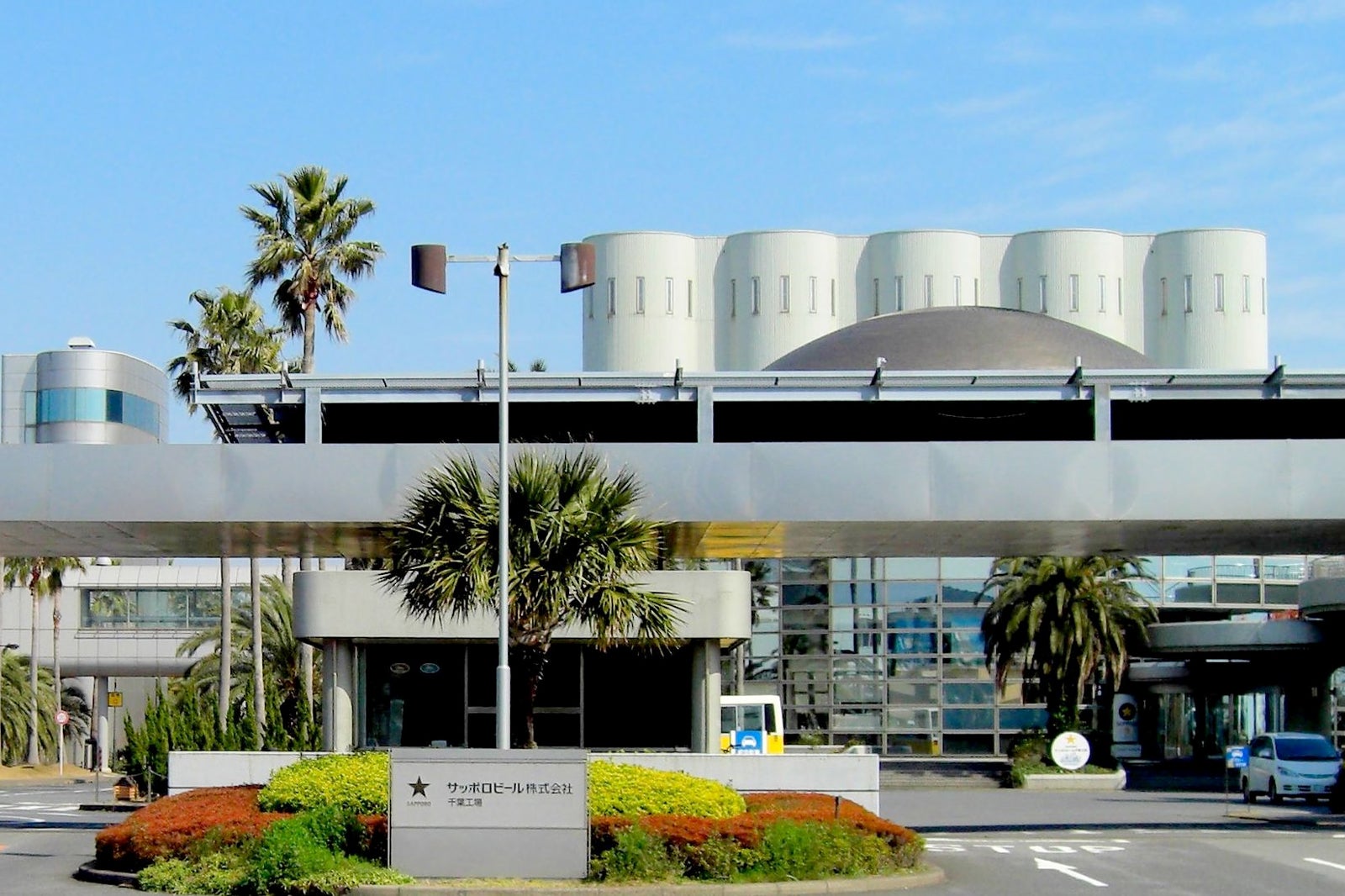 Sapporo Beer Chiba Brewery in Funabashi, facing Tokyo Bay, is the largest manufacturing base of the popular Black Label brand shipping to the Kanto area. You can visit the beer manufacturing process and learn the history of beer at the Marine House gallery. One of the most popular activities is the paid tour where you can try up to 3 glasses of freshly brewed beer.
You'll need to book ahead online, but you may be able to join if there's a last-minute opening. Or you can call and ask. Shuttle buses operate from Tsudanuma Station on the JR Sobu Main Line, Funabashikeibajo Station on the Keisei Main Line, and Shin-Narashino Station and Minami-Funabashi Station on the JR Keiyo Line and Musashino Line.
Location: 2 Takasecho, Funabashi, Chiba 273-0014, Japan
Open: Daily from 10 am to 5 pm
photo by Mayuno (CC BY-SA 3.0) modified
4
Tokyo Bay Ferry
Enjoy a laidback trip between 2 peninsulas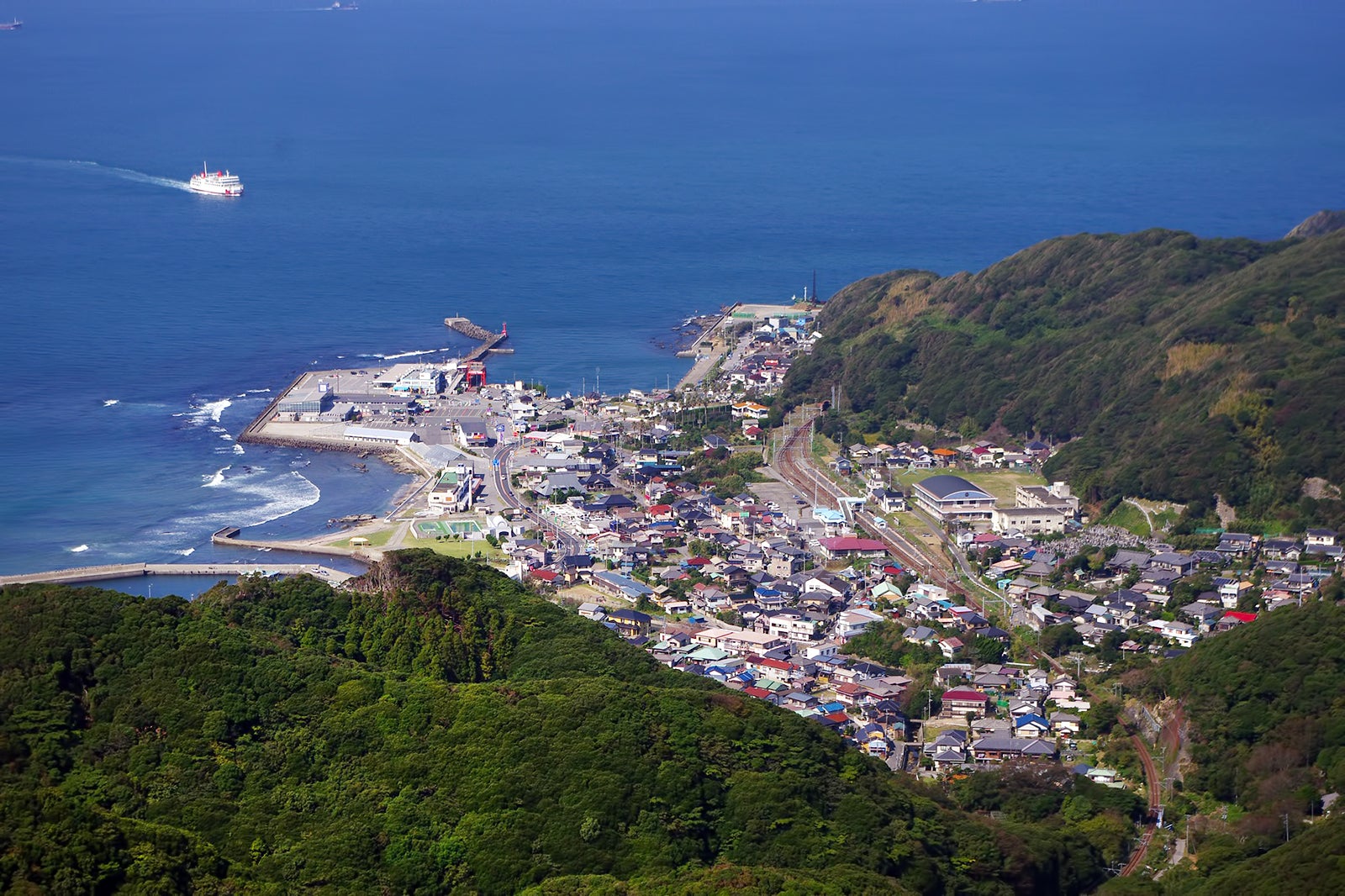 Tokyo Bay Ferry connects Kurihama Port in Yokosuka, Kanagawa with Kanaya Port in Futtsu, Chiba. Although the number of passengers has reduced in recent times because of the opening of Tokyo Bay Aqua-Line, it's still great for those who want to enjoy a relaxed trip avoiding traffic jams, because you can travel between Miura Peninsula and Boso Peninsula in just 40 minutes. Pets are allowed in for free.
There are also discount tickets for popular sightseeing facilities in Boso such as Mother Farm, Mitsui Outlet Park Kisarazu, and Kamogawa Sea World. You can also purchase discount round-trip tickets for the Keikyu Line and Keikyu Bus with a Tokyo Bay Ferry round-trip ticket at each station on the Keikyu Line.
Location: Kanaya Port, 4303 Kanaya, Futtsu, Chiba 299-1861, Japan
5
Mother Farm
Popular scenic park on Mount Kano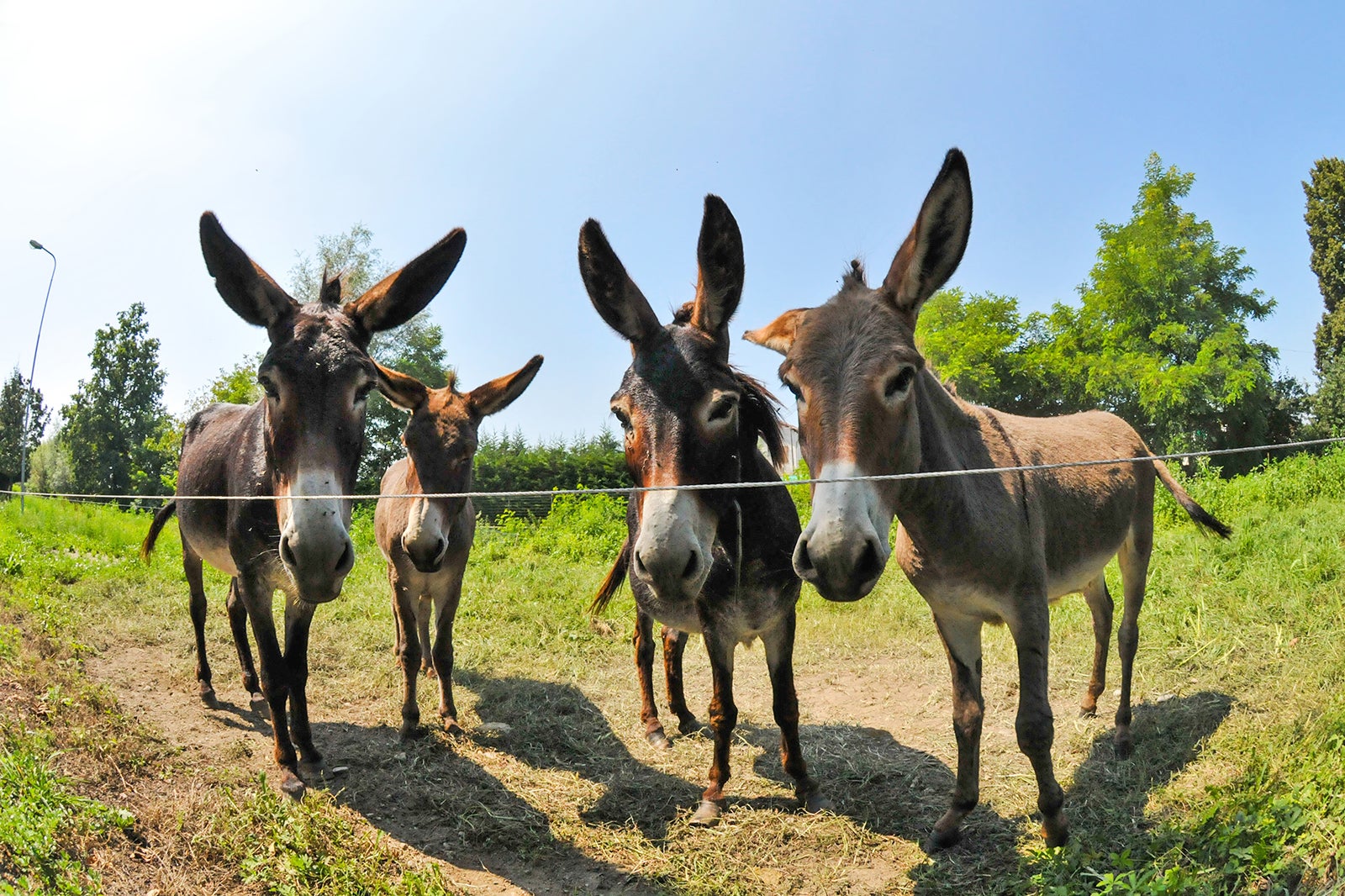 Mother Farm is an interactive theme park that's really popular with families in Chiba. It's a farm that you can visit on a day trip from the metropolitan area, with many attractions adults can enjoy. Mother Farm is located on Mount Kano, overlooking Boso Peninsula, Tokyo Bay and Mount Fuji. There are many facilities in a vast site covering 250 hectares, such as stock farms, farms of strawberries, tomatoes, and other vegetables and fruits, flower gardens where seasonal flowers bloom, and workshops. It's too big to see everything in one day.
One of the best activities is the Mother Farm Tour on a tractor train where you can pet various animals including sheep, alpacas, llamas, and donkeys. There are also many events that can be enjoyed with children, from a show where sheep are sheared one after another, to cow milking and bungee jumping, which is unusual in Japan. There's a direct bus from JR Kimitsu Station.
Location: 940-3 Tagura, Futtsu, Chiba 299-1731, Japan
Open: February–November: Monday–Friday from 9.30 am to 4.30 pm, Saturday–Sunday from 9 am to 5 pm. December–January: Monday–Friday from 10 am to 4 pm, Saturday–Sunday from 9.30 am to 4 pm
6
Minamiboso Flower Gardens
Discover floral beauty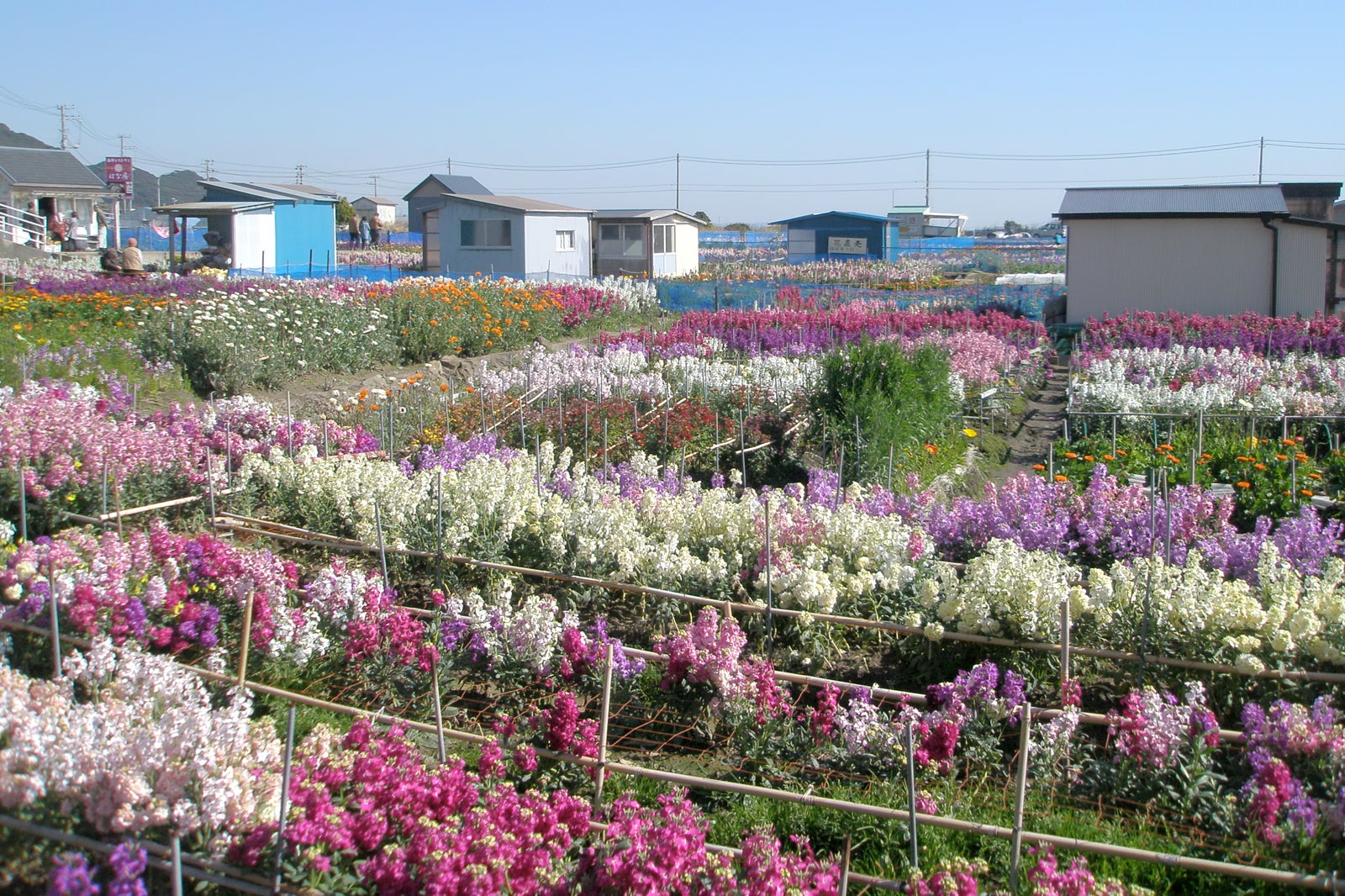 At the Minamiboso Flower Gardens on the temperate coast of Minamiboso, flowers signal the arrival of spring bloom even while it's still cold in other areas. Nanabatake Road in Kamogawa is famous for the view of a carpet of yellow canola flowers filling a vast area of about 33,000 square metres.
Flower picking is possible if you pay a fee, but it may be free if you stay at a local facility. Chikura, located further south from Kamogawa, is known as the home of flower picking. Poppies, pot marigolds, hoary stock, and snapdragon are all in full bloom from January to March, especially in the Shiramazu Area. It's breathtakingly beautiful. Of course, you can pick flowers here too.
Location: Minamiboso, Kamogawa, Tateyama and other locations in Chiba, Japan
Open: January–March
photo by 掬茶 (CC BY-SA 3.0) modified
7
Nomizono Falls, Kameiwa Cave
For photogenic scenery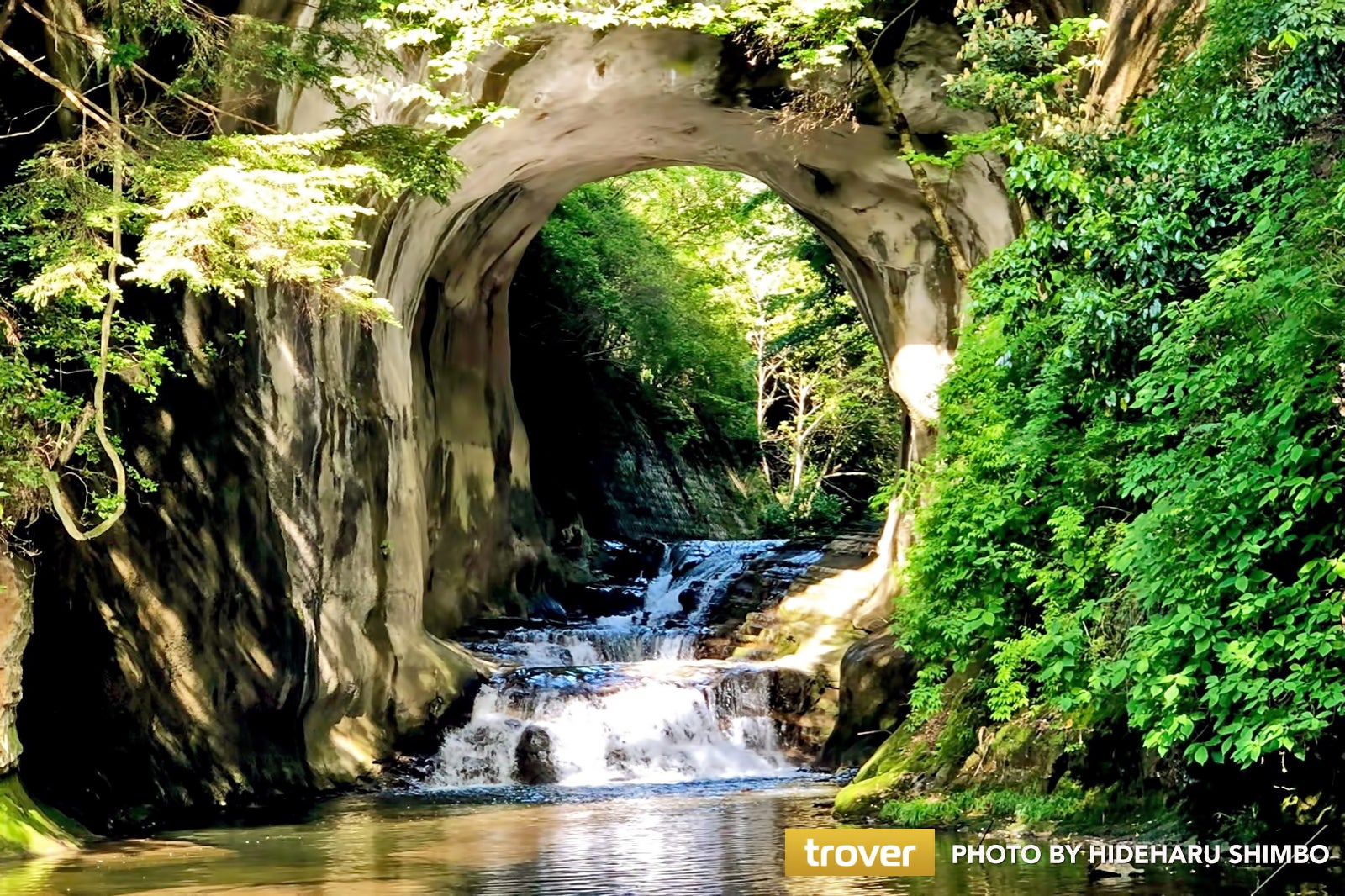 Check out Nomizono Falls in Shimizu Stream Square in Kimitsu, Chiba, if you're looking for a place that's photogenic. The fantastic appearance of the light pouring into the cave, reflecting on the water and rock surfaces, and shining in the shape of a heart is like something from the world of Ghibli movies.
This has become a social media sensation. In fact, the correct name of the place where you can see the heart-shaped light is Kameiwa Cave, but it's generally known as Nomizono Falls. The heart-shaped light is visible only early in the morning due to the angle of the sun, so make sure you get up early to visit. You can also see fireflies around June time. Take a taxi from Kazusa-Kameyama Station on the JR Kururi Line to get here.
Location: Sasa, Kimitsu, Chiba 292-0526, Japan
8
Waterside townscapes of Sawara and Little Edo
Heritage scenes along Ono River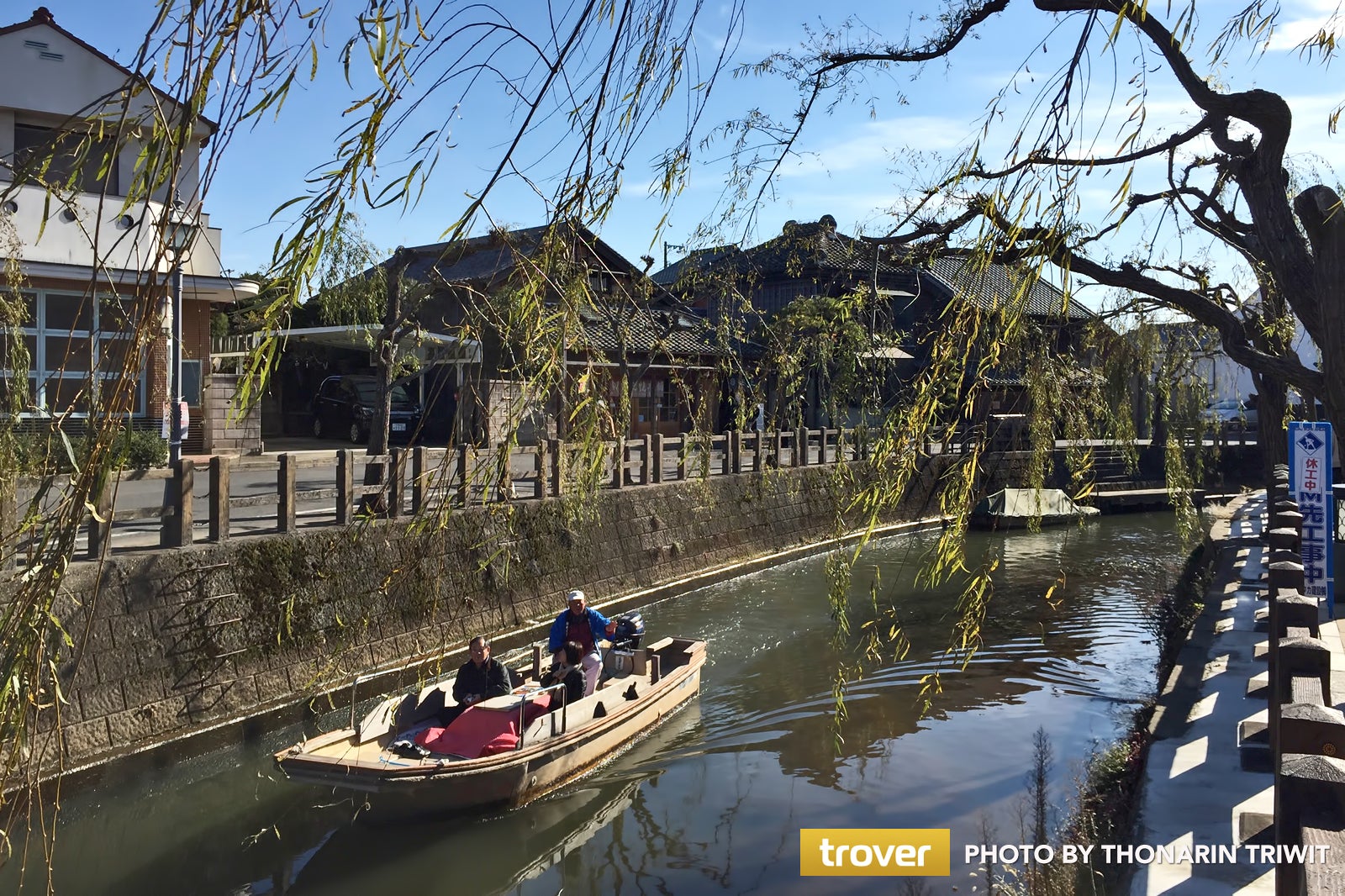 Sawara flourished as a stopping point of Tone River Water Transportation in the Edo period and is lined with historical buildings such as former merchant townhouses alongside Ono River. Back in 1996, it was the 1st place in the Kanto area to be designated as a conservation area for historically important buildings. Here you can take a boat to look around the beautiful riverside town known as Little Edo of Hokuso.
You can enjoy the Edo ambience on the popular Little Edo Sawara Boat Tour, which takes in places such as the Former Residence of Tadataka Ino, a famous local figure, and the unusual Ja Bridge where water flows every 30 minutes. You can also enjoy sightseeing seated at a heated table covered with a blanket in winter. Also, the Grand Festival of Sawara, which is one of the 3 major festivals in Kanto, is famous for its gorgeous floats decorated with huge dolls. This festival was registered as a UNESCO World Intangible Cultural Heritage Property in 2016. It only takes about 2 hours by highway bus from Tokyo, so it's a great destination for a day trip.
Location: Sawara, Katori, Chiba, Japan
9
Funabashi Andersen Park
A fun-filled family destination in Chiba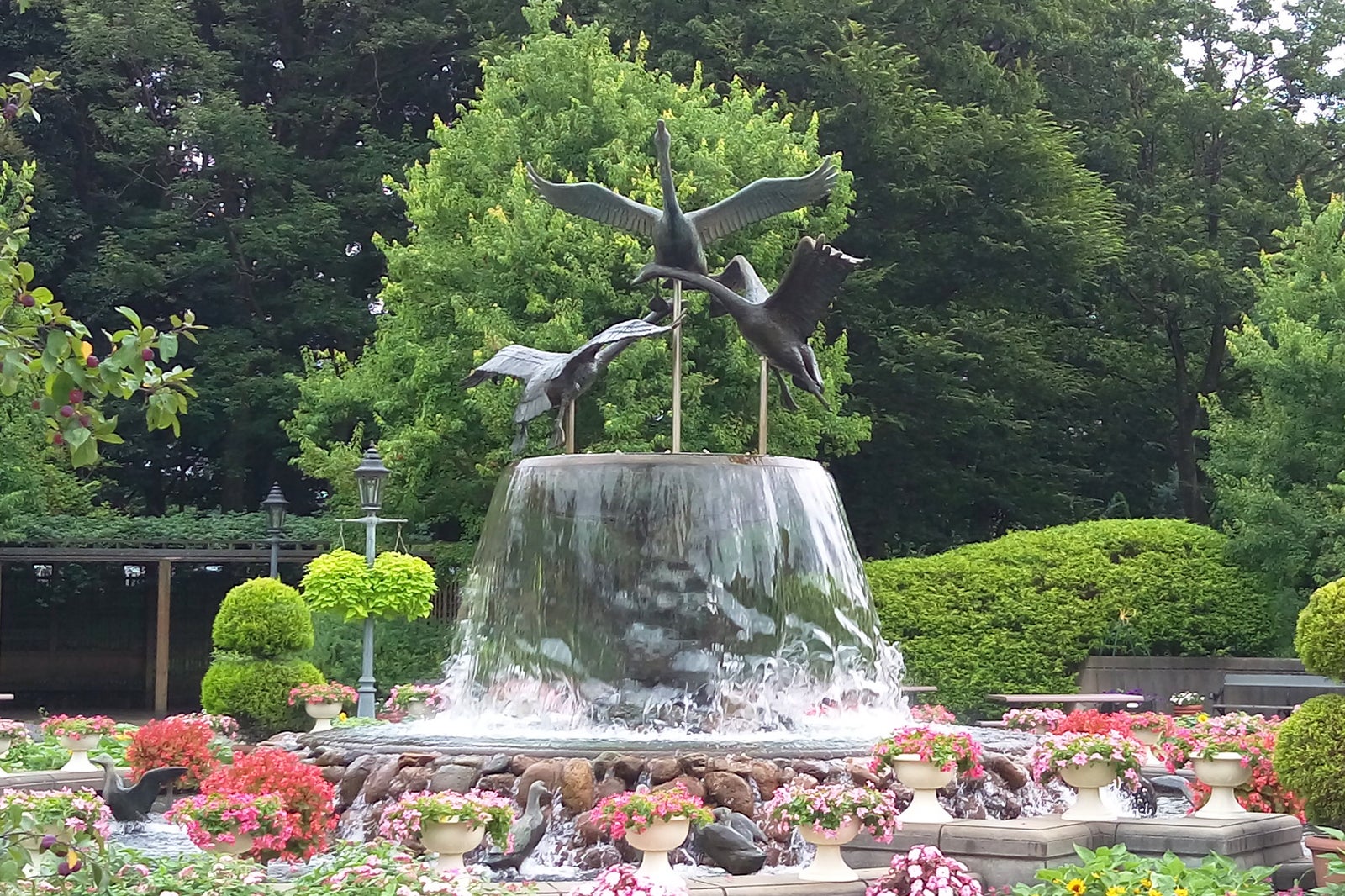 Funabashi Andersen Park ranks high on many 'Popular Theme Parks in Japan' lists, surpassing Universal Studios Japan. You can get here by bus from Funabashi Station or Misaki Station. The park is inspired by the landscape of Denmark where the fairytale writer Andersen grew up, and it can be enjoyed not only by children but also by grown-ups who haven't yet forgotten their childhood.
There are 5 zones to explore: Wanpaku Kingdom, where you can play on an obstacle course or pet animals; Fairy Tale Hill, featuring a windmill; Children's Art Museum, where you can enjoy making crafts in various studios; Castle of Flowers, which is dotted with artwork inspired by fairy tales; and Nature Experience, where you can stroll through a natural countryside location. It's a good idea to wear comfortable clothes when you visit this park, as you'll be walking quite a lot.
Location: 525 Kanehoricho, Funabashi, Chiba 274-0054, Japan
Open: Tuesday–Sunday from 9.30 am to 4 pm (closed on Mondays)
photo by Tzuhsun Hsu (CC BY-SA 2.0) modified
10
Kamogawa Sea World
One of Japan's most famous aquariums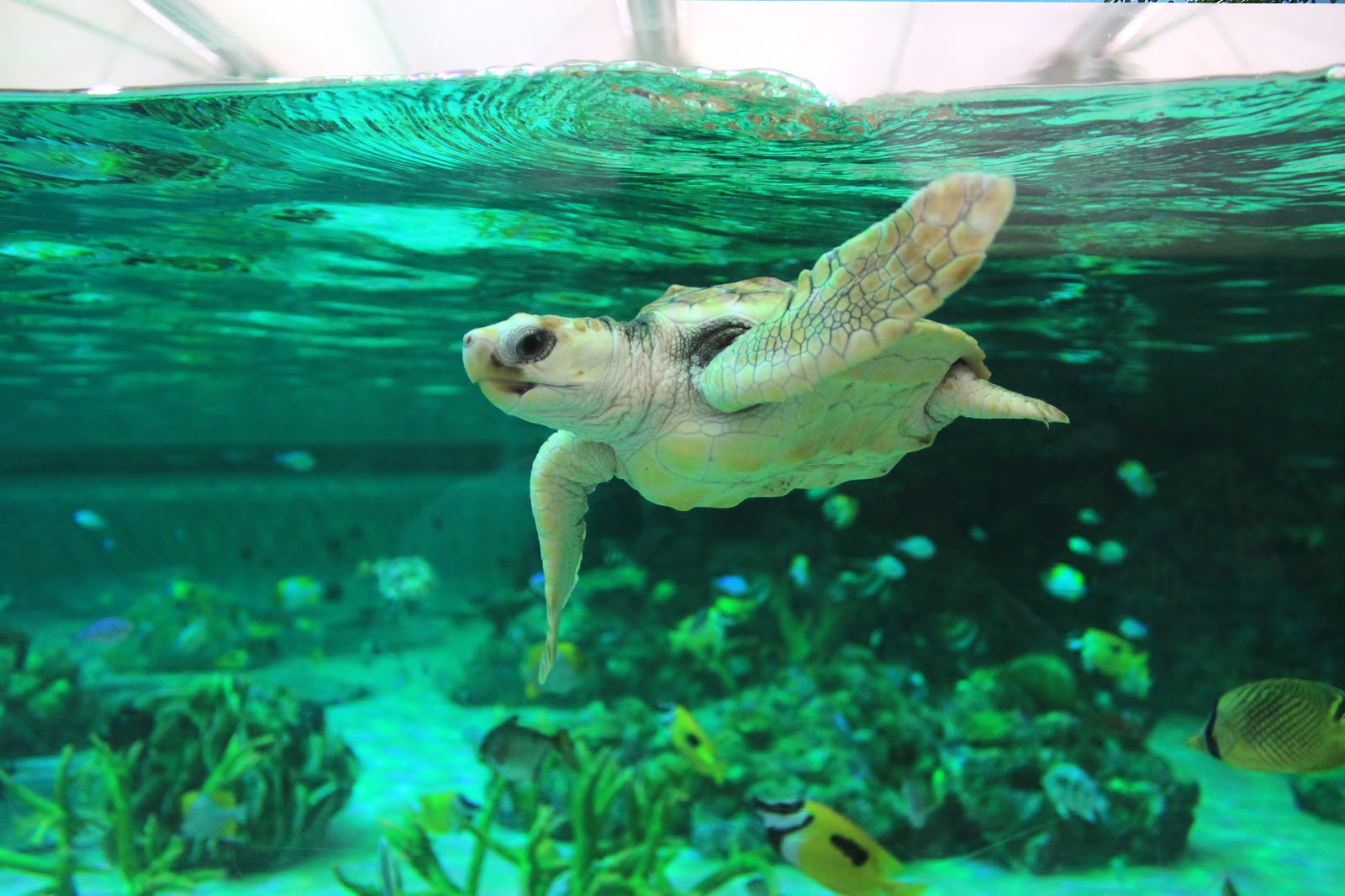 Kamogawa Sea World is one of the most famous aquariums in Japan, and there's a free shuttle bus that you can take from JR Awa-Kamogawa Station. The impressive performances of killer whales against a Pacific Ocean backdrop are widely renowned, but there are also performances by sea lions, dolphins and belugas.
The Guided Discovery Tour where you can interact with sea creatures is also a must. And don't miss the interactive activity called 'A Message from the Coral Reefs', where fish you draw swim in the coral sea using CG, or you can try the fantastic Kurage Life jellyfish experience. In summer there's even a night stay option where you can stay one night in the aquarium, but you'll need to book ahead because it's very popular.
Location: 1464-18 Higashicho, Kamogawa, Chiba 296-0041, Japan
Open: Hours vary by season
photo by Hetarllen Mumriken (CC BY-SA 2.0) modified