Trondheim Travel Essentials
Useful Information to Help You Start Your Trip to Trondheim
Our Trondheim Travel Essentials lays out the essential information you need to help you plan your trip to one of the most popular destinations in Norway. No matter how frequently you travel, some questions will always need answers: What's the weather like? How can I get from Trondheim Airport Værnes to my hotel? What currency and type of plug do I need?
We have all these answers plus other basic info about the best time to go, getting there, getting around, and a few useful travel tips. You'll also learn about the most popular landmarks in Trondheim such as Nidaros Cathedral, Kristansten Fortress, and Trøndelag Folk Museum. It's all compiled in this Trondheim Travel Essentials. After going through this short and easy-to-read guide, you'll be a little more prepared to start your trip to Trondheim.
1
When is the best time to travel to Trondheim?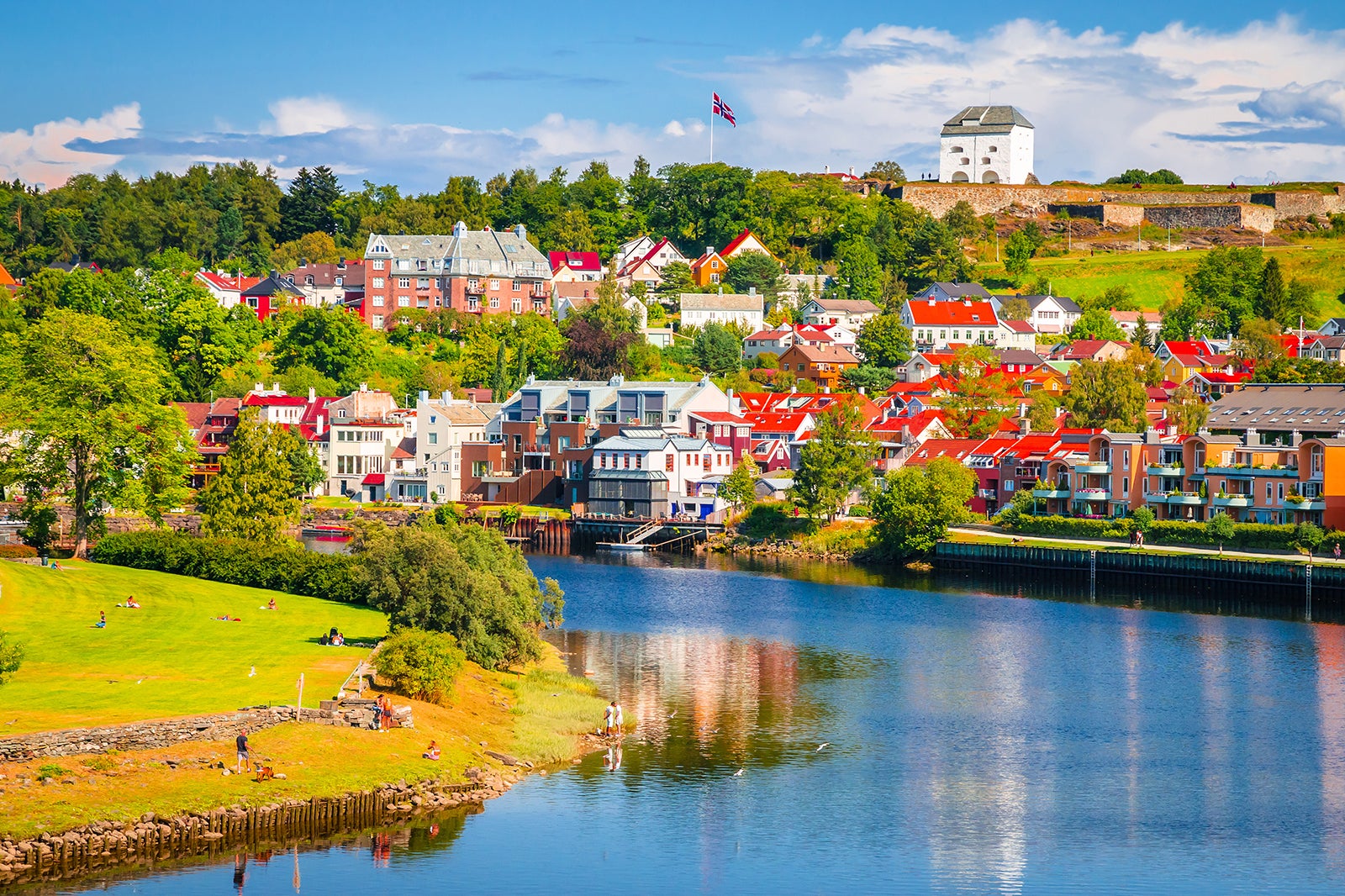 Trondheim has an oceanic climate with long and cold winters and cool and cloudy to overcast summers. The temperature typically varies from -4°C to 18°C.
It rains evenly throughout the year in Trondheim – it's advisable to bring a jacket, even in the summer. September is the wettest month. Even Trondheim's driest month of May typically experiences up to 15 days of rain. Expect moderate snowfall between November and March.
The summer months in Trondheim are between June and September. August is the hottest month.
Summer is also often peak season in Trondheim, with the most festivities and the best weather for outdoor activities. If you want to visit at this time, it's advisable to book your travels ahead of time for better rates. Autumn, from September through November, is chilly and windy, but often with more affordable rates.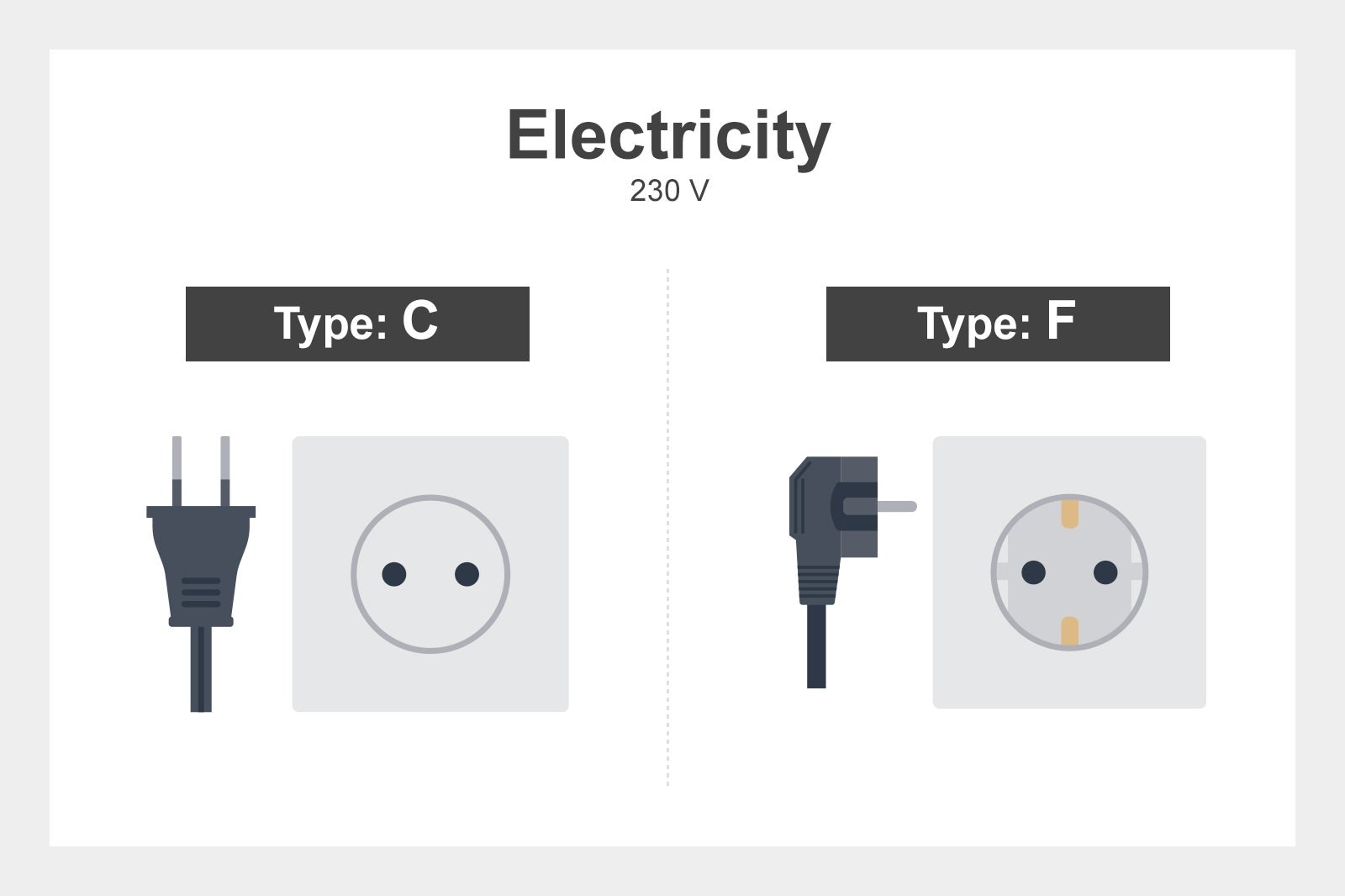 Plug type: C and F
Electricity: 230 V
Currency: Norwegian krone (kr)
International dialling code: +47 7
Emergency telephone number: 112
3
How to get to my hotel in Trondheim?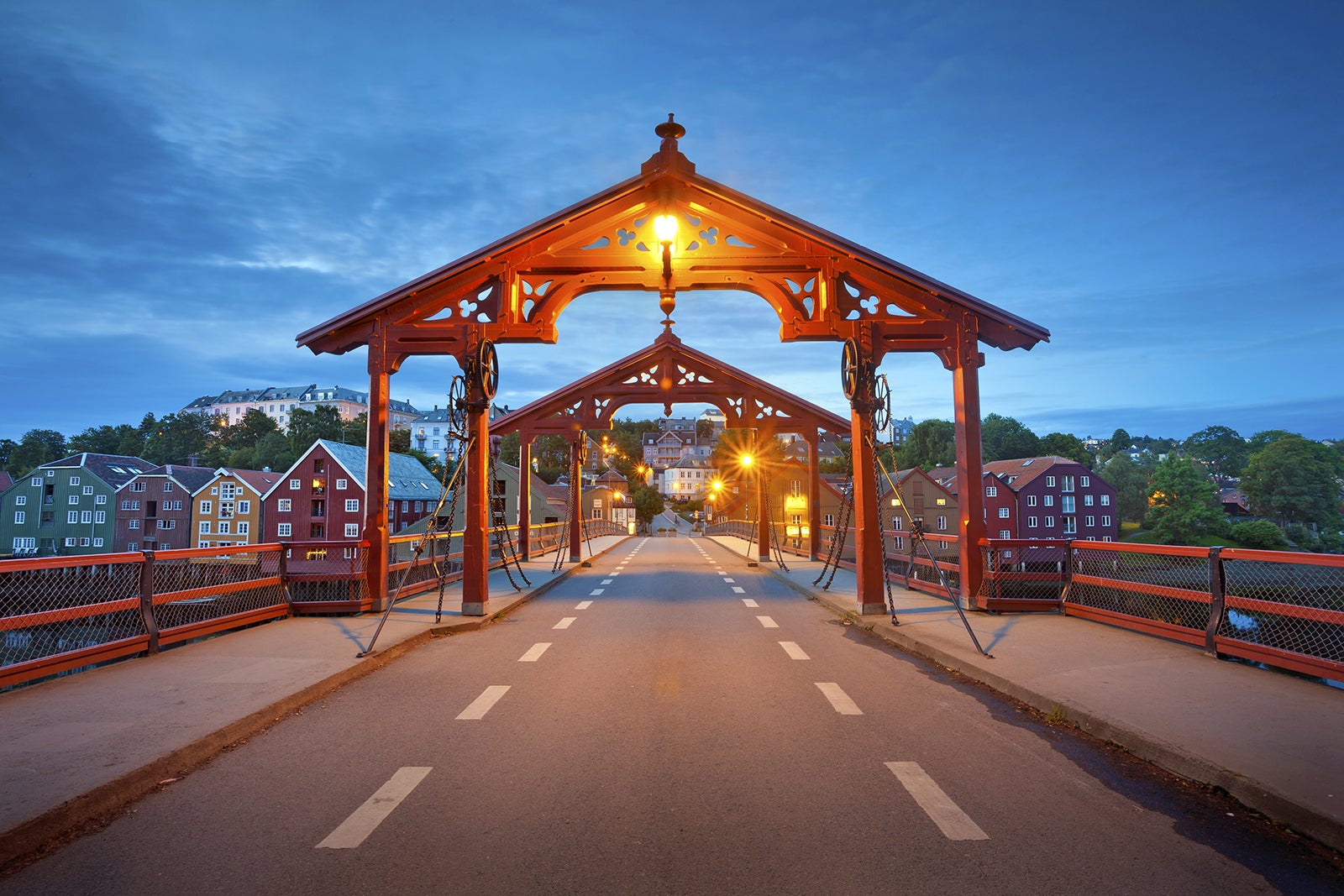 Trondheim Airport, Værnes is about an hour's direct flight north from the Norwegian capital of Oslo and is the main way for air passengers to get into the city. The airport has 2 terminals that each serve international and regional flights. International destinations include London, Amsterdam, Copenhagen, Stockholm, the Mediterranean, as well as a few other Spanish, Latvian, Polish, and Czech cities. Overseas flights from elsewhere may require connecting flights to/from other major cities.
Means of getting to Trondheim by land include train, car, or bus from other Norwegian cities. You can also get to the port city by sea, with the port just north of the city centre.
Trondheim Airport, Værnes (TRD)
Trondheim Airport, Værnes sits at the south-eastern edge of the Trondheim Fjord in Stjørdal. It's about 32 km or half an hour's drive east of Trondheim in central Norway, via European route E6. TRD is Norway's 4th busiest airport and has 2 terminals: A for domestic flights and B for international.
From the airport, the ways to get to Trondheim city centre include:
VY trains (formerly Norwegian State Railways), boarding from Trondheim Airport, Værnes station (Værnes lufthavn stasjon). The train takes you to Trondheim city centre in about 35 minutes. Trains are the cheapest way of getting to Trondheim from the airport.
Flybussen buses, the airport express bus (Værnes-Ekspressen), and the ATB-run Bus 70 are some of the bus services that run between the airport and the city centre. The airport bus stop is a 4-minute walk from the terminals.
Taxis aren't the most cost-effective way to get to the city centre. If you need to, you can find the taxi stand right outside the Arrivals Hall. Many offer fixed prices. Among the taxi operators are Stjørdal Taxi (+47 07483), Norgestaxi Trondheim (+47 08000), and Trøndertaxi (+47 07373).
Trondheim Central Station
Locally known as Trondheim S (Trondheim sentralstasjon), the city's central railway station is a few minutes' walk across the canal, north of the city centre. It's the terminus of all 3 lines of the Dovre Line (Dovrebanen) between Oslo and Trondheim, as well as the long Nordland Line (Nordlandsbanen) between Trondheim and Bodø.
Trondheim Central Station is about a 10-minute walk from Trondheim's Pier Terminal (Pirterminalen), where the Fosen Trafikklag company ferries passengers across the fjord.
The Pier Terminal (Pirterminalen)
Trondheim's Pier Terminal on the island of Brattøra, north of the city centre, is a ferry terminal owned by the ferry and bus company Fosen Trafikklag. The company operates fast ferries across the Trondheim fjord to Vanvikan, as well as Kystekspressen to Kristiansund and Sula.
The coastal ferry cruiser Hurtigruten from Bergen to Kirkenes calls at Trondheim.
4
How to get around Trondheim?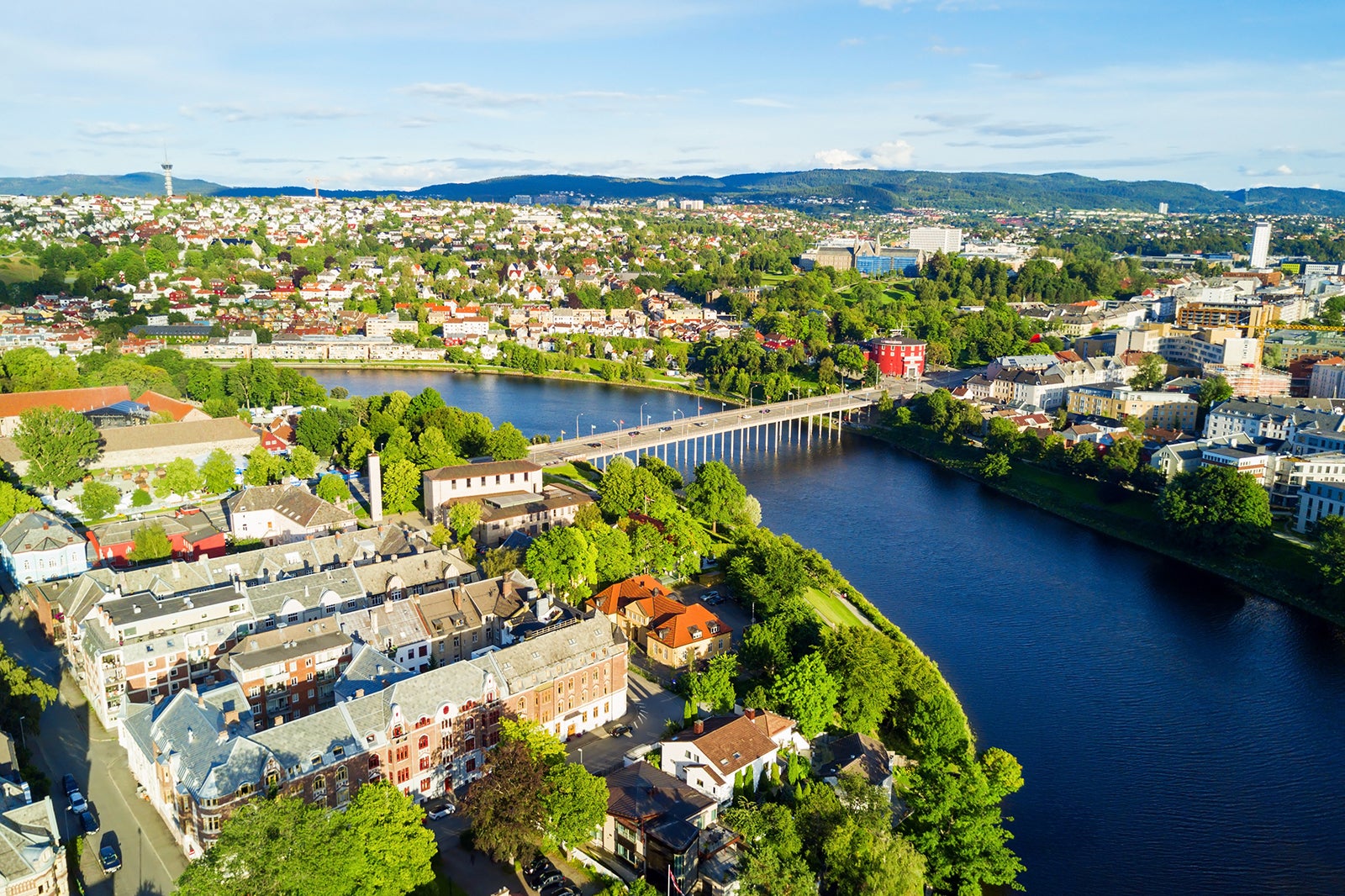 Travel tips
Trondheim's city centre is compact and walkable – a pleasure to explore at your own pace. There are plenty of charming sights you can see on relatively easy strolls such as the gothic Nidaros Cathedral, the Old Town Bridge, as well as the modern pleasures of bars and boutiques. The centrally located and imposing cathedral also makes it easier to navigate the city on foot.
For further convenience, public transport for getting around the city in Trondheim is easy and efficient. There's a well-developed bus network, the Gråkallbanen Trondheim tramline, taxis, as well as the Trondheim Bysykkel city bikes.
How does the Gråkallbanen tramway work?
The tramway of Trondheim runs a single-line route through rural areas from St. Olavs gate near Trondheim's city centre, south-west up to Lian in the Bymarka forests. It's known as the northernmost tram service on the planet and offers a scenic suburban trip with cool views over the city and takes just half an hour to reach the outskirts. There are vintage sightseeing trams run by Boreal transport (+47 958 60 886) as well as modern regular ones.
Taking a taxi
Taxi fares can be quite expensive in Trondheim and Norway in general. Among the notable taxi companies in Trondheim are Trønder Taxi AS (+47 07 373) and Norgestaxi Trondheim (+47 08 000). Norgestaxi has teamed up with Jip, an app that you can use to conveniently book a ride.
Tipping for taxis isn't required, but you may round up the fare as a friendly gesture. Ridesharing services such as Uber and Lyft are not yet available in the country.
Travelling by bus
Trondheim's well-developed bus network lets you travel all over the city affordably and with ease. The best way to travel using public transport in Trondheim is by downloading and setting up the app by AtB, the public transport managing company for the Trøndelag region, called AtB Mobillett. You can also buy tickets directly from the driver or ask for prepaid tickets from convenience stores.
Renting a car in Trondheim
Getting around by car can be a little frustrating for new drivers in Trondheim thanks to the many one-way streets. Even so, parking spots are easy to find in the city centre. You can use your valid, country-issued driving licence for up to 3 months in Norway. Otherwise, an international driving permit is required to be able to drive in Trondheim. Also, note that a toll applies every time you enter or leave central Trondheim.
Notable car rental agencies in Trondheim include Hertz Trondheim (+47 73 50 35 00), AVIS Leiebil (+47 67 25 56 00), Allways Rental (+47 90 81 40 00), and Sixt Bilutleie (+47 73 50 94 40).
Cycling around Trondheim with Trondheim Bysykkel
Getting around Trondheim on 2 wheels and using your own leg power is both efficient and fun. To use the Trondheim Bysykkel city bikes, simply download their app and set up a subscription, then find the nearest available bike station using the app.
Unlock the bike (available from 6 am to midnight) using the app and enjoy your ride free for up to an hour each time. The smart app counts the duration and starts charging you every 15 minutes after. You can return the bike after use to any station, where you'll lock it and have it confirmed via the app.
5
What are the main annual events in Trondheim?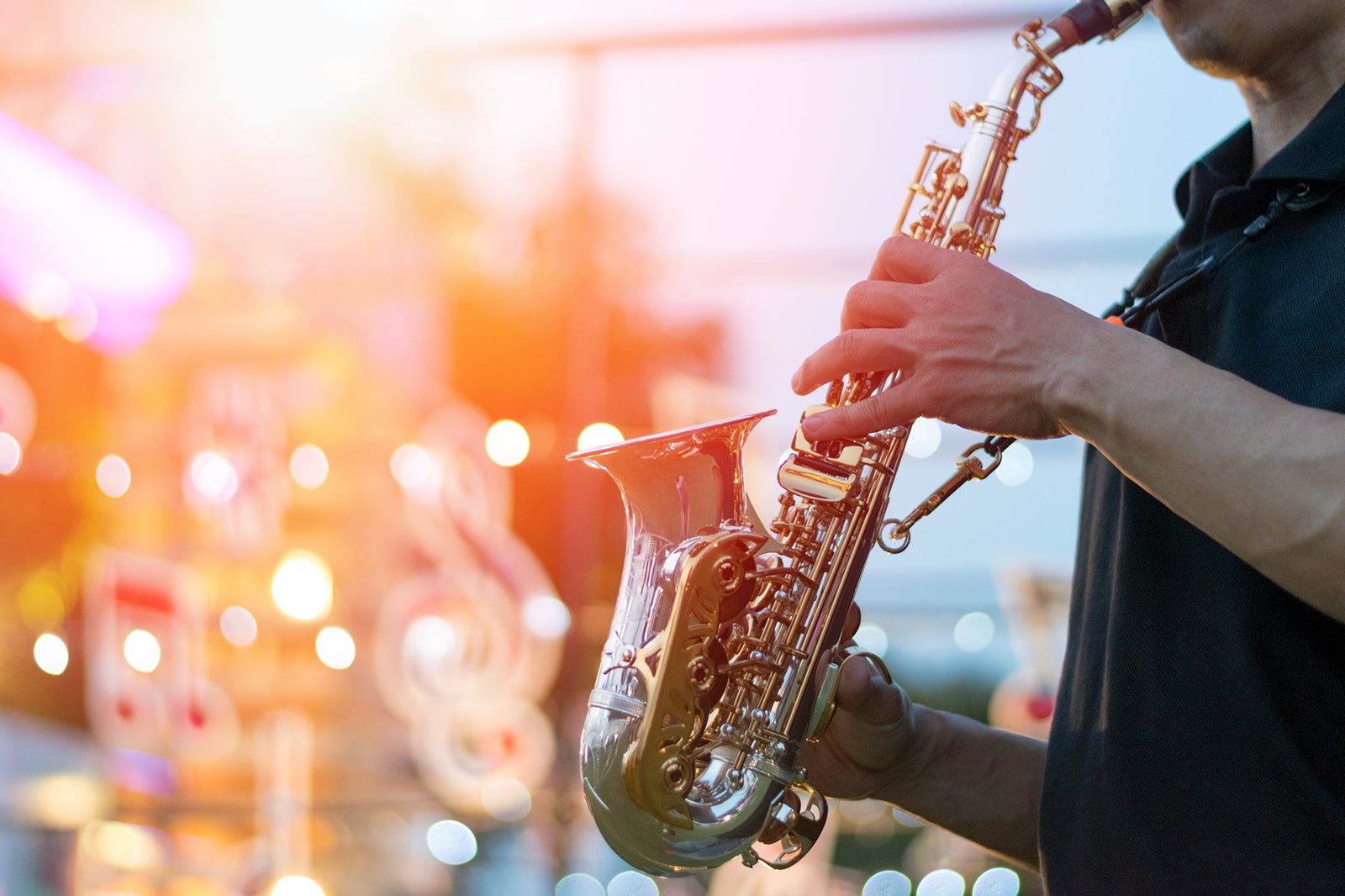 Trondheim Jazz Festival
May
Trondheim's annual music festival dates back to 1980 as JazzMazz, and now features international guest musicians performing as part of its programme.
Where: Dokkhuset, Trondheim
Olavsfest
July–August
A week-long summer celebration of Norwegian festivities and folklife in Trondheim. Music concerts, cultural talks, pilgrimage walks, and historical tours are part of the festival.
Where: Nidaros Cathedral and various venues
UKA
September
A major cultural festival run by Norway's student society featuring Norwegian revues, music, and even robotic competitions. Held biannually in Trondheim, the festival dates back to 1917.
Where: Student Society (Samfundet), Trondheim
6
What are the main landmarks in Trondheim?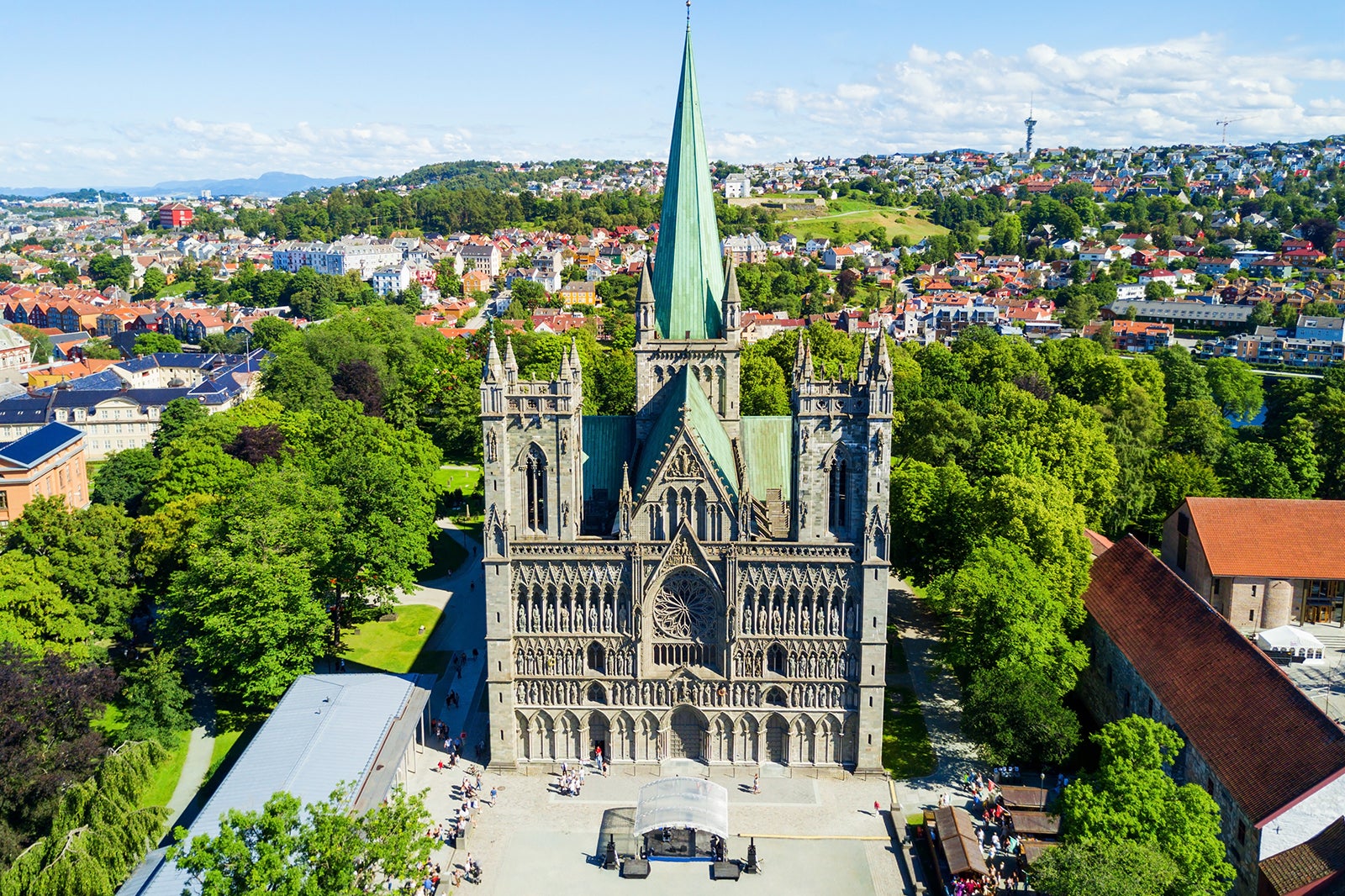 Nidaros Cathedral
Trondheim's historic cathedral in the heart of the city dates back to the early 11th century. It bears the city's medieval name and was built over the burial of Norway's king and patron saint.
Kristiansten Fortress
A hilltop fort that stands guard east of the city, built after the great city fire of 1681. It offers spectacular views over the city of Trondheim as well as the fjord and mountains.
Old Town Bridge (Gamle Bybro)
Trondheim's landmark historic bridge crosses the Nidelva River and dates back to 1681 when it served as strategic military access between the city and Kristiansten Fortress.
Trøndelag Folk Museum
An open-air museum in Trondheim with over 80 historical wooden houses and farmsteads typical of the Trøndelag region, set around the ruins of the castle and fortress of Sverresborg.
Back to top