6 Things You Need to Know About El Nido
Everything You Need to Know About El Nido
El Nido covers an area of about 400 sq km at the northern tip of Palawan Island. This first-class municipality also comprises 45 islands and islets, all of which are part of the Bacuit Archipelago. El Nido – which translates as "the nest" – owes its name to the fact it's an important turtles' breeding area.

Famous for its white-sand beaches, turquoise waters, coral reefs, and splendid limestone rock formations similar to those of Ha Long Bay in Vietnam or Phang Nga Bay in Thailand, El Nido is arguably one of the most popular resort destinations in the Philippines.
1
Things to see and do in El Nido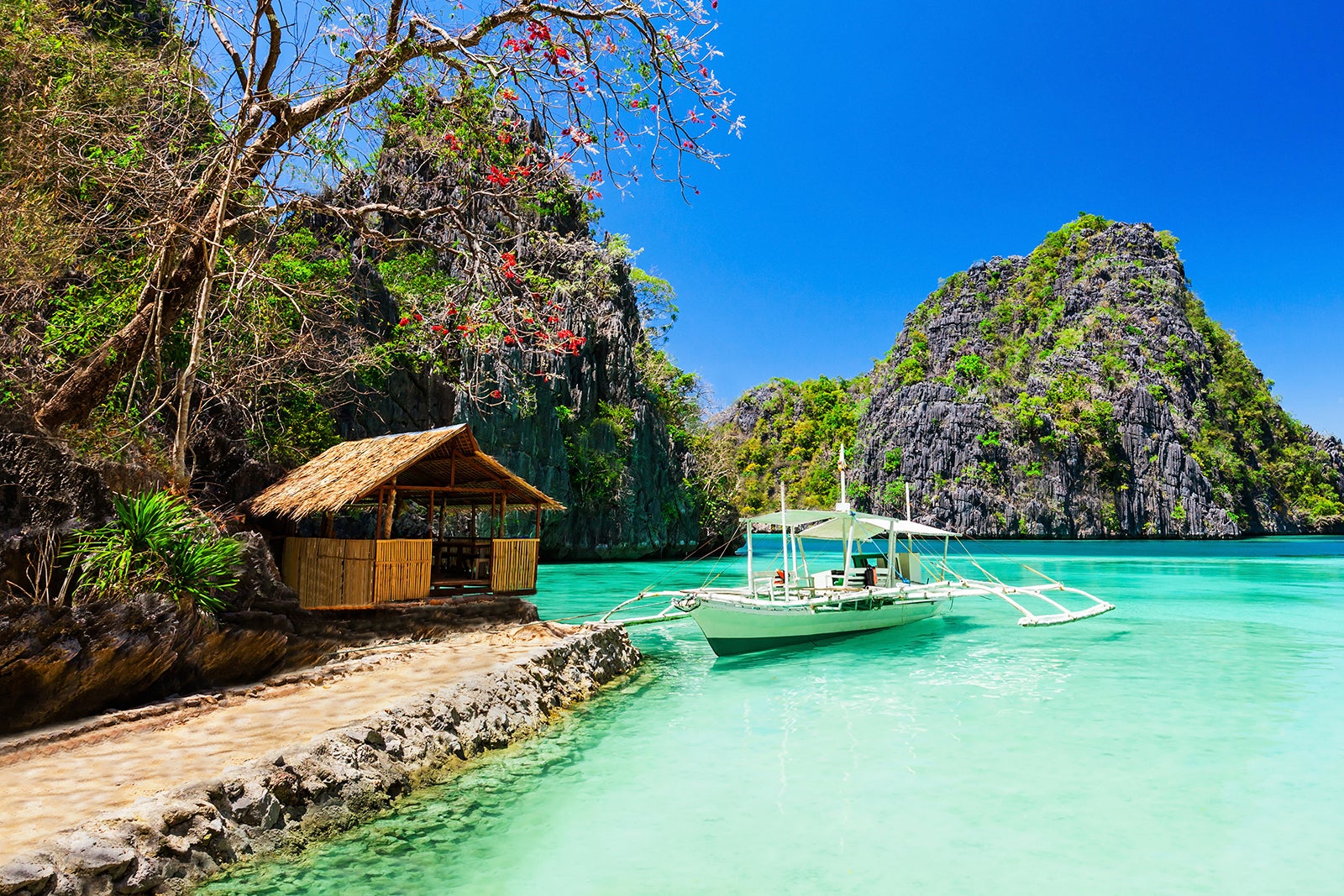 Splendid natural surroundings are the main attractions in El Nido, which compose the Bacuit Archipelago. The islands offer a wide range of geological formations, as well as island-hopping day trips from El Nido Town. Simizu, Cadlao, Dilumacad, and Matinloc are just a few of the islands that are worth a visit. Sea kayaking is an eco-friendly way of exploring each island.
Snorkelling and scuba diving are the activities that first began to put El Nido on the bucket list of many travellers, thanks to the abundant marine life and coral reefs around most of the islands. On land, exploring the rainforest in search of waterfalls and exotic flora and fauna species make for rewarding travel experiences.
El Nido, despite its remote location, hosts a decent choice of pleasant night spots for you to party or relax in after dark. Whether you're staying in town or at one of the beaches nearby, you'll find a suitable spot to have a drink and socialise at night. Some of El Nido's most popular nightlife spots include Pukka Bar in town and Republica Sunset Bar in Buena Suerte.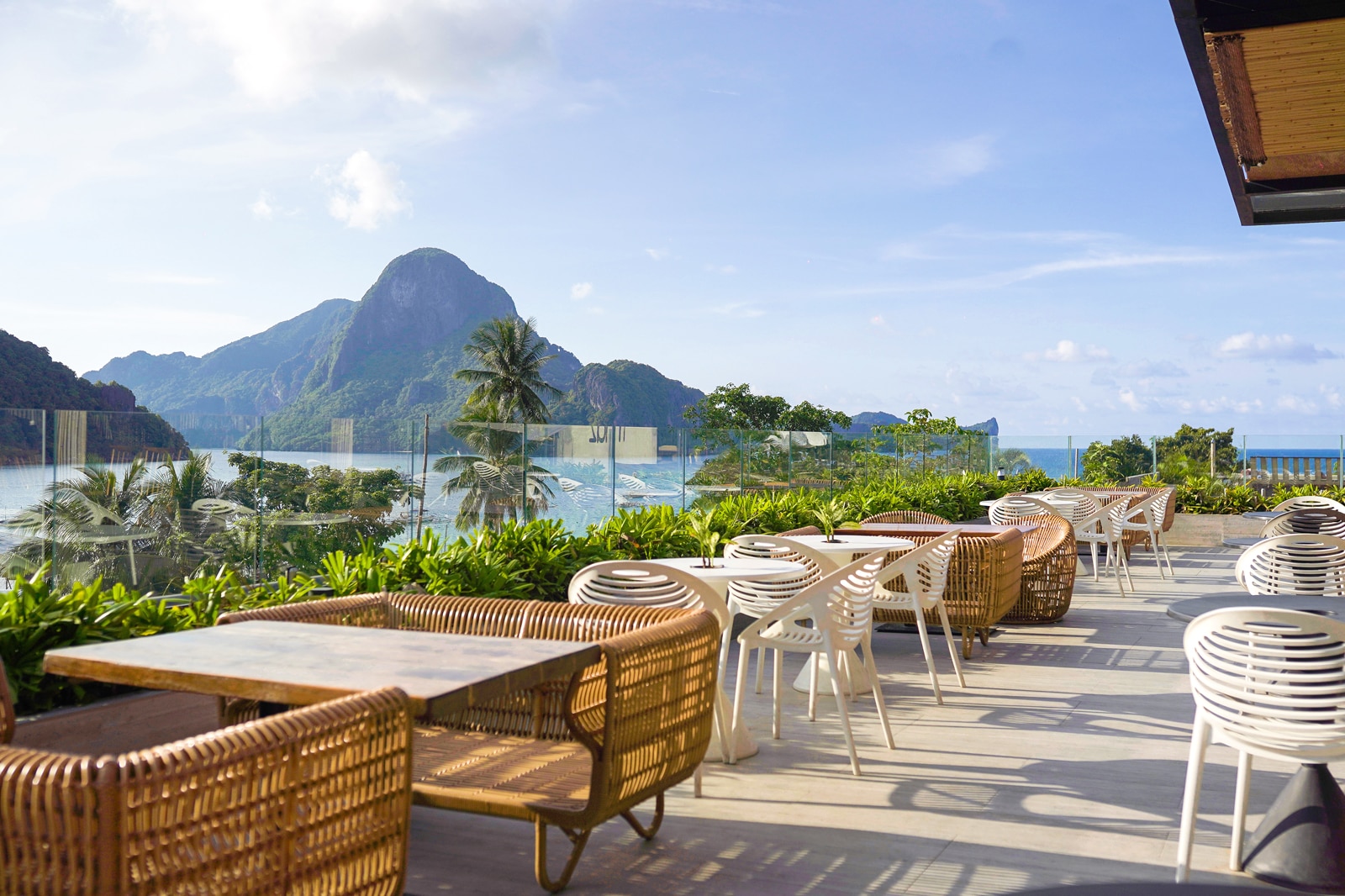 El Nido features a lively and diverse dining scene. You'll find a good choice of restaurants specialised in Filipino cuisine like Cadlao Resort & Restaurant, Tambok's El Nido, and Artcafé. There are also restaurants that serve international fare, including Italian, French, Middle Eastern, Japanese, and Mediterranean. Republica Sunset Bar, Happiness Beach Bar, and Osaka Castle are also prominent dining and nightlife venues in El Nido.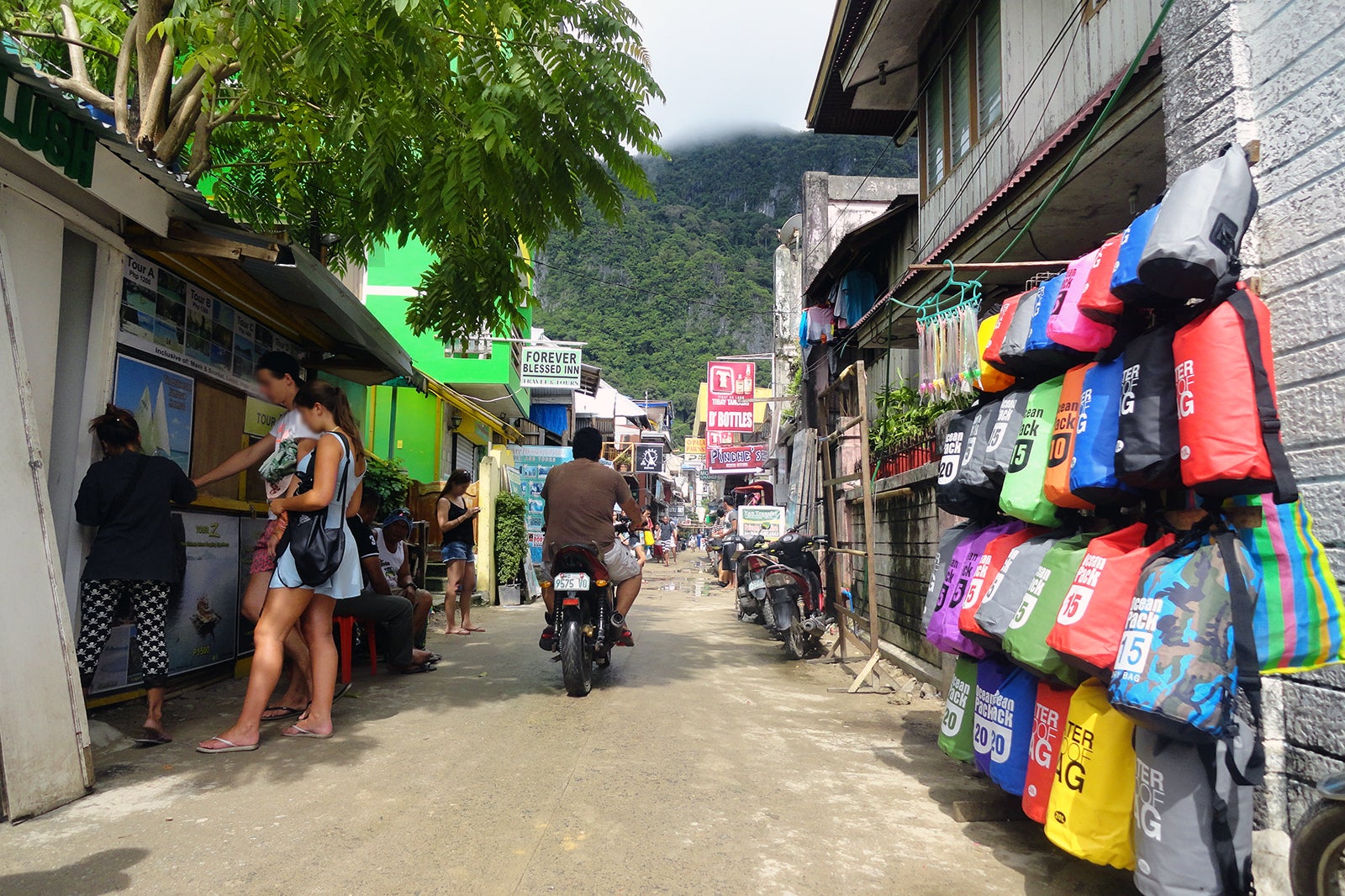 Convenience stores are available in El Nido Town and neighbouring beaches for purchasing the basic necessities like sunblock, beachwear, snacks and drinks. A few art and souvenirs shops, such as El Nido Boutique Artcafé, can also be found around town, often inside resorts. Fresh markets also provide opportunities to source and sample local products.
photo by Fabio Achilli (CC BY 2.0) modified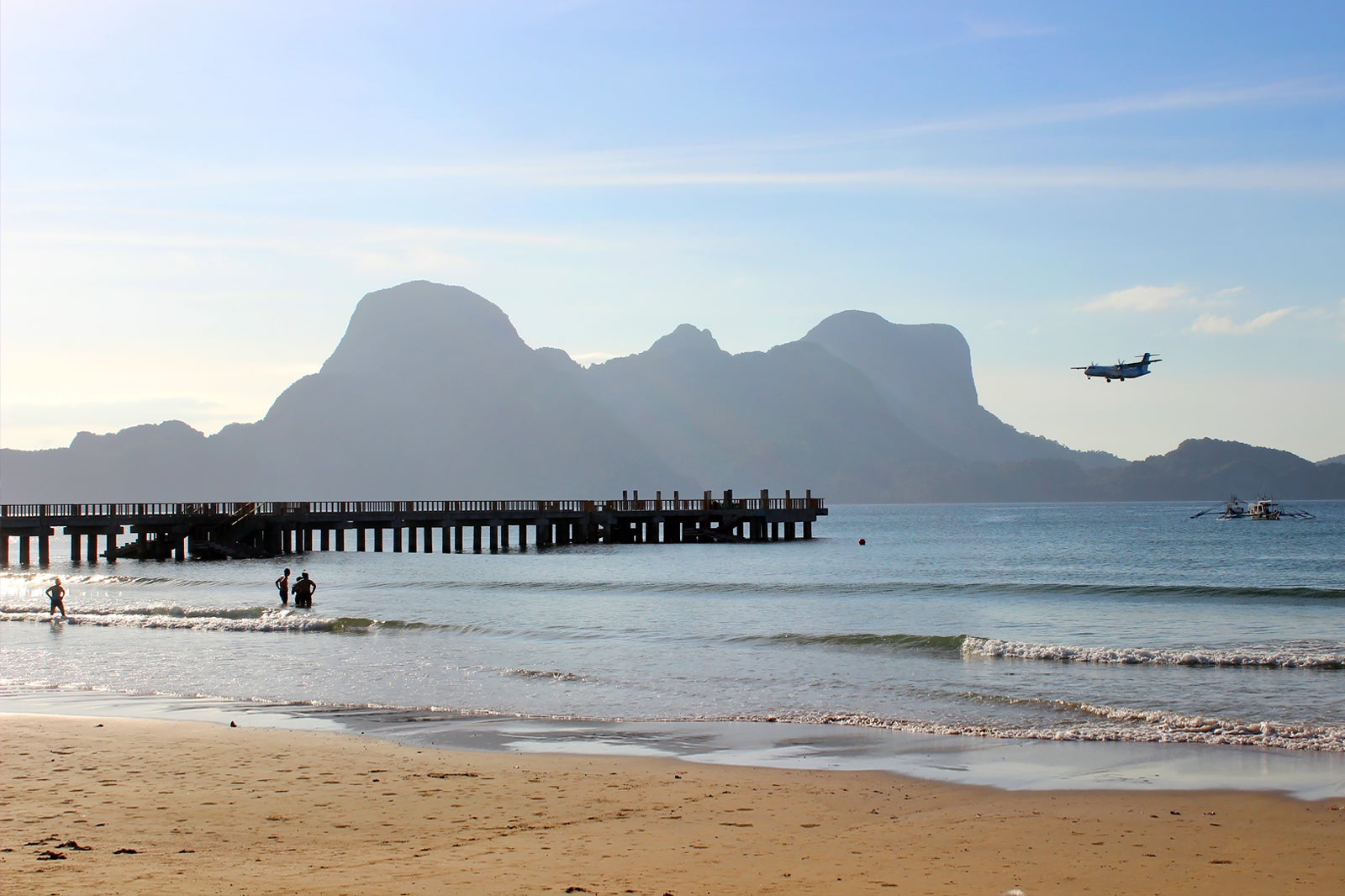 The fastest and easiest way to get to El Nido is to fly from Manila directly to Lio Airport, located 4 km from El Nido Town. The flight takes about 1 hour, and you can hire a tricycle to get to your hotel from the airport if your transfer was not organised beforehand.

If you want to explore more of Palawan Island on your way to El Nido, you can fly from Manila or Cebu to Puerto Princesa Airport, then cover the 220 remaining km by minivan, bus, or rented car. It takes about 5 hours to get to El Nido from Puerto Princesa.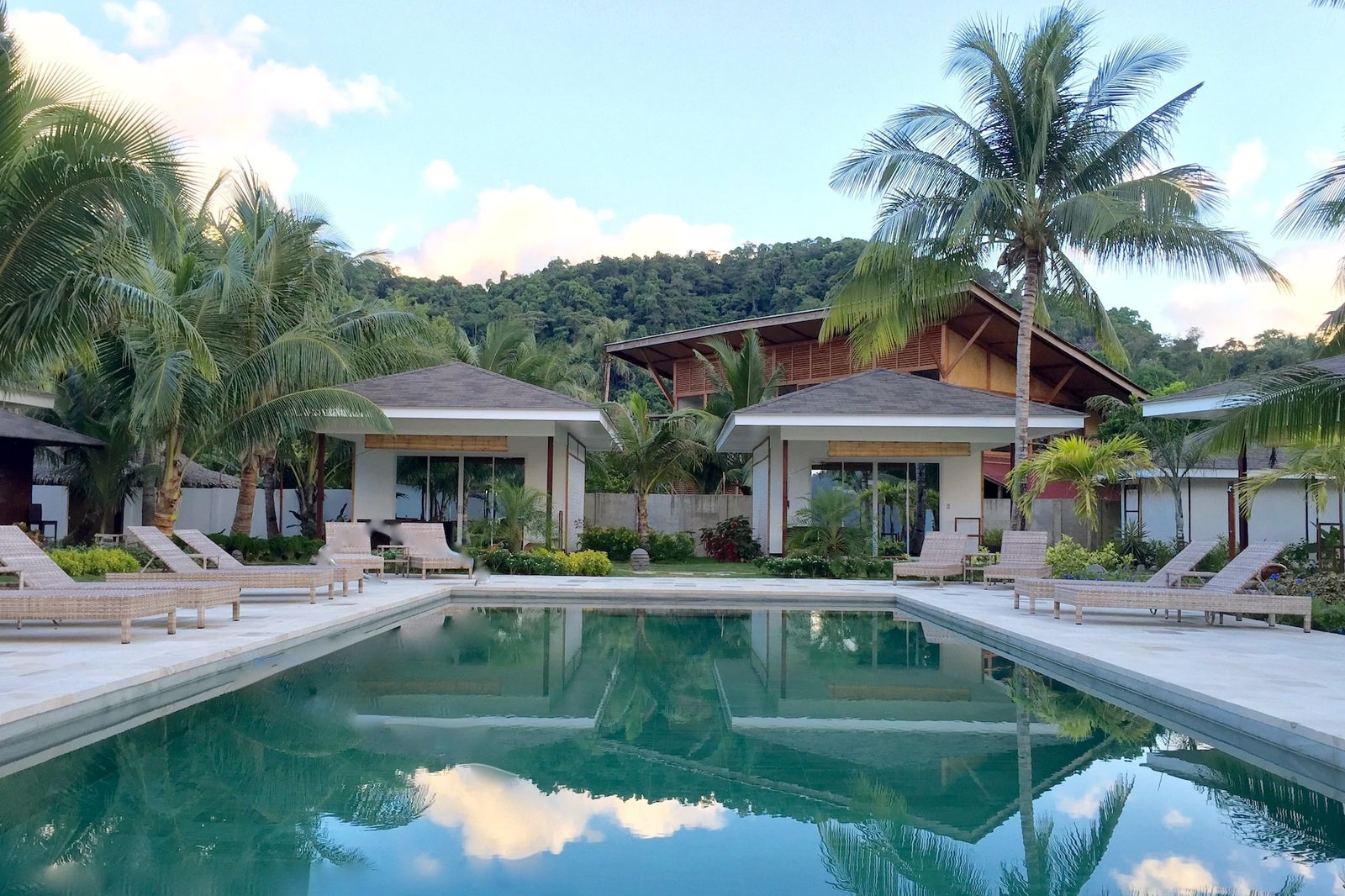 El Nido's hotel scene is in line with tourist demands, meaning you'll find a wide range of places to stay. From cheap bungalows and mid-range hotels to upscale resorts overlooking the beach, you'll very likely be able to find a hotel that suits your budget and preference.
Back to top