Getting Around Taipei
Taipei Travel Information
Getting around Taipei is extremely simple. The roads and public transport networks are universally efficient and simple to understand and there's a range of trustworthy options available to get you to every corner of the city. The well-known MRT system is a particular favourite of locals and tourists alike, being cheap, quick and convenient. The vast majority of the major attractions around the city have their own MRT station, making it very easy to tick off the items in your itinerary.
Payment for many modes of transport around Taipei is made extremely simple with EasyCard (aka Yoyo Card). This 1-touch payment card has a stored value of up to NT$5,000 and can be used on the MRT, buses and the YouBike system. Its use even provides discounts on MRT and bus journeys. You can buy and top-up an EasyCard at MRT stations and convenience stores.
1
Car and Motorbike Rental
Car rental – both with and without a driver included – is widely available from international brands and local outfits in Taipei. The city's 2 airports have a great selection, but these are generally the most expensive. Some hotels will provide car rental services or can direct you to nearby offices, many of which are found near MRT stations. You must have an International Driver's License to hire a vehicle and drive it yourself. Driving a car in Taipei is not recommended as the city's traffic can get very bad and some of the driving rules and etiquette can be confusing.
Renting a scooter or small motorbike can be a convenient means of getting around and will cost roughly NT$500 per day. It's generally recommended that you buy your own helmet (also for about NT$500) as those available at rental shops are often ill-fitting and offer minimal protection.
It's important to note that all vehicles drive on the right-hand side of the road in Taiwan and that, in the event of an accident, you should not move your vehicle at all, even if you are obstructing a major junction. Call the rental centre and they'll give you instructions for the next steps.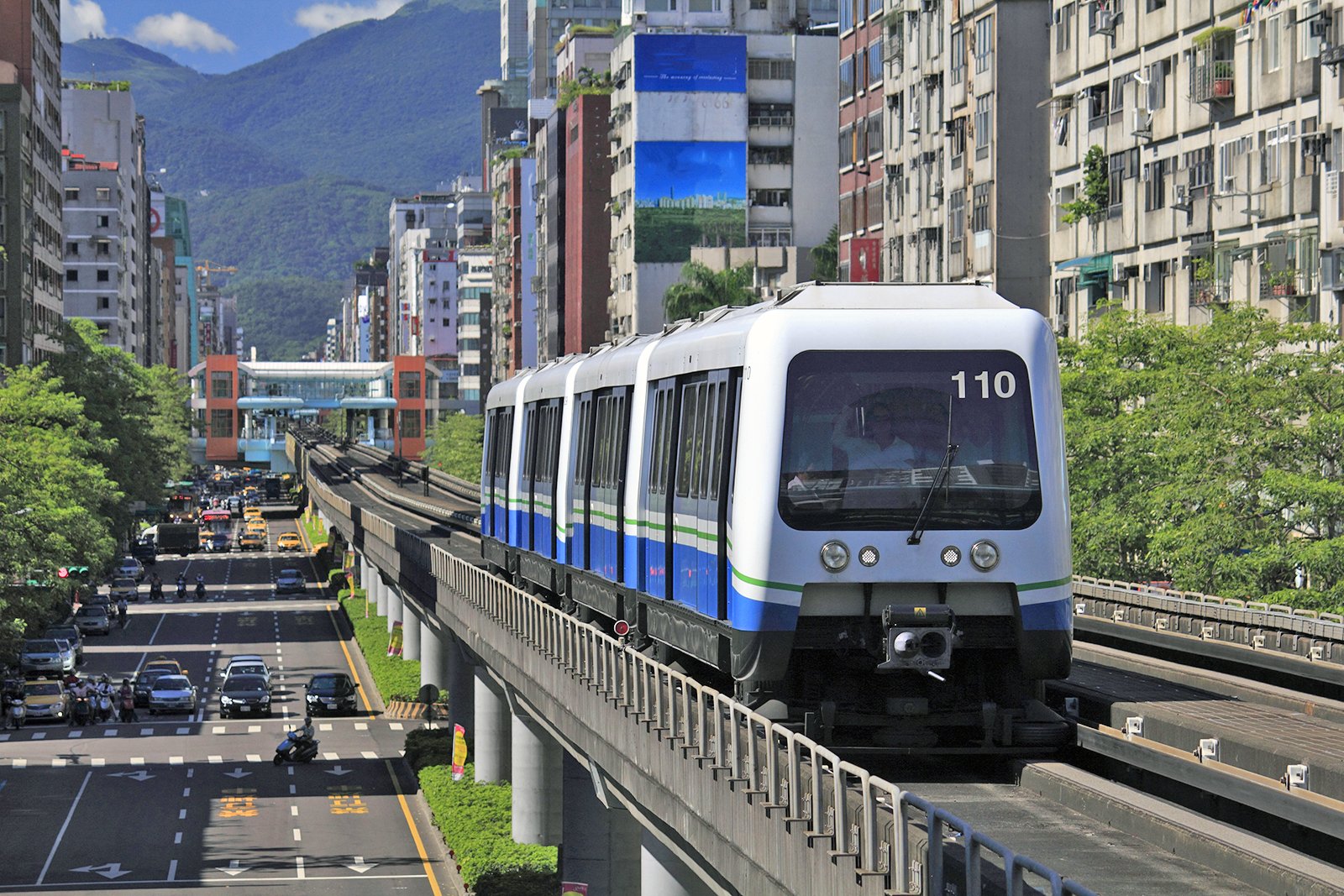 Taipei City's Mass Rapid Transit (MRT) system – sometimes called Taipei Metro – has 117 stations along 5 lines covering 131.1 km of track right across the city, connecting a variety of major attractions and important districts. Each route is colour and number coded:
Wenhu (Brown) Line: Nangang Exhibition Center – Taipei Zoo
Tamsui-Xinyi (Red) Line: Tamsui – Xiangshan
Songshan-Xindian (Green) Line: Songshan – Xindian
Zhonghe-Xinlu (Orange) Line: 4a Huilong –, 4b Luzhou – Nanshijiao
Bannan (Blue) Line: Dingpu – Nangang Exhibition Center
The network is a combination of subterranean and elevated lines which are all clean, efficient, safe, wheelchair-friendly and cheap, with single-journey prices ranging from NT$20 to NT$60, depending on the distance. A NT$150 1-day pass will allow unlimited travel on all lines for that day. Trains run from 6am to midnight, with all announcements and signs in Chinese and English. Being the favourite mode of in-city transit, stations and trains can get very busy at certain times of the day.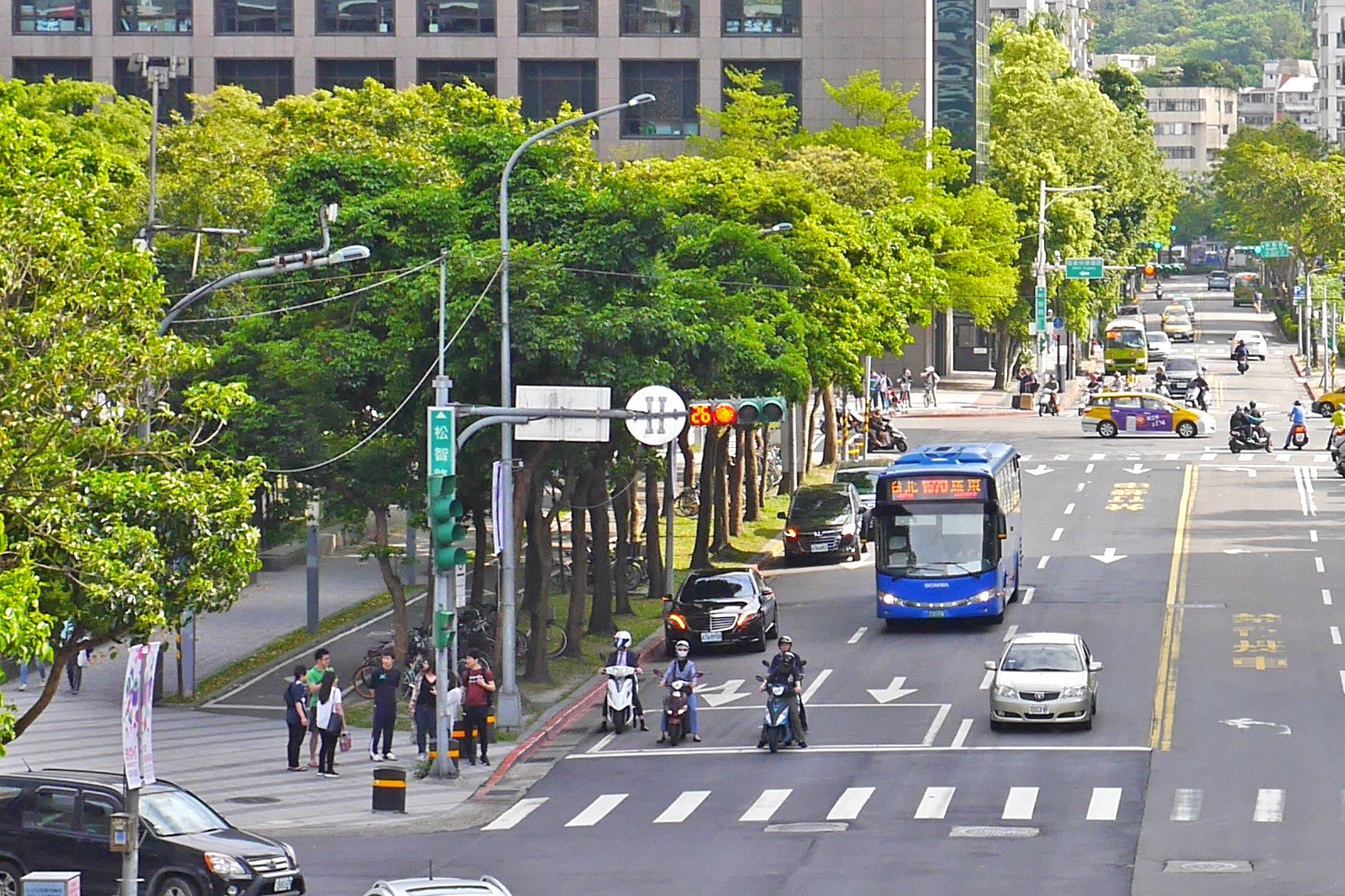 Taipei's bus service is efficient, convenient and among the cheapest transport options in the city. It uses a flat rate per city section, regardless of distance travelled. An electronic sign above the driver will show whether you are expected to pay NT$15 as you get on (上) or as you get off (下). If you cross into a new section during your journey, the sign may change and you may need to pay both as you board and as you leave. The maximum cost for any journey is NT$30 and can be paid in change or with EasyCard. Route and destination information is displayed in Chinese and English at most stops.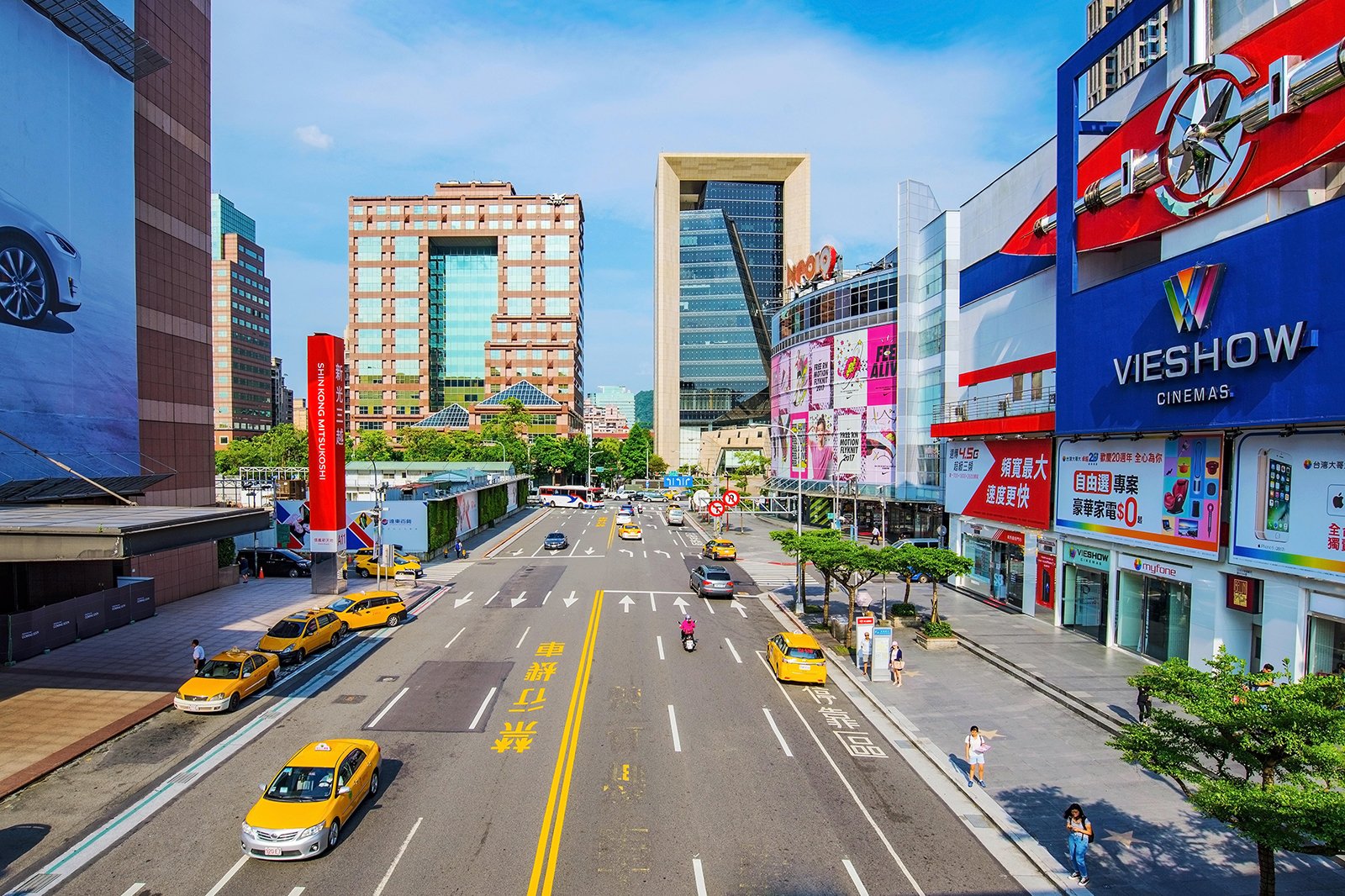 While the bright yellow taxis of Taipei are the most expensive of the public transport options available, they are still very cheap by international standards. A journey right across the city will generally cost less than NT$250. The starting fee is NT$70 for the first 1.25km, with every 250 metres after that costing NT$5. There's an additional fee of NT$20 for rides late at night or during special holidays. You'll also need to pay any highway tolls you might encounter, but this will only apply for journeys out of the city. For long-distance travel to out-of-town destinations, a flat rate (set by a government-approved list) will be used.
The taxi service around Taipei is generally very highly regarded, having few of the common scams and rip-offs you will find in other cities around the world. Occasionally, drivers will attempt to negotiate a fixed rate for an in-city destination instead of using the meter, in which case you should get out and find a different taxi; there are plenty of them. The vast majority of drivers will take you to where you want to go within the city on the meter and using the shortest available route. Unfortunately, the majority of drivers also don't speak English, so it's advisable to have your destination written down in Chinese.
Services such as Uber are available in Taipei, though their prices are generally higher than the yellow taxis. Tipping drivers is not necessary or expected, but will always be appreciated.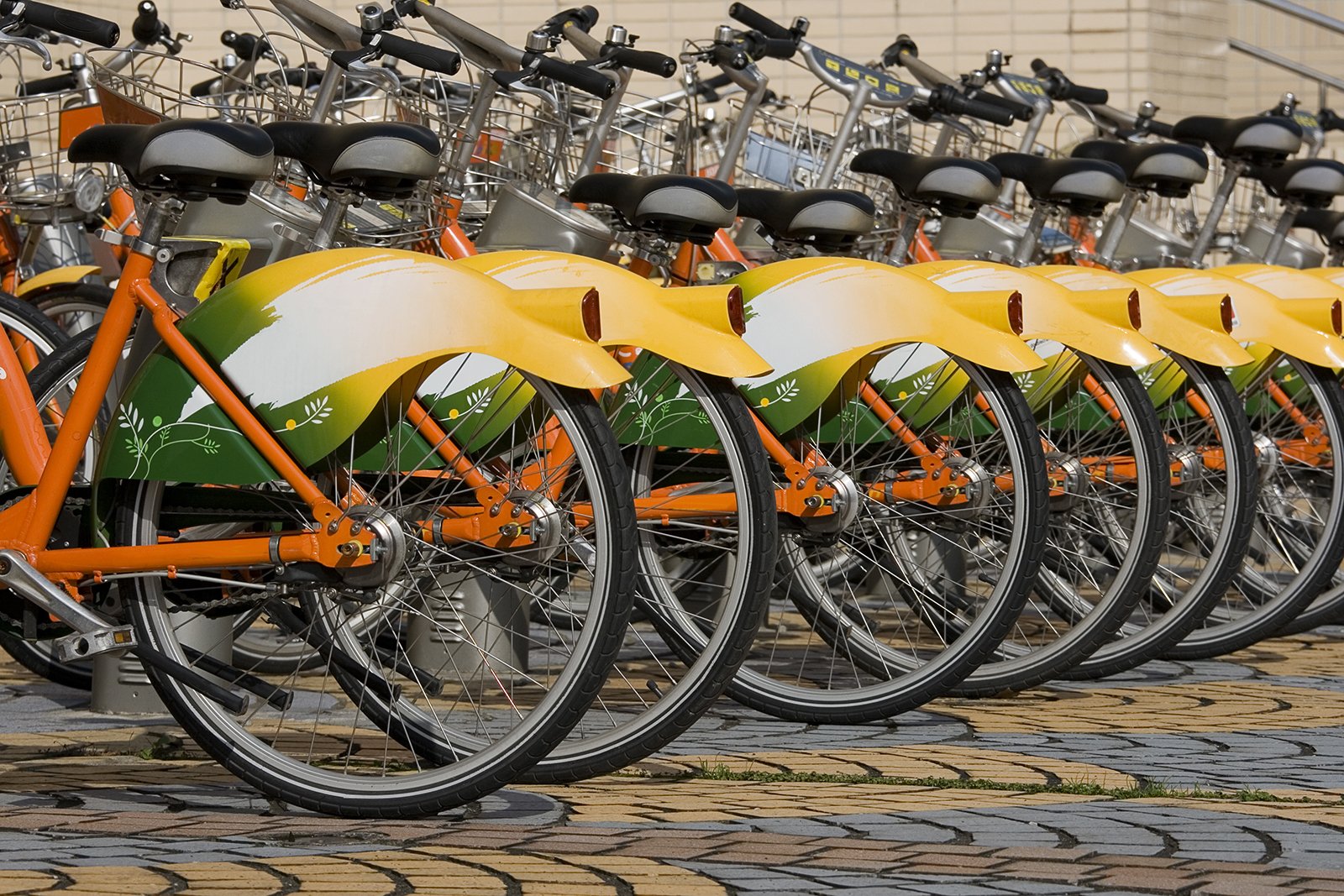 EasyCard users can hire a bicycle from outside most MRT stations with the YouBike system. Rental cost is measured by time and the bike can be returned to any YouBike station. There are cycle paths along most of the city's rivers, but not on the roads. On the busier streets you'll be able to ride on the pavement.
Back to top