10 Best Things to Do for Couples in Seogwipo
What to Do on a Romantic Trip to Seogwipo?
Seogwipo is a paradise for couples and honeymooners, offering wide panoramic vistas, open seas, volcanic mountains and forests, unusual museums and vibrant nightlife. This is a place where you can learn about human sexuality before heading for a couples' massage and spa treatment. It's a spot where you can explore vast national parks and cascading waterfalls before heading to a living museum to see what life was like hundreds of years ago.
From scenic rooftop bars to lush forests and deep history, this town has everything you need to make memories of a lifetime. Check out some of the best things to do for couples in Seogwipo.
1
Osulloc Tea Museum
Visit the first tea museum in Korea
The Osulloc Tea Museum is the first tea museum in Korea and showcases the history and tradition of tea in the country, bringing together East and West, past and present. This museum offers a wide range of spaces and exhibits. You can visit a teacup gallery and tea stone exhibit, and you can walk the paths of an elegant indoor garden. It's been named among the top 10 museums in the world and draws over 1.5 million people every year.
When you're done with your exploration, you can head for the Tea Store. Here you can purchase a wide range of teas and tea-related products and souvenirs. It's only an hour west of the city centre.
Location: 15 Sinhwayeoksa-ro, Andeok-myeon, Seogwipo-si, Jeju-do, South Korea
Open: Daily from 9 am to 7 pm
Phone: +82 64-794-5312
photo by Christian Bolz (CC BY-SA 4.0) modified
2
Vadada (rooftop bar)
Catch elegant views with craft cocktails and tiramisu
Vadada is a beachfront bar and restaurant offering house music, speciality cocktails and fine meals, while transforming into an elegant lounge with astonishing rooftop views at night. The view of the surrounding city and endless sand and surf is breathtaking and sure to be a highlight of your social media feed. The cocktails are strong and delicious, and the vibe is elegant and refined, making it the ideal spot for a romantic date night for 2.
This is also a hip spot that attracts a vibrant young crowd. The tapas are delicious and the desserts are to die for, especially the tiramisu. It's about 30 minutes west of the city centre.
Location: 2384, Daepo-dong, Seogwipo-si, Jeju-do, South Korea
Open: Daily from 11 am to 1 am
Phone: +82 64-738-2882
3
Yeomiji Botanical Garden
Walk forested paths among tropical plants
Yeomiji Botanical Garden is an elegant, vast national garden filled with lush forests, tropical flowers, topiary mazes, exotic plants and public sculptures. This stunning and serene space can take hours to walk, though you can take a garden train to see the whole thing in 10 minutes. You'll want to climb the observation deck to get a truly panoramic view of the whole garden and Mount Hallasan in the distance.
You can easily spend an entire day here walking hand-in-hand among the greenhouses and forested paths, or just sitting and enjoying each other's company while you relax and reconnect in pastoral surroundings. It's only about 25 minutes west of the city centre.
Location: 93 Jungmungwangwang-ro, Seogwipo-si, Jeju-do, South Korea
Open: Daily from 9 am to 6 pm
Phone: +82 64-735-1100
4
Couples' Spa
Relax, recharge and indulge with luxurious pampering
A couples' spa in Seogwipo allows you to unwind and get pampered like royalty to reconnect as a couple in an intimate way and recharge for the next day's adventures. The island of Jeju has many of these spas where you can enjoy everything from hot stone massages to sauna treatments, skincare therapy and whirlpool tubs. While many of these spas are part of various 5-star resorts and hotels, sometimes you can make use of the facilities without being a guest.
Whether you're looking to take a hinoki bath, soak in a hot spring or get a couples' massage together, you're sure to find relaxation and romance. Just pick the spa nearest to you and book your treatment.
5
Jeongbang Waterfall
See the only waterfall in Asia that empties into the ocean
Jeongbang Waterfall is a gorgeous natural spot on Jeju where you can witness towering, cascading falls with an observatory at the top. This astonishing waterfall rises 23 metres off the forest floor, and it's the only waterfall in Asia that empties directly into the ocean. If you really want to capture a breathtaking sight, you can ascend the cliff to check out the observatory viewpoint at the top that allows you to see the ocean for miles to the horizon.
Getting to the falls includes a fantastic hike through lush forest and green space. The beginning of the hike is only about 10 minutes southeast of the city centre.
Location: 37 Chilsimni-ro214beon-gil, Seogwipo-si, Jeju-do, South Korea
Open: Daily from 9 am to 6 pm
Phone: +82 64-733-1530
6
Museum of Sex and Health
Learn all about human sexuality
The Museum of Sex and Health is a massive museum focused entirely on human sexuality with indoor and outdoor exhibition spaces, a sculpture park and hundreds of exhibits. The museum covers over 7,000 square metres of space split among 2 storeys with 6 galleries. These include galleries on sex education, culture, fantasy and art, and a book cafe and gift shop. This fascinating exploration of the human body and the various aspects of sex is sure to add a bit of extra romance to your trip.
You can visit all the exhibitions and walk the outdoor sculpture garden before grabbing some souvenirs. It's only 45 minutes west of the city centre.
Location: 1611 Iljuseo-ro, Andeok-myeon, Seogwipo-si, Jeju-do, South Korea
Open: Daily from 9 am to 6 pm
Phone: +82 64-792-5700
photo by Ben Kucinski (CC BY 2.0) modified
7
Hallasan National Park
Visit the tallest mountain in South Korea
Hallasan National Park offers over 15,300 hectares of untamed wilderness, forests and volcanic mountains across a UNESCO World Heritage Site and is the home of Mount Hallasan. This mountain is the tallest in South Korea, reaching a summit of 1,847 metres. The mountain is synonymous with Jeju. While hiking here, you might spot local wildlife such as gazelles, Formosan deer, roe deer, boars, badgers and birds. At the top of the mountain, you can visit the Baengnokdam crater lake and the oldest Buddhist temple on the island at Gwaneumsa.
This historic site has 7 hiking trails that allow you to explore and reconnect with nature. It's about an hour north of the city centre.
Location: 2070-61 1100(Cheonbaek)-ro, Jeju-si, Jeju-do, South Korea
Open: Daily from 9 am to 5 pm
Phone: +82 64-747-9950
8
Jeju Folk Village
Take a walk into Jeju's past
Jeju Folk Village, a faithfully recreated 19th-century village, offers a chance to experience local folklore and immerse yourself in a living culture that dates from 1890. The way of life here showcases traditions that have existed since the Joseon Dynasty. You'll see authentic pottery, buildings and costumes from the period when you explore this museum of life from over a hundred years ago.
This direct walk into Jeju's past is a truly romantic experience unlike any other. You'll feel lost in time as you reconnect with each other. It's about 17 miles east of the city centre of Seogwipo.
Location: 631-34 Minsokhaean-ro, Pyoseon-myeon, Seogwipo-si, Jeju-do, South Korea
Open: Daily from 8.30 am to 6 pm
Phone: +82 64-787-4501
9
Seongsan Ilchulbong
Catch a beautiful sunrise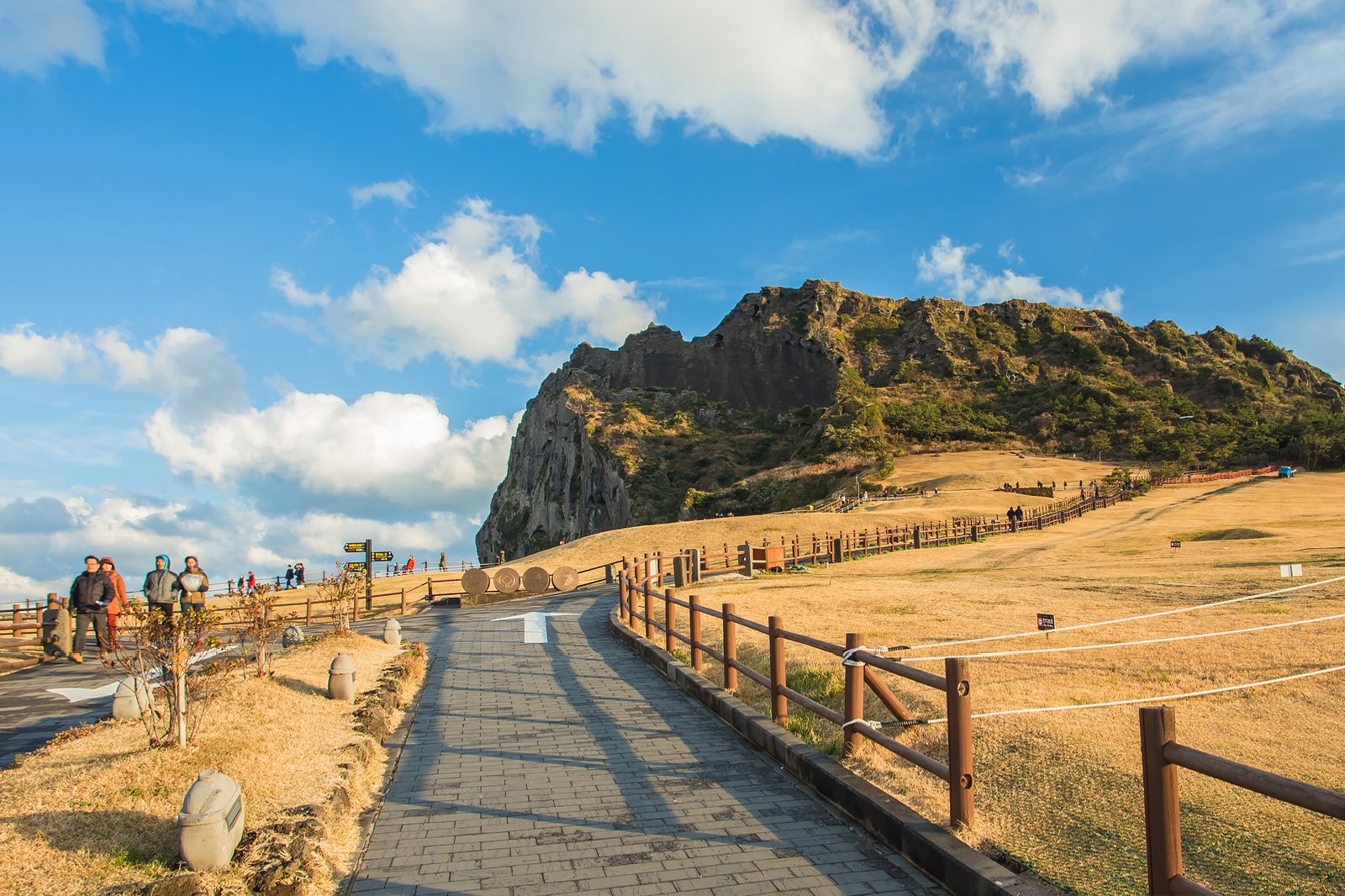 Seongsan Ilchulbong, or Sunrise Peak, is a volcanic cone, UNESCO World Heritage Site and Korean national monument offering astounding sunrise views. The hike up the cone is well maintained but steep, and it's recommended that you wear comfortable shoes while making the trip up the slope. Even if you don't want to get up early to climb here at dawn, you can visit any time of day to capture beautiful panoramic views of the surrounding region.
This natural park about 2 hours northeast of the city centre feels serene and peaceful, even when it's crowded. It's a good place to capture photos for your social media, and recapture your passion for romance.
Location: Seongsan Ilchulbong, South Korea
10
Rooftop Terrace at Lotte Hotel Jeju
Kick back poolside with a cocktail
The Rooftop Terrace at Lotte Hotel Jeju offers spectacular craft cocktails, good food, a lavish yet laid-back atmosphere and stunning views of the surrounding countryside. The terrace bar has its own swimming pool, so you can grab a cocktail and lounge poolside or splash and play with your beloved. Guests of the hotel can enjoy sunbeds to just take in the vibes. The first floor of this 2-floor terrace offers a full-service cafe for light snacks and beverages.
The Rooftop Terrace at Lotte Hotel Jeju is a perfect spot to relax and recharge after a day of seeing the sights. It's only about 30 minutes west of the city centre.
Location: 35 Jungmungwangwang-ro72beon-gil, Seogwipo-si, Jeju-do, South Korea
Phone: +82 64-731-1000
Back to top