Biscayne Boulevard is part of the US Highway 1 that runs through the heart of Miami, from Downtown to the Upper East Side, continuing north towards the airport. Known as the Gateway to Miami, Biscayne Boulevard was built during the city's land boom in the 1920s as a palm-lined shopping strip. The area reached its height of coolness in the 1950s when places like the Vagabond Hotel became a favourite hangout for the likes of Frank Sinatra and his Rat Pack friends.
The Biscayne Boulevard celebrity gloss eventually faded, and sections of the road went through some rough years – residents moved to the suburbs, shops shut down and some rather unsavoury activities moved in. Recent years have seen the tides turn again with local efforts to revamp and revive the area's historical architecture, boost the arts scene, and again become a place to dine, shop and safely enjoy some glittering Miami nightlife.
Biscayne Boulevard in Miami - one of the highlights of 10 Most Popular Streets in Miami (Read all about Miami here)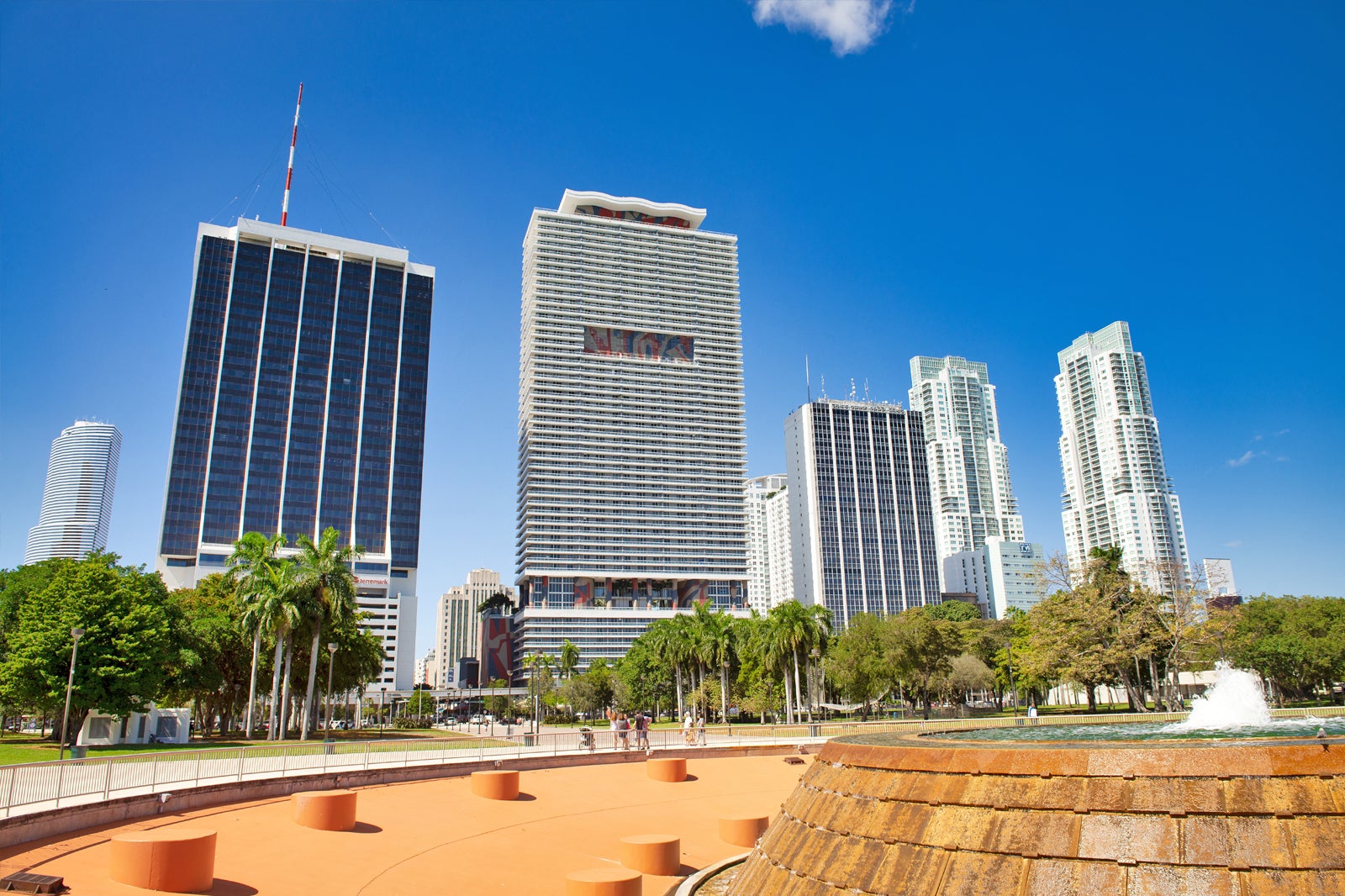 What are the highlights and features of Biscayne Boulevard?
Biscayne Boulevard runs through a unique mosaic of neighbourhoods that reflect Miami's diversity, including the MiMo Biscayne Boulevard Historic District, Little Haiti, the historic Morningside community, and Wynwood with its growing Arts District.
The MiMo historic district is home to many of those retro Miami Modern-style motels like the Vagabond that have been revived into highly-Instagrammable hot hangout spots again. Wynwood Arts District also offers fantastic photo-snapping opportunities with its colourful "Wynwood Wall" murals and some 70 art galleries to explore. You could easily spend a day on the boulevard's Downtown section at Bayside Marketplace, a shopping complex and marina with many restaurants and bars.
Miami's finest Mediterranean Revival-style homes are found in Morningside, a genteel community along Biscayne Bay. If you're visiting in March, you might be able to join a tour of some of Morningside's historic homes. Avid shoppers will want to travel to Biscayne Boulevard's northern reaches in the Aventura suburbs to find Aventura Mall, the 3rd-largest shopping centre in America.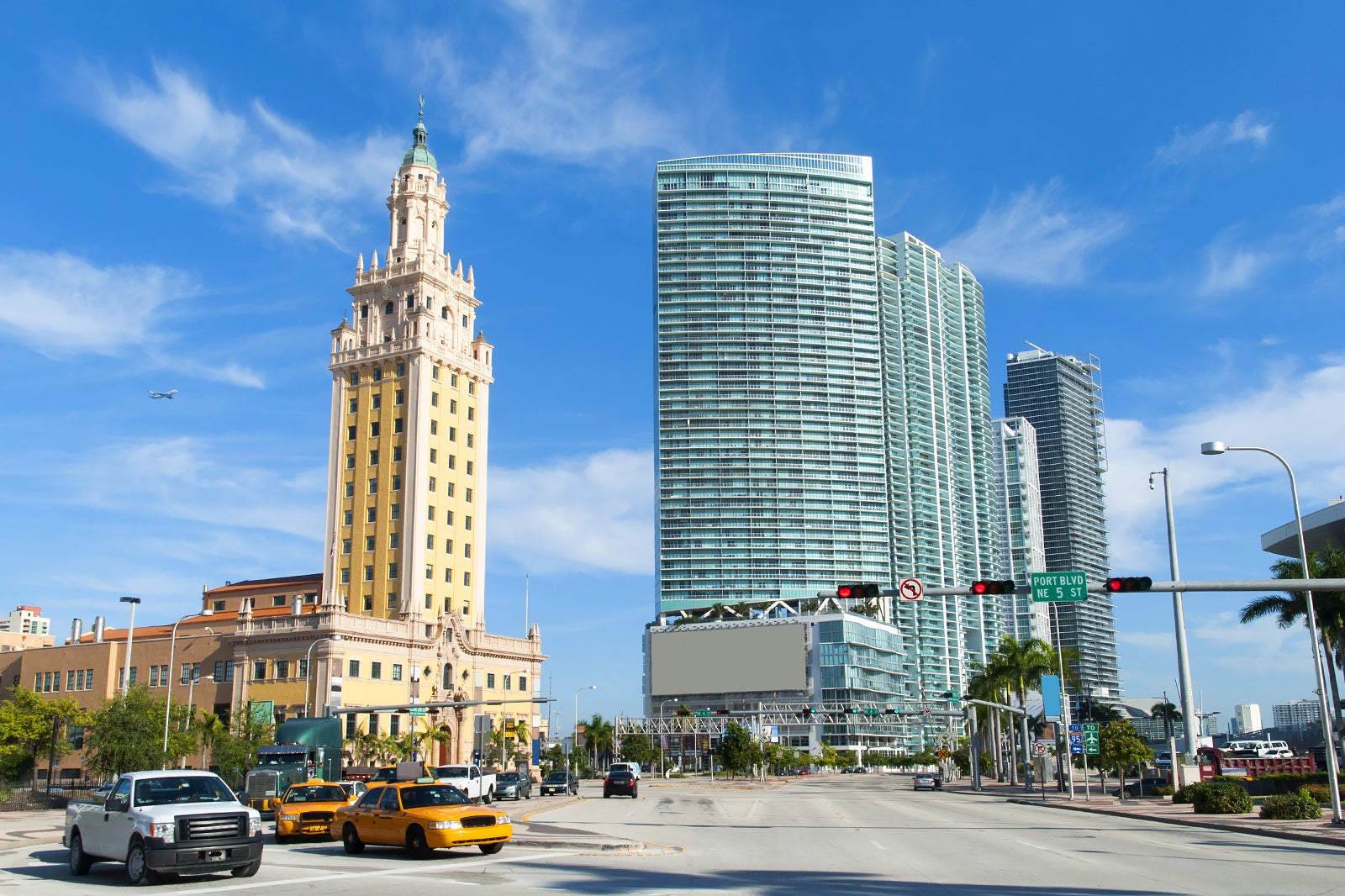 What landmarks are on Biscayne Boulevard?
The Freedom Tower at 600 Biscayne Boulevard is an important landmark not only for being a great example of Miami's Mediterranean Revival architecture but for its role as a reception centre for refugees escaping from Cuba in the 1960s. Built in 1925, the 78-metre-tall building first served as The Miami News office and was modelled after the Seville Cathedral's bell tower in Spain. It's known as the "Ellis Island of the South" and has been designated a U.S. National Historic Landmark. The Freedom Tower is now part of Miami Dade College and home to the college's Museum of Art and Design.
A quirky landmark on Biscayne Boulevard is the Coppertone Girl sign, a cute 10-metre-high sun cream advert that's been a fixture of Miami since it was first erected in 1959. The sign's been moved around to different locations and has been battered by a few hurricanes, but now resides intact at 7300 Biscayne Boulevard in the MiMo Historic District.
Good to know about Biscayne Boulevard
Biscayne Boulevard offers a wide range of experiences depending on which section of the road you explore. Boutique shops, stylish restaurants, sleek hotels, yoga studios and dive bars alike can be found along the boulevard, with the MiMo historic district between 50th and 77th streets as one of the most dynamic areas.
Take care if driving here or crossing the road as the boulevard does attract those whose high-speed driving makes the street more hazardous than it needs to be. Downtown and other areas are not as crime-ridden as they once were, but you'll still need to keep your wits about you, especially if going out at night – some neighbourhoods are best avoided.
A great way to explore Biscayne Boulevard and the surrounding neighbourhoods is to catch a City of Miami trolley, which is free with most routes running between 6.30 am and 11 pm.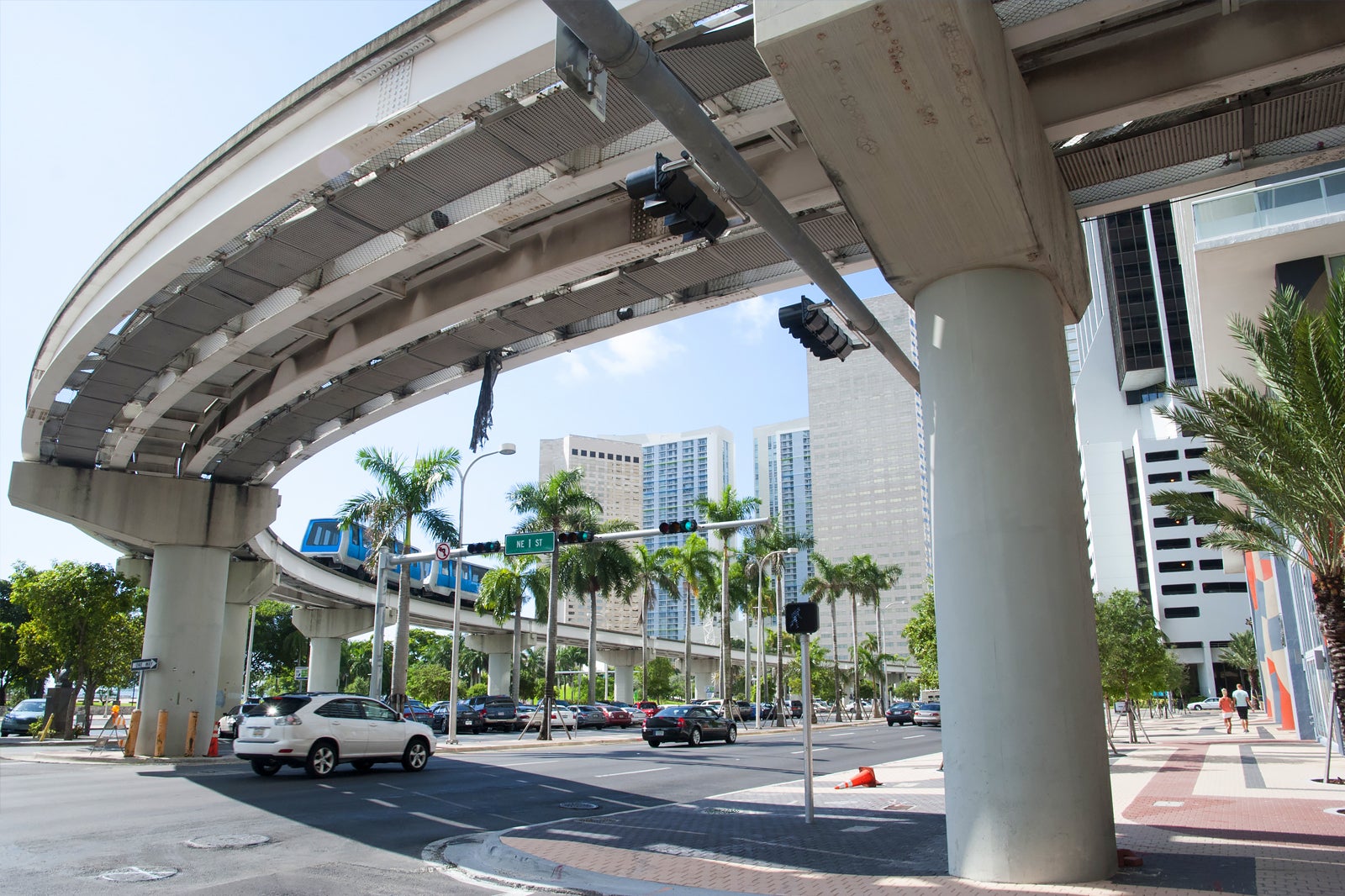 Biscayne Boulevard in Miami
Back to top