Ghirardelli Chocolate Marketplace in San Francisco
Enjoy a Delicious Scoop of Chocolate Ice Cream at Ghiradelli Square
The Ghirardelli Chocolate Marketplace is a fantastic spot to visit in Ghirardelli Square to enjoy gourmet ice cream, sundaes, scoops, shakes, drinks, and hot cocoa. All the ice cream on offer is delicious, and widely regarded as being amongst the best in the world. One of the best aspects of visiting the marketplace is enjoying the breathtaking views of Alcatraz Island and San Francisco Bay from your seat while you enjoy your ice cream. During your visit to the marketplace, you'll get the chance to watch every detail about the production of the famous chocolates, ice cream, and sweets on a tour.
Most people tend to spend about an hour or 2 enjoying their favourite ice cream and taking in the breathtaking views of some of San Francisco's best attractions and landmarks. The seating is ideal for groups and families with kids, which means you can treat your family, friends, or loved ones to a fantastic dessert of ice cream while gazing out over the bay.
Ghirardelli Chocolate Marketplace highlights
Ghirardelli Chocolate Marketplace is a fantastic place to visit for ice-cream lovers. You can visit the Ghirardelli Chocolate Marketplace Shop, one of the oldest continuously running chocolate shops in the world, and pick up some sweet treats to take home. You can also enjoy different desserts and confections, such as cookies, brownies, and sweets. The chocolate marketplace also offers numerous ice cream options, such as fudge-topped ice cream sundaes, chocolate-dipped strawberries, chocolate malts and milkshakes, and others. You can also get a free chocolate tasting, depending on your order, to sample other flavours.
The marketplace offers a behind-the-scenes tour for patrons to see every step of the chocolate-making process. After the tour, you get to choose a chocolate gift package as a souvenir of your experience. While you are in the marketplace, you can take souvenir pictures near the square's iconic illuminated Ghirardelli sign to remember the trip.
History of Ghirardelli Chocolate Marketplace
The Ghirardelli Chocolate Marketplace got its name from an Italian immigrant, Domenico Ghirardelli. He migrated to San Francisco in the mid-19th century and set up the now-famous Ghirardelli Chocolate Company, which he named after himself. The company started modestly with just the 600 pounds of chocolate he brought with him from South America, before eventually becoming the city's most successful chocolatier...
The Ghirardelli Chocolate Company is responsible for many industry firsts and breakthroughs in the chocolate-making process, including the now-famous Broma process.. After Ghirardelli died in 1894, the company continued its impressive growth. After the company was sold and the headquarters changed, William M. Roth and his mother, Lurline Matson Roth, bought the land now known as the Ghirardelli Square to preserve it and turn it into an integrated restaurant and retail complex. San Francisco declared the Ghirardelli Chocolate Marketplace a city landmark in 1965.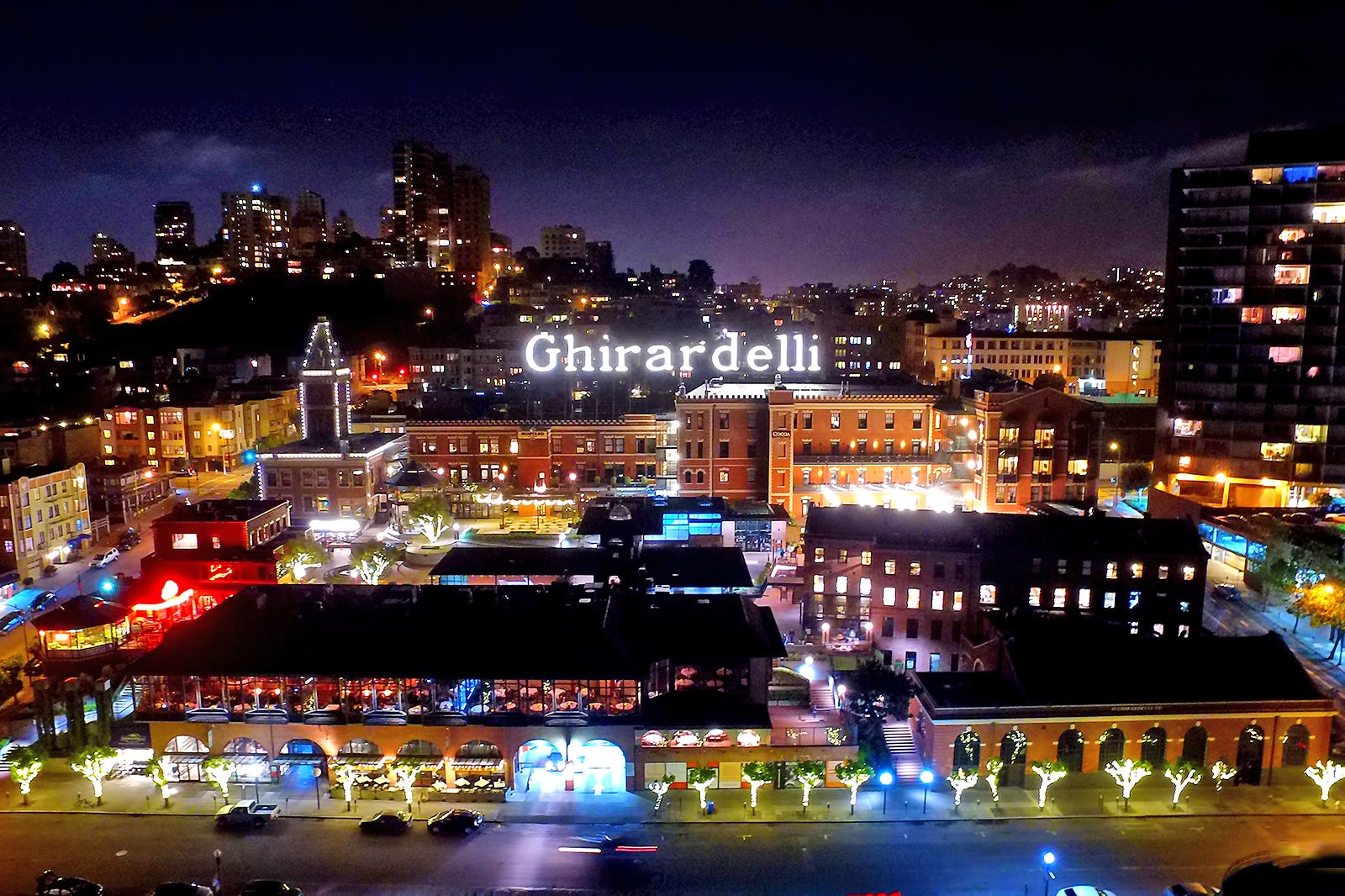 Good to know when visiting the Ghirardelli Chocolate Marketplace
Ghirardelli Chocolate Marketplace is home to multiple chocolate shops, restaurants, and bars you can visit during your trip. You can also shop at the famous Elizabeth W, where you can get a rich assortment of bath, body, and home products. McCormick & Kuleto is a seafood restaurant where you can enjoy fine dining for dinner after sightseeing.
Street parking can be difficult to find near the attraction; so it is better to use Ghirardelli Square's garage for its convenience, safety, and proximity. The garage opens at 6 am and closes at 2 am and parking spaces in the garage cost $5 an hour. Other nearby attractions include San Francisco Maritime National Historical Park, Hyde Street Pier Historic Ships, and the San Francisco Maritime Museum. After seeing some of the local attractions, enjoy fine dining options at the Buena Vista Cafe and Norman's Ice Cream and Freezes.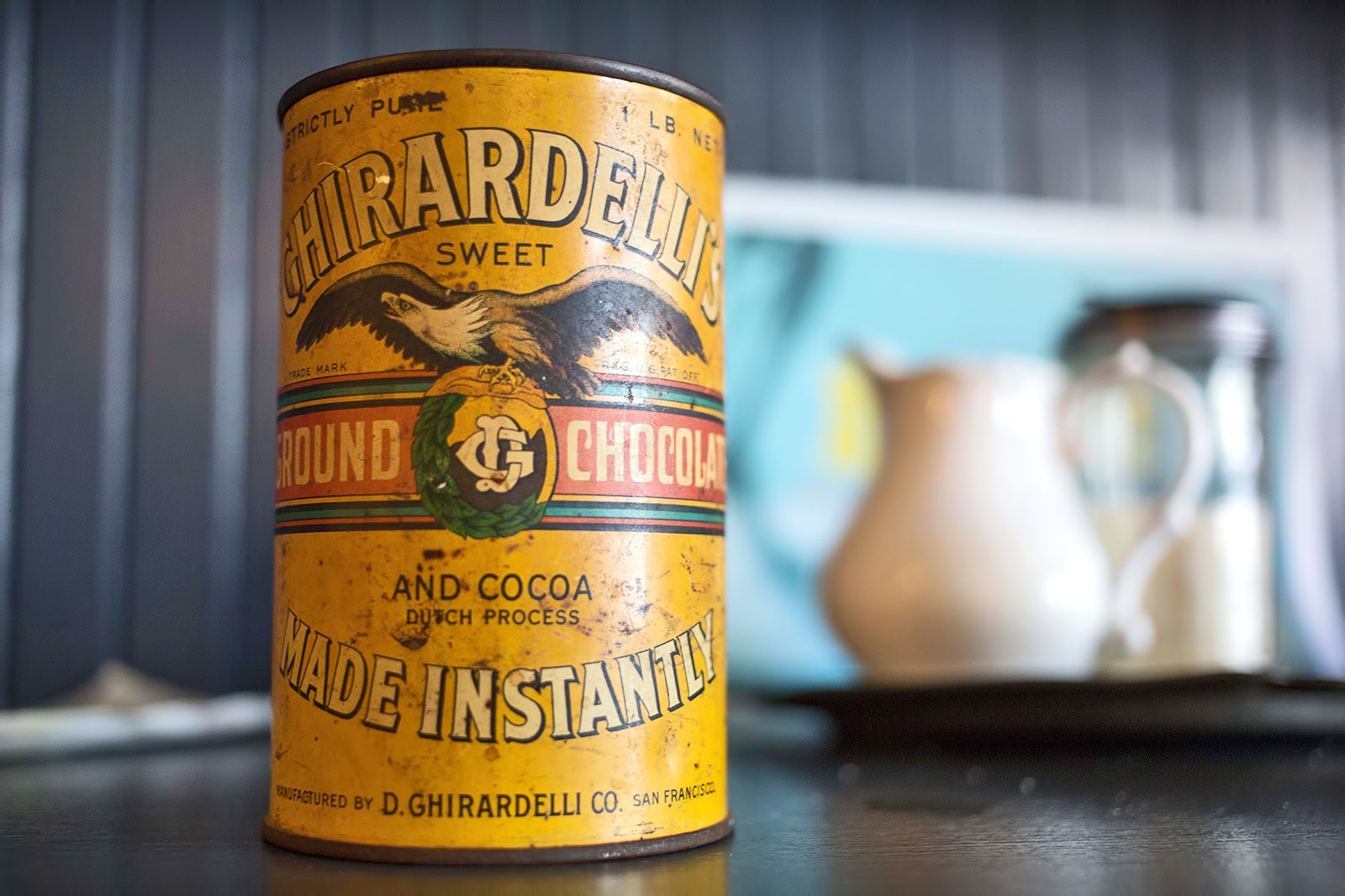 Ghirardelli Chocolate Marketplace in San Francisco
Location: 900 North Point St Ste F301, San Francisco, CA 94109, USA
Open: Monday–Thursday from noon to 8 pm, Friday–Sunday from 11.30 am to 8.30 pm
Phone: +1 415-474-3938
Why book with Hotels.com?