The TCL Chinese Theatre is a renowned icon of old Hollywood glamour and continues to be a popular tourist spot and film palace for visitors globally. It is still home to film premieres, imprint ceremonies, and film festivals. In 2013, Chinese manufacturer TCL Technology bought the naming rights, hence the theater's title. This partnership has led to theatre refurbishments, new technology, and new tools to enrich visitors' experiences even more than before.
The TCL Chinese Theatre has been a red-carpet staple since 1927. It's home to the Forecourt of the Stars—the famous garden of cemented handprints of major celebrities from the 1920s to today. Visitors can also check out the theater's IMAX auditorium, which features modern IMAX Laser projection.
TCL Chinese Theatre in Los Angeles - one of the highlights of 9 TV and Movie Moments in Los Angeles and 10 Best Theatres in Los Angeles (Read all about Los Angeles here)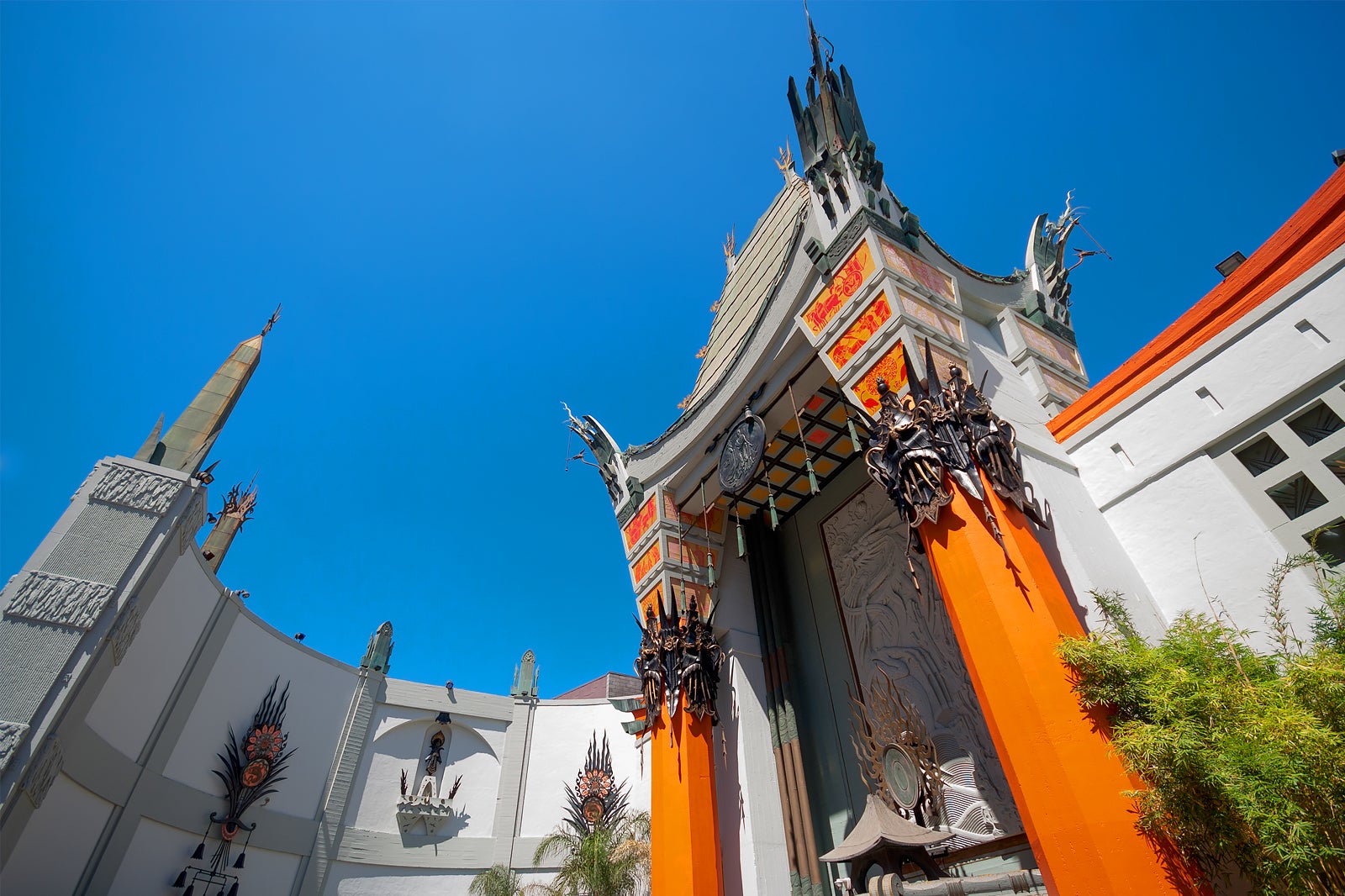 Highlights of the TCL Chinese Theatre
If you want the full experience, sign up for one of the TCL Chinese Theatre tours to learn all the ins and outs of the theater's rich history. Tour guides lead visitors through the space with tales of Hollywood premieres, imprint ceremonies, and their favourite celebrities' visits to the Forecourt of the Stars. The tour usually takes about 30 minutes. Call the theatre to purchase tickets, or you can visit their website to book tours in advance.
To catch a show at the theatre, check for listings and times online. Also, make sure to explore their IMAX and MX4D Motion EFX films for a fully immersive cinema experience. With all kinds of special effects, MX4D allows guests to feel the action just as characters in the film do.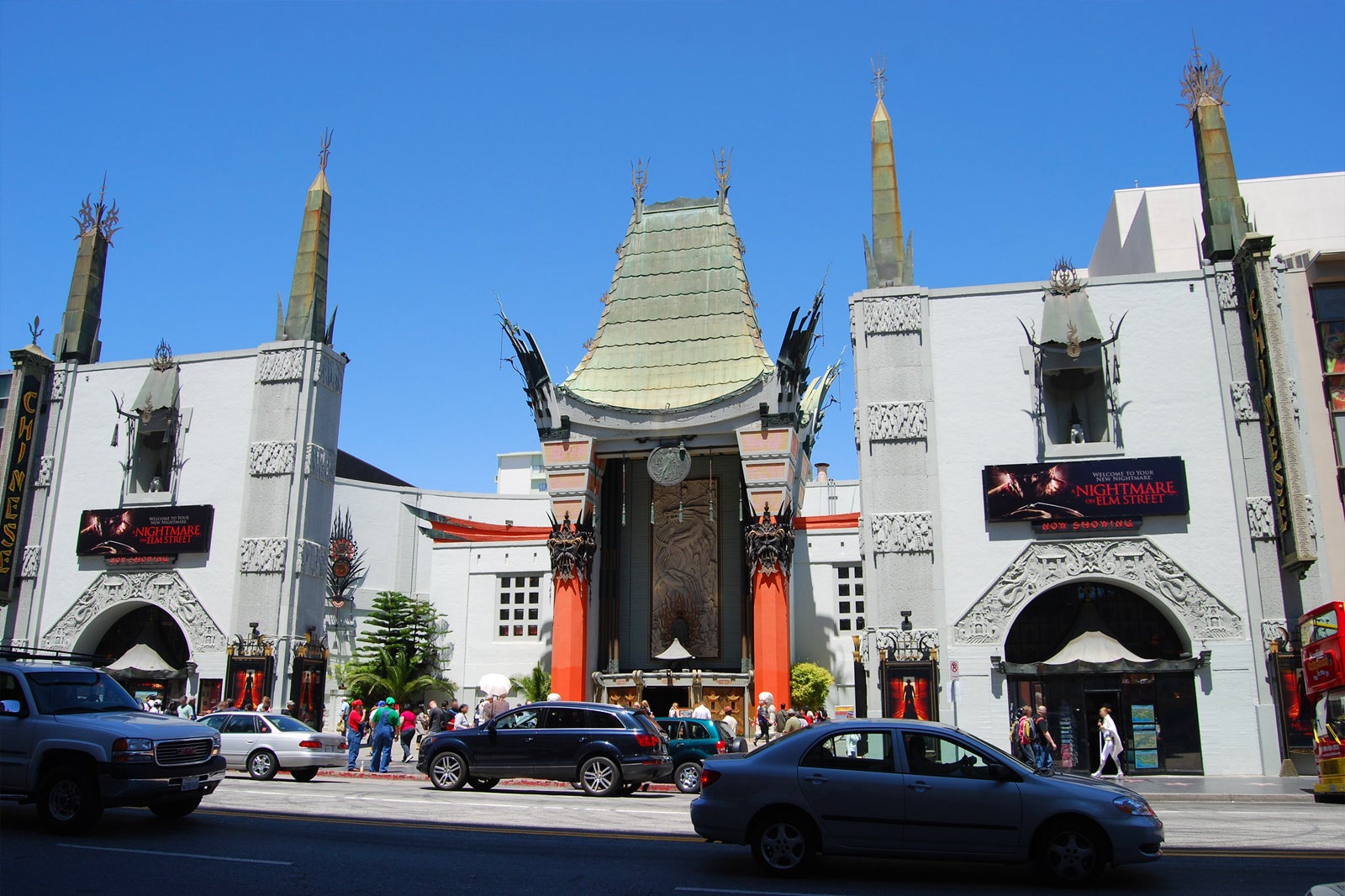 History of the TCL Chinese Theatre
The TCL Chinese Theatre, then known as Grauman's Chinese Theatre, opened on May 18, 1927, with an experience to remember. Apparently, while thousands of fans waited along Hollywood Boulevard, a riot of sorts broke out as fans grappled to see their favourite stars in the flesh. That night, a film titled "The King of Kings" by Cecil B. DeMille premiered, accompanied by a Wurlitzer organ and 65-piece orchestra to perform music for the prologue.
Sid Grauman, the theater's namesake, had previously built the Million Dollar Theatre in city centre Los Angeles and the Egyptian Theatre in Hollywood, but he would stop at nothing to complete the Chinese Theatre, his real dream. The US government had to approve the numerous imports to furnish and decorate the theatre, such as temple bells, pagodas, and the stone Heaven Dogs.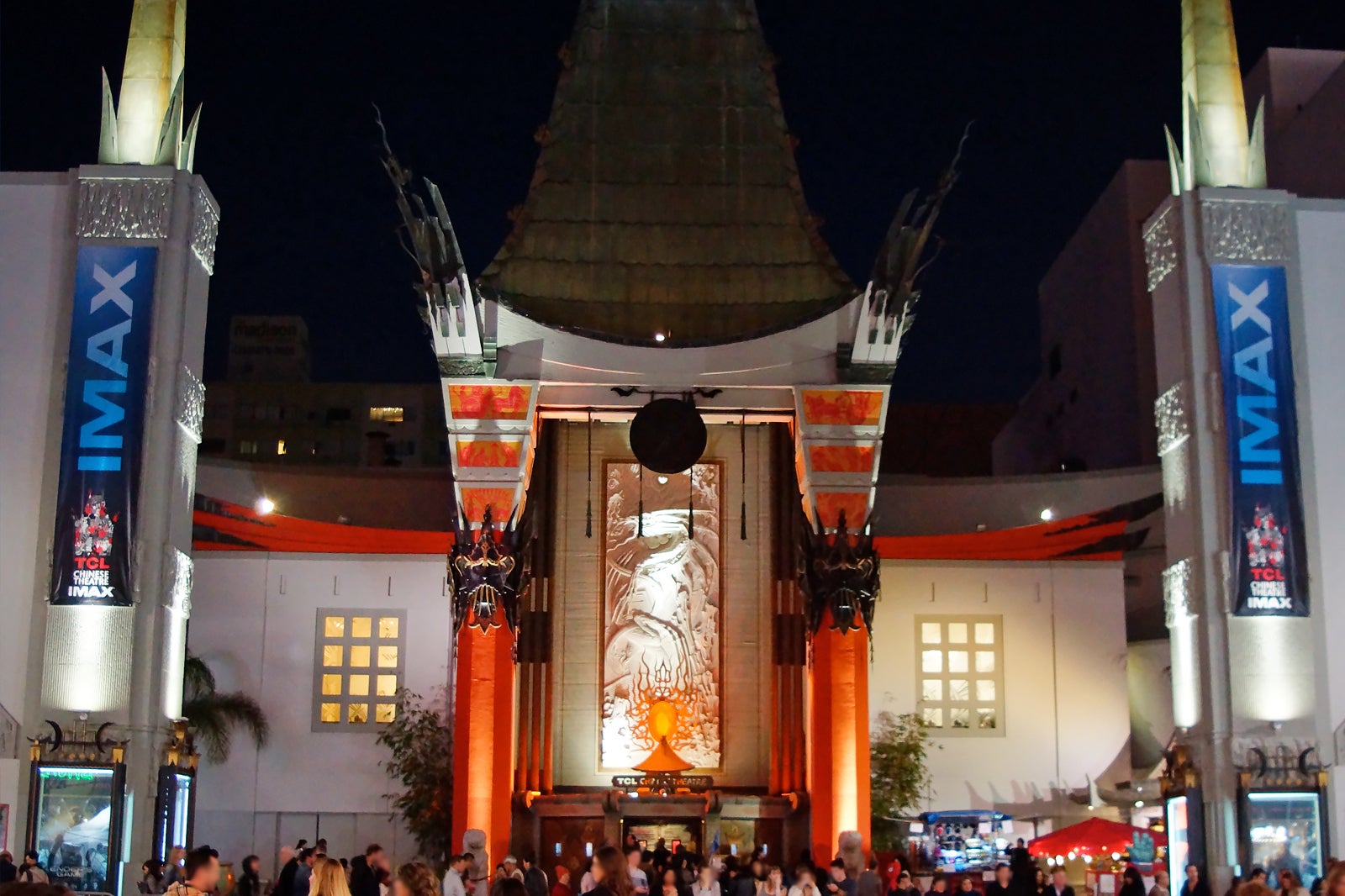 Good to know when visiting the TCL Chinese Theatre
If you'd like to make a day trip of your visit to the TCL Chinese Theatre, there's plenty to see and do nearby. The Hollywood Museum is only a 4-minute walk away and features 4 floors of Hollywood memorabilia with over 10,000 "Showbiz Treasures" such as costumes, props, photographs, scripts, and more. Or, you can take a stroll over to the Hollywood Wax Museum to snap pictures and learn quirky facts about your favourite celebs. The iconic Hollywood sign is also only a stone's throw away, too, so plan for a quick photo op.
For a tasty lunch, there are walkable options nearby. 25 Degrees offers highly praised American fare, as does the Public Kitchen and Bar, plus a wide variety of drinks. There's no shortage of desserts either. Make plans to stop at The French Crepe Co. or the Ghirardelli Soft drink Fountain & Chocolate Shop.
TCL Chinese Theatre in Los Angeles
Location: 6925 Hollywood Blvd, Hollywood, CA 90028, USA
Open: Hours vary per tour, show, or event
Phone: +1 323-461-3331
Why book with Hotels.com?