10 Best Things to Do in San Francisco in Winter
Catch a Classic Ballet, Go Skating, or Watch for Whales
San Francisco offers plenty to do in the winter months, from catching an iconic holiday ballet to getting on a boat to see a pod of whales at play. You can attend baseball fan events, visit homes named for cartoons, and go skating in Union Square. You can catch brilliant lighting displays with the kids, hit historic locations that are entirely decked out for the holidays, or even engage in the Asian practice of forest swimming. Check out some of the best things to do in San Francisco in winter to take advantage of the holiday spirit this year.
1
Union Square Christmas Tree Lighting
Witness 40,000 sparkling LED's spring to life on an 83-foot tree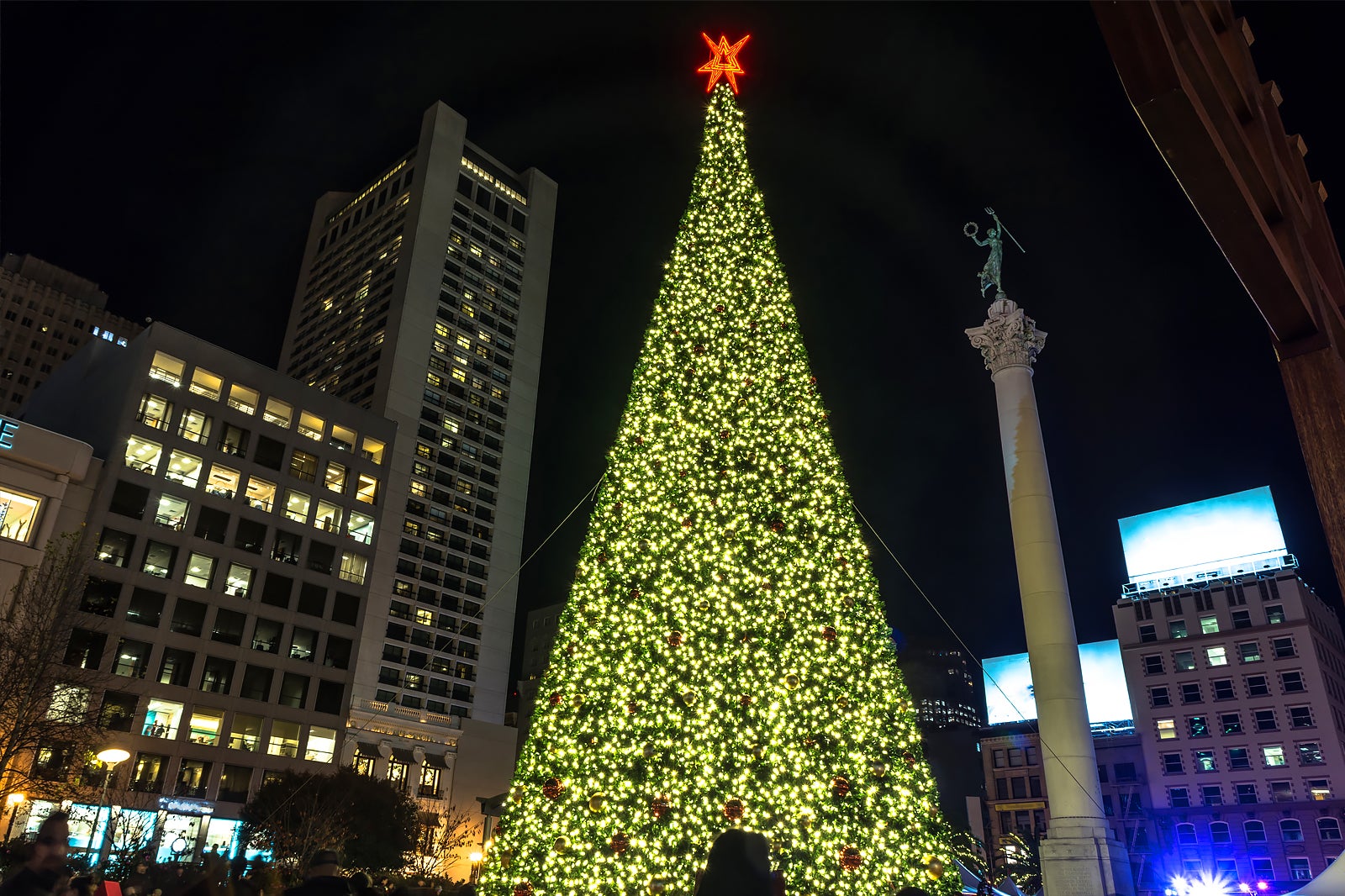 The Union Square Christmas tree lighting event kicks off the season as the 83-foot-tall tree glows to brilliant life with around 40,000 brilliant twinkling LEDs and hundreds of ornaments. The tree-lighting ceremony is the place to be in city centre San Francisco, as it's a highlight of the holiday season for locals and visitors alike. The square also lights a giant menorah every day at 5 pm during Hanukkah. Before the first night of Hanukkah and before the tree lighting ceremony, the celebration begins with live music and performances to warm up the crowd for the main event.
2
San Francisco Botanical Garden
Walk amongst the winter-blooming flowers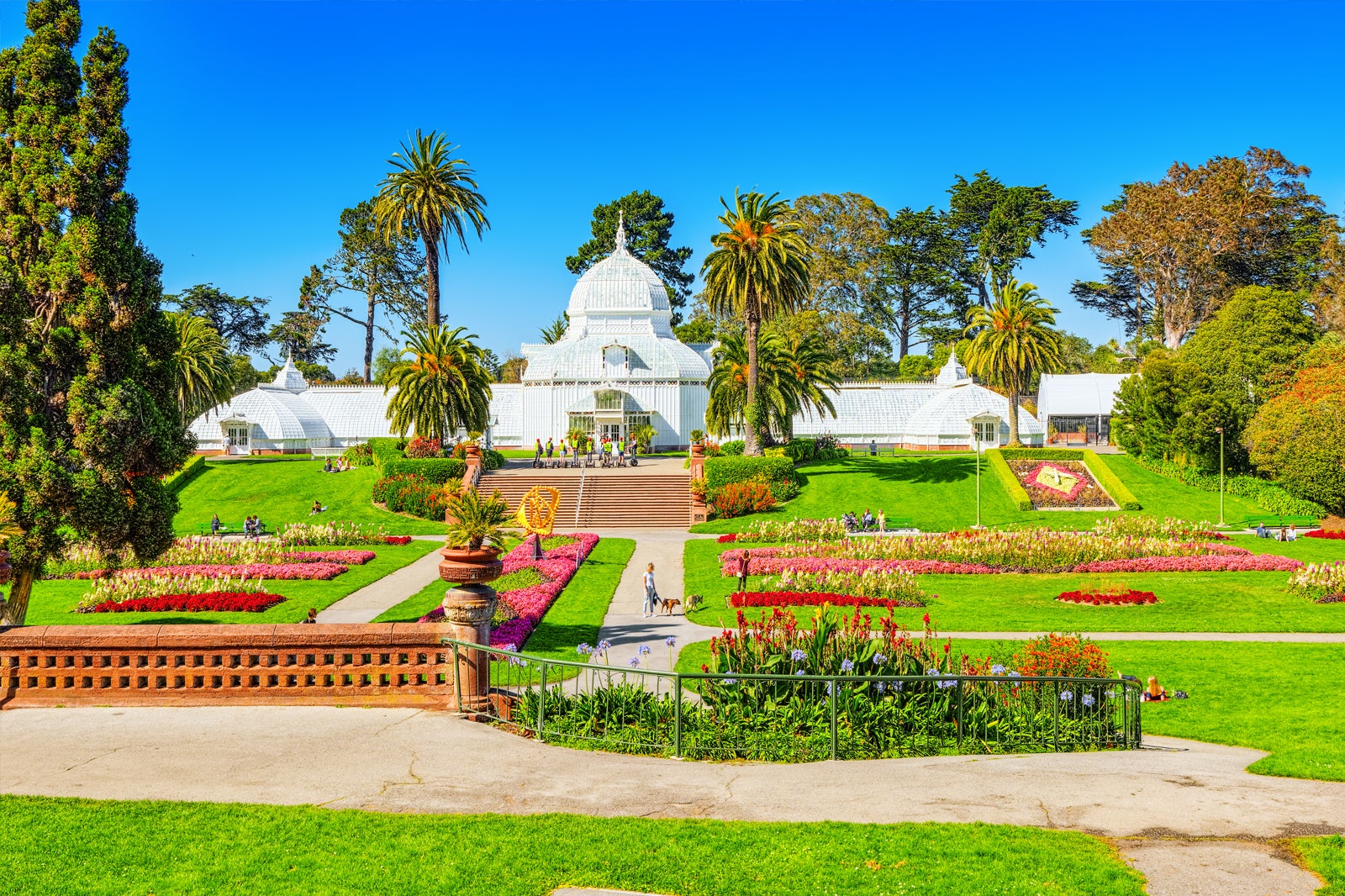 The San Francisco Botanical Garden is open 365 days a year, with many gorgeous flowers blooming and on display even in the winter. The camellia gardens in the Moon Viewing Garden burst into brilliant life in the winter, as do the magnolia trees, whose blooms are amongst the signature flowers of the garden. Succulent gardens and aloes from South Africa also bloom this time of year, and you can even see bird activity like hummingbirds. It's all ready and waiting in the heart of city centre San Francisco.
Location: 1199 9th Ave, San Francisco, CA 94122, USA
Open: Daily from 7.30 am to 4 pm
Phone: +1 415-661-1316
3
Mount Davidson
Go forest swimming or hike to the top
Couples
Photo
Budget
Adventure
Mount Davidson offers a wide range of winter activities to enjoy, including hiking and engaging in the unusual Japanese tradition of forest swimming. Forest swimming might seem like an odd activity, but it's believed to have both physical and mental health benefits, such as lowering heart rate and blood pressure, reducing stress, and making you feel generally rejuvenated. If forest swimming isn't your thing, however, Mount Davidson is also a popular hiking destination. If you climb to the top of this wooded area in the heart of the city, you can see a massive cross from the overlook. It's a striking sight and one that is very popular for photographers.
4
Watch The Nutcracker by SF Ballet
See an iconic performance of an equally iconic ballet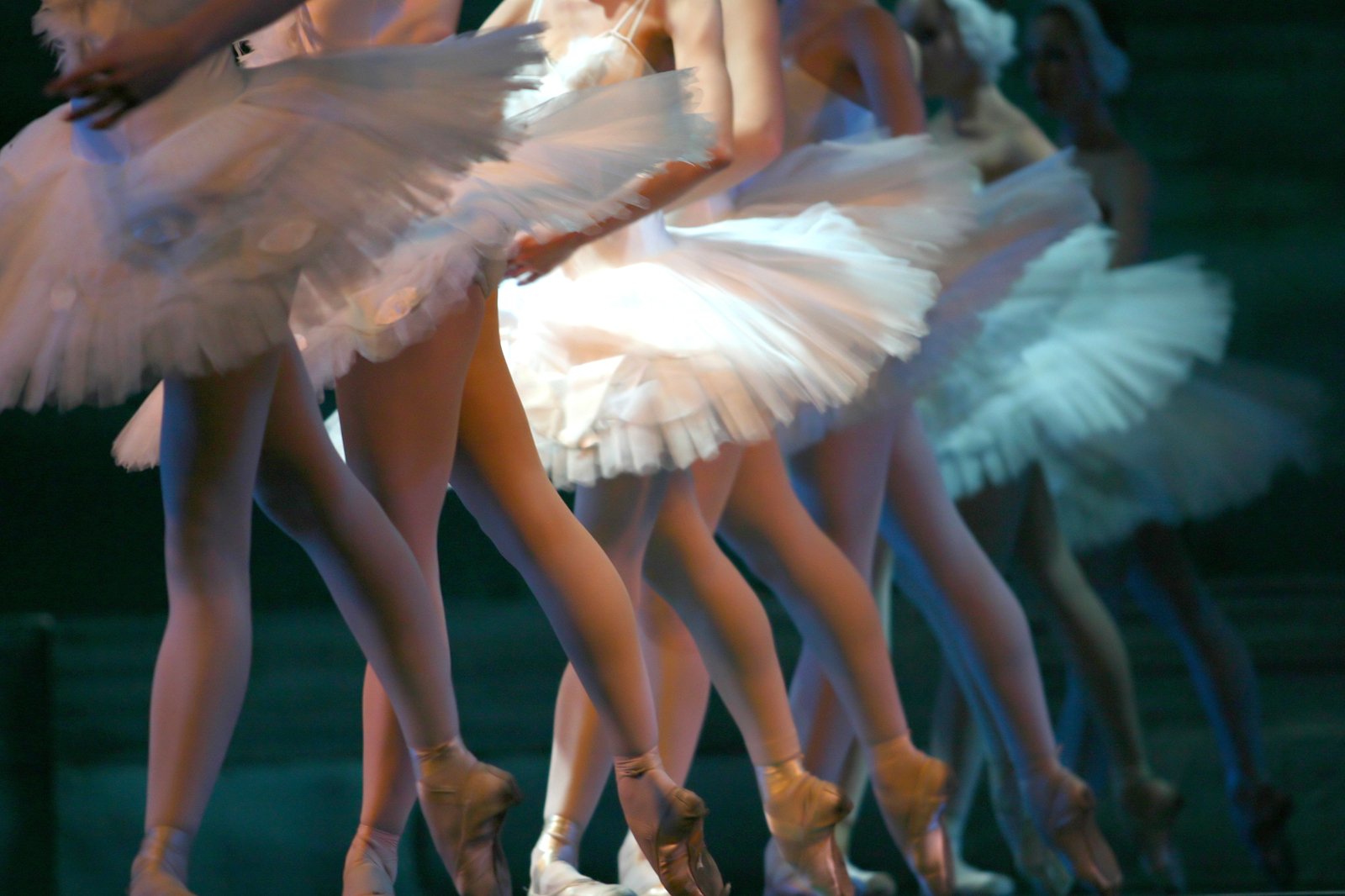 Watching "The Nutcracker" by the San Francisco Ballet's full company is a holiday tradition for San Franciscans. The SF Ballet was the first company to perform the entire ballet in America, with the first production occurring in 1944 and continuing ever since. The ballet offers stunning production values, intense and athletic performances, and elegant surroundings. The company itself has been around for longer than the show and is a nonprofit dedicated to bringing inclusion, diversity, and equity to the arts. The ballet company can be found in the heart of city centre.
Location: 455 Franklin St, San Francisco, CA 94102, USA
Open: Hours vary by performance
Phone: +1 415-865-2000
5
Whale watching tours
See a pod of humpbacks breaching the water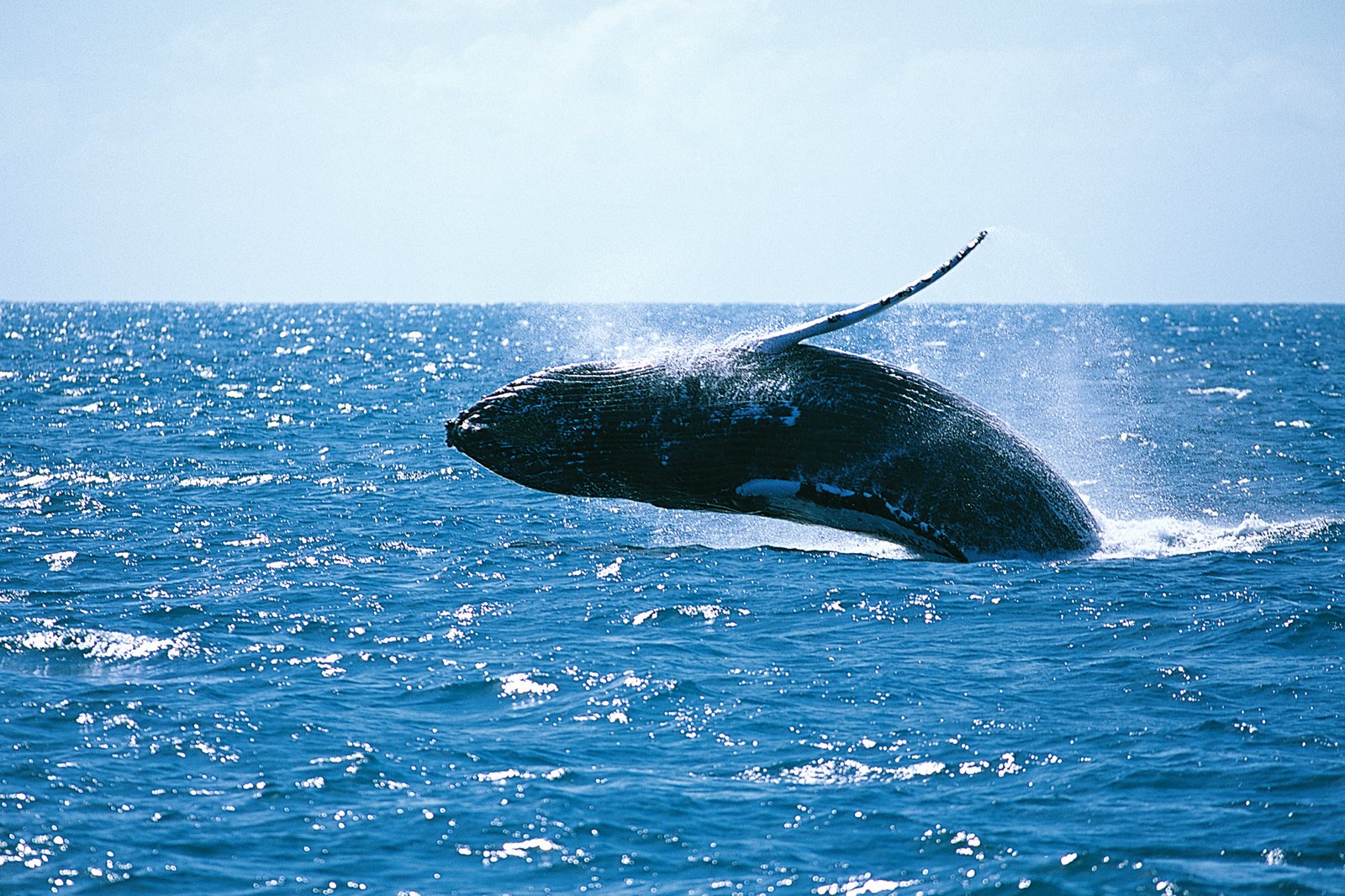 Couples
Families
Unusual
Adventure
Whale-watching tours are a constant source of fun all year long in San Francisco, and in the winter, you have a great chance to see a pod of whales. Several organisations offer these tours that can get you out on a boat in the Pacific to catch humpbacks breaching the water. These noble creatures were once an endangered species but have now come back from the brink, and thousands of people head out to see them at play every year. Just be sure in the winter to bundle up, because it can get super cold.
6
Tom and Jerry's House
See the biggest Christmas stockings you ever saw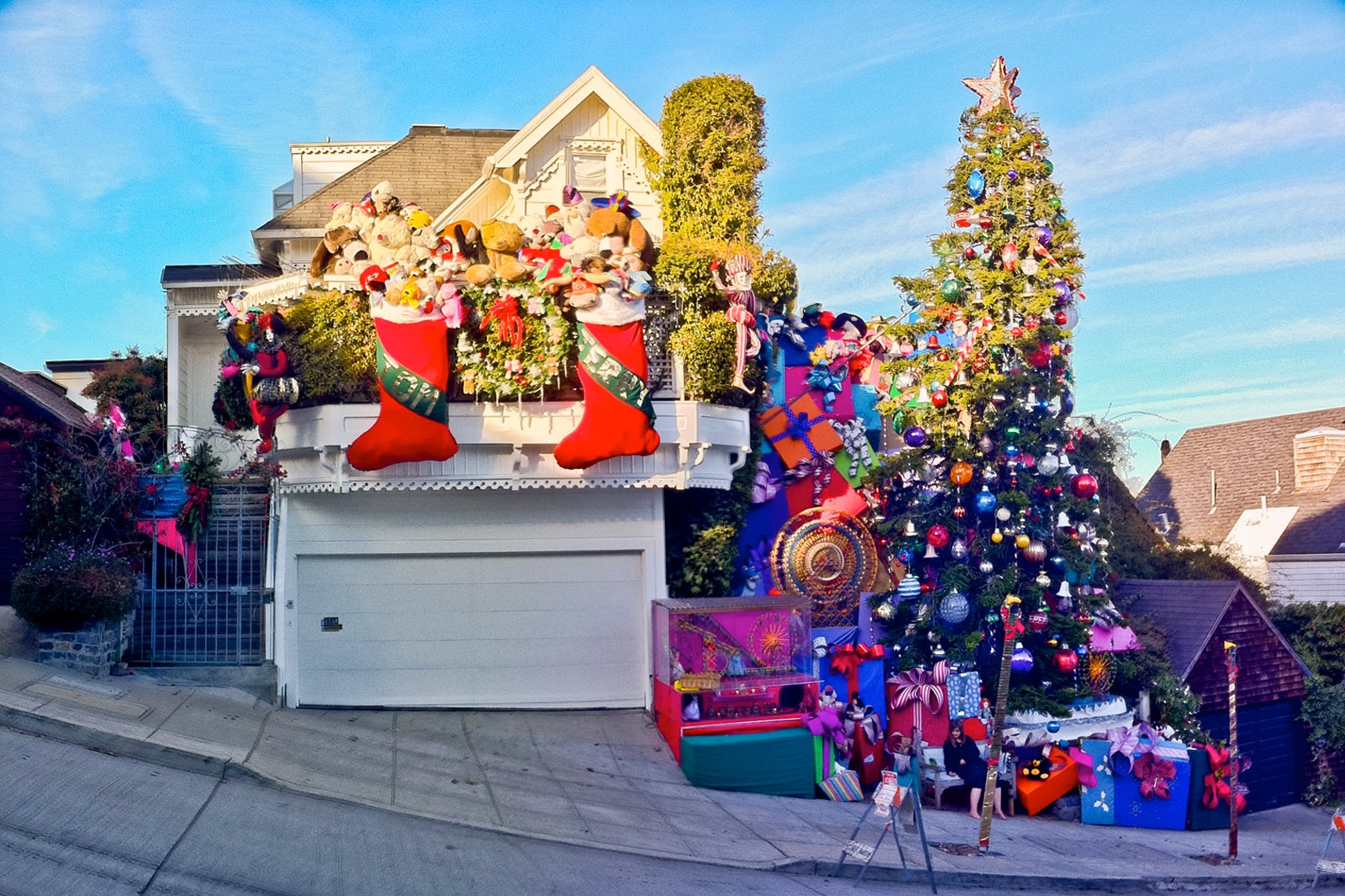 Families
Photo
Budget
Unusual
Tom and Jerry's House isn't actually an iconic cartoon location, but it is a private home in Dolores Heights that gets decked out in grand holiday fashion every year. The towering evergreen out front is covered in lights and ornaments and topped with a brilliant star. The owners' gigantic stockings are hung over the garage. Hundreds of people flock here every year as part of their holiday tradition. It's a good spot to catch a memorable photo for your Instagram profile and to kick off your expedition to travel all over the city to see other festive light shows.
Location: 3650 21st St, San Francisco, CA 94114, USA
photo by Peretz Partensky (CC BY-SA 2.0) modified
7
Haas-Lilienthal House
Step back in time to the Gilded Age of San Francisco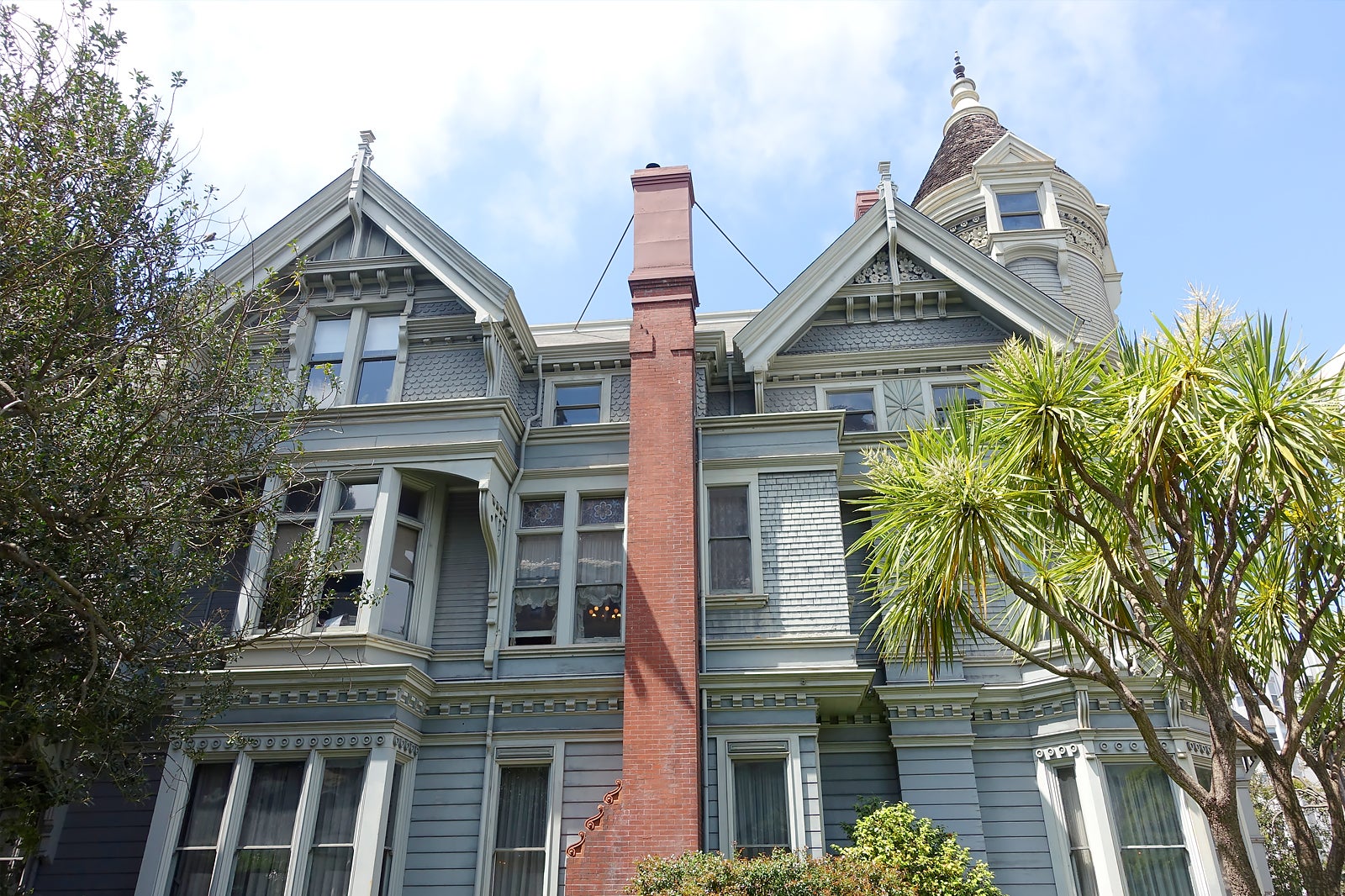 The Haas-Lilienthal House is a historic mansion dating to 1886 that allows you to step back in time to see what upper-middle-class Victorian life was like in San Fran. This was the home of the Haas family through multiple generations, and the Foundation for San Francisco's Architectural Heritage took possession in 1972. Today, the mansion is preserved exactly as it was, with authentic period furnishings and decor. You can take a docent-led tour through the house and see what life was like for the wealthy of the bygone Gilded Age. It's just 8 minutes from the centre of city centre.
Location: 2007 Franklin St, San Francisco, CA 94109, USA
Phone: +1 415-441-3000
8
Holiday Ice Rink In Union Square
Go skating in the shadow of an 80-foot brilliantly lit tree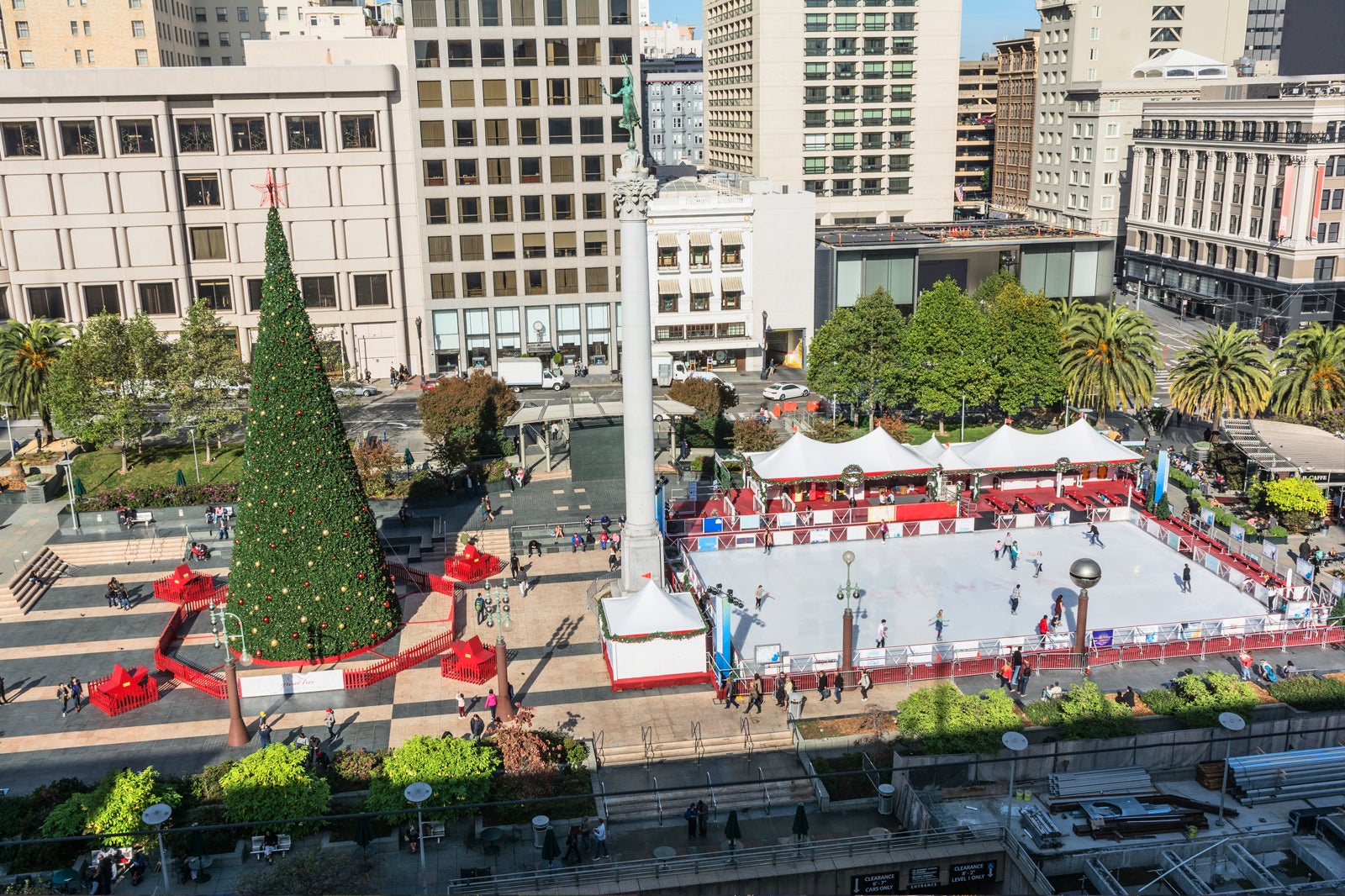 The Holiday Ice Rink in Union Square is one of the highlights of the city's public square, with plenty of shopping, skating, and fun to be had. This ice rink allows you to get out and glide around in classic holiday fashion, but it's also close to all the Union Square festivities. Just steps away from the ice rink, you'll find holiday shopping, fine and casual dining, brilliant and cheerful decorations, the Union Square Christmas Tree towering 80-plus feet into the air, and the holiday menorah that is lit every day during Hanukkah.
Location: 333 Post St, San Francisco, CA 94102, USA
9
Giants KNBR FanFest
Meet your favourite Giants players and play catch on their field
The Giants KNBR FanFest is an annual ritual and tradition for San Franciscans, offering a chance to meet players, get autographs, and even get on the field. The purpose of the event is to celebrate the upcoming baseball season, and fans can get signed merchandise and play catch on the Giants' baseball diamond. The event takes place late in the winter season, in February. It's a signal to the city that the winter is coming to a close and spring is right around the corner. It's held in Oracle Park in SoMA, just south of the Bay Bridge.
Location: 24 Willie Mays Plaza, San Francisco, CA 94107, USA
Open: Hours vary seasonally
Phone: +1 415-972-2000
10
Tompkins Stairway Garden
Climb an iconic set of rainbow-checkered stairs
The Tompkins Stairway Garden is a local landmark that offers a bright and colourful set of city stairs surrounded by tended greenery and flowers. This location was once just a litter-covered hillside until locals got together and spent 3 years restoring the entire hill. They planted flowers and painted the stairs, and the Tompkins Stairway Garden is now a source of light and joy in the heart of city centre San Francisco. The stairs are cared for by volunteer citizens to this day and are a point of pride for the area. It's not surprising that they have become an Instagram hot spot.
Location: 200 Putnam St, San Francisco, CA 94110, USA
Open: 24/7
Back to top