Venice Beach Boardwalk in Los Angeles
Los Angeles' Most Famous Beachfront Neighbourhood
The Venice Beach Boardwalk is one of the top tourist destinations in Los Angeles. Part of the Ocean Front Walk, it's a long stretch of concrete paths hugging the beaches along the Pacific Ocean. But the surf and sand aren't the crowd-puller here. Instead, it's the vibrant beachside sidewalks, loaded with delightful characters. As a cultural mecca, people-watching here is incomparable to anywhere else in LA.
Along the Venice Beach Boardwalk, you'll find fortune tellers, eccentric artists, chanting Hare Krishnas, and bikini-clad roller-skaters. You'll also come across everyone else wanting to experience Southern California's eclectic beachfront neighbourhood. Skateboarding fans can watch pros at the skatepark, while surf enthusiasts can hang ten near the pier. Head to one of the bars or restaurants and watch the boardwalk action unfold in front of you. The boardwalk is also a great place to shop for gifts and souvenirs.
Venice Beach Boardwalk in Los Angeles - one of the highlights of 10 Free Things to Do in Los Angeles and 10 Best Things to Do for Couples in Los Angeles (Read all about Los Angeles here)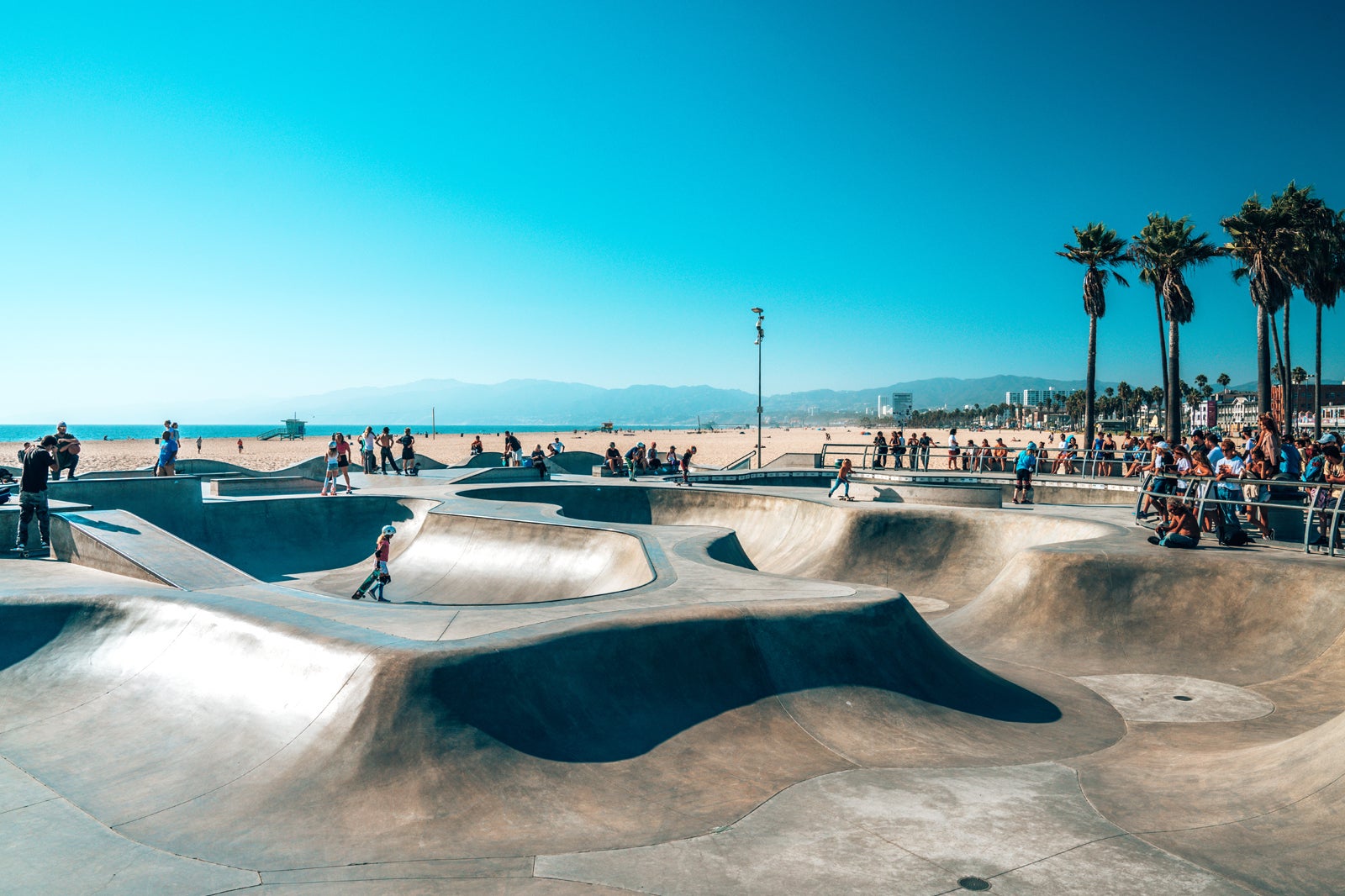 What are the highlights and features of Venice Beach Boardwalk?
The Venice Beach Boardwalk is worth a visit if only you want to experience the crazy, classic beach and surf vibes unique to this area. An excellent place to start is at the colourful landmark "Venice" sign on Windward Avenue. Most of the main attractions lie within 2 blocks north and south of this point.
Stroll to the Venice Beach Skatepark, with sunken concrete pools, and take in the bustling scene. Nearby is the infamous open-air Muscle Beach Gym where Arnold Schwarzenegger launched his career. You can join curious onlookers gawking at the chiselled bodybuilders pumping iron.
Up and down the boardwalk, you can find hundreds of street performers. From jugglers and mimes to break-dancers and contortionists, each one is wackier than the next. Urban art abounds throughout Venice Beach, too. But you'll find many of the most remarkable murals around the beach, including the Venice Art Walls. The art walls are a legendary Los Angeles graffiti landmark.
Where to shop at Venice Beach Boardwalk?
The Venice Beach Boardwalk is a great destination if you're planning to shop for souvenirs. Lining the boardwalk are dozens of shops and street vendors selling every type of memorabilia under the sun – and at prices to suit all pockets. From original artworks to vintage clothing, you're spoilt for choice.
A few blocks east of the beach, Abbot Kinney Street is a haven for diehard boho-chic shoppers. This walkable road stretches from Venice Boulevard to Pacific Avenue and is one of the Westside's hippest neighbourhoods. You'll find boutiques selling limited-edition items, galleries and trendy restaurants and bars. On the first Friday of every month, Abbot Kinney becomes a street festival with food trucks and live music.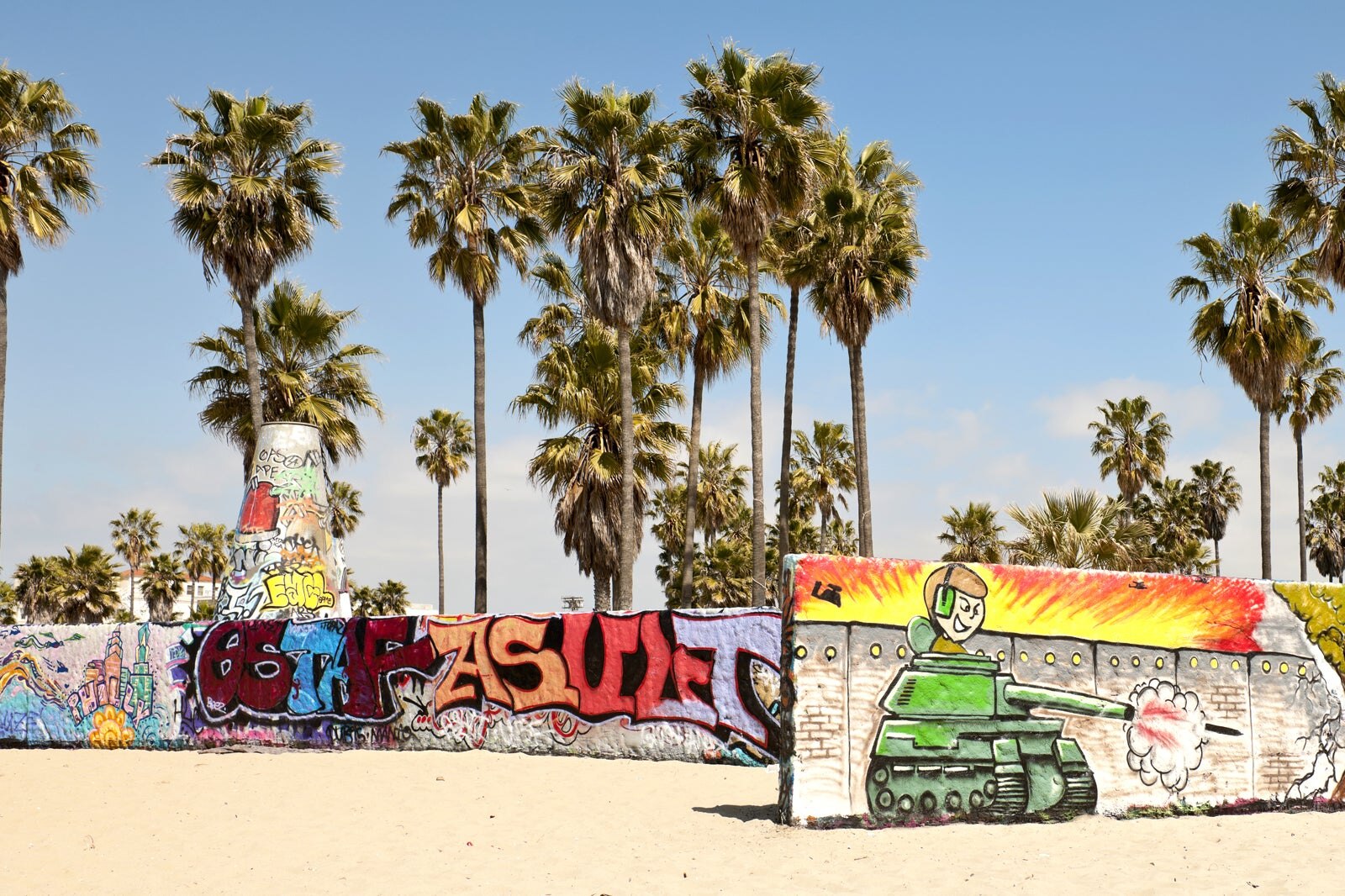 Good to know about Venice Beach Boardwalk
Plan to arrive at the Venice Beach Boardwalk mid-morning or later on weekends if you want to enjoy the crowded, lively boardwalk scene. Weekdays are much quieter. If you photograph a street artist or watch an entire show, it's polite to tip them.
To see a different side of the neighbourhood, stroll through the Venice Canal Historic District. The picturesque waterways, arched pedestrian bridges, and quaint beach houses are inspired by the canals of Venice in Italy.
Getting to Venice Beach is possible by Metro Rapid 733 from Downtown LA or Metro Bus 108. You could also take the Metro Expo Line to Santa Monica and walk about 40 minutes to Venice Beach. If coming by car, there are limited fee-based parking lots and metres. Alternatively, rent a bike and explore the 22-mile Marvin Braude Bike Trail. The path runs mostly along the beach from the Pacific Palisades to Torrance, passing through Venice.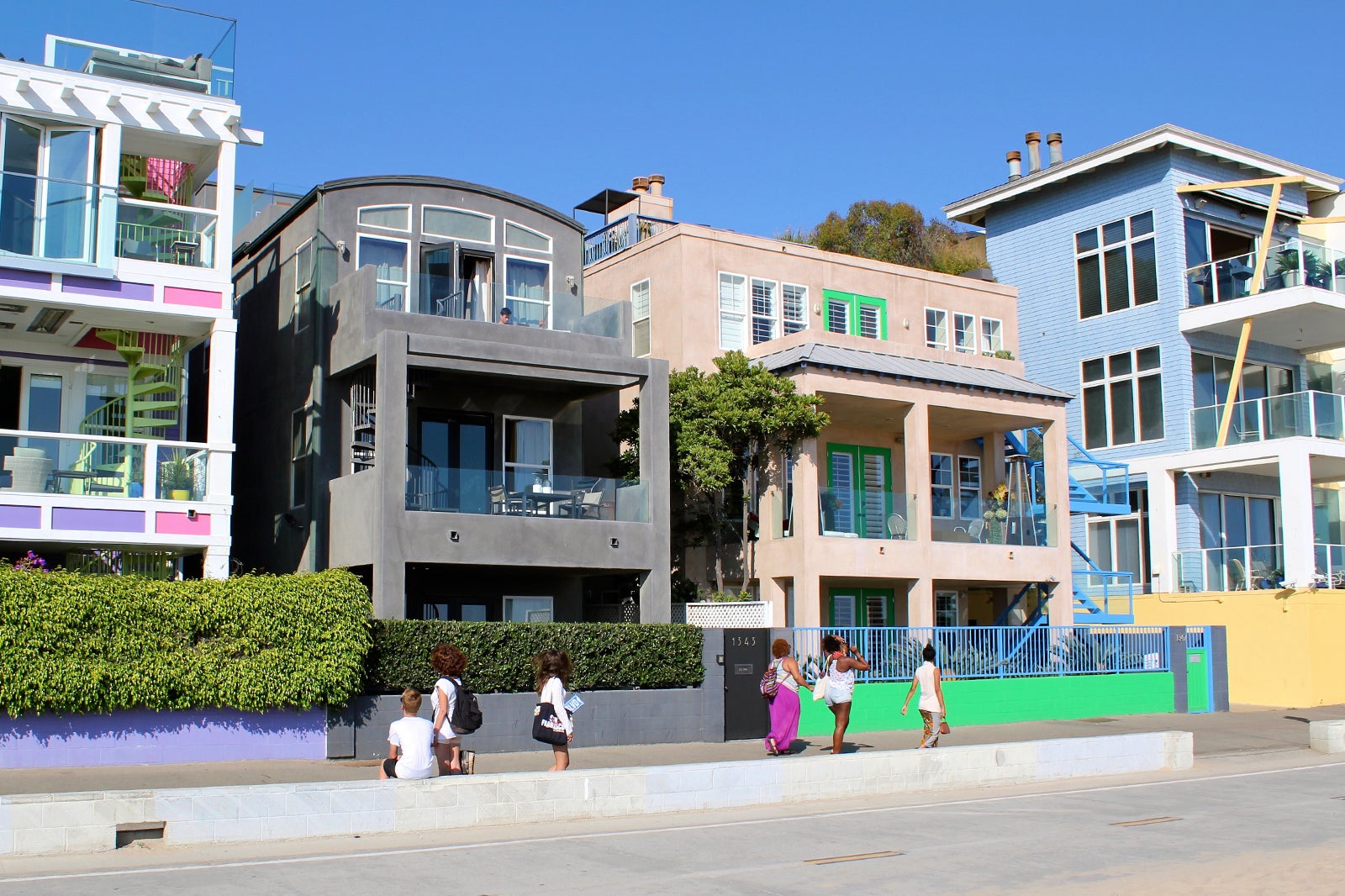 Venice Beach Boardwalk in Los Angeles
Location: 1800 Ocean Front Walk, Venice, CA 90291, USA
Why book with Hotels.com?