Waikiki Beach is the most popular sandy stretch in Honolulu and an epicentre of Hawaiian tourism. Lined by sky-high hotels and swaying palm trees, it's a quintessential Hawaiian destination. The beach is usually the first port of call for most visitors to the archipelago.
The gorgeous 2-mile stretch of white sand extends from the Sheraton to Honolulu Zoo. Its turquoise water affords gentle breaks for beginners throughout the year – learning to surf is a must-do in Waikiki. All this comes framed by the majestic backdrop of the Diamond Head volcano, which looms over the horizon.
Straddling the beach is Kalakaua, Honolulu's most energetic avenue. Everything a holidaymaker could need lies within walking distance of Waikiki Beach, while most of Honolulu's top attractions are just a quick ride away.
Waikiki Beach - one of the highlights of 8 Best Beaches in Honolulu (Read all about Honolulu here)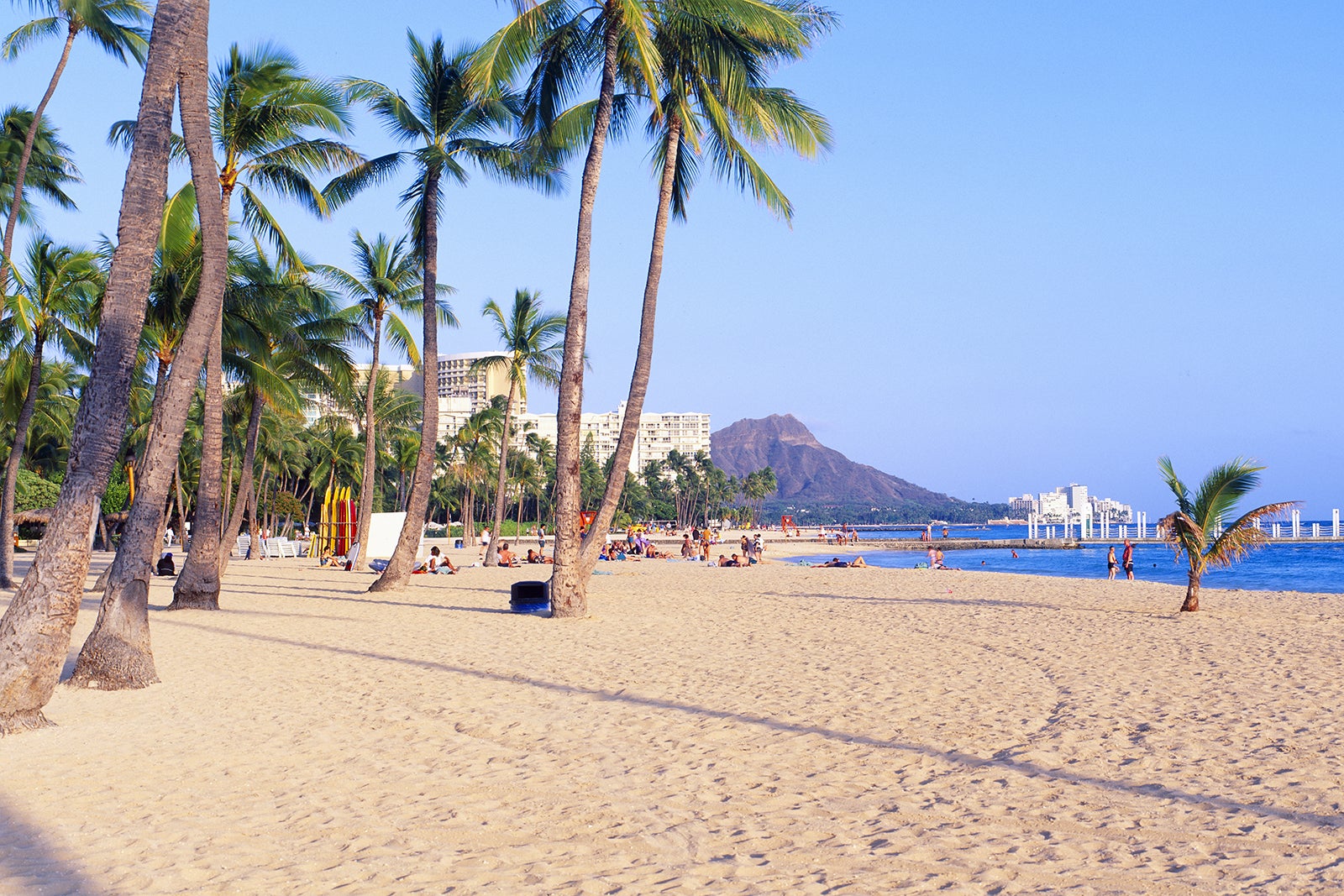 What are the highlights and features of Waikiki Beach?
Waikiki Beach is, without doubt, Hawaii's premier accommodation hotspot. Its popularity stems mostly from its world-class hotels, while budget-friendly options are a few blocks back on Kūhiō Avenue.
Retail options abound near the beach, from chic boutiques to in-vogue designer stores. Shop at Luxury Row on Kalakaua Avenue for top-tier brands – think Gucci, Chanel, and Hugo Boss – or hit the Royal Hawaiian Center to browse its 150 stores. The open-air arcades of Waikiki Beach Walk are another sought-after retail mecca.
Scores of restaurants, bars, and cafes line the sand. You won't find the best deals in Honolulu here, but the gorgeous views make beachfront dining worth the splurge, especially at sunset. Check out Hula Grill Waikiki for their famous fish tacos, then saunter down to the Beach Bar to sip Mai Tai cocktails with your toes in the sand.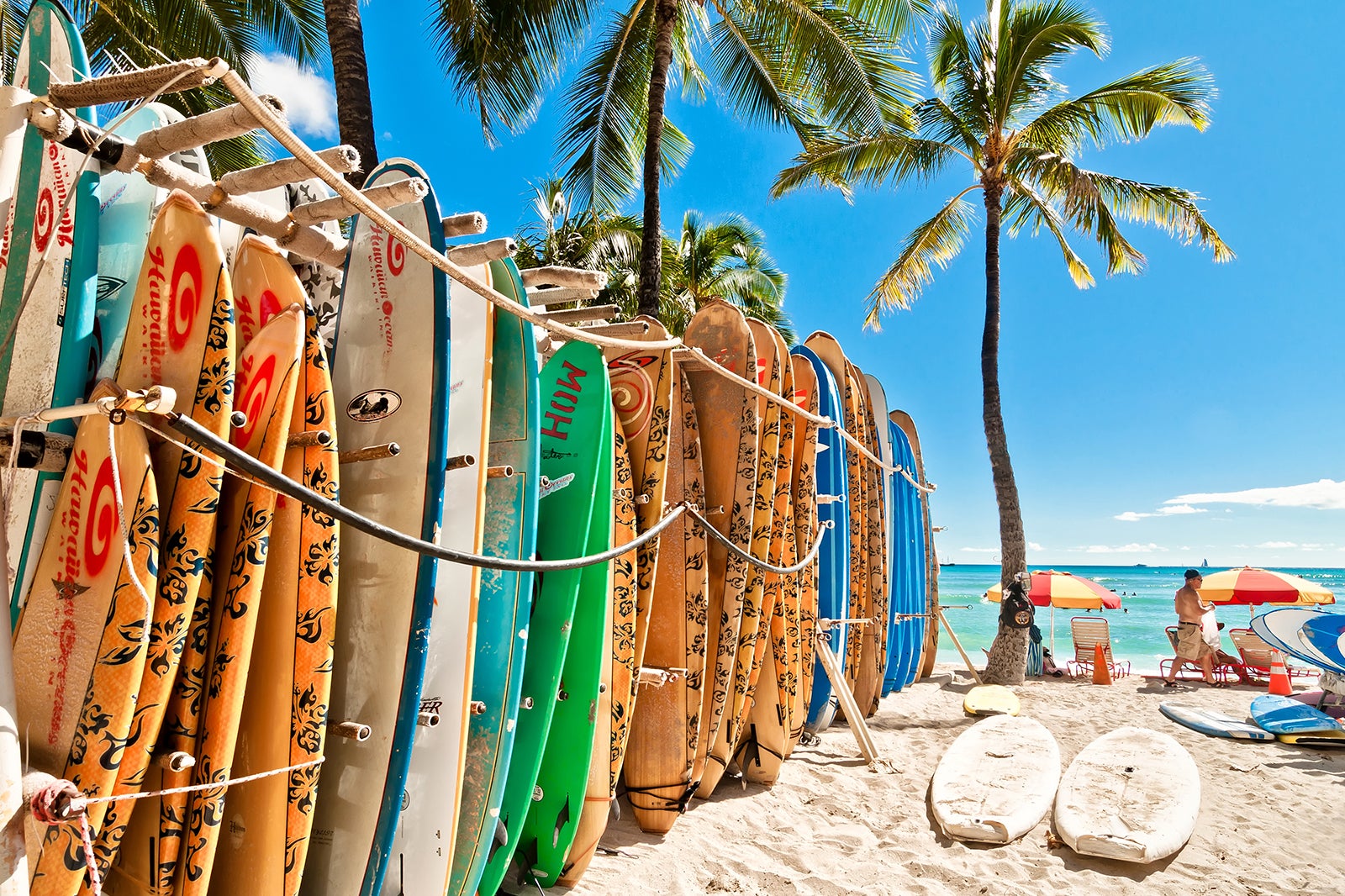 A brief history of Waikiki Beach
Waikiki, which means 'spouting waters,' has a long and proud surfing tradition. Hawaiian royals came here in the 19th century to hang ten on their longboards, and it's been a surfing mecca ever since. The boardriders' playground achieved international acclaim with its first large beachfront hotel, the Moana Surfrider, in 1901.
Shortly after, legendary Hawaiian surfer and Olympic gold medallist swimmer, Duke Kahanamoku, began teaching eager novices how to ride Waikiki waves. The legacy of the 'father of modern surfing' continues today through Waikiki's countless surf and canoeing schools.
Pop by the bronze Duke Kahanamoku Statue on the southern end to pay homage to this iconic figure. To learn more about the beach's intriguing past, you can follow the surfboard markers along the Waikiki Historic Trail.
Good to know about Waikiki Beach
Although Honolulu enjoys mostly warm sunny weather year-round, the best time to visit is between mid-April and June or from September to November. The climate is pleasant during these shoulder seasons, and thinner crowds help keep airfares and hotel rates down.
Waikiki Beach is easily walkable, but you need to take a taxi or public transport (Waikiki Trolley or TheBus) to visit attractions further afield. Self-drive holidays are popular in Hawaii, but be aware that parking on Kalakaua Avenue is rarer than the perfect wave.
Waikiki's calm rolling breaks are great for learning how to paddleboard or surf. Although generally safe, you need to give yourself plenty of space to avoid accidental collisions. The entire stretch is patrolled by lifeguards year-round, but the best spot to swim with small children is Ala Moana Beach Park, a quick trip north of Waikiki.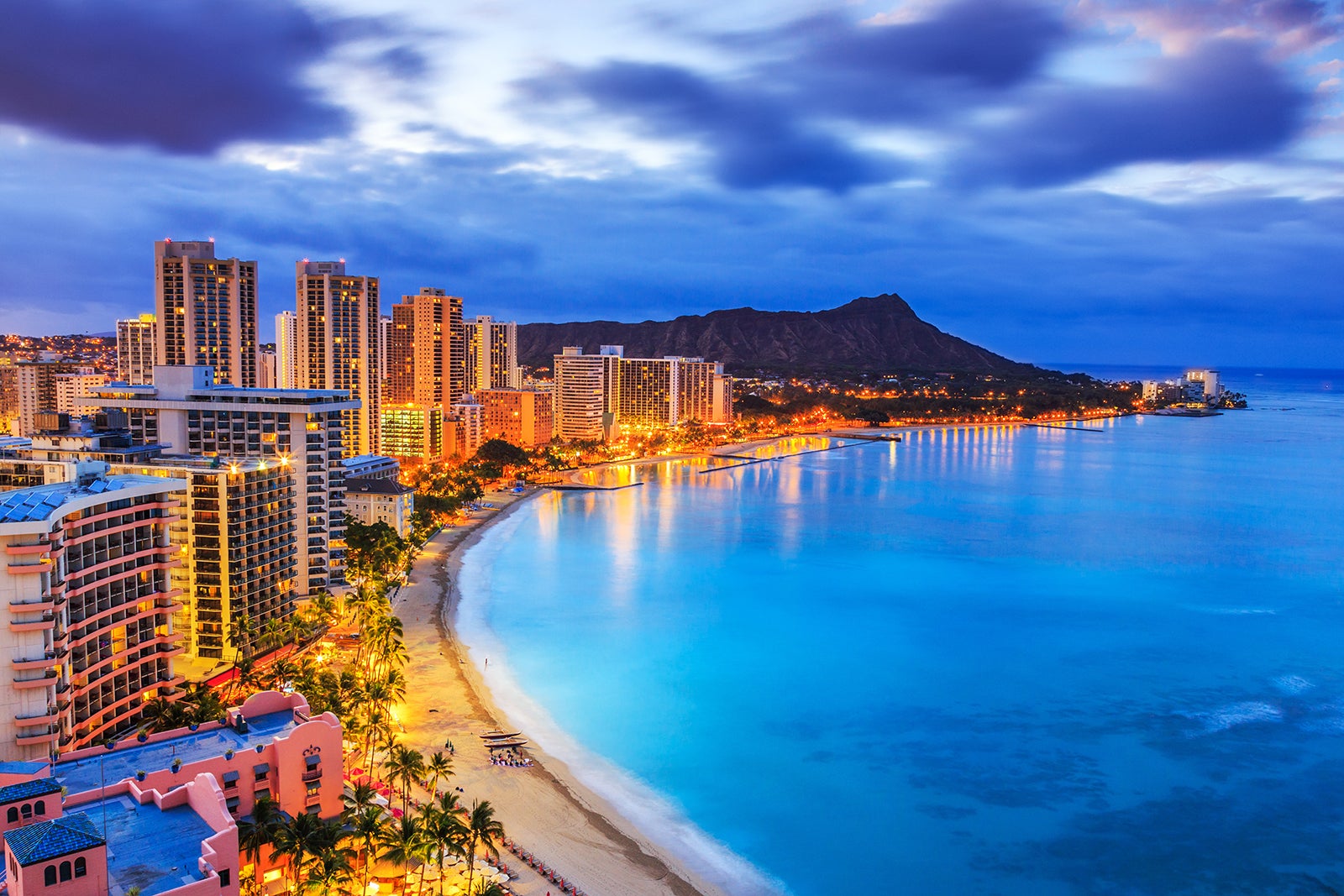 Waikiki Beach
Location: Kalakaua Ave, Honolulu, HI 96815, USA
Back to top