10 Best Places to Find Real Local Food in Busan
Where to Find the Best Food in Busan
Local food in Busan highlights the city's renowned seafood and Korea's regional delicacies. During the Korean War, refugees from different parts of the country came to Busan, resulting in a mix of international and local food culture. The city has since emerged as a popular gourmet destination in Asia.
Some of cuisines born through this blend of food cultures are pork and rice soup (dwaeji-gukbap), noodle soup (kal-guksu), and roasted sea eels. Rather than traditional table d'hôte menus, fusion cuisine with a variety of single dishes thrives in Busan, much to the delight of hungry tourists. Get ready for a culinary trip with our guide to the best places to find real local food in Busan.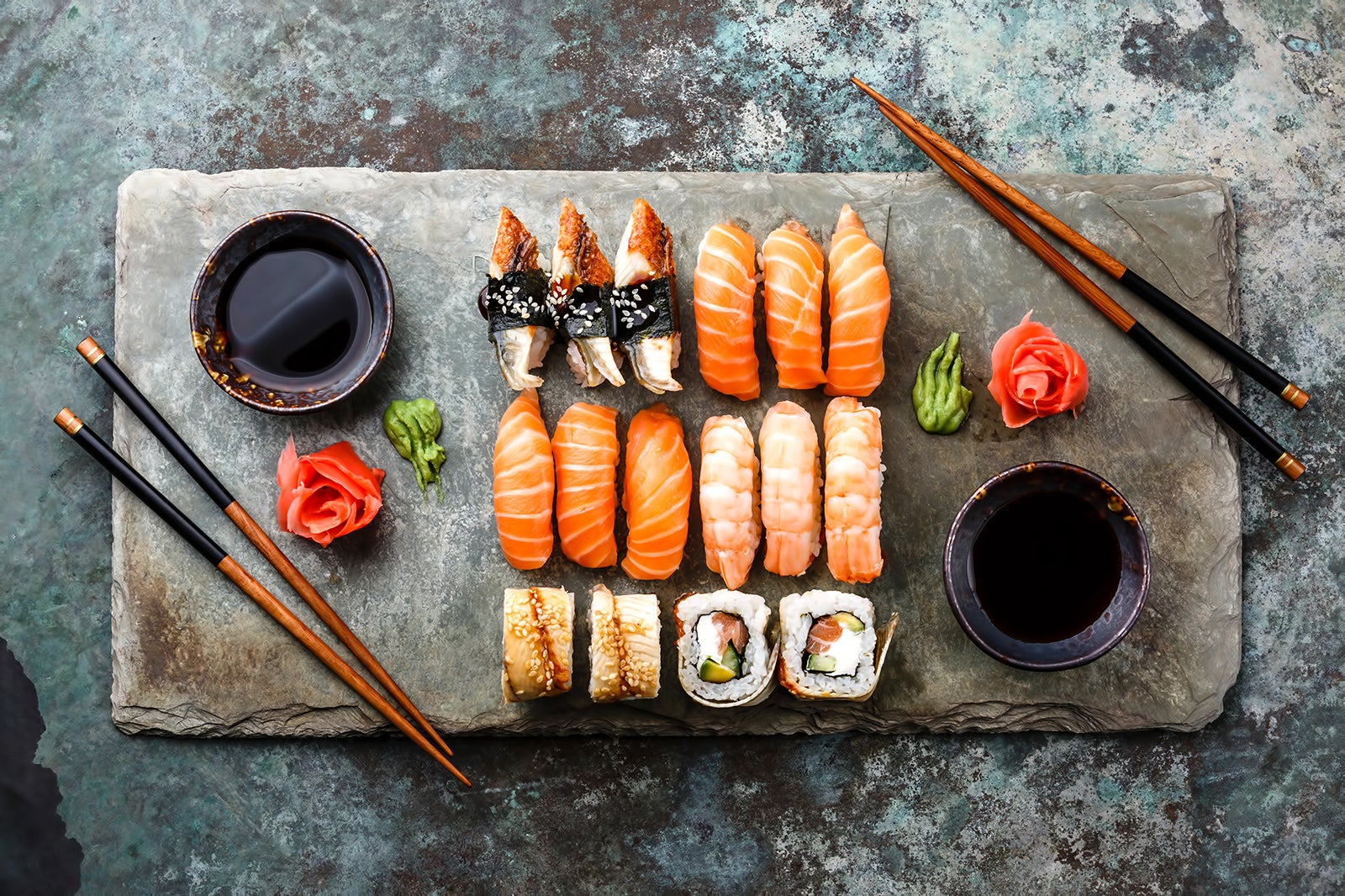 Raw fish restaurants abound on the Minrak-dong Raw Fish Town, located at the northern end of Gwangalli Beach. The 10-storey building has a fresh market on the ground floor and around 300 restaurants on the upper levels, many of which have a nice view of the sea. Pick up some raw fish at the market and enjoy it at the onsite restaurants.
Tourists often come to Minrak-dong Raw Fish Town during summer. You can take a stroll at Gwangalli Beach's waterfront park after dinner. Many people often purchase their choice of seafood from the market and enjoy it at the park.
Location: 1 Millaksubyeon-ro, Suyeong-gu, Busan, South Korea
Open: Daily from 10 am to 1 am
Phone: +82-51-754-4564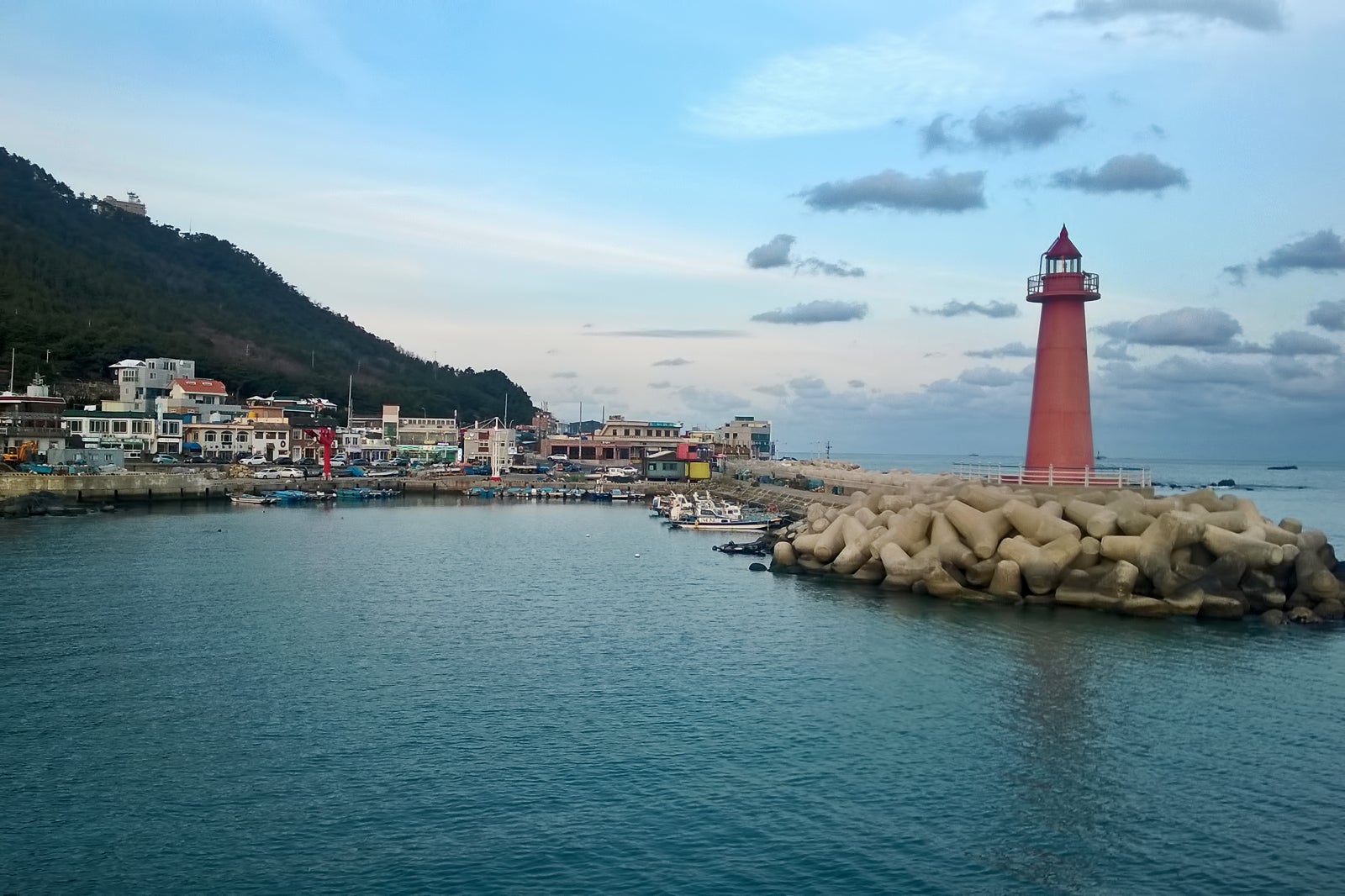 Cheongsapo is a small port area between Haeundae and Songjeong in Busan. Walk along Dalmajigil Hill in the direction of Songjeong, and you'll find this quiet village on your right. Warm and cold currents merge at this port, so it supports an abundance of robust fish that can be consumed raw. Besides raw fish, a must-try at Cheongsapo Seafood Town is spicy grilled eel. Restaurants also serve a wide selection of grilled shellfish.
After enjoying a filling meal in Cheongsapo, you can visit several landmarks like the lighthouse, Daritdol Observatory and Cheongsapo Daritdol Skywalk.
Location: Cheongsapo Harbor, Jung 1-dong, Haeundae-gu, Busan, South Korea
3
Haeundae pufferfish stew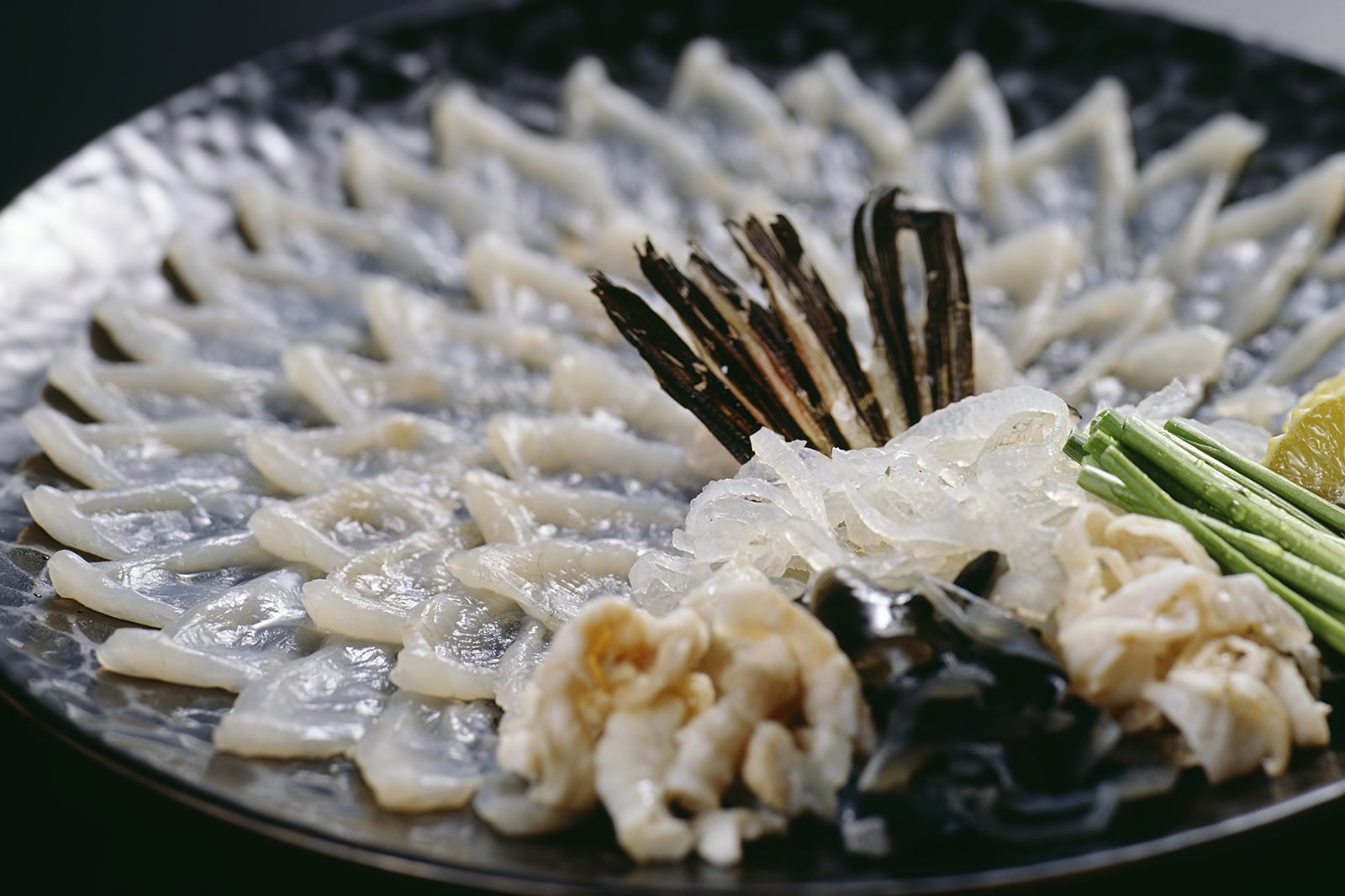 Pufferfish stew (bok guk), made with fresh fish, bean sprouts and water parsley, is a local favourite for alleviating hangovers. There are many bok guk restaurants near Haeundae, especially around the hot spring area. You can enjoy a variety of pufferfish dishes, such as spicy pufferfish stew (bok-maeun-tang), pufferfish stew (bok-jiri), sliced raw pufferfish (bogeo hoe), spicy raw pufferfish salad (hoe-muchim), and grilled pufferfish (bogeo gui).
4
Gwangalli Bulgogi Street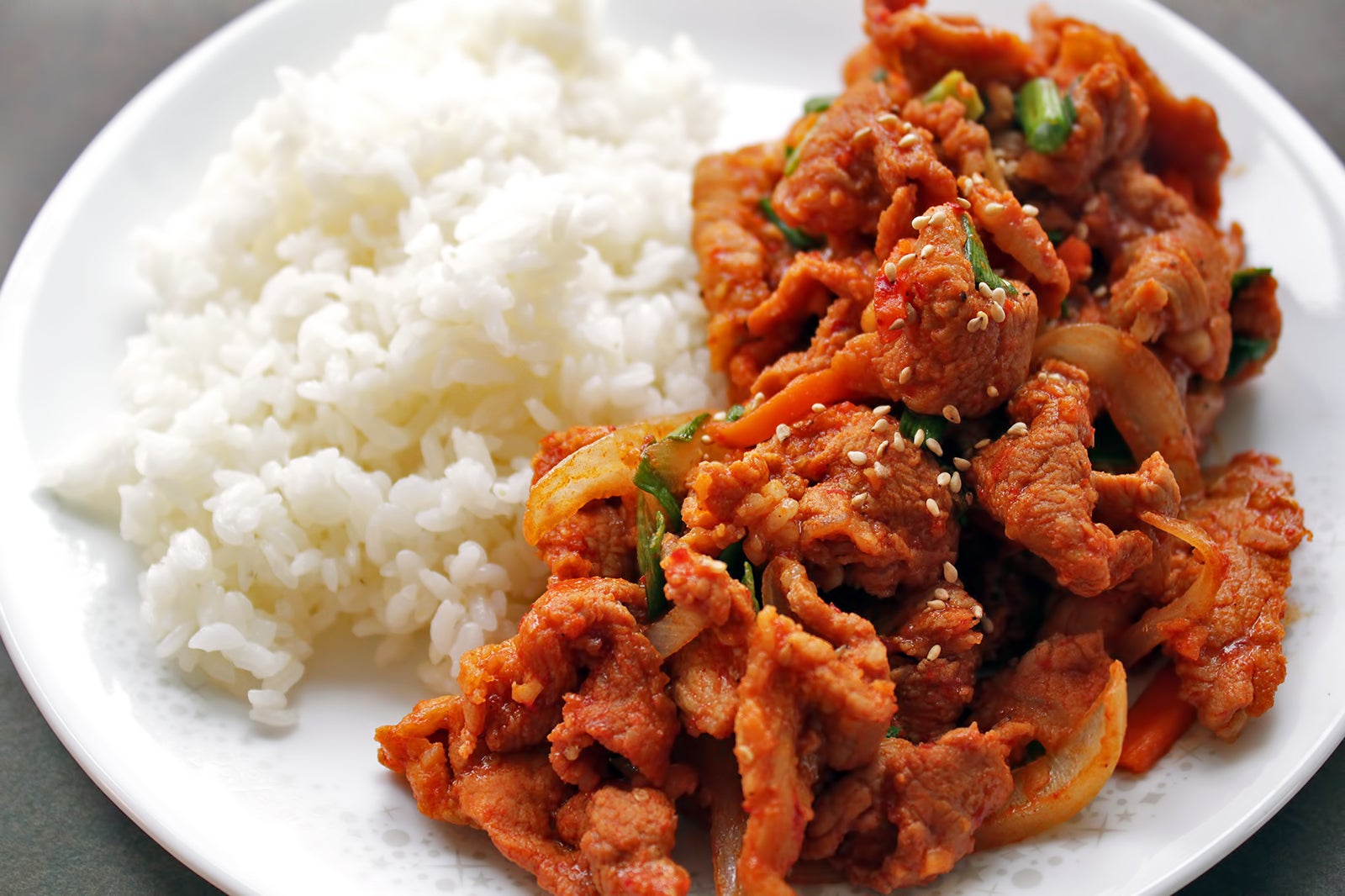 Gwangalli Bulgogi Street is an old restaurant alley located near Gwangalli Beach. Most of the restaurants here specialise in bulgogi (Korean BBQ) and grilled fish (saengseon gui). Eonyang-style bulgogi, which is made with marinated beef pounded into patties, is a popular choice for locals and travellers.
Fresh meat is delivered daily from Gupo, Yangsan, and Gimhae. Seasoned with soy sauce and garlic, thin slices of beef or pork are grilled over a charcoal fire, giving it a smoky flavour. Korean-style side dishes like kimchi stew (kimchi-jjigae), white kimchi (baek-kimchi), and Korean cold noodles (naengmyeon) as are also must-tries at Gwangalli Bulgogi Street.
Location: Namcheonbada-ro 33, Suyeong-gu, Busan, South Korea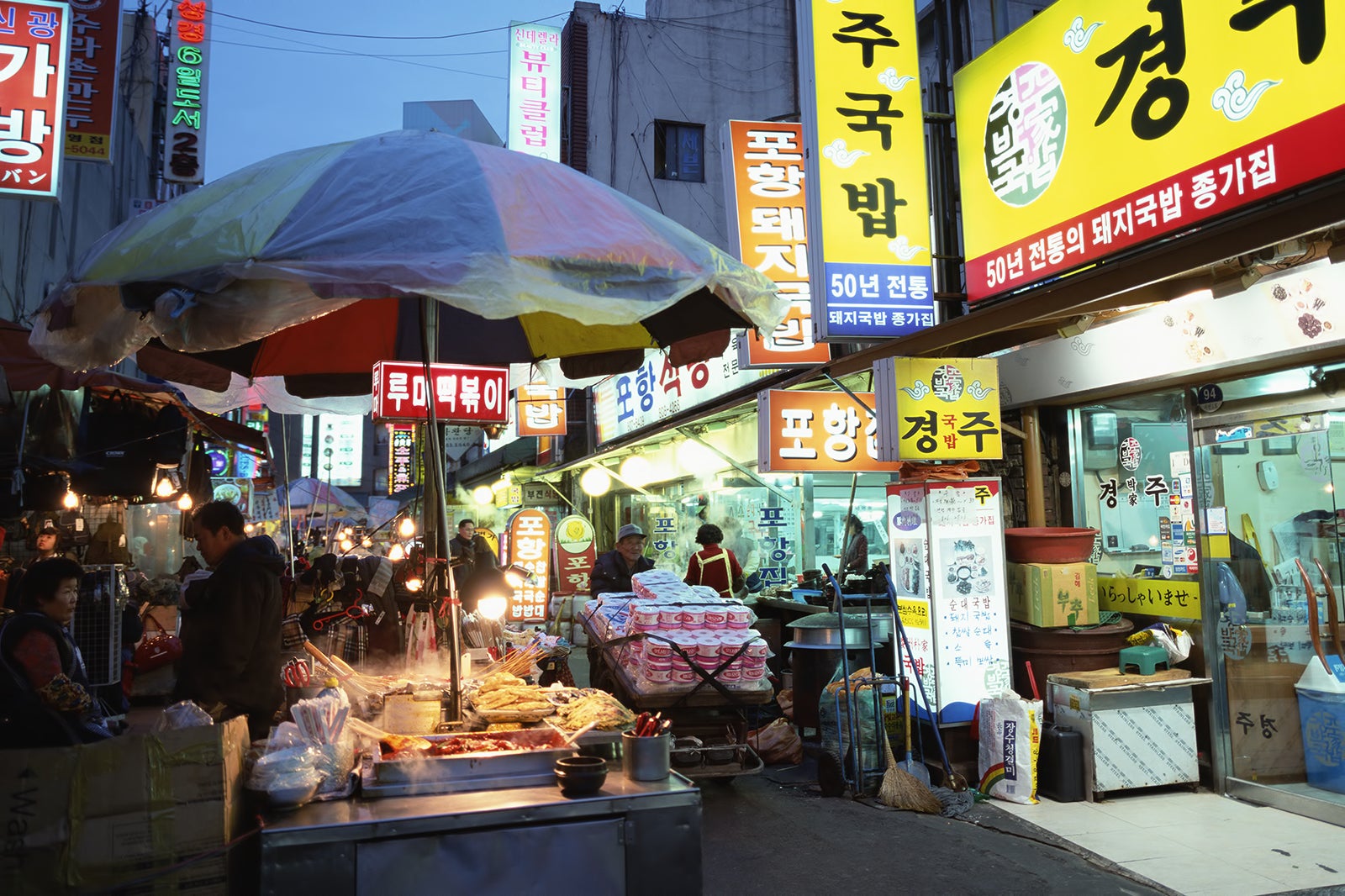 Seomyeon Food Street is located in the back alley of the Seomyeon Subway Station in Busan. Dozens of restaurants offer a variety of foods, though most venues specialise in pork and rice soup (dwaeji-gukbap) and noodle soup (kal-guksu). A bowl of dwaeji-gukbap with pork slices (suyuk) or blood sausage (sundae) will make a filling meal, especially during winter.
Bibim kal-guksu and cold kal-guksu are local specialities at Seomyeon Food Street as well. You can add side dishes such as napa wraps with pork (bossam) and gimbap (seaweed rice rolls) to pair with your kal-guksu.
Location: Seomyeon-ro 68beon-gil, Bujeon 2(i)-dong, Busanjin-gu, Busan, South Korea
6
Bupyeong-dong Jokbal Street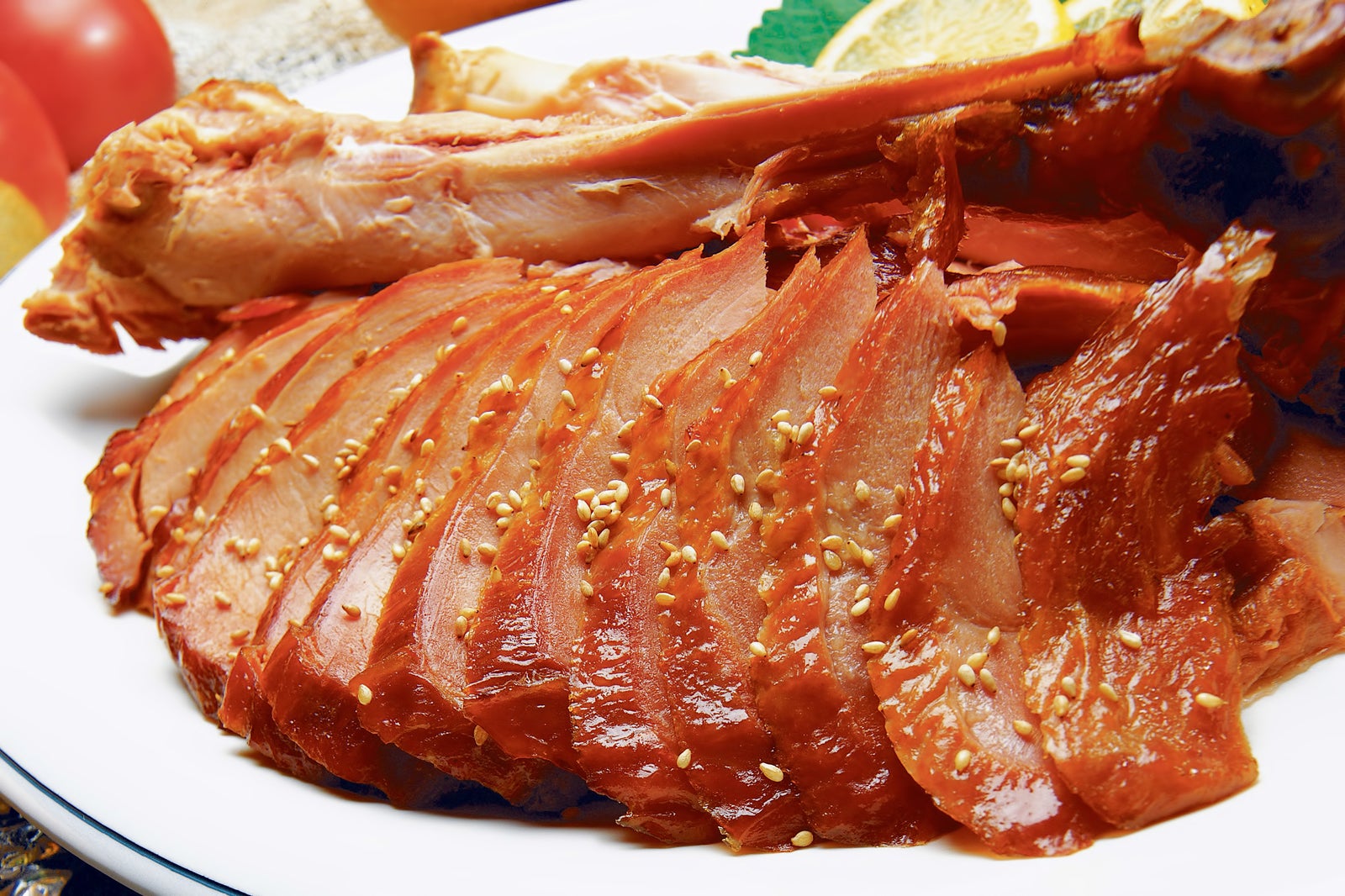 Busan is known for its pork dishes, especially pigs' feet (jokbal), pork and rice soup (dwaeji-gukbap), and stir-fried pork (dwaeji-duruchigi). Many jokbal restaurants are clustered around Bupyeong-dong, many of which boil pigs' feet in a broth made with various herbal medicines. Each restaurant often serves jokbal with their own unique dipping sauce. Chilled pigs' feet (nangchae jokbal) is also a local speciality that you should try at Bupyeong-dong Jokbal Street.
Location: Bupyeong-dong 1-ga, Jung-gu, Busan, South Korea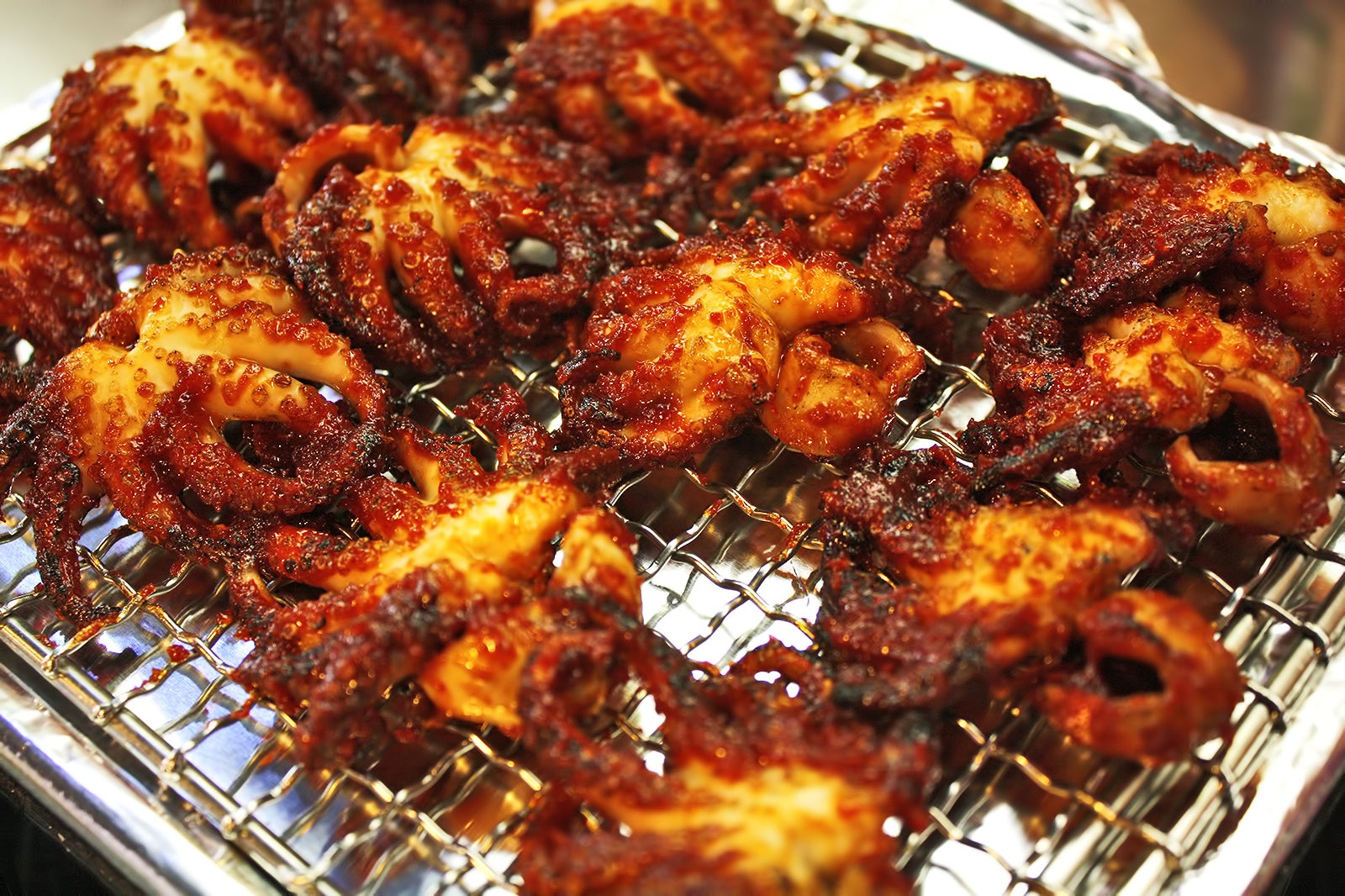 Restaurants on Jobang Octopus Street use fresh octopus to create a spicy and savoury dish that pairs well with a bowl of rice. When you miss spicy foods while travelling, this is one of the best places in Busan to go. You can also order fried octopus for takeaways and eat them on the go or back in your hotel – they'll still be delicious. Jobang Octopus Street is located in Busan's Beomcheon district.
Location: Beomcheon-dong, Busanjin-gu, Busan, South Korea
8
Oncheonjang Sea Eel Street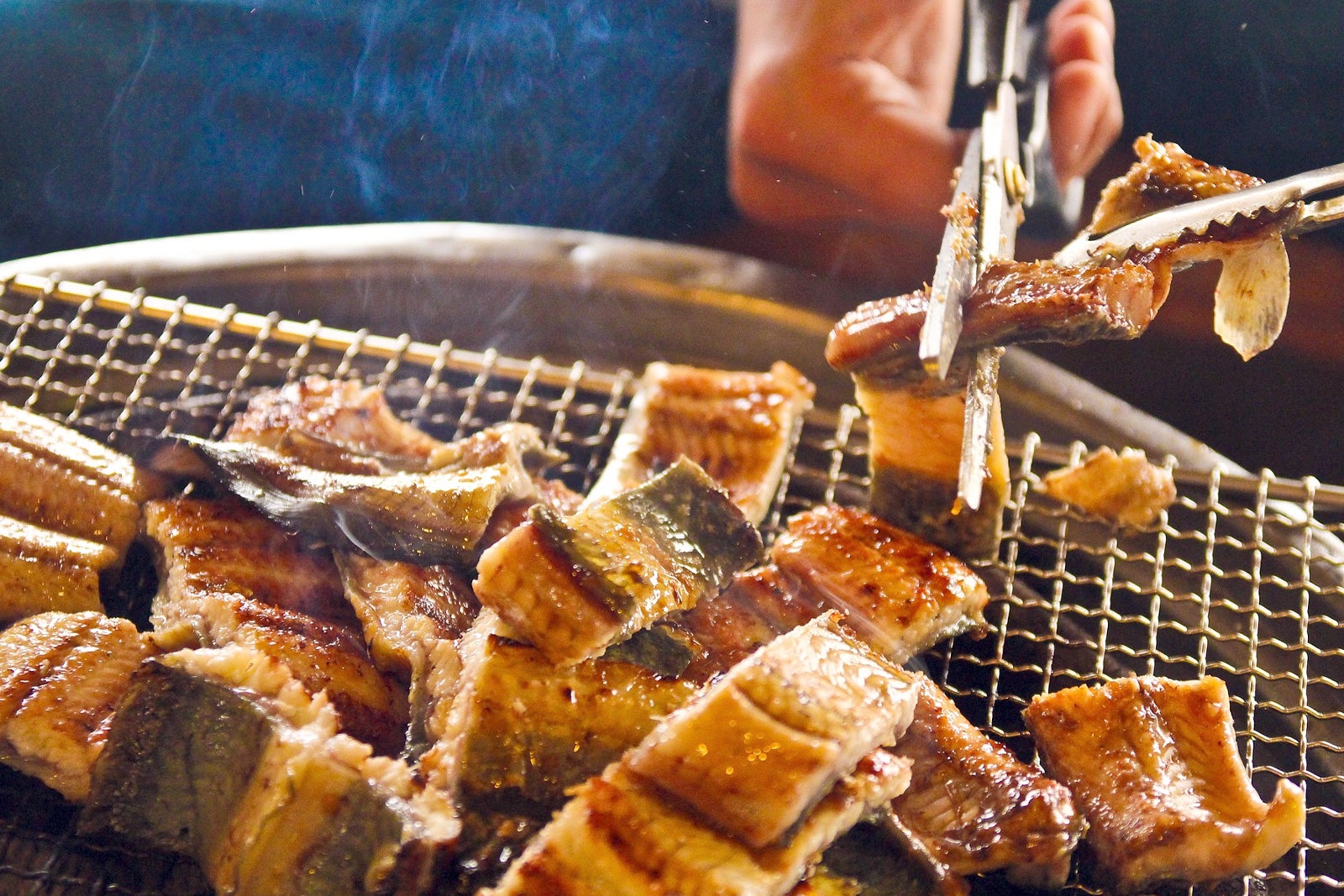 Oncheonjang Sea Eel Alley is close to Dongrae-gu's hot springs, making it a rather popular place to eat after a trip to the spa. When you enter the alley, the smell of eel grilled on briquettes is sure to whet your appetite. Eel, also known as hagfish, is rich in protein, vitamins and unsaturated fatty acids. It's usually served either seasoned or salted, and paired with rice mixed with sauce from the stir-fried eel. There are more than 10 restaurants along Oncheonjang Sea Eel Alley, which is within walking distance of Heoshimcheong, Nokcheonjang and Cheoniltong Hot Springs.
Location: Namji-ri, Namji-eup, Changnyeong-gun, Gyeongsangnam-do, South Korea
The Gijang Crab Market is an excellent place to buy fresh seafood, especially snow crab. You can also find plenty of restaurants along an alley near the market. It's fun to just watch all the crabs in the aquarium, including local snow crabs, red crabs, imported lobsters, and king crabs. You can buy and eat snow crab right away or take them with you. If you prefer to sit down at a proper restaurant, must-tries include the stir-fried rice with crab meat and intestines stuffed in the crab shell.
Location: 68-2 Daera-ri, Gijang-eup, Gijang-gun, Busan, South Korea
10
Dalmaji-gil cafe district
The Dalmaji-gil cafe district is a popular destination for couples on a date in Haeundae, Busan. Dalmaji-gil stretches from Haeundae Mipo to Songjeong Beach, with dozens of trendy cafes, restaurants and art galleries. It's even more beautiful in spring when blossoming cherry trees paint the area in white and light pink. Some cafes in Dalmaji-gil open very early, so you can enjoy your brunch with a peaceful view of the sea. Moontan Road is a wooded trail offering a nice spot to catch the sunset.
Location: Dalmaji-gil, Jung-dong, Haeundae-gu, Busan, South Korea
Back to top