Fort Lauderdale Travel Essentials
Useful Information to Help You Start Your Trip to Fort Lauderdale
Our Fort Lauderdale Travel Essentials lays out the essential information you need to help you plan your trip to one of the most popular destinations in Florida, USA. No matter how frequently you travel, some questions will always need answers: What's the weather like? How can I get from Fort Lauderdale-Hollywood International Airport (FLL) to my hotel? What currency and type of plug do I need?
We have all these answers plus other basic info about the best time to go, getting there, getting around, and a few useful travel tips. You'll also learn about the most popular landmarks in Fort Lauderdale such as Las Olas Boulevard, Fort Lauderdale Beach, and Bonnet House Museum and Gardens. It's all compiled in this Fort Lauderdale Travel Essentials. After checking out this short and easy-to-read guide, you'll be a little more prepared to start your trip to Fort Lauderdale.
1
When is the best time to travel to Fort Lauderdale?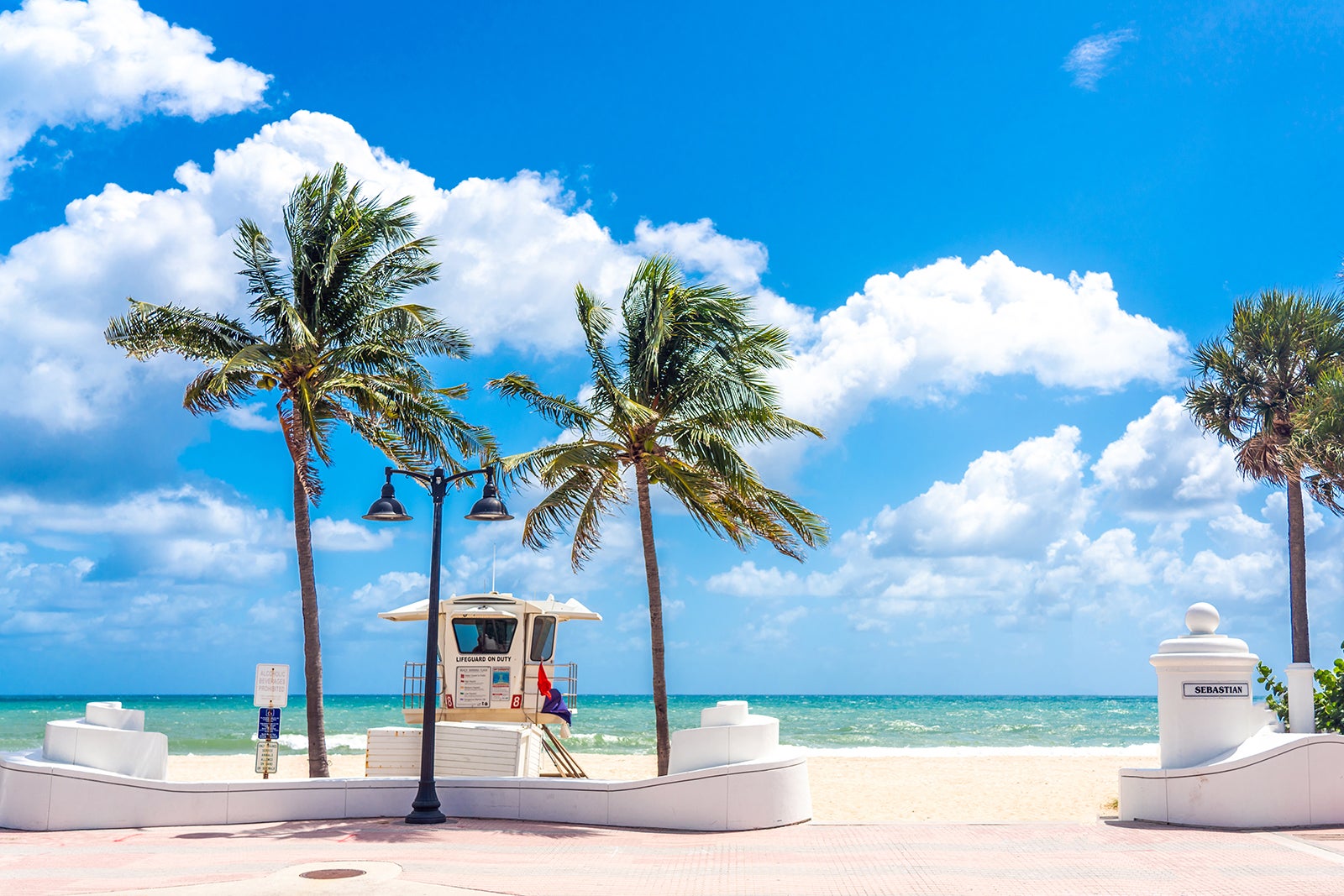 Fort Lauderdale has a tropical rainforest climate that's very wet and without a real dry season. Average temperatures range between 60°F in winter and 90°F in summer.
The rainiest time of the year is from May through October. You can expect up to 15 rainy days per month from June to September.
June–September is both the wettest and warmest period in Fort Lauderdale. Peak tourist season is from mid-December to April. Mid-June through August is family travel season when you can expect the island to be busy.
The best times to visit Fort Lauderdale are in spring (mid-April–early June) and autumn (October–mid-December). The weather is pleasant, though it's rainier in autumn. Beaches and attractions are less crowded and it's when you'll find the most affordable flight and hotel prices.
Note that, on average, hotel prices are often 40% cheaper in late-September than they are in late-December.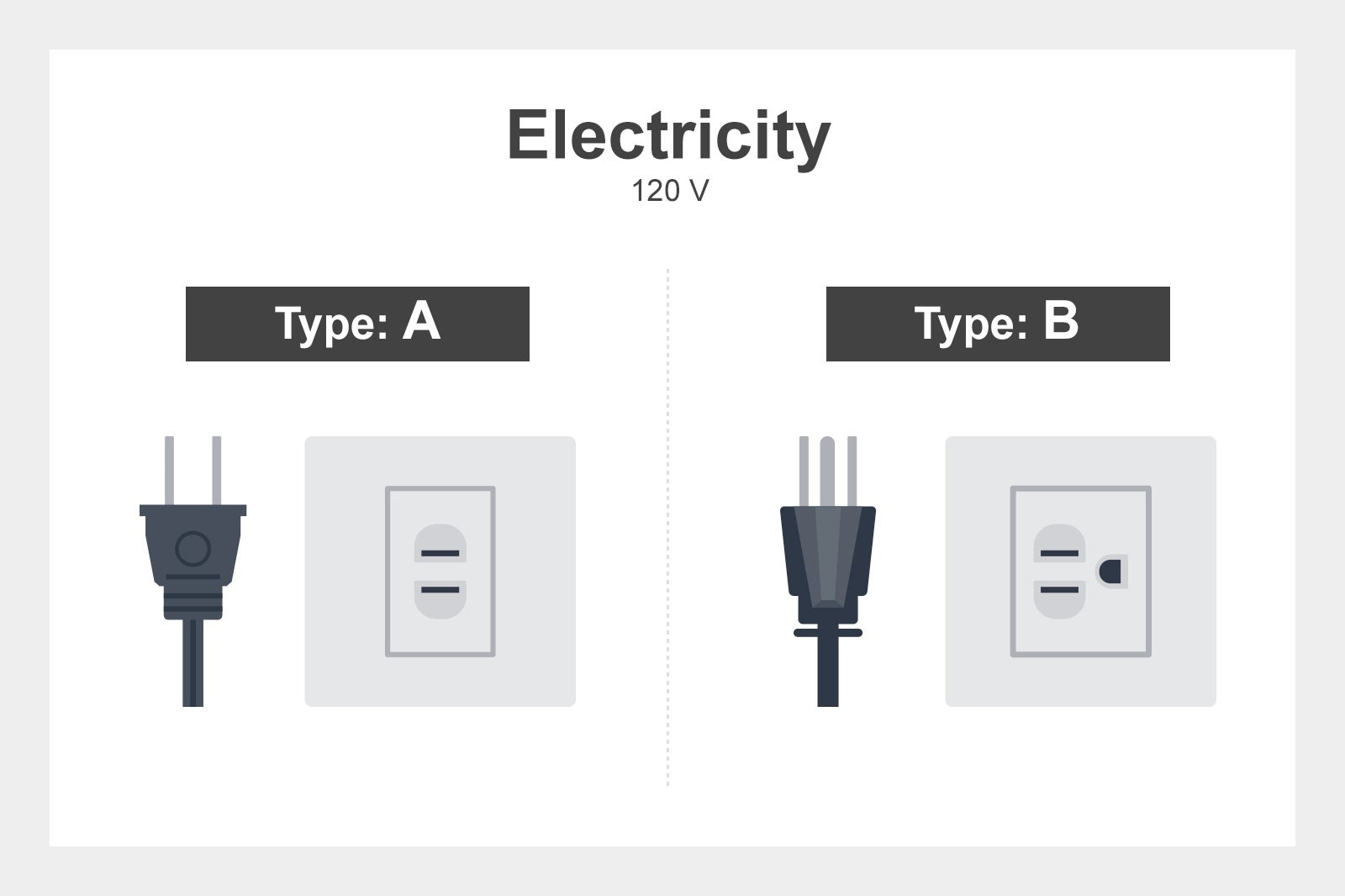 Plug type: A and B
Electricity: 120 V
Currency: United States Dollar (US$)
International dialling code: +1 754
Emergency telephone number: 911
3
How to get to my hotel in Fort Lauderdale?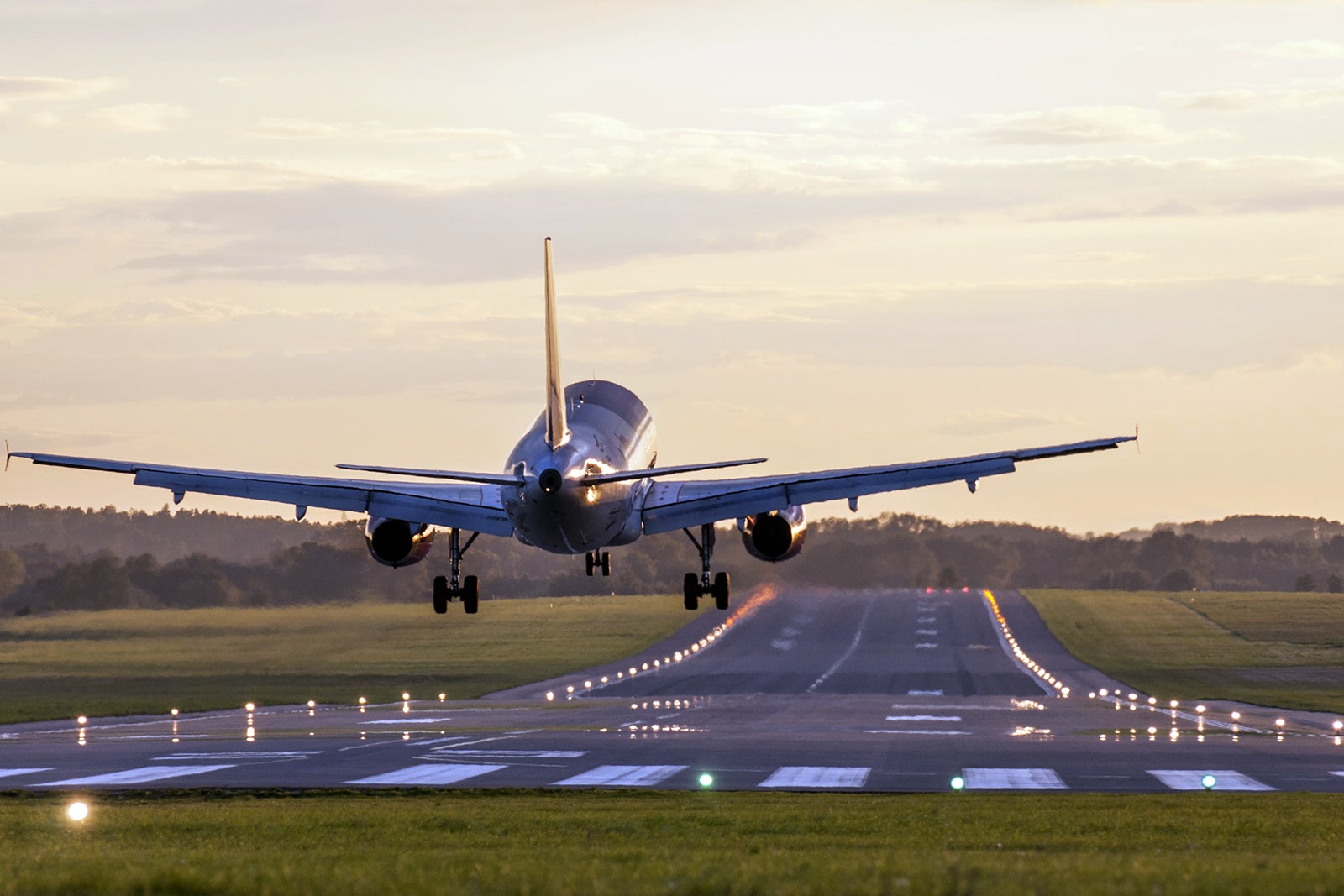 Fort Lauderdale–Hollywood International Airport (FLL) is the primary arrival hub in Fort Lauderdale and one of the 3 main airports serving the Miami Metropolitan Area. FLL is only 4 miles away from Downtown Fort Lauderdale.
You can also arrive in Fort Lauderdale by train. The Amtrak/Tri-Rail Station is 2 miles west of the city centre.
Fort Lauderdale–Hollywood International Airport (FLL)
Classified as a major hub by the Federal Aviation Authority, Fort Lauderdale–Hollywood International Airport (FLL) is the primary airport serving Miami, Fort Lauderdale, Boca Raton, and the Pompano Beach zones. The airport has 2 runways and 4 terminals.
A handful of ground transportation options are available for you to get to your hotel from Fort Lauderdale Airport, depending on your budget:
Tri-Rail commuter trains: with 17 stops at destinations such as Downtown, Hollywood, and West Palm Beach, they offer cheap and convenient transfers.
From cheapest to most expensive, shared shuttles, taxicabs, and luxury sedans offer you comfy ways to get to your hotel.
Ride-sharing services such as Uber and Lyft can be used at FLL.
12 rental car agencies are available in a building next to Terminal 1.
You'll easily find all ground transportation by following the signs in the terminals, right after the baggage claim areas.
Amtrak/Tri-Rail Station
Located just west of the city centre, Fort Lauderdale railway station is served by Amtrak and Tri-Rail. From here, you can get to your hotel by Tri-Rail train, Broward County Transit bus, taxicab, or by using ride-sharing apps. The closest car rental agencies are almost 1.2 miles away from the railway station, on Broward Boulevard.
4
How to get around Fort Lauderdale?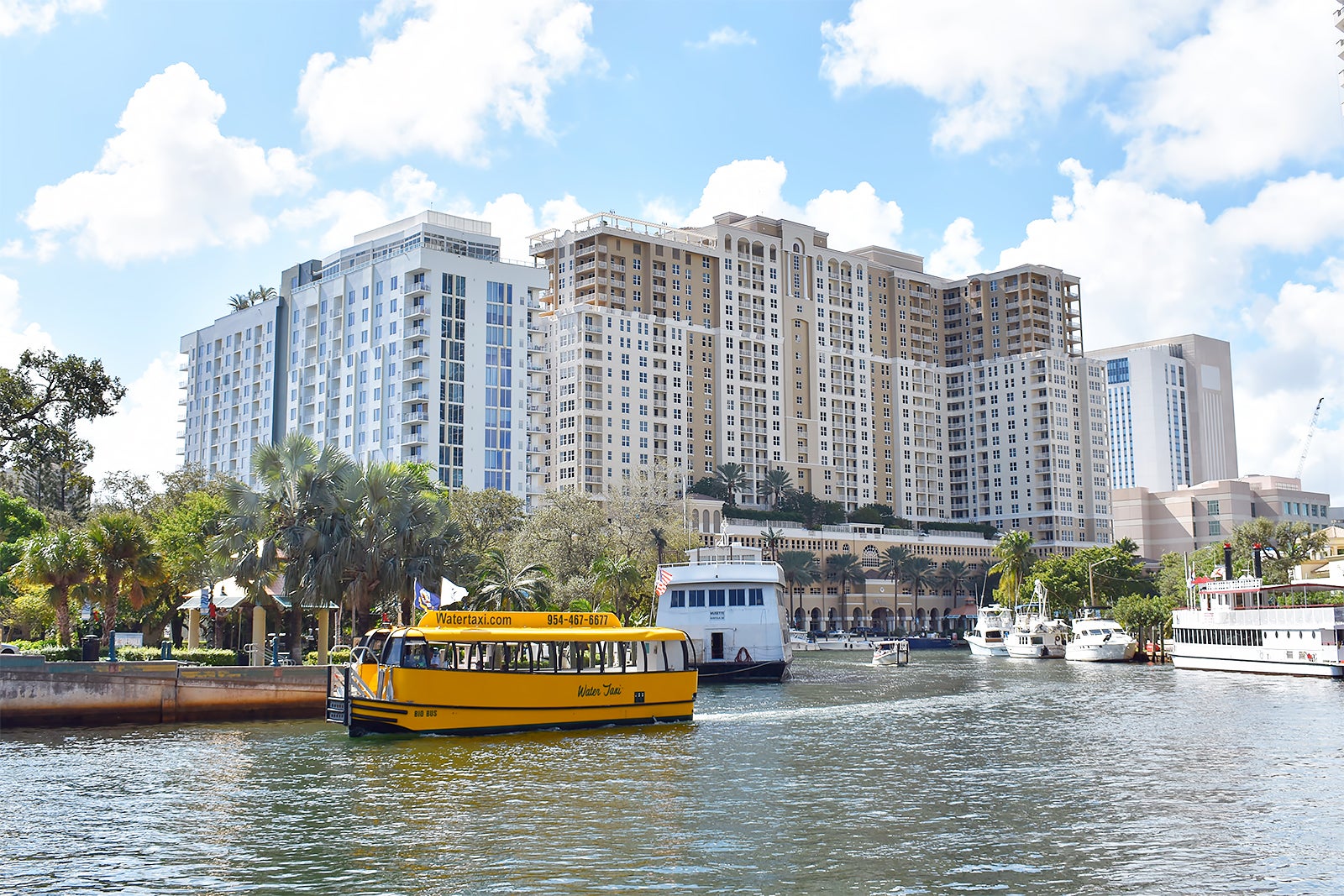 Travel tips
As in most North American cities, walking is not the best option for getting around, besides exploring the immediate surroundings of your hotel. The city covers roughly an 80-sq-mi area and fortunately offers a good choice of handy transport options.
Taking a taxi in Fort Lauderdale
Fort Lauderdale has no shortage of taxi services. Choose from Larry's Private Car and Limo Service (+1 800-611-6631), Taxi Cab - Fort Lauderdale Airport Taxi (+1 954-222-2222), Yellow Cab Fort Lauderdale (+1 954-507-2311), and many more. You can also hail taxis on the street.
Convenient yet rather expensive, getting around the city by taxicab is not your best option if you're on a budget. Tipping is about an additional 15%. Credit cards are accepted, though sometimes reluctantly, by most taxi drivers.
Uber and Lyft are the 2 main ride-sharing apps in use in Fort Lauderdale. Their rates are slightly cheaper than standard taxicabs.
Travelling by bus in Fort Lauderdale
Broward County Transit (BCT) is the name of the company that runs the public bus system in Fort Lauderdale. The BCT routes cover the entire city and their buses are wheelchair accessible.
There are 1-way tickets, 1-day passes, 3-day passes, 7-day passes, and more ticket options available at decent rates. Check out their website for further info about routes, fares, and where to purchase tickets and passes.
Riding the Sun Trolley in Fort Lauderdale
The Sun Trolley is a popular option for getting around Fort Lauderdale since it's free. Brightly coloured in red and yellow, you can't miss these trolley-like buses when they're coming down the street. There are 5 routes available:
Beach/Las Olas
Downtown
Neighbourhood
NW Community
Riverwalk Water Trolley
Visit their website for further info and to download their handy app.
Cruising on a water taxi in Fort Lauderdale
Fort Lauderdale is somehow the Venice of Florida. Waterways criss-cross the city from the ocean to the Everglades and offer a fun but pricey way to get from one point of the city centre to another.
The sightseeing is great as the yellow boats pass in front of stunning villas that once belonged to Cher, Leonard Nimoy, and other VIPs. Check out their website for additional info about their routes and to purchase tickets.
Renting a car in Fort Lauderdale
Renting a car is a good option if you stay a few days in Fort Lauderdale and plan to get around the city. It's certainly more expensive than public transport, but it does give you the freedom to go anywhere whenever you want.
Foreigners are allowed to use their standard driving license for up to 4 months in the USA. All major car rental companies have offices at the airport and the only downside about driving in Fort Lauderdale is the heavy traffic. Simply, avoid driving during rush hour.
Ride around Fort Lauderdale with Broward BCycle
Broward BCycle is a bike-sharing scheme that allows you to explore Fort Lauderdale in a fun, healthy, and affordable way. About 20 stations storing standard and electric bicycles can be found throughout the city, from Pompano Beach to Hollywood.
photo by Tamanoeconomico (CC BY-SA 4.0) modified
5
What are the main annual events in Fort Lauderdale?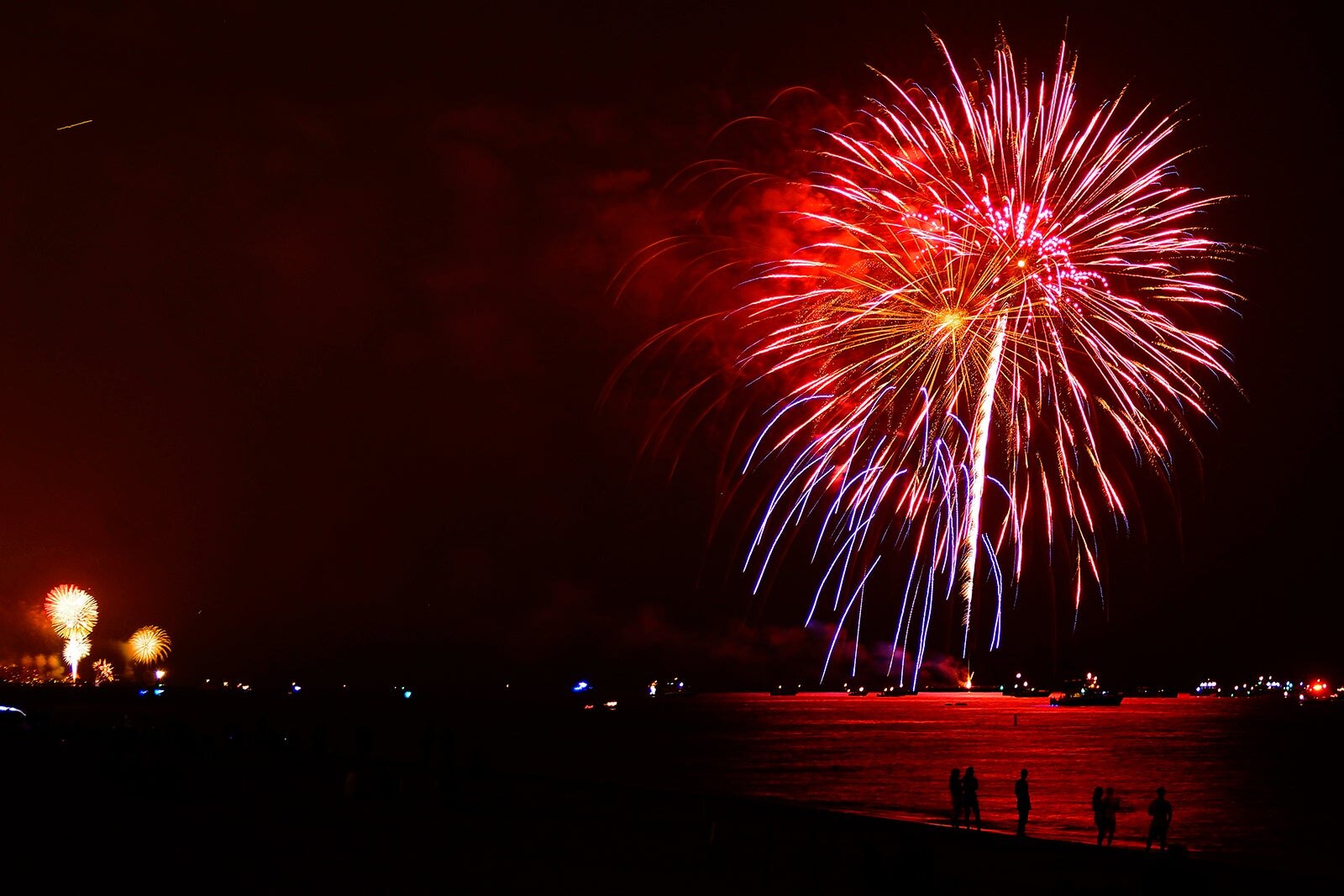 Tortuga Music Festival
November
A multi-stage, multi-day music festival showcasing some of the most popular bands in country, rock, and roots music.
Where: Fort Lauderdale Beach Park
4th of July Spectacular
July 4th
Independence Day is celebrated with numerous festive events such as concerts, barbecues, parades, and the climactic fireworks show illuminating the city.
Where: In the main parks of Fort Lauderdale
Fort Lauderdale International Film Festival
November
A celebration of the best indie, studio, and international films inside a church that's been converted into a movie theatre. It features special tributes, seminars, filmmaker talks, and more.
Where: Savor Cinema
photo by JTOcchialini (CC BY 2.0) modified
6
What are the main landmarks in Fort Lauderdale?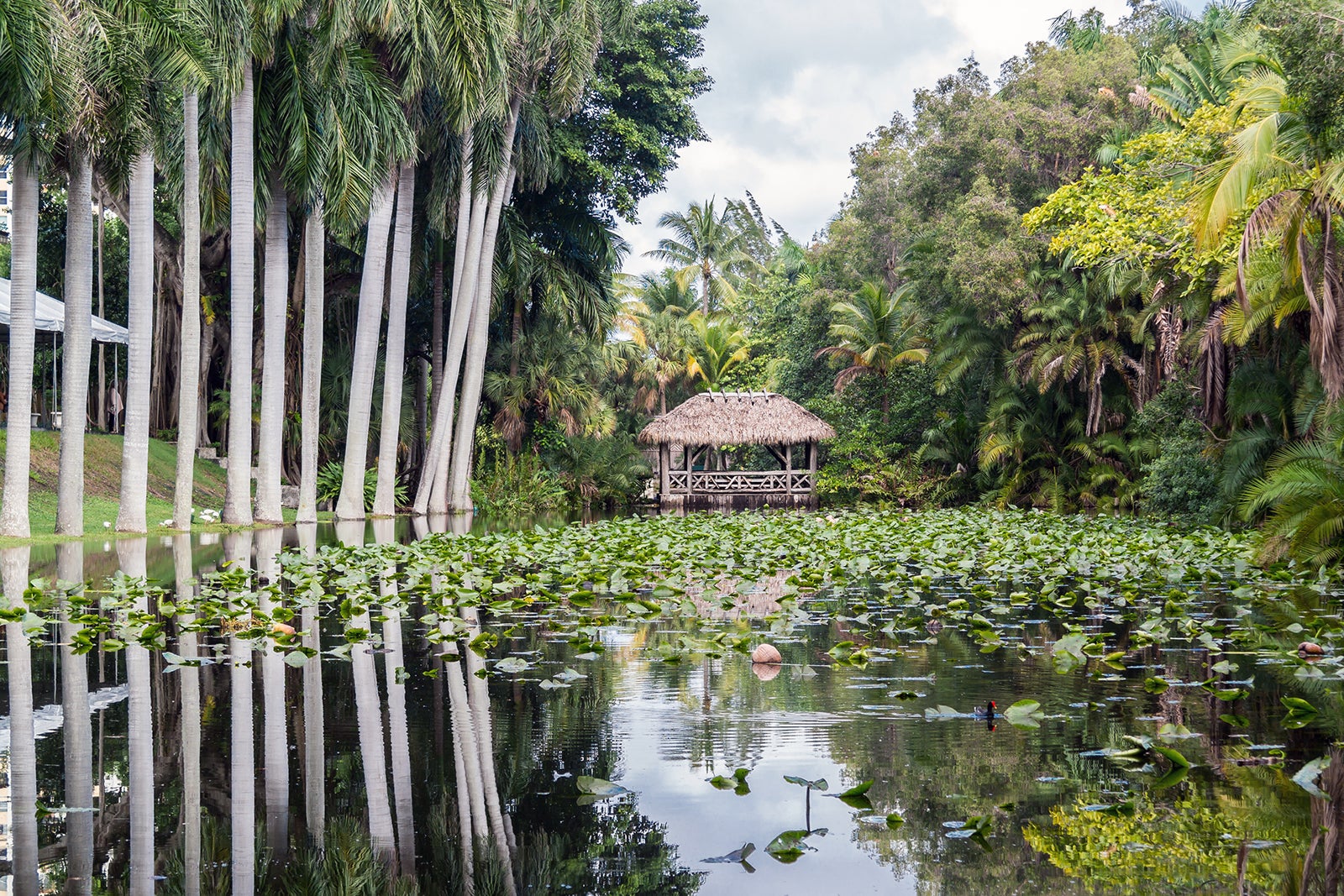 Bonnet House Museum and Gardens
A historic property within a 35-acre garden. The vernacular architecture of the house and its furnishing take you back to the late 19th century.
Las Olas Boulevard
The place to see and be seen in Fort Lauderdale, lined with fashion boutiques, fancy restaurants, and bars.
Hillsboro Inlet Lighthouse
An important marker for mariners that was erected in 1907 between Fort Lauderdale and Boca Raton. It indicates the northern end of the Florida Reef and offers great photo opportunities.
Historic Stranahan House Museum
The oldest building in Fort Lauderdale, built in 1901 by pioneers Frank and Ivy Stranahan. Part of the National Register of Historic Places, it's open for guided tours daily.
Back to top