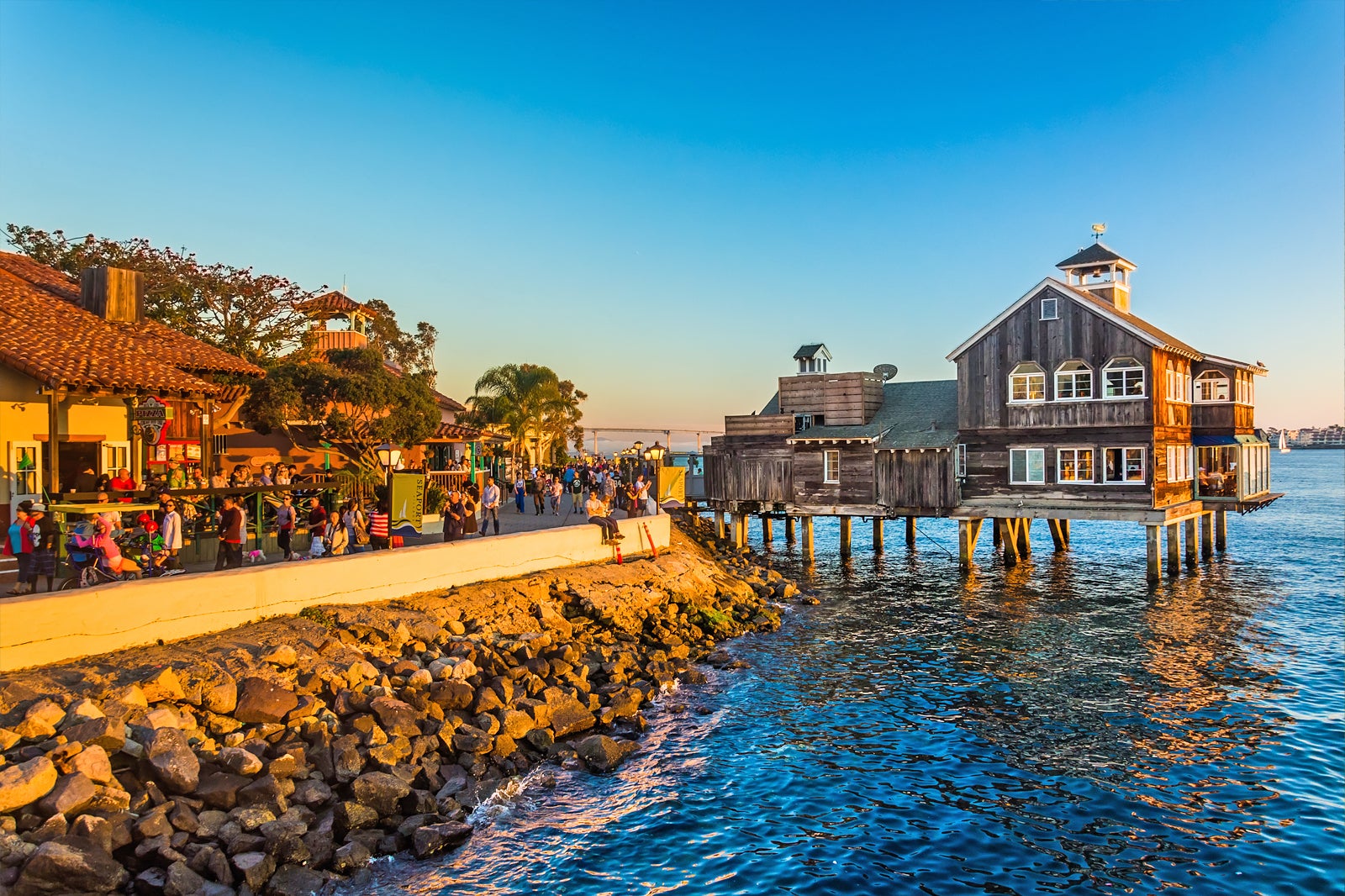 Seaport Village in San Diego
Waterfront Complex with Great Dining, Shopping and Activities
Seaport Village is one of the best ways to enjoy San Diego's Downtown shoreline. With more than 70 delightful places to shop, eat and explore spread across 14 acres, this picturesque waterfront shopping and dining complex faithfully recreates a turn-of-the-century neighbourhood.
Despite being located on the edge of Downtown, Seaport Village can feel like a totally different world. As you roam from one store to the next along the charming cobblestone streets, remarkable views stretch across San Diego Bay and its famous Coronado Bridge. With storefronts designed in a range of traditional architectural styles, including Victorian and Mexican, these appear alongside incredible landscaped gardens with native wildlife calling the tranquil ponds, fountains, and lakes home.
With both the cruise ship terminal and the international airport within a 5-minute drive, Seaport Village is the perfect place to explore whether you're staying longer-term in San Diego or just stopping by for the day.
Seaport Village in San Diego - one of the highlights of 10 Best Free Things to Do in San Diego and 10 Most Instagrammable Places in San Diego (Read all about San Diego here)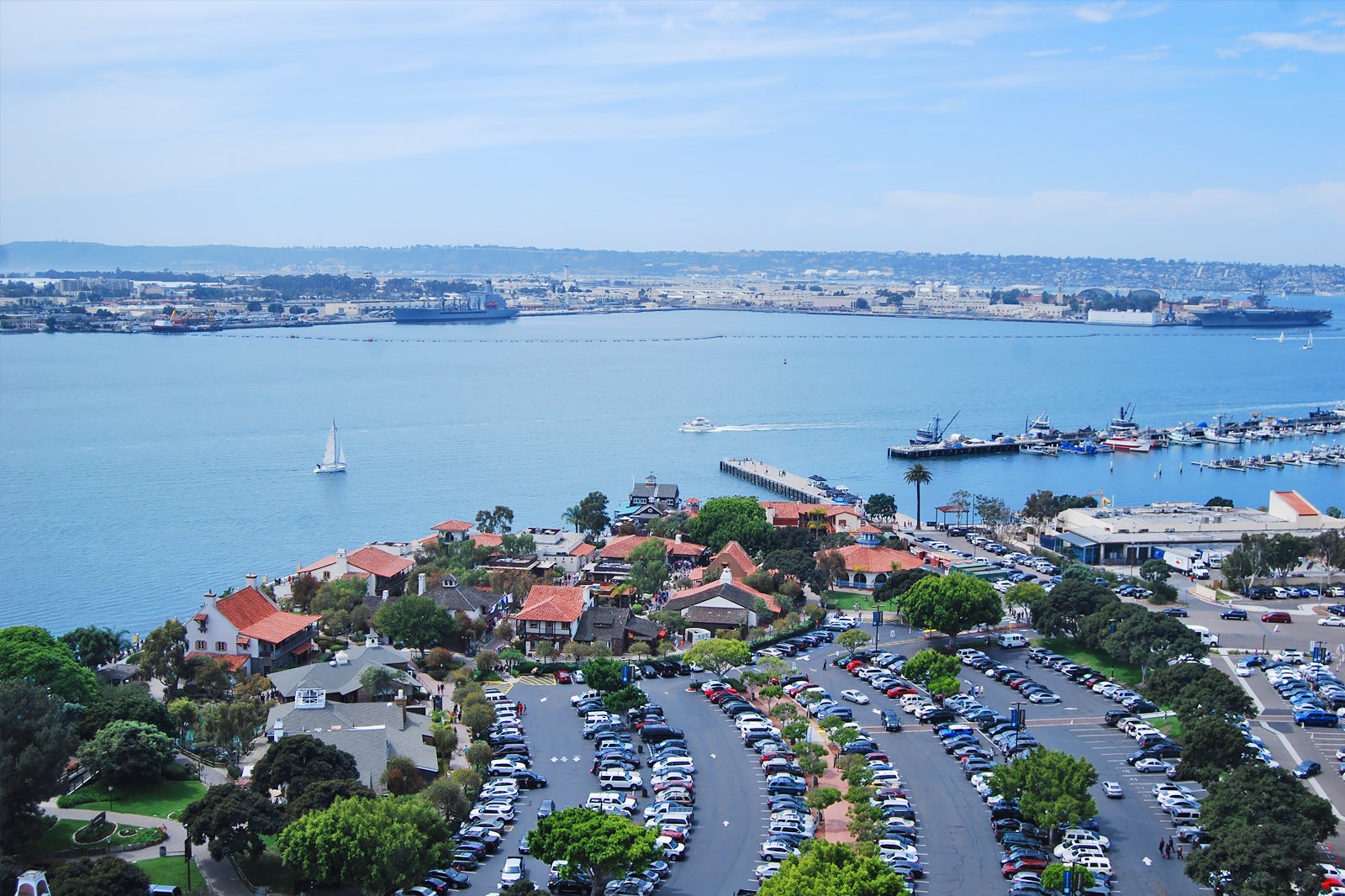 What are the highlights of Seaport Village?
Seaport Village offers a wealth of coastal experiences, but the waterfront dining opportunities remain the major draw. With a selection of 13 casual eateries and 4 fine-dining restaurants offering bay views, there's no shortage of great places to sit down for a tasty meal.
Shopping is also another high point when exploring Seaport Village. There's a great collection of gift shops selling all kinds of fascinating souvenirs, while there are also several surf clothing stores where you can stock up on the latest apparel. Alongside skincare stores, a wine-tasting room and an entire shop dedicated to hot sauce, you won't have a problem finding something amazing to take home.
Following your visit to the restaurants and shops, don't miss your chance to take a spin on the historic carousel dating from 1895. You can also stroll along the promenade and relish the scenic views, including Coronado Island, Coronado Bridge, and the nearby marina.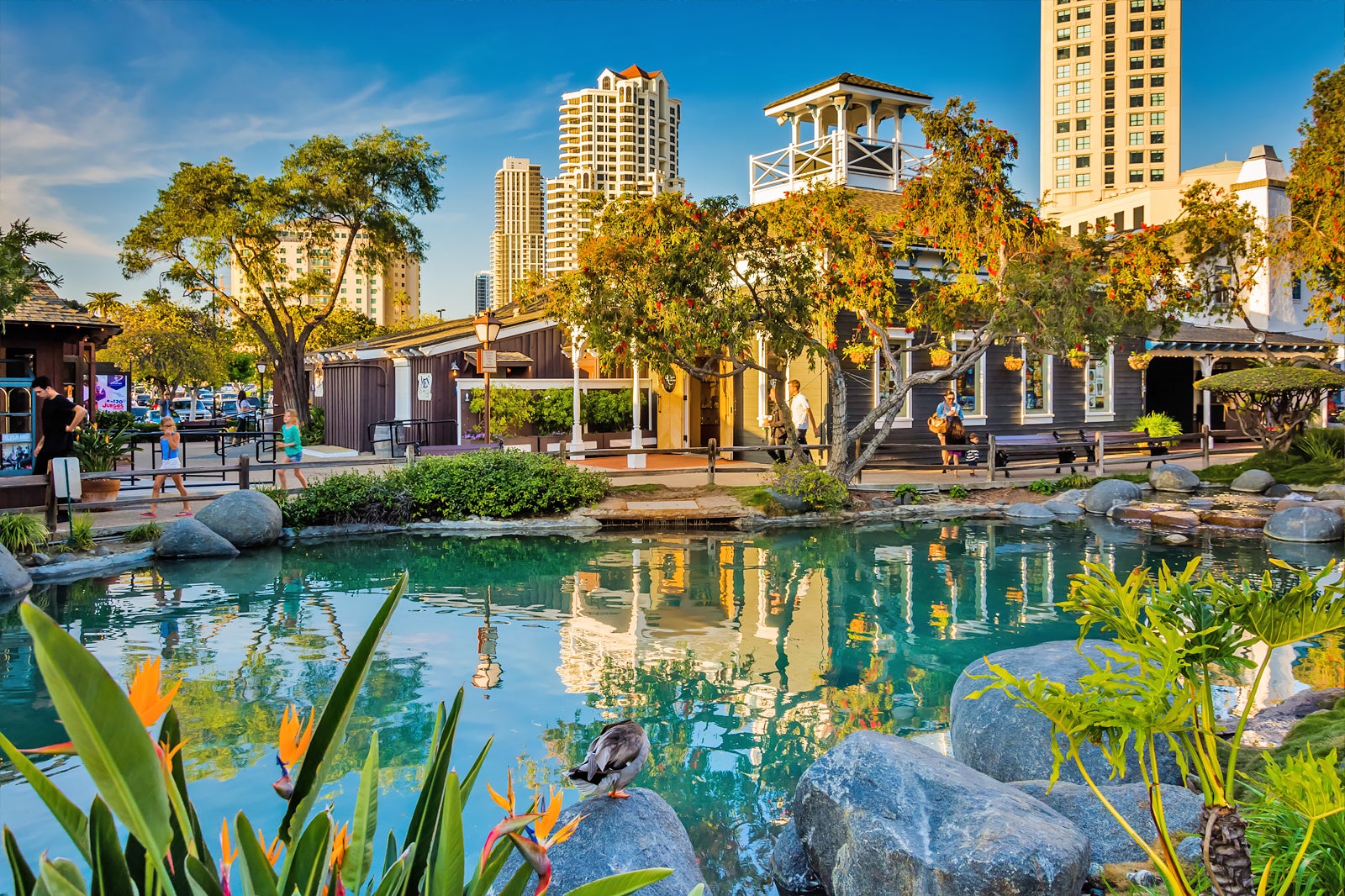 Where to eat, drink and shop at Seaport Village?
No Seaport Village restaurant is as renowned as the San Diego Pier Cafe. Benefitting from the best views on the waterfront, try classic seafood dishes like fish tacos or clam chowder to instantly understand why this eatery is so beloved.
If you'd prefer a low-key alternative, the San Diego Burger Company and Mr. Moto Pizza are top choices. For a high-quality drink with views of the waterfront, Mike Hess Brewing is recognised as one of San Diego's premier craft beermakers. Plus, Margarita's Kitchen and Cantina use the freshest ingredients to serve up their authentic cocktails.
When it's time to hit the shops, wine lovers should visit the San Pasqual Winery's tasting room. With wine available by glass and bottle, it's arguably the best place in the region to enjoy a high-end drop. For something more extreme, head along to Hot Licks to find a massive offering of hot sauces from around the world.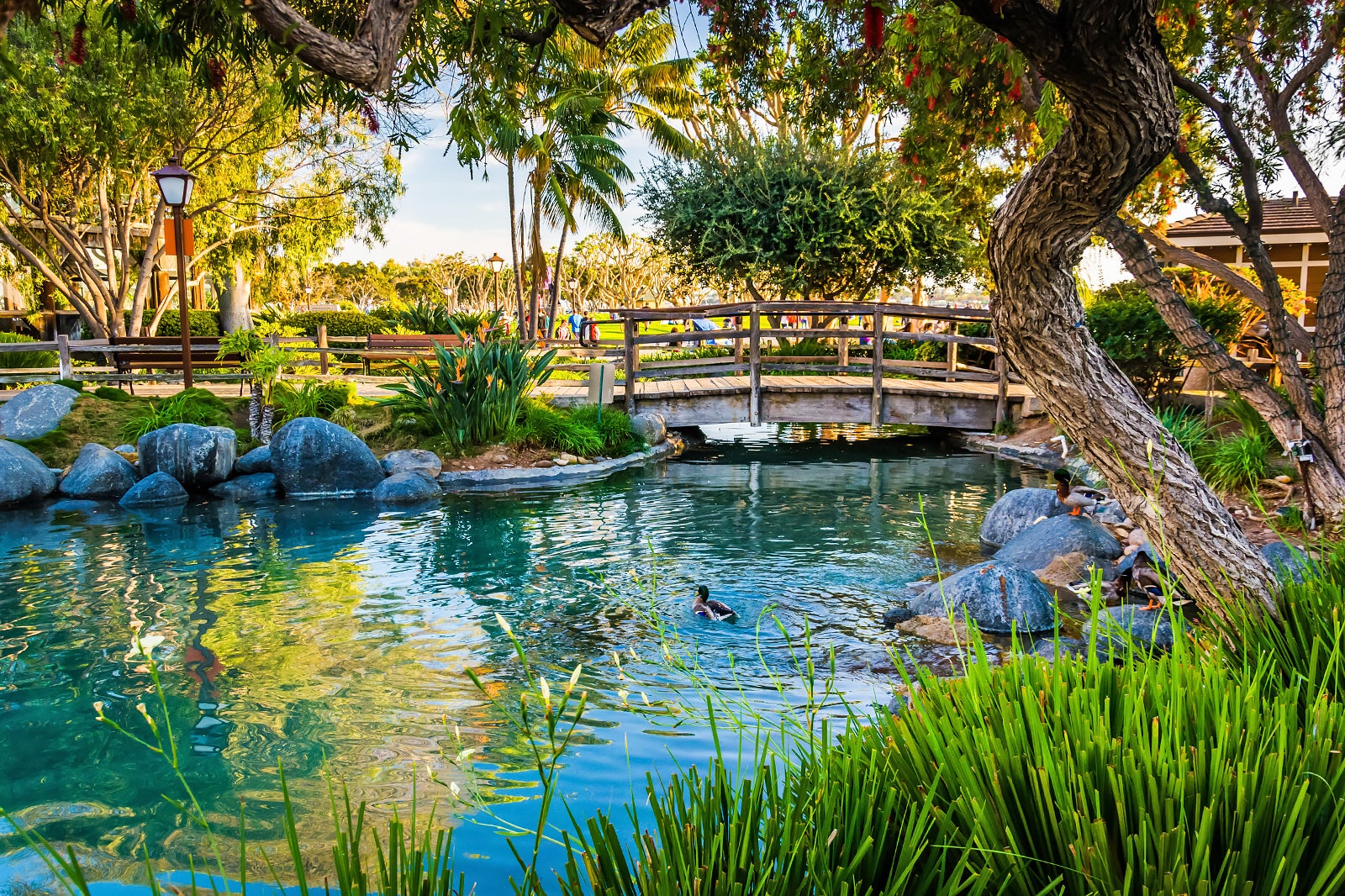 Good to know about Seaport Village
As one of San Diego's most well-known waterfront destinations, Seaport Village can get particularly busy in the summer months. Head along in the morning or just before sunset to avoid the largest crowds. This way, you can experience what makes this place so special without having to wait in line for your food or drinks.
This popularity can also be hard to manage if you're planning to drive to Seaport Village. Parking can become difficult to find after 10 am, so you might be better off riding the trolley to the conveniently placed Seaport Village stop. Alternatively, Santa Fe Train Station is only a 12-minute walk away.
Seaport Village also offers live music and kid-friendly events most weekends, so be sure to check the online schedule to ensure you don't miss out.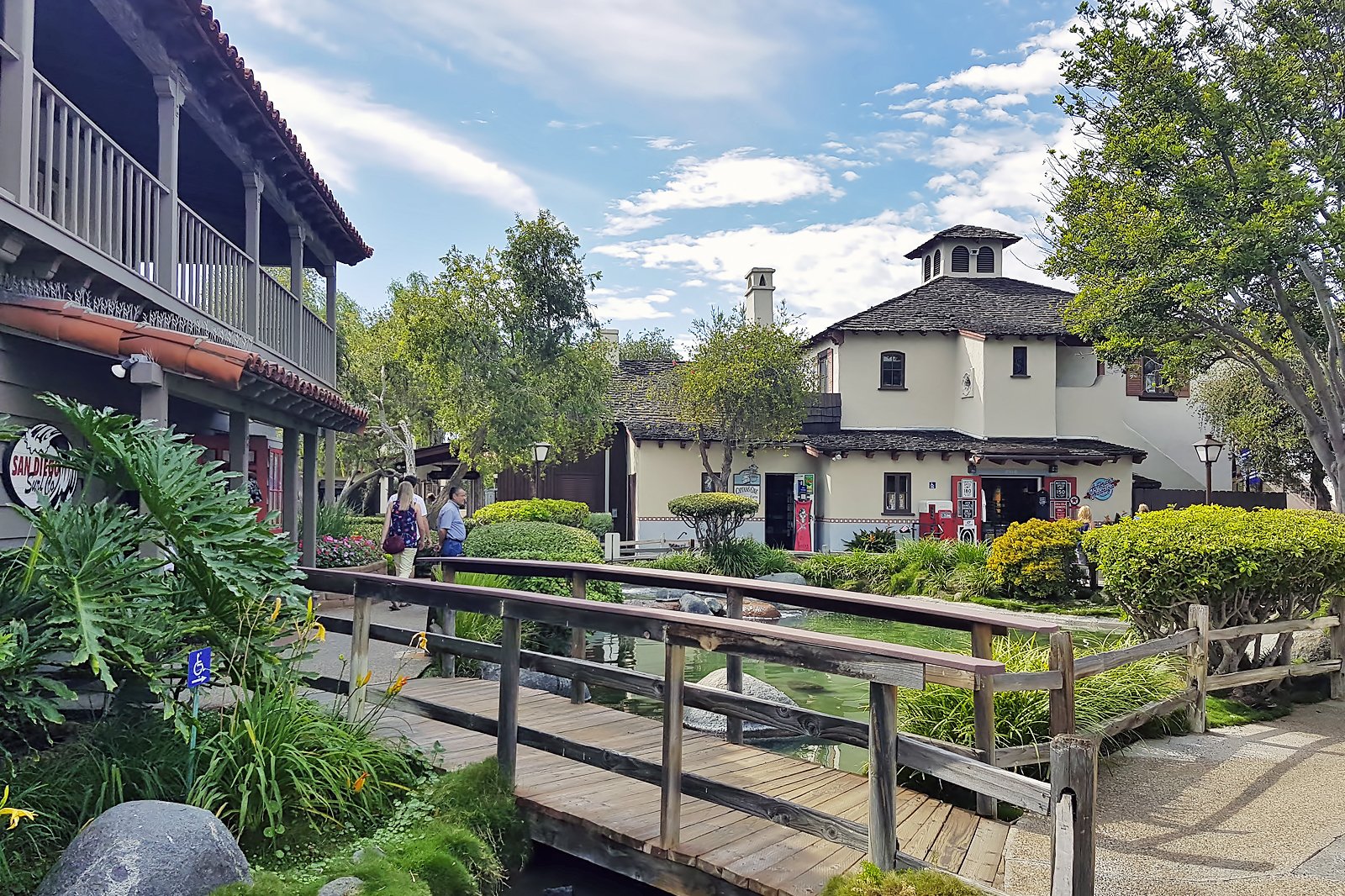 Seaport Village in San Diego
Location: 849 W Harbor Dr, San Diego, CA 92101, USA
Open: Daily from 11 am to 5 pm
Phone: +1 619-530-0704
Back to top