SlotZilla Zipline is an 11-story slot machine-inspired zip line that's an essential part of the Fremont Street Experience in city centre Las Vegas. It's not a surprise to hear about slots in Las Vegas, but a zip line like this is a whole other storey. The zip line boasts the world's largest slot machine, along with iconic Vegas spectacles like oversized dice, a martini glass, coins, a pink flamingo, video reels, a giant arm, and a pair of 35-foot-tall showgirls.
SlotZilla has 2 different zip-lining options, the lower Zip-Zilla and the upper Super-Hero Zoom (the zoomline). For Zip-Zilla, flyers will be seated throughout the ride, and they'll arrive midway down the Fremont Street Experience pedestrian promenade. The Super-Hero Zoom starts 10 stories up and leads flyers 1,750 feet along the Fremont Street Experience to the city's historic Golden Gate Casino. Aptly named, the Super-Hero Zoom lets flyers ride "superhero-style," allowing them to take in the city in a unique way, at up to 40 mph.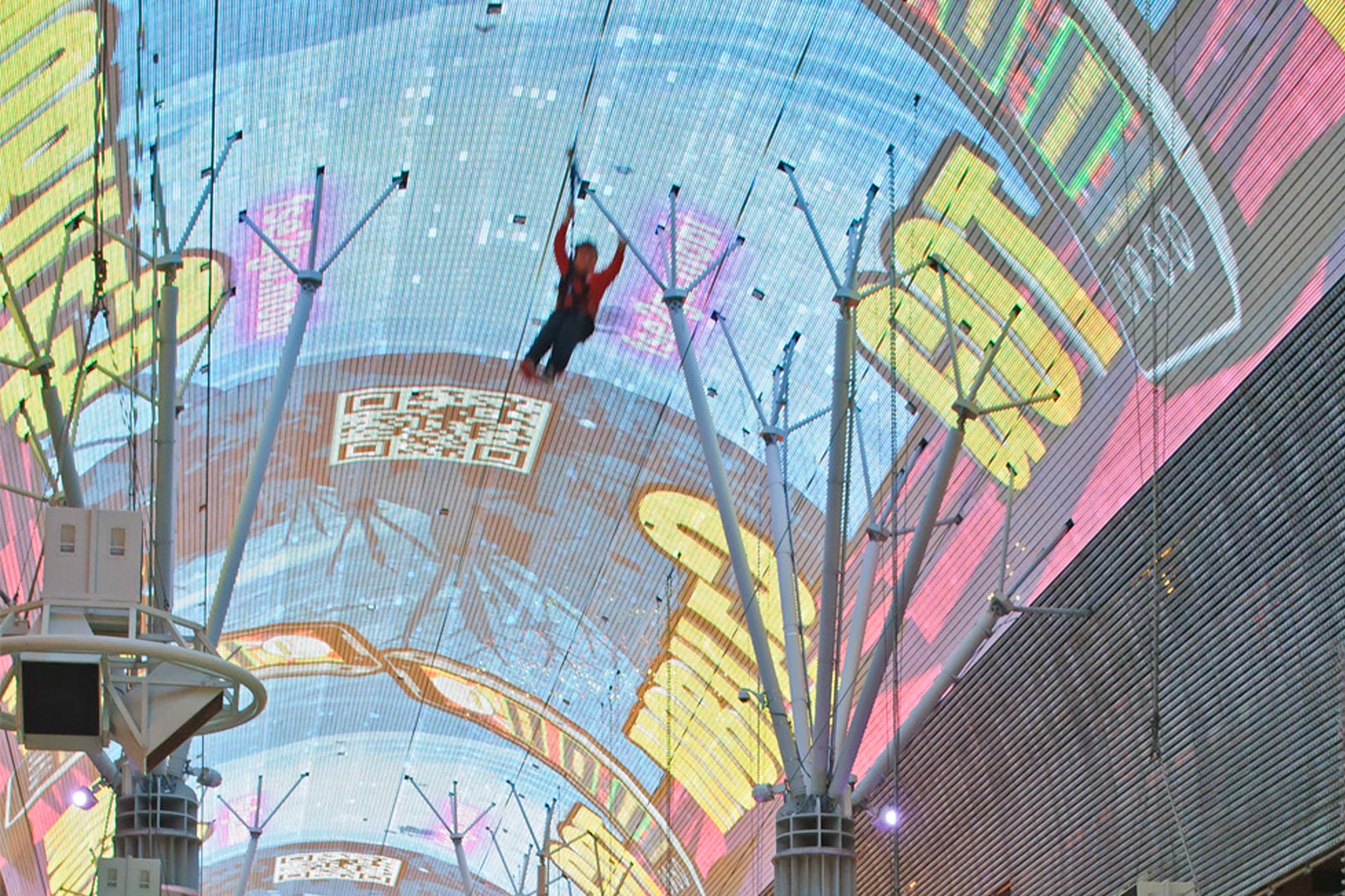 SlotZilla Zipline Highlights
As part of the Fremont Street Experience, there's plenty to do in addition to your zip-lining adventure. Hourly, starting at 6 pm or 8 pm, depending on the season, you can catch the Viva Vision free light show that features hit bands on a huge video screen. Past shows have included guests like The Who, Green Day, Linkin Park, and Heart. In addition to Viva Vision, the Fremont Street Experience always has various free live music options.
For other stops on your visit, take note of attractions like The Neon Museum, which spotlights vintage and historic neon signs from Las Vegas. Drop by Circa to explore 3 levels of sports betting, all with a 78-million-pixel high-definition screen. For fans of gangster history, The Mob Museum features stories, artefacts, and interactive exhibits. You can check out plenty of other sights also, such as Vegas Vic, the Shark Tank at Golden Nugget, and much more.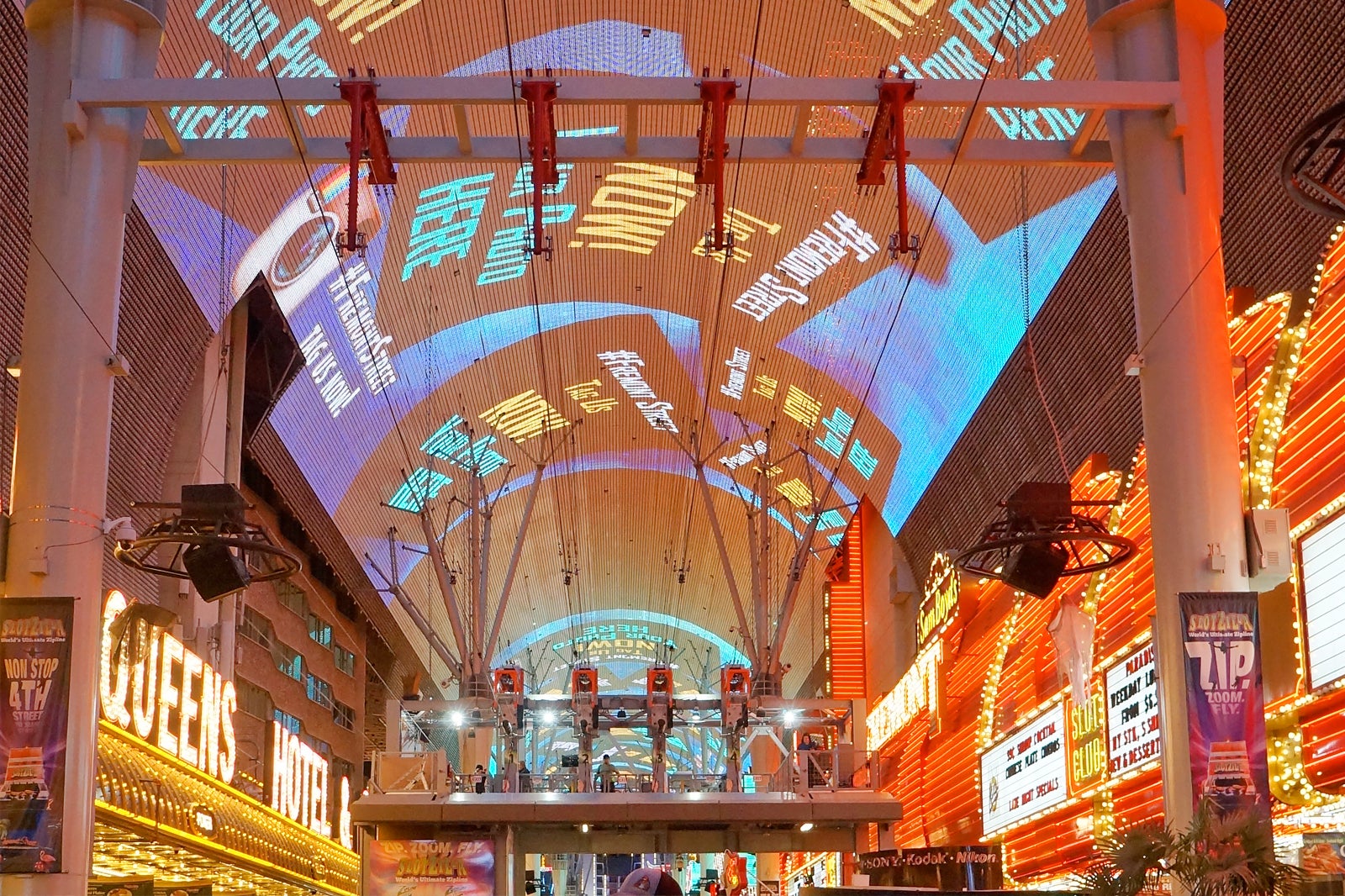 Nightlife at SlotZilla ZipLine
The Fremont Street Experience is home to ample options for nighttime entertainment, particularly if you're in the mood to gamble. Main Street Station Casino, Brewery & Hotel, which sports a Victorian-era theme, is sprinkled with dozens of antiques. You could also check out the Golden Gate Hotel & Casino, which has been open since 1906, enduring the initial Vegas boom, Prohibition, and every wild era afterwards.
For an evening dining experience, Hugo's Cellar features brick walls and long-stemmed roses for female guests. Stop in for a martini before dinner with classic dishes like tenderloin beef, marinated swordfish, or jumbo shrimp cooked on a hot piece of granite right at your table. Redwood Steakhouse offers fine dining with an impressive array of side dishes large enough to sample and share, alongside a menu of staple favourites. If you're looking for more options, Vic & Anthony's Steakhouse and Andiamo Italian Steakhouse are both nearby.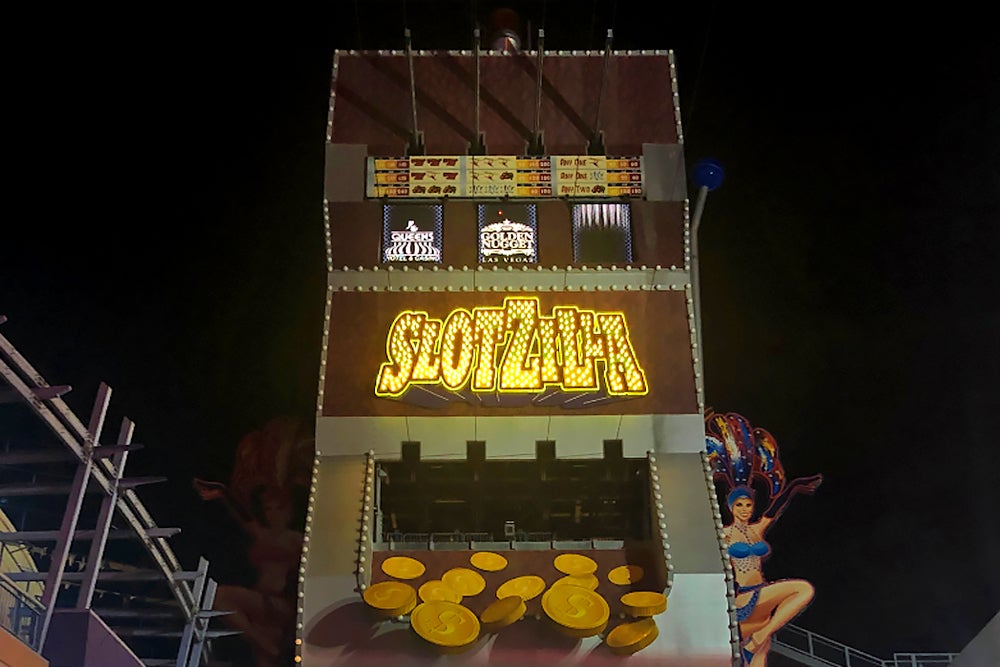 Good to know when visiting SlotZilla Zipline
Tickets for both Zip-Zilla and Super-Hero Zoom can be purchased online, but both have different operating schedules, so make sure to plan ahead depending on which you'd like to try.
For specific seasonal attractions, check the Fremont Street Experience's online calendar for events such as Drinksgiving, a pub crawl hosted the night before Thanksgiving (also referred to as Thanksgiving Eve). You might also enjoy the Halloween festivities for costumes galore.
Check out Fremont Street Experience's website for a variety of discounts and packages at local casinos, hotels, restaurants, and more, as well as upcoming openings and additions. Overall, whatever ends up on your itinerary before or after SlotZilla Zipline, the combinations are endless. Just make sure you do a pub crawl after SlotZilla, not before.
SlotZilla Zipline in Las Vegas
Location: 425 Fremont St, Las Vegas, NV 89101, USA
Open: Hours vary by activity
Phone: +1 702-678-5780
Back to top