A Malaysia travel guide – equatorial national parks, aquarium snorkelling and eccentric temples
A Malaysia travel guide – equatorial national parks, aquarium snorkelling and eccentric temples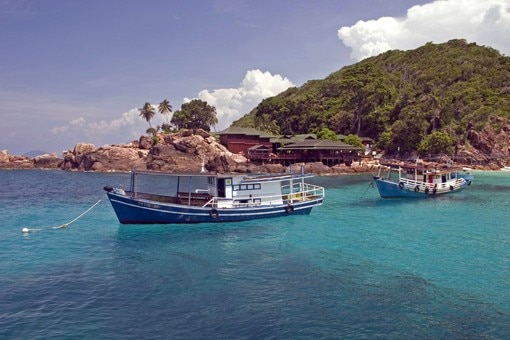 A holiday in Malaysia can mean listening to raucous wildlife from your camp in a rainforest mountain hide, or a gentle snorkel with stripy surgeonfish off an island beach. Book a Malaysia hotel to discover a country where jungle and ocean wildlife thrives and temple pagodas and skyscrapers pierce city skies.
Get your bearings
South-east Asian Malaysia has a two-part mainland perched above the Equator. Peninsular Malaysia borders Thailand's south and the causeway to Singapore marks its southern tip. In the west, the twin towers of cosmopolitan capital Kuala Lumpur touch the skyline, while colonial mansions and temples stand together on north Penang island. Borneo is east Malaysia, which sweeps through the South China Sea above Indonesia's Java. Here, Sarawak and Sabah states are home to national park rainforest and Mount Kinabalu's peak. Island gems sparkle around the mainland – Tioman's tropical waters, Langkawi's dusty sands and Sipadan dive sites.


Island life
A protected underwater reserve surrounds Langkawi's 100 small islets, while monitor lizards and eagles patrol the exotic resorts off the north-west coast. Hillside log cabins perch over mountain streams which flow into eastern Tioman's clear seas. Snorkel with green turtles in the South China Sea's underwater garden in Redang's cluster of nine isles or the postcard Perhentian's azure bathwater off the north-east coast. Divers follow in Jacques Cousteau's wake to Sabah's 12-hectare Sipadan, where schools of barracuda roam the atoll.


A nation of national parks
Mount Kinabalu presides over Sabah's national park from over 4,000m – south-east Asia's highest peak. Climb the footpath past bat caves and waterfalls and look out for wild orchids and orang-utan. Wobble across the canopy walkway through Taman Negara park or spot shy animals from a camp in a jungle hide in the centre of Peninsular Malaysia. Rolling tea plantations and strawberry farms cover the Cameron Highlands' fertile foothills, just over 200km north of Kuala Lumpur. Break from your trek with a masala chai (spiced tea) and scones overlooking terraces of the Bharat Tea Plantation.
City culture
The aroma of roasting chestnuts lures shoppers through the oriental archways of pedestrian Petaling Street in Kuala Lumpur's Chinatown. Monkeys greet visitors at the Hindu Batu Caves on the 272 steps up to the shrine, just north of the city centre. A replica sultan's palace, Portuguese fort ruins and the lacquer-carved Cheng Hoon Teng temple mark the melting pot of settlers at maritime Malacca. The gold-tipped, hilltop pagoda at Kek Lok Si temple in Penang is home 30m Buddhist statues and ponds filled with sacred turtles.


South-east Asia shopping spree
See batik, woodcarvings and ceramics under one roof at Kuala Lumpur Craft Complex. Energetic haggling takes place after dark at the pasar malam, or night markets. Visit the daily beachside Batu Ferringhi market in Penang where makeshift stalls sells cheap CDs and souvenirs. Step off at the jetty at Langkawi island's Kuah town for a duty-free haven. Find bargain cameras in glass-fronted Langkawi Fair mall, or perfumes, cognacs and confectionery in Saga shopping centre.