Top 10 food and drink things to do in Portland
Top 10 food and drink things to do in Portland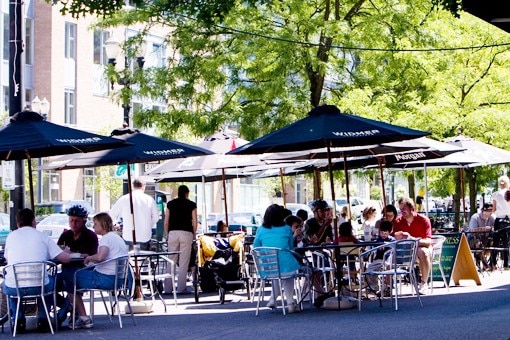 From a pizza and a pint of local porter to elegant seafood dinners on the riverfront, Portland's culinary enticements are many. Book a Portland hotel and taste the myriad flavors with this guide to the top 10 food and drink things to do in Portland.
France meets the Pacific Northwest at Higgins
Settle into comfy leather booths at this open-kitchen French Bistro, where the chef serves classically prepared Pacific Northwest fare, some of it from his own garden. Try the halibut paired with a Willamette pinot gris.

1239 S.W. Broadway, Downtown 97025


Crawfish and more at Jake's
An icy plate of Pacific oysters fresh from the docks and a cold beer make a satisfying start at this 110-year-old seafood institution. The steelhead trout is a good choice, but don't leave without trying the chilled, signature crawfish.

401 S.W. 12th Ave., Downtown 97205


A taste of Oregon wines at Noble Rot
Get a flight of Willamette Valley pinot noirs at this stylish wine bar. If the weather is favorable, ask for a table on the rooftop terrace with a view of downtown Portland.

1111 E. Burnside St., Southeast Portland 97214


Dining in style at the Heathman Restaurant
Wild Sturgeon and Anderson Ranch Willamette Valley lamb are just two of the specialties on the seasonal menu at this grand dame of Portland restaurants, known for its extensive wine list.

1001 S.W. Broadway, Downtown 97205


Dinner at Fratelli
Couples like the soft glow of candlelight flickering at this chic trattoria, known for its regional Italian menu. Adjacent is Bar Dué, good for late-night bites or a wood-fired pizza.

1230 N.W. Hoyt St., Northwest Portland


An espresso at Stumptown Roasters
The minimalist, exposed-brick aesthetic of Stumptown Coffee Roasters provides an enticing spot to linger over a creamy latte. Take a sightseeing break to gaze out the large windows or read a magazine.

128 S.W. Third Ave., Downtown 97204


River views from McCormick and Schmick's
Book a Portland hotel near the Willamette River, and you're only steps away from harborside dining and views of boats docking at RiverPlace Marina. Or watch beer being brewed at Full Sail Ale microbrewery through an interior window in the bar.

309 S.W. Montgomery St., Downtown 97201
A pint and a pizza at Rogue Distillery & Public House
A visit to an amiable brewpub is one of the top food and drink things to do in Portland. One the best sits inside the brick façade of an old warehouse. Come for a pint of one of Rogue's bold and hoppy ales. If you're hungry, a custom-built pizza is the way to go.

1339 N.W. Flanders St., Pearl District 97209


Cocktails at Vault Martini
Wear black for a stylish night out at this sleek spot. Choose from a lengthy menu of inventive cocktails like Gluttony and Cranberry Squared. Sit by the ice-glass bar and watch the beautiful people.

226 N.W. 12th Ave., Pearl District 97209


A taste of Vietnam at Silk Vietnamese Restaurant and Bar
Expect a casual Asian vibe here, where traditional meets modern. The specialty is the rich pho soup, but innovative dishes like banana-blossom salad are fun.

1012 N.W. Glisan St., Northwest Portland 97209
Discover
Find your perfect holiday in Portland
From 260 hotels.