Adelaide Travel Guide - Your destination overview of Adelaide, Australia
Adelaide Travel Guide - Your destination overview of Adelaide, Australia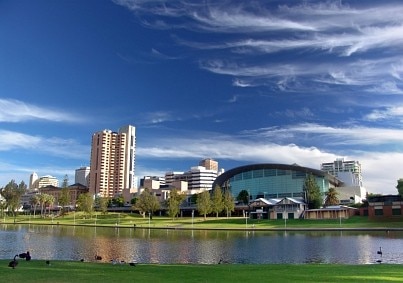 Adelaide is the capital of South Australia and although it is its largest city, it has a compact core and many distinct neighborhoods defining it. Adelaide is a place of interesting old buildings that blend with modern arcades and large parks and gardens. It is the main launch point for visiting the wineries of the region and has many beaches.
The South Australia capital hails from the 1800s as a convict-free city and takes its name from King William IV's wife. It has some of the finest churches and buildings in the country and a definite air of quiet sophistication. In addition, fine restaurants, a burgeoning café scene and unending shopping options add further depth.

Downtown is surrounded by several districts and is where most of the action is, while North Adelaide is nearby and is characterized by nice hotels and restaurants. These areas are surrounded by nice parks and gardens, while to the east is the eclectic Norwood district. Port Adelaide is to the northwest and Glenelg and the Grange lie on the coast.


Downtown Adelaide
Adelaide has a fairly compact CBD, which can be got about easily enough on foot. It is on a grid network and features a fascinating blend of old and new buildings along with popular shopping arcades and expansive markets. Rundle Mall is the main shopping area while North Terrace has the top hotels.
Glenelg
The suave seaside district of Glenelg is an area of shops, cafés, and restaurants and is well connected with downtown Adelaide. The beaches here are nice and good for a swim and there is also some sightseeing, with historic trams providing transport to areas of interest.


Chinatown
Adelaide's Chinatown is between downtown's Grote Street and Gouger Street and offers some of the city's best value food as well as decent nightlife. Nearby is the somewhat seedy Hindley Street, and King William Street is home to one of the city's grandest structures, Adelaide Town Hall.


North Adelaide
North Adelaide is a smart, leafy part of town, separated from downtown by the Botanical Gardens and North Terrace. You will find the best hotels and restaurants here and there are plenty of wine bars to sample the local produce. There are many good cafés here while O'Connell Street is best for drinking.


Port Adelaide
The port is northwest of the city center, toward the coast on the Torrens River, and offers Victorian buildings, warehouses, and preserved, ancient public houses. You can do river trips from here and check out attractions such as the South Australian Maritime Museum.
Discover
Find your perfect holiday in Adelaide
From 370 hotels.