Shanghai Sightseeing Guide - Visit Shanghai attractions and landmarks
Shanghai Sightseeing Guide - Visit Shanghai attractions and landmarks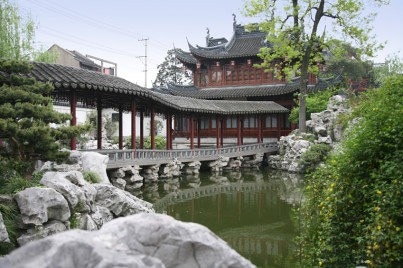 On a Shanghai city tour you may not find the grand-scale historic attractions of Beijing, but it is still one of the most architecturally stunning holiday destinations in China. With a heavy infusion of nostalgic colonial neighborhoods and an even stronger dose of cosmopolitan energy, this is a place to linger.
Shanghai's best colonial sites are in the French Concession or on the Bund, Shanghai's world-famous embankment on the Huangpu River. Across the river, Pudong holds the ultra-modern core with its iconic skyscrapers like the Oriental Pearl and Jin Mao Building.

These two districts, the Bund and Pudong, strike a harmony between the city's past and future. High-speed elevators whisk passengers from the ground to soaring observation decks in seconds, while the world-class metro glides between districts. Along the way are high-caliber museums, a modern zoo and aquarium, and a couple of outstanding temples.


Jin Mao Building – Shanghai's Modern Architecture
China's second-tallest building is one of the most evocative displays of architecture in Shanghai. It was built in 1998 with a slick, tapering design reminiscent of a pagoda. It stands 88 stories tall (1,381 feet), with the lower half occupied by the Grand Hyatt Hotel. The view from the skywalk is outstanding, especially on clear days.


Shanghai Museum – A Must See Shanghai Attraction
This city is full of world-class museums, but the Shanghai Museum is in a class all its own. It is located on the southern edge of People's Square, a central landmark where metro and bus lines converge. More than 120,000 artifacts with bilingual signage are artfully arranged across four floors.
Peace Hotel – Artistic Shanghai Hotel
Victor Sassoon built this Art Deco masterpiece in 1929 with spoils he inherited from his family's opium fortune. The lavish interior of the Peace Hotel epitomizes Shanghai's turn-of-the-century extravagance. Recognized by the green pyramid that caps it, the Peace Hotel is near Nanjing Dong Lu metro station.


Longhua Temple – Visit The Old Shanghai
This is the oldest and liveliest temple in Shanghai, and it boasts a pagoda with legendary roots in the 3rd century. Many visitors only make it to the Jade Buddha Temple in town, but those who don't mind arranging transportation will appreciate Longua Temple for its grandeur of relative lack of tourists.


Aquaria 21 – Top Shanghai Tourist Attraction
Accessible via Jinshajiang Lu metro station, this ultra-modern aquarium is full of surprises. The massive, central tank is the first thing visitors see, but there's plenty more to enjoy. From the collection of worldwide aquatic habitats to onsite scuba diving lessons, it is certainly worth the visit.


Oriental Pearl – Iconic Shanghai
This 1,500-foot television tower has become Shanghai's icon. It towers over Pudong and boasts a slick, science fiction exterior that feels like it's straight out of the future. The middle and top spheres both have observation decks that can be reached via high-speed elevator.
Discover
Find your perfect holiday in Shanghai
From 1260 hotels.