Perth Travel Guide - Your destination overview of Perth, Australia
Perth Travel Guide - Your destination overview of Perth, Australia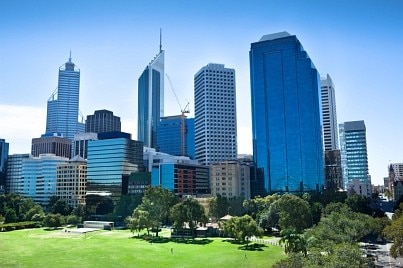 Perth is one of the world's most remote major cities, lying as it does thousands of miles from anywhere on West Australia's southwest coast. The Aboriginals were here 40,000 years before the Dutch and English though it was the latter that settled the area in the 1800s, with the establishing of a colony on the Swan River by Captain James Stirling in 1829.
Perth boasts some of the best weather in Australia and is easily explored on foot as the core is compact and has the majority of the tourist attractions and shops. The city center straddles the mouth of the Swan River, with downtown to the north and the open areas of South Perth on the south bank.

In addition, Perth has extensive suburban areas that stretch as far as the port of Fremantle to the west and beyond the airport to the east. Perth's famous beaches are west of town and stretch up the Sunset Coast from Fremantle.


Downtown Perth
The central business district is a compact area centered on traffic-free Forrest Place. It is the touristiest area in Perth and is home to large shopping malls, several must-see attractions and Perth's main train station. Other popular streets in this area are Murray, Hay, and King Street, and St Georges Terrace.


Northbridge
This is the most favored area by backpackers, with its cheaper hotels and bars and altogether smaller town feel. Northbridge starts just north of downtown Perth and is focused on William Street and Aberdeen Street, where there are many shops, cafés and bars.


Fremantle
Although established as a separate entity during the early years, Fremantle, or Freo as it is affectionately known, is part of Greater Perth and is a major port. Ten miles west of downtown Perth, Fremantle is thoroughly laid-back and is one of quaint shops and cafés and easy wandering.


West Perth
West Perth is the sophisticated part of town with some nice suburbs that lead toward the city's beaches. The popular suburbs of West Leederville and Subiaco are in West Perth, along with the nice shopping area of Harbour Town and the beautiful Kings Park.


South Perth
South Perth is just across the Swan River from downtown and is lined with parks, including that of the expansive Victoria Park. In is accessible by bridge or ferry and features several attractions, like Perth Zoo, and some good Asian eateries.


Northern suburbs
Leederville and Mount Lawley are trendy areas of northern Perth that are far removed from the bustle of downtown. Locals come here to shop in designer boutiques and music outlets, with Mount Lawley's Beaufort Street being especially popular.