Ho Chi Minh City Travel Tips - Helpful hints and advice on local destination information
Ho Chi Minh City Travel Tips - Helpful hints and advice on local destination information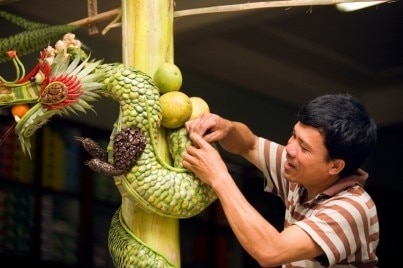 Ho Chi Minh City is well equipped for tourists and the locals are very welcoming towards all nationalities. The main danger in the city is the traffic, so pedestrians should be very careful and if possible, shadow a local when crossing a busy road. Travelers who haven't driven in Asian cities should stick to public transport, as traffic is highly undisciplined and many local drivers act ruthlessly on the road.
Customs and etiquette
Vietnamese are very polite, gentle and welcoming people, who will often invite you to their homes or out for dinner. They are generally tolerant of foreign etiquette; however, there are some points to remember if you are eager to respect their traditions.

When visiting areas away from the beach resorts, it is more polite to dress conservatively and show as little skin as possible. This is particularly important when visiting a religious site such as a temple or mosque. Shoes should always be removed before entering a local's residence or place of worship.

Chopsticks should never be left pointing vertically out of a bowl as this is considered very rude and unlucky. Placing chopsticks across the top of your bowl is much more polite.

Try to keep your cool regardless of the situation, heated behavior is considered a loss of face for all parties involved and will not help the matter at hand.


Money
The Vietnamese dong (VND) is the local currency. One US dollar amounts to 17,800VND. It is possible to find a cheap meal in a basic restaurant for slightly under US$2. Multiply this by twenty and you can dine at the city's most lavish establishments.

There are ATMS throughout the city and credit cards are accepted in large hotels and shopping centers. Having some cash at hand is essential for market shopping, taxis and cyclos.


Weather
Ho Chi Minh City's geographical location means the city has a tropical climate with two seasons: a rain season and a dry season. The rain descends on the city in May and falls until November, while December until April is the dry season. The weather during the month before each change of season can sometimes be unpredictable.

Temperatures soar to sultry heights in April, and the city is also prone to destructive typhoons during this period. The coolest month is December, but temperatures remain in the twenties during the day.

The most pleasant time to visit Saigon is during the dry season when humidity is low and sightseers can keep dry.


Transportation
The compact nature of the city's tourist area means most sights can be accessed on foot. However a number of interesting sights, markets and attractions are located outside of District 1, so transport is required.

Cyclos are the cheapest, easiest and most fun way to travel, especially for short distances. Taxis are also cheap and are the most comfortable way to travel.

Visitors arriving at Ho Chi Minh City Airport (SGN) can choose between taking a bus or taxi to downtown Saigon. The air conditioned bus is the cheapest way to travel and will drop you off on the south side of Ben Thanh market. The bus service finishes at 19:00.

Taxis from the airport take between 15 and 30 minutes to reach the city, depending on traffic. Always ensure the driver turns the meter on before you begin setting off. Major taxi companies are generally honest, but always exercise caution and stick with known operators.
Fast facts
Population: 7, 123, 340
Spoken languages: Vietnamese, Chinese, Khmer, French and English
Electrical: 220 Volts, 50 Hertz
Phone/calling code: +84
Discover
Find your perfect holiday in Ho Chi Minh City
From 2220 hotels.