Ho Chi Minh City Travel Guide - Your destination overview of Ho Chi Minh City, Vietnam
Ho Chi Minh City Travel Guide - Your destination overview of Ho Chi Minh City, Vietnam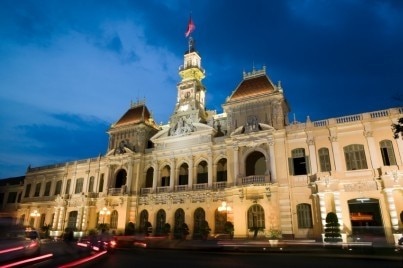 At first Ho Chi Minh City feels suffocating. First time visitors find it difficult to catch their breath amongst the chaos and congestion. The streets are besieged with an army of ruthless motorcyclists who patrol the streets day and night, making a constant racket and making crossing the road potentially fatal.
However, after a brief period of acclimatization, most visitors find the city's unique character and old world charm dispel the dreadful din. The city still known as Saigon, by locals and foreigners, manages to piece together old and new like a jigsaw puzzle. The city embraces modernity with open arms, yet a lengthy, colorful past echoes from colonial villas and ornate religious sites.

Ho Chi Minh City is divided into 17 different districts, and the central downtown district is still officially called Saigon. This downtown area constitutes District One and is the tourist center, where the main attractions, markets and accommodation are located. District Two and Phu Mi Hung District cater for expat residents, and are home to many modern apartment blocks, malls, cinemas and a western style scene.

Cholon (District 5) is also an interesting place to visit, as it the site of Vietnam's largest Chinatown. It is also the location of the lively Binh Tay Market and stunning Thien Hau Pagoda.


District One
This downtown area is the commercial center and main tourist hub. An array of tourist attractions, including the Notre Dame Cathedral and the Reunification Palace, are intermingled with five-star hotels and expensive restaurants.


District Two
Previously the poorest area of the city, this district is set to become Saigon's most modern urban space. Thatched houses are being bulldozed to make way for swanky new apartment buildings complete with swimming pools and gyms, catering to the city's wealthier citizens.


District Three
Mainly a residential area, many French style villas are located in this part of the city. Saigon Railway Station is also located in this district.


District Five and Six (Chinatown)
Cholon lies on the west bank of the Saigon River and is home to Vietnam's largest ethnic Chinese community. Other attractions in the area include Binh Tay Market and Quam An Pagoda.


District Seven
Phu My Hung is a new urban area which has been carefully planned by a foreign architectural company. It is home to residential developments, green spaces, and many companies have moved their headquarters to this modern urban center.
Discover
Find your perfect holiday in Ho Chi Minh City
From 2220 hotels.