Ho Chi Minh City Sightseeing Guide - Visit notable attractions and landmarks
Ho Chi Minh City Sightseeing Guide - Visit notable attractions and landmarks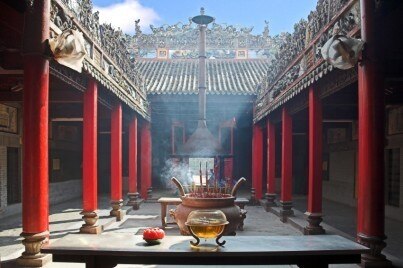 There is no shortage of attractions in Saigon, and the main sights are conveniently located in the compact downtown district. This area of the city manages to juxtapose old and new with considerable elegance and taste.
The city's most visited attractions are those relating to the country's war torn past. The War Remnant's and the Reunification Palace should be top of any sightseeing agenda; however, there are many religious sights to experience, adding a dash of color and culture to the picture.

Chinatown is a particularly vibrant area of the city, and home to the city's largest and liveliest shopping arena, Binh Tay Market. It is easy to explore the downtown district on foot and other attractions outside this area can be reached by cyclo, which adds a further element of fun to the expedition.


Reunification Palace (Independence Palace)
This kitsch time capsule from the sixties was once the Presidential Palace. The palace made world news in 1975 when Viet Cong tanks charged through its gates, marking the end of the Vietnam War. The Reunification Palace is easily reached on foot.


War Remnants Museum
Previously named the Museum of American War Crimes, the name has been changed to War Remnants Museum to avoid offending visitors from the US. The museum houses a collection of photos and items which illustrate the gruesome and inhumane nature of the war. The museum is located in District Three and is best accessed by cyclo or taxi.


Notre Dame Cathedral
The twin towers of the cathedral have been an iconic symbol of the city since the 1880s. A statue of the Virgin Mary stands at the front of the Notre Dame Cathedral and is believed to have once shed a tear. The cathedral is located in District One, so is easy to reach on foot.
Museum of Vietnamese History
A fine collection of interesting artifacts chart 2000 years of Vietnamese history, including some items from ancient cultures. The surrounding gardens are a pleasant spot for a picnic away from the hordes. The Museum of Vietnamese History is also located in the compact District One and is only a short walk from the other main sights.


Thien Hau Pagoda
This beautiful pagoda is a celebration of ornate design and statuary. The pagoda was built in dedication to Thien Hau, protector of the sea, and attracts droves of worshippers on a daily basis. The pagoda is in the Cholon area of Saigon, just a short taxi or cyclo ride from downtown Saigon.

Find more information about Ho Chi Minh City and hotels in the area:
Ho Chi Minh City hotels | Vietnam hotels
Discover
Find your perfect holiday in Ho Chi Minh City
From 2220 hotels.