Chongqing Shopping Guide - Find where and what to shop and buy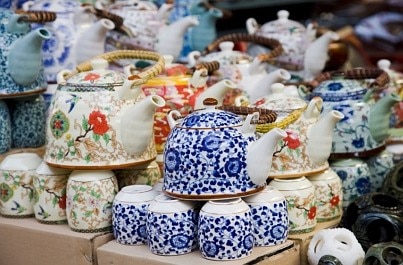 The massive retail plaza of Jiefangbei is home to all the major Chinese department stores such as New Century and Commercial Mansion as well as over 6,000 other retailers so this part of town should be more than adequate for even the most die-hard shopper.
There are plenty of other shopping precincts in Chongqing though, and the city has been a thriving place of commerce for centuries due to its location on the Yangtze. Basics are available in supermarkets, while the latest electronic goods on offer feature eye-popping technologies.

Intrepid shoppers will enjoy weaving through some of the city's older districts where great street markets and crumbling old stores sell bric-a-brac and fresh produce for very good prices. The noise of the haggling and hawking at these places can rival the clamor of the main high streets on busy market days.


Jiefangbei Central
The People's Liberation Monument stands about 30 meters high, and marks the bull's eye of Jiefangbei like a gigantic dart. Cinemas, banks, five-star hotels and classy restaurants are part of the seemingly endless array of this unbelievably big and busy retail plaza right in the middle of the city.


Chaotianmen Market
Just east of Jiefangbei is Chaotianmen, the largest market in Chongqing. The main thing here is fabric and garment wholesale, which are mostly drawn from several hundred provinces in the surrounding region. Ready made clothes and tailor made outfits can be found for a steal here.
an Bin Road
The lovely flower market on Nan Bin Road is on the edge of Huanggedu Park in the Nan Ping area. Delicate flower houses and tea houses line all the streets here and there are fragrant open-air markets that are a pleasure to stroll through, particularly when the busy pace of the rest of the city becomes a little too much.


Paradise Walk
Still under development but open for business daily, the Paradise Walk adjunct to Jiefangbei is part retail mall, part amusement park with several cinemas, gaming zones, hotels and shopping centers.


Chongqing shopping tips
Chongqing doesn't really have a sale period but prices tend to be fairly flexible throughout the year. Naturally, haggling at the markets is compulsory but while some discounts can be obtained inside the more formal shopping malls and retailers, prices tend to be fixed away from the street markets. Cash is essential as many places do not take credit cards, even at the modern shopping areas.

Find more information about Chongqing and hotels in the area:
Chongqing hotels | China hotels
Discover
Find your perfect holiday in Chongqing
From 290 hotels.