Where to eat in Recife – a food and dining guide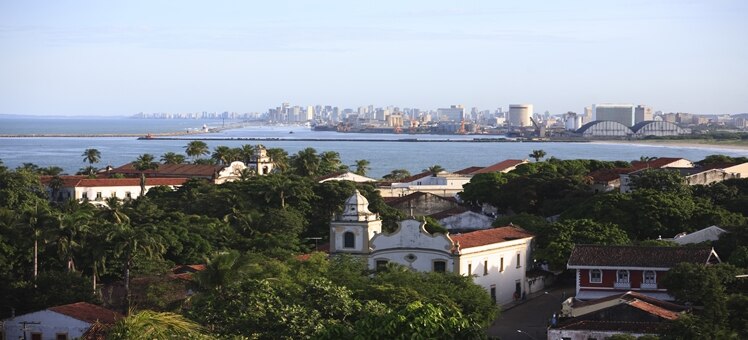 The mixture of diverse ethnic traditions in colonial times gave rise to the exotic flavors which characterize Pernambuco's cuisine today. The state manages to satisfy a wide variety of different tastes with gastronomical wealth and diversity. The Pernambucan cuisine is a rich fusion of Portuguese, African and native Brazilian dishes, often combined with the freshest tropical fruits, herbs and vegetables. The taste for sweets originated in the kitchens of the sugar plantation houses and whilst the coast provides abundant seafood, the countryside produces sun-dried beef and traditional cheese.
Get to know Pernambuco by tasting regional delicacies, such us the Bolo de Rolo (a thin rolled pastry), tapioca and tasty goat and sundried meat. Raw oysters, fried needlefish, lobster, cracked crab and shrimp skewers are a few of the delicious fresh seafood-based local specialities you should look out for during your trip.
International cuisine
Recife is the most important culinary center in the northeast and the third most important in Brazil. Here you can experience a wide and exotic variety of tastes from simple home-made food to the most sophisticated of international dishes. Olinda stands out as a center for eating out, with bars, restaurants and snacks offering a wide range of both regional and international cuisine in traditional colonial surroundings. In the beach resort of Porto de Galinhas, bars and restaurants serving distinctively North-eastern cuisine work harmoniously alongside pizza, crepes, sushi restaurants and other international restaurants, as well as speciality ice cream juice and energy drinks shops.
•
Oficina do Sabor
, Rua do Amparo 335, Olinda, 53020-190. Tel: +55 81 3429 3331.•
La Tratoria Porto de Galinhas
, Rua dos Navegantes, 81, Porto de Galinhas, Ipojuca. Tel: +55 81 3552 2684.
Seafood
Seafood is king along the coast, with stews and soups being very popular. Along the beaches, visitors can sample the cooked crabs, and varied broths (caldinho) offered by the wandering sellers. Fried fish is also available, along with oysters, mussels and treats that do not come from the sea, such as lightly grilled white cheese, peanuts, quail eggs, and traditional bean based soups. Don't forget to grab a cool freshly opened green or yellow coconut (coco) – to refresh and rehydrate in the tropical heat.
•
Bargaço
, Av. Eng. Antônio de Góes, 62, CEP: 51010-000. Tel: +55 81 3465 1847.
Churrascarias
Dining at one of the great churrascarias (traditional barbecue restaurants) in the capital, or going to the São José Market in central Recife to select ingredients used in preparing the traditional feijoada (a thick, non-spicy bean and meat stew), are wonderful ways to become Pernambucan, at least for a little while. Make sure you follow it with a well-deserved rest in a hammock.
•
Ponteio Grill
, Av. Visconde de Jequitinhonha, 138, Boa Viagem, 51303-020. Tel: +55 81 3326 2386.
Drinks
Visitors should become acquainted with the handmade liquors and cachaças (a Brazilian spirit distilled from sugar cane) in order to really experience the tastes of local culture, and they make for great gifts. Typical tropical fruits are combined with hard liquor to produce the Brazilian caipirinhas, or caipirfrutas. Many bars and restaurants offer musical programmes at night, staying open until the last guest leaves.
•
Bazza Bar
, Rua Sebastiao Alves 273, Pernamirim. Tel: +55 81 3048 3126.
Desserts
Desserts and rapadura, called "sweets sweeter than sweet" from the sugar cane culture have now become popular around the world, and are bought as gifts from visitors. Bolo de Rolo, a thin-layered cake filled with guava or other preserves and rolled up into long loaves, is always a hit, along with manioc and corn-based cakes and well-known recipes like Souza Leão, especially popular in the São João winter festivities. Flour mills still produce local staples like manioc paste, used to make what the locals refer as tapioca - not a pudding, more like a thick folded and lightly fried tortilla shell that is filled with whatever you like, from heavy to light or sweet to salty.
•
Sao Braz Coffee Shop
, 1st Floor, Shopping Center Recife, Boa Viagem, CEP: 50020-900.
Discover
Find your perfect holiday in Recife
From 530 hotels.