Recife shopping guide – where to shop and what to buy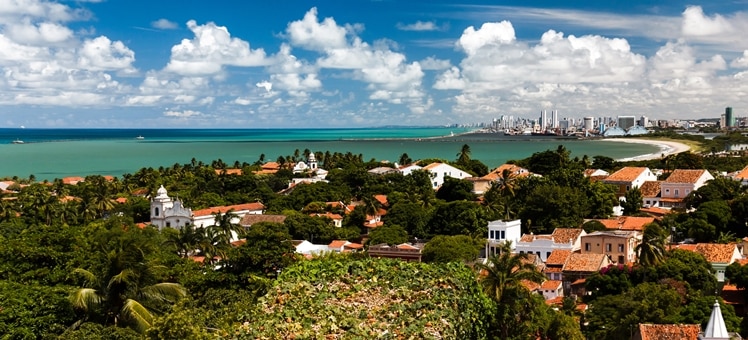 Recife has been a regional hub for services and commerce going back to Brazil's colonization in the 16th century. Its melting pot of races and creeds has created one of the richest arts, crafts, music and dance scenes in Brazil. Street markets in Boa Viagem, Old Recife and Olinda are a fun way to mingle with the locals and experiment with local delicacies. Containting much cheaper products than the up-market shops or galleries, you are welcome to bargain here, with a smile, or 'cry' (chorar) as the locals say. Kit yourself out with locally produced colourful masks and clothes for Carnival and São João festivals - they double up as souvenirs for back home.
Recife - arts and crafts
Every tourist should visit the Pernambuco Craftsmanship Center (Centro de Artesanato de Pernambuco) in the redeveloped port area of Old Recife, next to Marco Zero Square. It has almost 16 thousand pieces by 500 craftsmen for sale from all the regions in Pernambuco. Another place for presents and local delicacies is the São Jose market, a big covered market in central Recife with crafts and mystic materials, cited as the most ancient prefabricated steel market in Brazil. The Casa de Cultura (Cultural House) is a historic building, formerly the City Jail, which has now transformed into a charming and well-structured center for arts and crafts. Each cell was turned into a small shop, offering lace work, gems and souvenirs. There is also a stage outside, where dance groups (capoeira and frevo) perform.
Olinda – arts and heritage
Olinda has many artists and artisans, from those renowned internationally to new talents. The studios and workshops are concentrated on the narrow streets and hills of the Upper Old Town. Local production ranges from traditional painting and giant puppet-making to sculptures, fabric printing, carnival masks and woodcuts. The best places to view and buy handicrafts are the Eufrásio Barbosa and Ribeira Markets, and the small shops by the cathedral and the artists' ateliers.
Other arts and craft centers
In Porto de Galinhas, kiosks and shops sell a wide range of local crafts, including the famous colorful chickens. Along the coast and inland, artisans use everyday materials to make art from shells, seeds, coconut husks, wood, clay, leather and fabric. The city of Goiana is well known for its ceramic figures. Caruaru has a famous market for souvenirs, a one and a half to two hour drive inland. Around 40,000 people travel here daily. Clay figurines made by local artists are the specialty. In Recife you can find handicrafts from all over the state, at the street fairs in Boa Viagem and Rua Bom Jesus, the Casa da Cultura and in the historical São José Market.
Shopping centers / malls
Shopping Riomar is the newest shopping mall in Recife and the largest in the north / northeast of Brazil. It has 354 stores, 18 megastores, 12 restaurants, a 12 screen cinema, a theatre with 720 seats, a leisure park, fitness center and citizen express services. It's found at the north of Boa Viagem district, in Pina, overlooking the river. Shopping Recife is a modern and contemporary shopping center and Recife's second biggest shopping mall. It has a multiplex cinema complex, a bowling alley and several food squares and is easily accessible by bus, in the center of the Boa Viagem beach neighborhood. Shopping Centre Guararapes is the third biggest shopping mall in Pernambuco and located in Jaboatão dos Guararapes, just south of Boa Viagem district in Recife. There are 219 shops, a varied food square plus the Box Cinema complex with 12 screens. Paco Alfandega is another shopping haven, built in the old Customs Warehouse and dating back to 1826 it now houses modern shops and cafes. At weekends and during festivals, activities for children are held in the beautiful central atrium. Two other shopping centres to look out for include Shopping Center Tacaruna and Plaza Shopping. The latter is located in one of the richest neighborhoods and a popular haunt for locals.
Discover
Find your perfect holiday in Recife
From 530 hotels.