Where to stay in Recife and the surroundings of Pernambuco – a neighborhood guide
Where to stay in Recife and the surroundings of Pernambuco – a neighborhood guide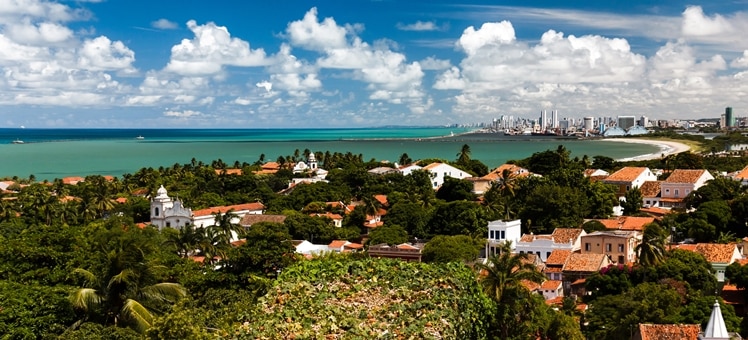 Recife and surrounding regions have accommodation for all tastes and pockets, catering for tourist and business travelers and longer stays. Recife is a regional hub, a popular holiday break and business travel destination within Brazil. A lot of accommodation is concentrated in the Boa Viagem beach district which is handy for the airport and the Old town of Olinda. Pernambuco's superb tropical beaches are North and South and the paradisical Fernando de Noronha islands are just a one hour flight away.<span style="text-decoration: underline;"></span>
Bed and breakfasts are becoming more common in Brazil, as foreigners have moved here and set up local accommodation. It is expected the lack of hotel accomodation during peak times such as the World Cup 2014 will be covered by B&Bs, rented rooms, flats and houses.
Recife
As well as a modern airport, the city has the hotel facilities and services that make it ideal for both business and pleasure. As a host city of the World Cup FIFA Brazil 2014 Recife is the largest regional center for events. With 115 miles of beautiful beaches, a variety of landscapes and a wonderful climate year round, Recife offers an excellent infrastructure for visitors with hotels, luxury guest houses, cosy inns, large resorts and hostels. Pernambuco State offers 10,000 beds with more capacity being added each year. Be aware that in peak season they can get fully booked.
Fernando de Noronha
The archipelago of Fernando de Noronha, a Natural World Heritage Site (UNESCO 2001), is an ecological sanctuary that delights people from all over the world with its exuberant beauty and wildlife. An hour's flight from Recife, Noronha offers accommodation options from sophisticated guesthouses (Pousadas) to locals' spare rooms. Camping is not allowed on the island.
South Coast
The south coast of Pernambuco has excellent hotels and services, and some of the best resorts in North-eastern Brazil. The region offers a variety of holiday options and the most famous is Porto de Galinhas, from where you can access Camboa, Muro Alto, Cupe and Maracaipe beaches. The hotels and resorts are ideal places from which to enjoy this natural beauty. For even more peace and quiet, there is a great choice of tropical beaches, including Paiva, Gaibu, Calhetas, Serrambi, Tamandaré, Carneiros, Praia do Porto and São Jose da Coroa Grande. Carneiros Beach is rapidly improving its infrastructure, with comfortable and rustic options available.
North Coast
The northern coastline is calmer and has a good infrastructure of hotels and services. Here you'll find hotels, inns and rented apartments alongside restaurants, bars, marinas and water sport rentals. Taking advantage of its calm waters and the proximity to Recife, the area has become watersports hotspot.
Inland – rural zone and the Agreste
The Zona da Mata (Forest Zone), located between the coastline and the hinterland, was chosen by the colonizers to plant sugar cane. Some of the old large sugar plantation houses were preserved and adapted as guesthouses, where tourists can get close to nature, history and gastronomy. The main towns have hotels, rural inns and pensions, in addition to offering tours and food services. Further inland, the Agreste region is all about entertainment and a cooler climate. The main cities; Gravatá, Caruara, Bezerros and Garanhuns have events and festivities all year round, with great shows and a good hotel structure with inns, farm hotels and chalets. The region is also the major producer of craftwork and is rich in ecotourism.
The Sertão – Drylands
The Sertão of Pernambuco is a region of contrasts. The strong sun during the day gives way to mild temperatures during the night, which give a special charm to the region. Petrolina is the main city, beside the São Fransisco River, with a good range of hotels, bars and restaurants. Attractions include river trips and visiting the unique irrigated wine and fruit producing areas.
Discover
Find your perfect holiday in Recife
From 530 hotels.