Where to eat in Sao Paulo – a food and dining guide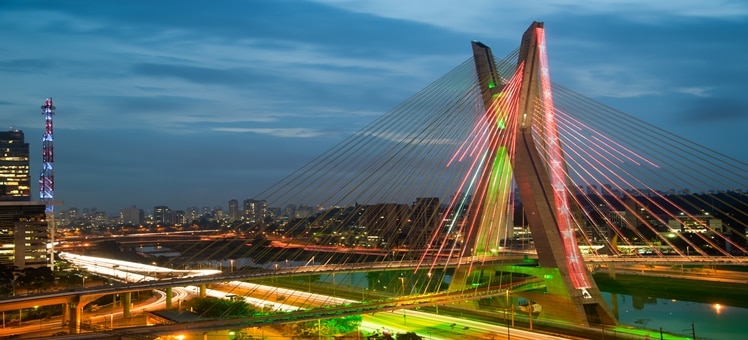 The diversity of Sao Paulo is obvious in its cuisine and the many different eateries it has, making its food famous. From American style steakhouses, to a huge amount of Japanese restaurants, pizzerias and bakeries, Sao Paulo covers any kind of food craving. Brazilian food is hugely popular in Sao Paulo and with European and indigenous African influences, Brazilian dishes change throughout the region. With over 12,000 restaurants, Sao Paulo literally spoils you for choice.
A traditional dish is virado a paulista, this is made with rice, tutu de feijao (a type of bean), salted kale and pork. For local food, try bologna sandwiches in the municipal market and pastels – deep fried meat/vegetable filled pastry.
West
While in the west of Sao Paulo, head to Rascal, a popular and very authentic feeling Italian restaurant. This is a great place for quick bites and lunches with friends. Sit down to the buffet lunch and choose from antipasti, lots of different pastas, pizzas and meats on the menu – a great place to share real good food with friends. There are also authentic Italian desserts on the menu too.
•
Rascal
, Alameda Santos, 870 Jardim Paulista, Sao Paulo. Tel: +55 113141 0692
East
Japanese cuisine is very popular here in the south east of Sao Paulo, with a few good restaurants to try. Head to Espetinho Giba, where locals often dine and recommend it as the best Japanese food in the south east area of Sao Paulo. Owned by a Japanese family, the real authentic restaurant knows how to serve the best in Japanese cuisine. It's very affordable menu also offers chicken and beef skewers which are recommended.
•
Espetinho Giba
, Rjua Baquia, 70, Carrao, Sao Paulo. Tel: +55 112227 1294
Far South
The mainly forestry area of Sao Paulo in the far South is not a known area for eating. However, there are surprisingly plenty of places to eat in the Morumbi area of the far south of Sao Paulo. Head to Fogo de Chao, which is a well-known Brazilian steak house. This is an up-market dining experience of great food. Expect good service, and loads of choice. There are 16 different cuts of tender meat that are fire roasted for you.
•
Fogo de Chao
, Avenida Santo Amaro, 6824 - Santo Amaro, São Paulo - 04702-002. Tel: +55 11 5524-0500
Northeast
The northeast is perhaps the most diverse area in Sao Paulo in terms of food. There is a wide range of cuisines from local Brazilian food to Japanese and lots of pizzerias. As the area is also highly populated with Koreans, the best and most authentic Korean restaurants are here too. There are also plenty of great bakeries. Paulistanos love their pizza slices, so head to Capitania das Pizzas for tasty slices of pizza.
•
Capitania das Pizzas - Rua Voluntários da Pátria
, 3144 - Alto de Santana +55 11 2973 2963
Downtown
The area of Liberdade, in Downtown Sao Paulo is famous for its Japanese restaurants throughout the whole of the city. Espcao Kazu is an open plan and very modern looking Japanese restaurant upstairs and a bakery downstairs. It is filled with authentic Japanese imported goods that are used in the cooking, and even Japanese staff. Try the Kare Raissu, spicy Japanese curry with pork and the specialist sake drinks.
•
Espaco Kazu
, Rua Tomaz Gonzaga, 84, Liberdade, Sao Paulo. Tel: +55 113208 6177
Discover
Find your perfect holiday in Sao Paulo
From 1010 hotels.