Where to stay in British Columbia – a neighborhood guide
Where to stay in British Columbia – a neighborhood guide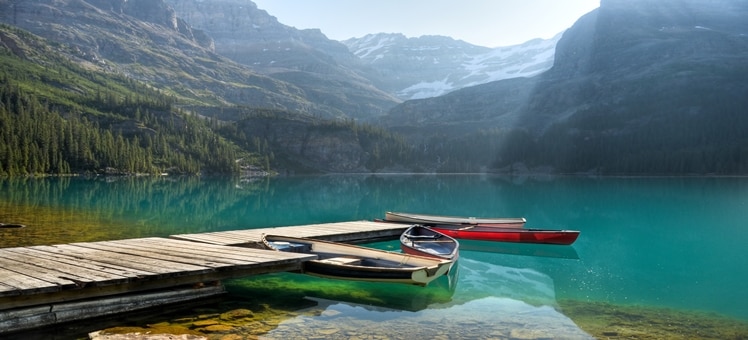 Offering everything from secluded eco-lodges to boutique waterfront hotels, tranquil golf resorts to romantic lakeside lodges, British Columbia has a wide range of accommodation options to suit all tastes and budgets. Whether you want to look out upon sweeping mountain vistas, be surrounded by the rugged wildness or be based right in the heart of bustling attractions, British Columbia won't disappoint.
Victoria
A small artistic city perched on the southern tip of Vancouver Island, there is plenty to explore in British Columbia's capital. Known as the City of Gardens, here you'll find hanging baskets, woodlands and leafy parks adorning the city with a picturesque charm. Wander around Victoria's inner harbor area - tucked away in the downtown district - to soak up the city's relaxed vibe. Festivals and events are a huge draw to this area, with farmer's markets, plays and live music taking place on a regular basis here.
Hotels in Victoria
Undoubtedly an asset of Victoria is its wide range of accommodation options. Here you will find everything from boutique hotels to waterfront stays. Choose to stay right in the city center, close to all the attractions, or search for a more secluded spot in one of the surrounding communities.
Vancouver
A youthful city with bundles of character, Vancouver is a particularly popular choice to stay. Home to acres of parkland, botanical gardens and a cosmopolitan downtown area – where you'll find hundreds of shops, galleries and cafes - you won't be short on attractions to explore. Foodies can also rejoice in the rich culinary scene that has become an essential part of this city's culture.
Hotels in Vancouver
Whether you are looking for waterfront luxury or family-friendly accommodation, Vancouver can cater to your needs. Hotel and spa resorts are found in abundance here, as well as more affordable options such as guesthouses and inns.
Vancouver Island
Outlined by secluded islets, rugged Pacific coastline and wild forests, Vancouver Island is an extremely appealing place to stay. The ideal spot for adventure-lovers, this area is also known for its abundant water sports, whale watching, sports fishing and birding opportunities. Surfers will be drawn to the craggy coastline of the Pacific Rim while food and wine enthusiasts will find comfort in South Island, finding ample heritage farms and wineries to enjoy.
Hotels in Vancouver Island
From opulent resorts with abundant amenities to rustic wilderness camping, Vancouver Island offers a hugely varying stay. Seasonal adventure tours and hotel packages are common here so, make sure to look out for the best available deals.
Whistler
With its seasonal dusting of powdery white snow enticing people from across the globe, Whistler is a sought-after place with good reason. A village resort housing the biggest ski resort in North America - Whistler Blackcomb - you'll find people flocking in to quench their thirst for adrenalin thrills throughout the year.
Hotels in Whistler
Cozy alpine lodges and luxury chalets complemented by roaring fires are the predominant types of accommodation found in Whistler. Smaller scale hotels and budget inns or B&Bs can also be found here, however, for those on a stricter budget.
Discover
Find your perfect holiday in Vancouver
From 350 hotels.