Where to eat in Bulgaria – a food and dining guide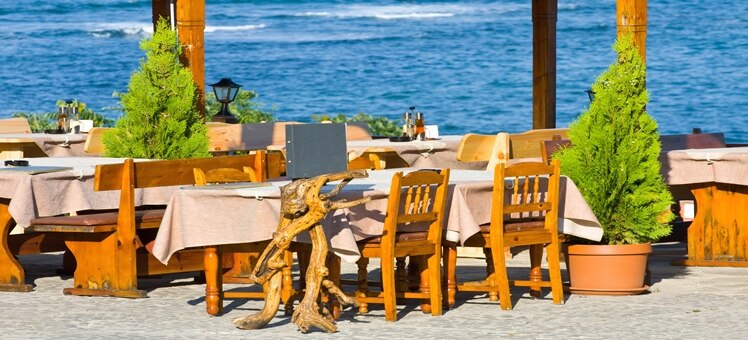 Never eaten Bulgarian cuisine? You are in for a pleasant surprise – Bulgaria offers a seriously fresh and diverse range of dishes, from the meaty stews of the mountainous regions to the Mediterranean-style salads that are popular in the summer months. The country is famed for its unique salamis, strong fruity spirits and thick healthy yogurt. No wonder so many restaurants here serve the national cuisine.
One of the trademarks of Bulgarian cuisine is cheverme, an entire lamb roasted on a spit. A typical starter is the refreshing shopska salad, paired with the national drink rakia. To accompany any dining experience, make sure to try a Bulgarian wine - the country has earned a reputation as one of the world's premier producers, with a history of wine dating back to the Stone Age.
Sofia
The capital of Bulgaria offers a cosmopolitan dining scene, with a vast selection of restaurants offering both traditional and innovative cuisine for every budget. For a classy experience and superb view over the rooftops of Sofia, Panorama restaurant in the Kempinski Hotel is a must. For a more casual feel, try Lazy on the outskirts of the city – this friendly eatery serves up some of the best steak in town, plus a range of fresh international dishes and a unique selection of wine. Fancy something a little different? Bitburger Club delivers tasty snacks with German beer and regular live music, while trendy restaurant Sun Moon serves up healthy bites and vegetarian dishes to tempt even meat-eaters.
•
Panorama Kempinski
, 100 James Bourchier Blvd. Tel: +359 2 969 2440•
Lazy Life & Food
, Vitosha Park Complex. Tel: +359 0882 30 50 60 •
Bitburger Club
, 20 Stefan Karadja Street. Tel: +359 2 981 9665 •
Sun Moon
, 6 September Street. Tel: +359 87 641 8361
Black Sea Coast
This area of Bulgaria is a must-visit for lovers of fresh seafood - with Black Sea fish stocks well on their way to replenishment, restaurants along the coast specialize in traditional soups, grilled fish and fresh mussels. In Sozopol, classic Mediterranean restaurant Zoy offers an ample outdoor terrace and spectacular views over the Black Sea. Popular chain restaurant Captain Cook in Varna continues the theme, with a large selection of seafood including octopus and an impressive wine list. International restaurant Gloria Mar is one of the highlights of the ancient seaside town of Nessebar; their fish comes directly from the local fishermen and is displayed in glass cabinets so you can pick your own!
•
Zoy Restaurant
, 1 Kraybrezhna Street, Sozopol. Tel: +359 55 023 171•
Captain Cook
, Morska Gara, Varna. Tel: +359 0882 999 002•
Gloria Mar
, 9 Kraibrezhna Street. Tel: +359 893 550 055
Bansko
The mountainous Rhodope region offers visitors the sort of tasty specialties that will warm any winter evening, with the ski resort of Bansko boasting its own specific delicacies, including the popular salami Banksi Starets. Dining in this area often takes place in a 'mehana' or traditional tavern, where meaty stews cooked in clay pots are main features of the menu. Motikata, a popular mehana frequented by locals, is known for its barbecued meats and cheese wrapped in pork, plus a fine selection of top Bulgarian wines. Guesthouse and inn Dedo Pene is also well worth a visit – their restaurant serves traditional dishes that are often accompanied by folky entertainment.
•
Motikata
, Pirin Street. Tel: +359 898 434 344•
Dedo Pene
, 1 Aleksandar Buynov Street. Tel: +359 888 795 970
Veliko Tarnovo
The ancient streets of Veliko Tarnovo hide plenty of culinary gems, with a ripe pick of restaurants boasting either a sweeping view over the city or a rustic tavern setting. In the heart of town, elegant restaurant Shtastliveca looks out over the Yantra River and serves European and national dishes in a sophisticated fine dining setting. For a taste of history with your meal, head to the beautifully renovated Hadji Nikoli Inn, where Bulgarian cuisine comes hand in hand with a vintage bottle from the wine cellar.
•
Shtastliveca
, 79 Stefan Stambolov Street. Tel: +359 62 606 053•
Hadji Nikoli Inn
, 19 G.S Rakovski Street. Tel: +359 62 651 291
Discover
Find your perfect holiday in Sofia
From 340 hotels.