A guide to Colombia – colonial architecture, magnificent landscapes, exuberant culture
A guide to Colombia – colonial architecture, magnificent landscapes, exuberant culture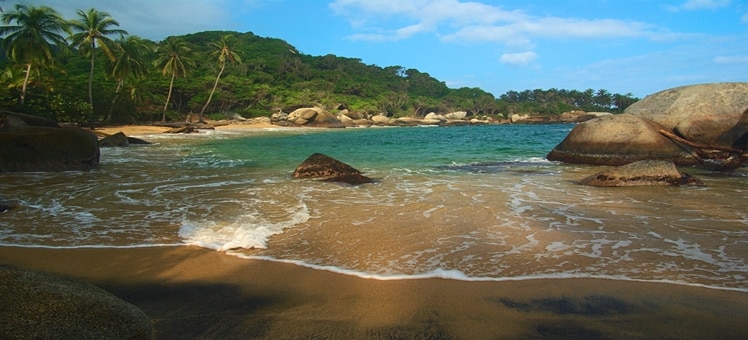 As so evocatively portrayed in the work of Gabriel Garcia Marquez, Colombia is indeed a country of magical realism. From the harsh, majestic mountains of the Andes, to dense, chattering jungle and Caribbean beaches, every part of Colombia seems to have been cast under a spell.
Its historic cities are studies in exquisite colonial architecture, while the emerald-green cloud forests produce the best coffee on the planet. It's no wonder Colombians have a reputation for friendliness and fiestas; a country this beautiful needs celebrating.
What to see and do
At the heart of Colombia, the capital Bogotá offers incredible cultural richness. Be awed by the imposing cathedral and visit the opulent Gold Museum. Nearby is one of Colombia's most popular sights: the eerily beautiful Salt Cathedral in the salt mines of Zipaquira. Medellín, Colombia's second city is emerging as one of the country's most innovative centers, with world-class shopping, while Cartagena, Colombia's eternally-popular port city has romantic historic charm and easy access to the paradisiacal Caribbean island of San Andres. For adventure and nature, the Valle del Cauca provides spectacular hiking within the Coffee Cultural Landscape, while Santander offers deep canyons and thrilling white water rapids.
Where to stay
Bogotá offers the greatest wealth of historical and cultural heritage, with plenty of hotels, guesthouses and hostels populating the city's beautiful colonial buildings. Thanks to its central position within the country, access to other places of interest is easy. If you'd rather immerse yourself in Colombia's exciting youth culture, stay in Medellín, where nightclubs, independent fashion houses and boutique hotels are springing up all the time. If that sounds too energetic, relax in luxurious, beautiful Cartagena, with its tropical climate and sea views. To really get away from it all, stay in a guesthouse in Barichara, a tranquil town lost in time and surrounded by soaring mountains.
Where to eat
Each region of Colombia has its own regional specialties and the locals will be more than happy to introduce you to their typical meals. Arguably the most outstanding cuisine can be found in and around Medellín, with the Antioquian dish of Bandeja Paisa. It is a veritable Colombian feast, featuring arepas, fried plantain, beans, meat and rice. Bogotá specializes in Ajiaco, a flavorsome corn and potato stew. On the coast, ceviche is the must-try dish, while Cali, in the sugar-producing Valle del Cauca, offers the best of Colombia's sweet treats, with Manjar Blanco and fresh fruit concoctions. Of course, you also have to try Colombia's superlative coffee.
Where to shop
Medellín is asserting itself as Colombia's premier shopping city. It has always relied on the textile industry, but now that it has emerged from its shadowy drug cartel past, young designers and entrepreneurs are taking the fashion world by storm. It has plenty of department stores and independent boutiques to keep the most committed fashionista busy. In Bogotá, traditional artisanal markets offer Colombia's eponymous hats, as well as a range of handmade products. If you're in search of beautiful Colombian emeralds, Cartagena is the place to visit. Even if you are just browsing, the displays of the luminescent green jewels are stunning to look at.
Discover
Find your perfect holiday in Bogotá
From 940 hotels.