Eclectic Cuisine and Sustainable Produce - A Guide to Dining in Exeter
Eclectic Cuisine and Sustainable Produce - A Guide to Dining in Exeter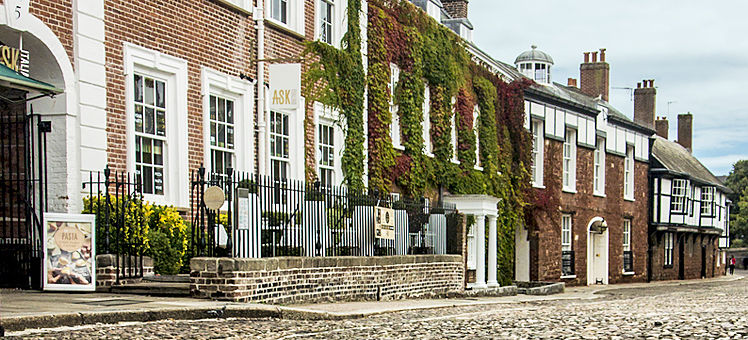 Exeter has steadily developed one of the more eclectic dining scenes in England's southwest. The majority of the city's restaurants are located in and around historic downtown. If you head south of the city centre, you'll encounter several venues that emphasize regional fare made with fresh, seasonal ingredients.
Typical dishes
Traditional Devon Cream Tea - or jam, scones and rich clotted cream served with a pot of tea - is a regional specialty. It's sometimes served for dessert, rather than traditional afternoon tea.
Dining in Exeter's City centre
Downtown Exeter provides plenty of options, from hearty pubs, familiar chains, fine dining establishments, and several quaint cafes that specialize in Devon Cream Teas. For a substantial meal, Michael Caines, a local chef with a national reputation, serves seasonal contemporary fare at his eponymous restaurant. Upscale cuisine and lively bar culture is fused at the gastropub The Oddfellows, where a pint of ale can pair well with plates like rosemary marinated lamb neck skewers.
The tastes of Topsham
The tendencies that make Exeter's southern waterfront neighbourhood an ecological haven drive its popular food scene. You'll find farmers' markets, food halls, and "eco-cafes" selling artisanal treats and simple dishes made with locally sourced ingredients. Topsham is also home to several acclaimed, traditional dining experiences that adhere to farm-to-table principles. The menu at the French bistro Le Petite Maison rotates monthly, in order to emphasize fresh ingredients culled from local purveyors. The Galley Topsham takes advantage of its riverfront location by crafting a daily menu of regional seafood dishes.
The West Quarter
The restaurants found in Exeter's West Quarter are an extension of the area's uniquely eclectic spirit. The culinary scene is built around Fore Street, where small, refined eateries, internationally inspired venues, and unpretentious gastropubs co-exist. The husband and wife team behind @ Angela's Restaurant create a classically elegant dining experience where white tablecloths, glasses of prosecco, and regional specialties like roasted Brixton monkfish rule the day. At Ganges, you can indulge in classic Indian dishes such as chicken vindaloo or prawn tandoori in a sleek, modern space.
Historic Quayside
The laid-back vibe that runs through this quaint section of Exeter is strongly present in its food scene. Quayside is home to a mix of familiar chains and casual spaces on either side of the River Exe, including several spots along the waterfront. You can ride your bike up to The Port Royal's cycle-friendly space and enjoy contemporary pub bites like slow-roasted crispy pork belly or chicken liver and whiskey pate. A 19th-century warehouse is the home of On the Waterfront, where you'll find a globally inspired menu and over 20 pizza creations.