Coral Sea Views, Regional Ingredients, and Global Accents - Where to Eat in Townsville
Coral Sea Views, Regional Ingredients, and Global Accents - Where to Eat in Townsville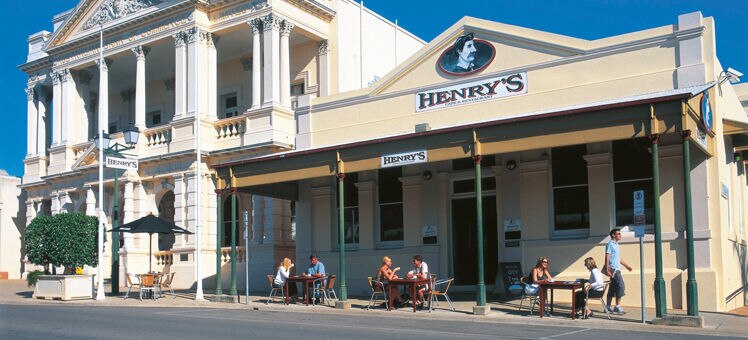 A bounty of fresh, regional ingredients from land and sea, along with locals and visitors who appreciate great eating, have led to the growth of a vibrant food scene in Townsville. The city offers an array of dining experiences to suit almost every palate and wallet. Add some stunning Coral Sea views and you have the recipe for memorable meals.
Typical dishes
Fish and seafood are the order of the day, with trawlers arriving in the Port of Townsville every morning laden with the night's catch. Coral trout, barramundi, and red emperor are plentiful in coastal waters, and reef-living red spot king prawns will delight seafood lovers.
Eating out on The Strand
The Strand, Townsville's more than 2-kilometer-long, palm-lined esplanade that stretches to the north of the city, is not only a great spot for strolling or swimming. It also offers an array of eateries ranging from fresh fish and chips on the sand, to yummy homemade gelato, and upscale fine cuisine. After an early morning swim, C Bar has delicious breakfasts ranging from fresh fruit salad to smoked salmon eggs benedict. Watermark has sweeping views over Cleveland Bay to Magnetic Island, and a contemporary Australian menu featuring the freshest fish and seafood.
Downtown Townsville dining
Flinders and Palmer Streets, on either side of Ross Creek, make up Townsville's inner-city dining hub. You'll find everything from cafés on the broad sidewalks for a quick caffeine hit to upscale gourmet dining, and global cuisine from Thai to Indian to Italian. A Touch of Salt overlooking lazy Ross Creek serves an eclectic modern Australian menu ranging from goat's cheese gnocchi to Moreton Bay bugs with a coconut dressing. The Brewery began life as a post office more than 100 years ago. It has everything from pizzas and burgers to adventurous takes on steak and seafood.
Dining in Townsville's southwest
In Townsville's southwestern suburbs near Riverway Arts Centre and Willows Shoppingtown, you'll find a diverse cluster of restaurants especially suited to families and the budget-conscious. As well as fast food chains there's an array of global dining on offer. Mega Malaysia offers authentic Malaysian and Southeast Asian dishes in an easy-going setting, and also does take-outs. Hog's Breath Café, famous for its 18-hour, slow-cooked prime-rib steaks, also does burgers, ribs, pastas, as well as kids' menus, in a relaxed, fun setting.
Eating and drinking on Magnetic Island
For a small islet, Magnetic Island offers a generous choice of dining options. You'll discover unpretentious blackboard-menu breakfast spots - perfect after an early morning dip. There's global cuisine from Thai to French and Italian, and relaxed waterfront bars. And almost everything comes with a side order of breathtaking Coral Sea views. Barefoot Art Food Wine has a changing contemporary fusion menu, served under the trees on its terrace overlooking Horseshoe Bay. Boardwalk Restaurant and Bar, right on the water, has breakfast, cocktails, and a modern tropical menu, with the emphasis on freshly caught seafood.
Discover
Find your perfect holiday in Townsville
From 240 hotels.