Come Out and Play the Coronado Way - Entertaining the Kids on the Island
Come Out and Play the Coronado Way - Entertaining the Kids on the Island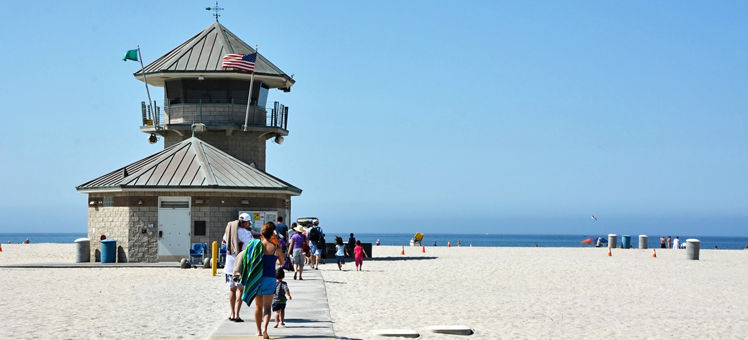 Coronado's compact space is loaded with intriguing kid-friendly activities that will keep your children engaged for hours - mostly outdoors in the sunshine. You can expect to see a lot of fun things built around the city's ideal weather and sandy shoreline. And, of course, many of these activities are great for burning off a little extra energy.
Time at the beach
Coronado's reputation as a family getaway was built on its legendary beach scene. Your kids will find much more to do along the city's vast shoreline beyond dipping their feet in the water and building sandcastles. From examining tiny sea creatures to chasing waves to going on guided nature hikes, youngsters have numerous opportunities to appreciate the sea's majesty.
Coronado Central Beach
The city's main beach is sandwiched between the Pacific Ocean and multimillion-dollar mansions. While you marvel at the surroundings, your kids can hang out at the tide pools and check out hermit crabs and tiny fish.
Coronado 92118Tel: +1 619 522 7300
Coronado Central Beach website
Silver Strand State Beach
This beach features hiking trails, picnic areas, and fishing spots. One side of the beach offers calm bay waters, ideal for toddlers. You and your kids can even sign up for a surfing lesson if you visit in the summer.
5000 CA-75, Coronado 92118. Tel: +1 619 435 5184
Silver Strand State Beach website
See the wizard
You and your family can trace the footsteps of The Wizard of Oz author L. Frank Baum, who wrote several of his legendary Oz books while wintering in Coronado. The city doesn't make too big of a deal about the connection, but your hotel's concierge should be able to point you toward the yellow brick road.
Coronado Museum of History & Art
A worthwhile stop for older kids, this compact museum features 3 rare first-edition Oz books, as well as exhibits chronicling Coronado's history. A half-mile away, Spreckels Park, named after one of Coronado's founders, includes a large playground and a gazebo.
1100 Orange Ave, Coronado 92118. Tel: +1 619 435 7242
Coronado Museum of History & Art website
Lemeche-Meade House
Baum worked on his Oz series while living at this quaint yellow house, which is currently a private residence. It's steps from Coronado Central Beach, so you can walk past it while you make your way to the shore.
1101 Star Park Circle, Coronado 92118.
Kid-friendly food
You'll find most of Coronado's kid-friendly dining options on Orange Avenue, the city's main street. Several restaurants offer approachable fare like burgers, hot dogs, and pizza. If your children are a little more adventurous, you may want to check out one of the island venues that specialize in Mexican cuisine or seafood.
Delux Dogs
Kids can choose basic hot dog options such as mini corn dogs and bacon-wrapped franks. Grown-ups can indulge in fancier dogs with toppings like jalapenos and Japanese mayo. Make this a lunch spot - Delux isn't open for dinner.
943 Orange Ave, Coronado 92118. Tel: +1 619 319 5338
Delux Dogs website
Miguel's Cocina
This Mexican restaurant serves classic fare like burritos and taco platters, along with Baja-inspired dishes like ceviche and shrimp enchiladas.
1351 Orange Ave, Coronado 92118. Tel: +1 619 437 4237
Miguel's Cocina website
Go for a ride
One of the best ways for your family to experience Coronado is by biking through the city. You'll find several places around town to rent a set of wheels for you and the kids, mostly on Orange Avenue or near the waterfront. Several shops also let you rent chairs, umbrellas, and other equipment for a day at the beach.
Ray's Rentals
You can rent beach cruisers, hybrid bikes, tandems, and BMX-style kids' bikes here. Or opt for a 4- or 6-passenger surrey if you want really want to ride around as a family.
2000 Second St, Coronado 92118. Tel: +1 619 522 3043
Ray's Rentals website