What to See and Do in Long Beach - The Shore and More
What to See and Do in Long Beach - The Shore and More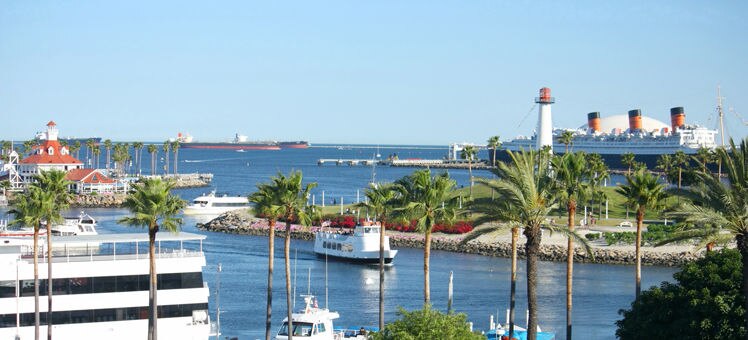 Long Beach is the perfect blend of old-school California beach town and eclectic, buzzing metropolis. Thanks to its harbor-side location, cultural diversity, and generally sunny weather, Long Beach and its surrounding area provide a wide variety of things to see and explore all year round. Sure, there's the beach, but there's so much more.
On the waterfront
Along the water's edge, the Aquarium of the Pacific takes centre stage with more than 11,000 sea animals and interactive exhibits like the Shark Lagoon, where you can reach out and touch these ocean predators. From there, it's a short walk to the Queen Mary, a historic retired ocean liner. Launched in 1936, the Queen Mary was the instant vessel of choice for Hollywood stars and British royalty alike. During World War II, she was converted to a troopship. There are rumors she's still haunted. And yes, there's a tour for that.
Aquarium of the Pacific, 100 Aquarium Way, Long Beach, CA 90802; Tel: +1 562 590 3100; Website: Aquarium of the Pacific

The Queen Mary, 1126 Queens Hwy, Long Beach, CA 90802; Tel: +1 877 342 0738; Website: The Queen Mary
Where life meets art
The vast historical and cultural diversity of Long Beach is apparent in its museums and landmarks. Prominent among them is the Long Beach Museum of Art. Inside its modern, 2-story building, you can take in the permanent exhibit on California contemporary art, then step outside to visit the Elizabeth Milbank Anderson home, built in 1912. Paving the way for women's advocacy, Anderson spent her life championing health reform and social justice. The museum grounds look out onto the Pacific Ocean, so don't leave without pausing to admire the view.
Long Beach Museum of Art, 2300 E Ocean Blvd, Long Beach, CA 90803; Tel: +1 562 439 2119; Website: Long Beach Museum of Art
Sail the ocean blue
Feel like going deeper? Become a real sea explorer. Daily 2.5-hour cruises on eco-friendly boats depart right from Long Beach. On your way out to sea, a trained crew, along with educators from the Aquarium of the Pacific, will give you a full breakdown of what to look for. Have your binoculars ready to view the seasonal migrations of gray whales in winter or blue whales in summer and fall. Also be on the lookout for the year-round inhabitants of the Pacific such as fin, humpback, and killer whales (orcas), along with dolphins, sea lions, pelicans, and seagulls.
Harbor Breeze Cruises, 100 Aquarium Way, Long Beach, CA 90802; Tel: +1 562 432 4900; Website: Harbor Breeze Cruises
An island escape
Catalina Island is an hour's ferry ride from Long Beach. Originally called Pimu by its Native American inhabitants, Catalina was once owned by chewing-gum magnate William Wrigley Jr., who made it a star-studded playground and the spring training home of the Chicago Cubs. If you take a tour, the buffalo you encounter are not natives. A movie company brought 14 over for a production, and the buffalo stayed and thrived. Along with gorgeous scenery, highlights include the historic Casino, the Wrigley Memorial & Botanic Garden, and a semi-submersible tour complete with fish-food torpedoes. Snorkeling and kayaking are also popular.
Catalina Express, 320 Golden Shore, Long Beach, CA 90802; Tel: +1 310 519 1212; Website: Catalina Express

Catalina Adventure Tours, 1 Cabrillo Mole, Avalon, CA 90704; Tel: +1 562 432 8828; Website: Catalina Adventure Tours
Discover
Find your perfect holiday in Long Beach
From 80 hotels.