Exploring Coronado Island - Beaches, Cafés, and Culture in the Crown City
Exploring Coronado Island - Beaches, Cafés, and Culture in the Crown City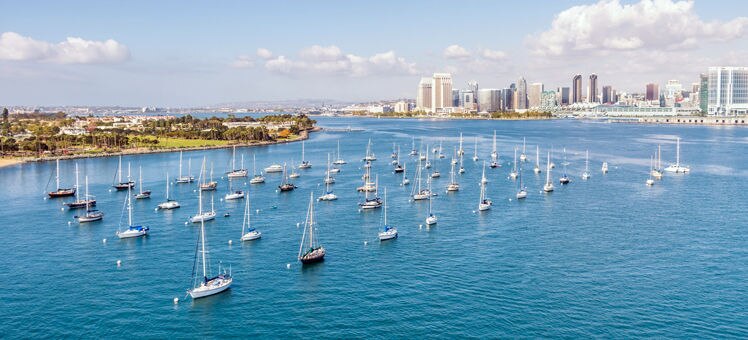 Located just across the bay from downtown San Diego, the seaside village of Coronado ("the crowned one" in Spanish) includes some of the best beaches in the US. For most visitors, the sunshine, surf, and sand are the main attractions. But there's lots more to entice you: the legendary Hotel del Coronado, scenic bike trails, browse-worthy shops, and a tempting array of restaurants.
Sparkling beaches, grand hotel
With its soft sands and sparkling waters, Coronado Central Beach is ranked by many sources - including "Dr. Beach" - as one of the top 10 beaches in America. Thanks to the natural mineral, mica, the silvery sands shimmer in the sunlight. The Hotel del Coronado, a National Historic Landmark, creates a storybook backdrop overlooking the crashing surf of the Pacific Ocean.
Along the Silver Strand
A narrow strip of land, Silver Strand State Beach actually comprises several beaches - some facing the ocean, others facing the calmer waters of the bay. A portion of the palm-lined Bayshore Bikeway passes along the beach. You can swim, chase the waves, and rent a boogie board or surfboard. The views of the ships and the city skyline are picture-perfect. For a truly tranquil experience, take a guided nature tour by kayak or stroll along the shore to find that perfect shell.
Fun at Ferry Landing
The ferry from downtown San Diego comes to shore at bustling Coronado Ferry Landing near the San Diego-Coronado Bridge. At this waterfront marketplace, you can browse boutiques, select farm-fresh fruit at the weekly farmers market, and grab a bite at a sidewalk café with exceptional views of San Diego's skyline. Bike and surrey rentals are available, too. For a more serene setting, stop and smell the roses at historic Centennial Park.
Coronado Ferry Landing Shops, 1201 First Street, Coronado 92118; Tel: +1 619 234 4111; Website: Coronado Ferry Landing Shops

Centennial Park, 1099 1/2 First Street, Coronado, 92118; Tel: +1 619 686 6200; Website: Centennial Park
Village life
Ideal for a leisurely stroll, tree-lined Orange Avenue is the heart of downtown Coronado. The area has a genuine village feel, with local mom-and-pop stores, upscale boutiques, quaint old buildings, and colourful gardens. Here, too, you'll find some of Coronado's best restaurants. Stop by the Coronado Visitor centre to pick up maps for self-guided tours, or take a docent-led walking tour of historic Coronado, including a stop at Hotel del Coronado.